All Eyes on Idyllwild (Days 10 to 16, Warner Springs to Idyllwild)
Day 10
Start: Bushcamp a half mile short of Warner Springs
End: Bushcamp along the ridge, 4 miles past Lost Valley Road turnoff
PCT Miles Hikes Today: 13.7
Hard day of hiking today, definitely my hardest day since the start of trail. I woke up with a very sore left Achilles / Calf, possibly due to the 17 mile day yesterday. We tried to sleep in as the post office doesn't open until 8, but I was up at 5 anyway – it's a hard habit to break.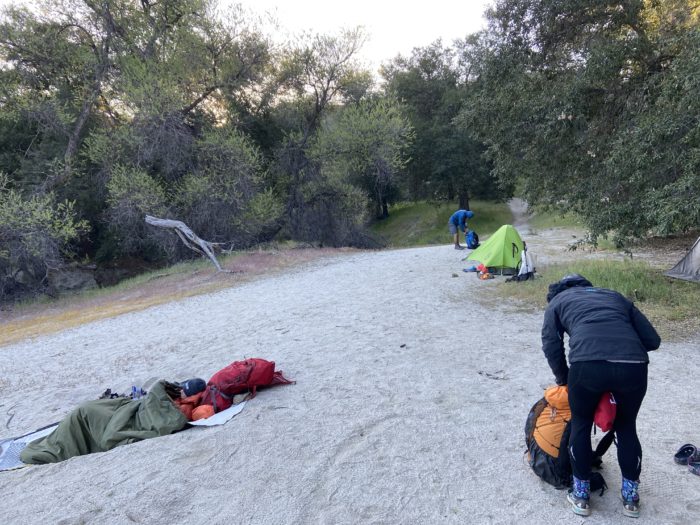 We breezed down the half mile to the Warner Springs and hit the local resource center for some water for the next section (out of a hose). It's awesome that the resource center lets hikers get water – I know they've pulled back on a lot of their services due to hiker misbehavior in the past, so thank you to the staff who keep it running.
We roadwalked down to the post office and convenience store, with cars buzzing us. Not much of a shoulder to walk on unfortunately, but we made it, picked up our package, and went to join the other hikers who had taken over a few picnic tables nearby.
I could feel how hot it was getting and I was anxious to get hiking. Mango does better in the heat than I do, I really suffer through the hottest part of the day. We finally hiked out around 9 and started walking the road again to get back to trail.
We got back to the trail and the heat was already pounding away. I feel like I do my best hiking at 6am when things are still really cool. But, as we started the ascent, the sun was high and we were baking on trail.
I was moving extremely slow up the mountain, not just because of the heat, but my left Achilles / Calf was still aching horribly. The combination made me very unhappy boy. We got to our water source turnoff 10 miles in around 1:30, and we collapsed next to Songbird, who had arrived hours earlier and had claimed us a shady spot. More hikers eventually joined us as well.
We packed out 3 liters and started moving again around 4. I didn't have many miles left in me because I was still moving gingerly. We set up in the first available space and I gladly went right to bed.
We originally planned to hit Warner Springs Tuesday (today), Paradise Valley Cafe (PVC) on Thursday, and Idyllwild on Saturday for a zero on Sunday. That schedule is looking increasingly aggressive (especially based on my new injury, ugh), so I spoke with Mango about backing off the gas pedal a bit, and giving us an extra day out of PVC. The trail out of PVC looks pretty difficult as well, as it goes up around Apache Peak, at 7,400 feet (from our current 4,950 tonight. I think I'm feeling the miles from yesterday, and just need to keep reminding myself to play the long game, and that there's no rush.
Day 11
Start: Bushcamp along the ridge, 4 miles past Lost Valley Road turnoff
End: Half mile up from Nance Canyon (AKA the worlds windiest campsite)
PCT Miles Hikes Today: 17.9
Beautiful campsite last night, but we woke to big winds and lots of fog. Songbird, Mango and I moved quickly to get out of camp while wearing all of our layers.
Instead of eating breakfast a few miles in as we normally do, it was better to just keep moving. Fortunately, I was feeling a bit better than yesterday – sensitive, but no shooting pain. We quickly arrived at the turnoff to Mike's Place, an important water stop in this dry section of trail. We filled from the big water tanks and kept moving, hands completely frozen from the brief stop.
Check out this shot of Sorority Steve hiking out of Mike's Place. Favorite picture of trail so far. His rain pants, Frog's Toggs, is a notoriously baggy and rippable rain pant. He split the crotch first week of the hike, and patched it up with duct tape. Today, the wind inflated his pants pretty hilariously. His new trail name: Sumo Steve.
We stopped about 7 miles in to our day to eat breakfast, as the clouds started the clear and the temperature finally warmed up. We took off our rain jackets (which we were wearing for heat preservation instead of rain protection), and had a really nice rest of the morning. The views were great after the clouds moved out – we didn't know what we were missing earlier!
We reached our water source, Tule Spring, around noon. We had cleared 14 miles before 12pm! It felt awesome. My left Achilles and calf were still bothering me a bit, but it seems to be better than yesterday thanks to massage, stretching, and (of course) ibuprofen.
After a few hours elevating our feet and drinking bad-tasting water, we hiked out to get a few miles closer to Paradise Valley Cafe tomorrow. The restaurant is only a mile off trail in the middle of nowhere, and is known for some legendary burgers. Can't wait! It closes at 3 though, so we need to hustle in the morning.
Our campsite tonight is a half mile up from a canyon, and it feels like the windiest campsite I've ever stayed in. Crazy winds rocking our tent constantly. I really hope it doesn't collapse on us in the middle of the night – always a risk with non-freestanding tents (trekking pole tents). We rolled in to camp before 5, but everyone climbed into their tents right away to try to get out of the wind gusts.
Mango and I found out that Songbird is also a fan of Brandon Sanderson, so we all decided to start a trail book club, listening to The Way of Kings on audible while we relax at night in our tents. It's fun to have something to talk about every day (although Songbird gets through her chapters so fast, I have a sneaking suspicion she listens at 2x speed).
All talk on trail is about Idyllwild at this point – some people are hitching in from Paradise Valley Cafe, some people (like us) are waiting for Saddle Junction further up trail to enter town. Some people are even talking about hiking up San Jacinto before hitting Idyllwild to try to avoid carrying crazy amounts of food up the mountain on their back (although looking at a map, I'm not quite sure how that would work without some serious backtracking). Regardless of how each of us is getting to town, all eyes are on Idyllwild and the upcoming zero. I cannot wait.
Day 12
Start: Half mile up from Nance Canyon (AKA the worlds windiest campsite)
End: Paradise Valley Cafe
PCT Miles Hikes Today: 11.2
Dang, our tent site last night was the windiest tent site ever. We stacked rocks on all our tent stakes and guy lines to try to give the tent more support. I used my backpack as a wind block on the outside of my tent, and it served to stop (most of) the sand from whipping me in the face. We still awoke with a thin line of sand over everything in our tent. But, the tent didn't collapse in the night, so that's a win! We were out of camp by 5:30, hiking hard to make it to Paradise Valley Cafe well in advance of closing time.
Very cold again this morning – I hiked with a rain jacket on for warmth all 11 miles today. And for the first time since we started, it seemed to be – not exactly raining, but maybe misting? I felt a drop or two. Between the wind, the cold temp and the moisture in the air, we were hustling just to stay warm.
The PCT is a funny trail. It will literally go up or down for days at a time. Our next few days are all up hill – we climb from 3350 to over 7000 feet, and then eventually up to over 10800 feet if we decide to do the San Jacinto blue blaze alternate next week. Today, we were happy for the elevation gain, as it kept us warm!
We pulled off the trail around halfway to PVC to gobble down a clif bar and refill on water from Mary's water tank. Mary is an amazing friend of the community who carved out a corner of her remote property to create a hiker oasis, including a water tank and a tiny library. Thank you Mary for taking care of us!
We hiked hard and didn't take any other stop, but we did snag this excellent shot at a ridge line. Check out this cute couple! (And check out how strong that beard is coming in!)
We hit the road crossing and hiked a side trail along the power lines until we saw what we were looking for – Paradise Valley Cafe, with a whole lot of hiker trash sitting out front!
The staff here could not be nicer and more accommodating to thru hikers. They let us charge our devices, use their bathrooms, order multiple rounds of food, and they even let us camp out back! And, two staff members swung by after their shift ended and dropped off some beer for the hikers, leading to an unexpectedly rowdy evening for all. It'll be tough to hike out in the morning…
The rest of our trail fam, who were about a half day behind, arrived around 4 and we had a lot of fun for the rest of the night. On a sad note, we learned that Doc is getting off trail due to her knee injury. Tenderfoot is hiking on, though, so we will see her in Idlewild.
Day 13
Start: Highway 74 / Paradise Valley Cafe
End: Smooshed between a boulder and a cliff, about a mile from Forbes Ranch Trail junction
PCT Miles Hikes Today: 13.9
We allowed ourselves to sleep in this morning for a bonus hour, and got moving around 6. We are so lucky to have spent the night at Paradise Valley Cafe – truly a gem of a stop for hikers. Lauren and I swung over to the water faucet to fill up on water, and took the 1 mile side trail back to the PCT.
We started heading uphill yesterday, and just kept climbing all day. It was a very tough day of hiking, with some Appalachian Trail-esque rocky ascents. Still, the climate changed slowly but noticeably as we climbed first above 4,000 feet, then above 5,000 feet.
After a while it didn't feel like we were hiking in the desert any more – it felt more like an east coast pine forest. Huge trees provided lots of shade for water breaks and the pine cones were bigger than my head!
We got our first look at San Jacinto around midday, and wow, it looks amazing. 10,800 feet here we come!
After a difficult ascent to above 7,000 feet, we enjoyed the views, knowing we only had 3 or so more miles to our day. We are taking it easy over the next few days to time the weather – we want to zero in Idyllwild during the crazy rain / snow that is coming up.
Songbird is hiking to a big open campsite near a trail junction, but Mango and I found a very cool site nestled behind a boulder and near a little cave. We took our time to stretch, eat dinner, and talk while the sun slowly set. Tonight we enjoy views of San Jacinto until it gets dark, and then the lights of Palm Springs off in the distance, many thousands of feet below us. The rest of our friends are about a half day behind us, and we will all meet back up in Idyllwild in a few days.
Day 14
Start: Smooshed between a boulder and a cliff, about a mile from Forbes Ranch Trail junction
End: Saddle Junction / Idyllwild
PCT Miles Hikes Today: 13.6
An amazing, brutal day of hiking today. We were up early, in time to see all the lights in the valley below. Mango and I camped a little under a mile earlier than Songbird, and when we caught up with her later in the morning, we were glad of the decision – her tentsite was rocked by wind all night, while we slept peacefully.
The day started out innocuous enough. As we continued our climb, we quickly heated up and shed our rain coats. The terrain was definitely getting steeper…
We took a nice long break for water at the turnoff to Apache spring. This section was really tough for water – most sources yesterday were 1 mile each way off trail, down steep trails. We decided to pack out enough water from PVC to hike all day and dry camp yesterday, but this morning we bit the bullet and hiked 0.5 miles down a steep slope to refill. Songbird ran down the trail, and when we questioned her later, she said "Don't you ever have the urge to just run?" – No, we don't. Our legs hurt. (I see a high likelihood that Songbird is going to leave us in the dust at some point.)
We hiked on, feeling glad in our decision to get moving at 5:30am, because it was heating up quick. Our progress was frustratingly slow, however – we are used to doing somewhere closer to 2.5 or 3 miles per hour hiking in the desert, and we were barely doing 1 at this point. The terrain had changed from smooth sand to very rocky, where we had to carefully judge each step or risk breaking an ankle (all you AT hikers out there know what I'm talking about). Thank god for trekking poles. And things were still getting steeper!
Suddenly, we passed some unspoken barrier between "looking up at magestic mountains" to "looking sideways or down at magestic mountains" – we had hiked above 7,000 feet and were approaching 8,000, and the trail became incredibly challenging. THIS, finally, felt like the PCT. Everything before now had simply been a warm up.
Near Apache peak, we passed a small memorial for Trevor "Microsoft" Laher, who was an early season hiker last year and fell down a snow chute in this section to his death. A sobering reminder of the dangers of hiking here in March or earlier. Early season NOBOs, do not mess around in this section – carry crampons and an ice axe out from Paradise Valley Cafe. If you don't have them in a mail drop, hitch to Idyllwild (it's an easy hitch) and buy some from Nomad Outfitters. Looking down from trail at this section, it was terrifying to consider slipping – you just wouldn't stop for thousands of feet. Thankfully, almost all snow in this section was melted, and the remaining small patches were easily stepped around. No need for micro spikes today.
We hit some incredible views as we reached 8,000 feet, but our progress continued to be slowed by steep, rocky trail and big downed trees, which were very difficult to navigate.
We also hit a small rockslide which happened several years ago, which required a careful step-around. We are thankful to whoever looped paracord around the boulder to assist with footing. It turned a terrifying few minutes into only an extremely uncomfortable few minutes.
Our original plan had been to camp somewhere near Saddle Junction and hike down the 2.6 mile side trail to the trailhead tomorrow morning to hitch into town. As we reached our max elevation of 8400 feet, talk of Idyllwild reached a fever pitch. We were SO READY for our first zero, and we started talking about knocking out the side trail today, and camping near the trailhead. "It'll make the hitch in the morning easier!" was the thinking. An earlier breakfast is never a bad thing, right? Then, as we raced towards the junction, we floated the idea of going all the way to town. Wouldn't it be great to get a burger for dinner tonight? And sleep in a bed?! And suddenly the decision was made – we were gunning for Idyllwild today. And, after limping down the side trail, we made it!
It was a Saturday afternoon at an extremely popular trailhead, so it was an easy hitch into Idyllwild. We got a ride from 2 climbers who had been climbing in the area – they were exceptionally nice to pick up 3 hikers (who hadn't showered in 7 days, by the way).
We ate burgers, walked around town for a bit, and finally booked a hotel about a mile outside of downtown. Another friendly climber gave us a hitch to the hotel, where we showered so much dirt off of ourselves and curled into bed to watch Harry Potter and the Goblet of Fire on DVD. Amazing end to an incredible day.
Days 15 – 16
Start: Saddle Junction / Idyllwild
End: Saddle Junction / Idyllwild
PCT Miles Hikes Today: 0!
Ah, the elusive double zero, how I adore you. So much time for laying around. So much time for eating. So much time for watching terrible movies.
Idyllwild is the perfect trail town. Pretty much everything is a few blocks away, including restaurants, breweries, grocery stores and a full gear shop.
We ate at the Red Kettle for breakfast. Best prices in town, and incredible food – I ordered a 4 egg omelette with shaved steak inside, and Songbird had 3 hot chocolates (including one in a to-go cup).
We picked up micro spikes for the planned ascent to San Jacinto on Tuesday from the gear shop, and the staff even tightened my trekking poles for free to stop them from sliding – it seems like the clamps were coming loose a bit. As long as the snowfall isn't too big up in the mountains, we still want to make the attempt. We'll scope it out when we get to the trail turnoff, and if it looks sketchy, we'll pass – this won't make or break our hike, but it'd be fun to summit if we can.
We booked a cabin for me, Mango, Sumo Steve and Songbird at the Idyllwild Inn, and what a treat to have a full, multi-room cabin to ourselves – complete with a wood burning fireplace! We accidentally smoked out the cabin starting a fire… Sumo Steve claims the flue wasn't open, but I was poking around up there and I didn't see any flou to open. Nonetheless, it took about a half hour of waving the doors around to get the room back to normal.
Many shenanigans in town with our trail family, including having folks over for tea and veggie straws, and watching lots of movies while pounding pints of ice cream on the couch. The best part was watching the rain come down outside, knowing that we could be hiking while it's 36 and raining, but instead we are safe and warm and napping in beds. Our other friends are just a few cabins down the road, so we are throwing a big family-style pasta dinner tonight at our cabin for 10 or so of us.
And finally, to wrap up the worlds longest blog post, we got to meet Max, the mayor of Idyllwild! (Yes, he is the Golden Retriever 😁)
Our plan is 6 days to Big Bear, then another 6 to Wrightwood. Time to start pushing the mileage a bit! Maybe a 20 mile day is finally in my future – we shall see. Talk to you all again soon!
Until next time, happy trails!
-Slice
Affiliate Disclosure
This website contains affiliate links, which means The Trek may receive a percentage of any product or service you purchase using the links in the articles or advertisements. The buyer pays the same price as they would otherwise, and your purchase helps to support The Trek's ongoing goal to serve you quality backpacking advice and information. Thanks for your support!
To learn more, please visit the About This Site page.