Big Bear, Big Beers, Big Breakfasts, Big Pine Cones – Days 16-18
DAY 16
Mileage: 251.0 – 266.1
Today is TOWN DAY! Woke up at 4:30 am and were hiking by 5:02. Instead of watching the morning cartoons and eating a bowl of cereal we watched the sun rise over San Gorgonio while drinking our breakfast shake.
For those of you who aren't out hiking or haven't hiked, town day is a lot like vacation… lots of anticipation and what seems like a lot of waiting no matter how long the trip. (we had one three days ago but they're always fun) It's very tempting to check the GPS to find out how much time you have left. Our way around this… GAME OF THRONES AUDIO BOOK!!! (insert theme music) Things only got more interesting from here. We were crushing miles whilst hearing the tales of Ned Stark, The Wall (not Trumps), and news flash WINTER IS COMING!!! We listened for roughly an hour and a half and holy smoke the miles flew by. We ended up knocking out 15.1 miles before 10am. Funny thing is that we've been missing the hiker milestone of 10 miles before 10am almost daily by 10-15 minutes. This is usually due to the fact that we're chatty Cathy's and like to chat up anyone we pass. Safe to say we finally checked that box.
We reached our pickup point where the trail crosses 18 outside of Big Bear. We called the famed trail angle Papa Smurf and he was happy to give us a ride to the local Von's where we could do our resupply. He also recommended that we start at the Dollar Tree and grab lunch afterwards at Maggios.
Maggios is a great place to grab some food off trail. It's a little Italian pizzeria that has salads, subs (hot or cold), pizza, calzones, and pastas. The portions are awesome and the food is cheap. They even offer a PCT discount. I had the chicken Alfredo and Kelsey had a calzone stuffed with meatball, sausage and pizza sauce…. DELISH!!!
We were stuffed to our gills and our resupply was finished. We then walked into town and checked into our room at the Black Forest Inn. That place is awesome!!! Everything from the room to the people who own it. They gave us plenty of tips on where to eat and even offered to give us a ride back to the trail after checkout. Thanks again guys, our stay was awesome.
We finished our day by snacking around the village of Big Bear Lake. We devoured chips and guacamole at the Mexican place and beers paired with a Bavarian pretzel at the local brewery. We even managed to get to bed at a decent hour.
DAY 17
Mileage: 266.1 – 276.6
Kelsey was wide awake bright and early but let me sleep while she talked to her mom and began working on the blog. After allowing me to sleep a little longer we finished our morning chores and grabbed a quick breakfast.
The owners of our hotel offered to take us to the trailhead at noon and we graciously accepted. They're awesome people and we'd recommend them over and over again!!
We hiked 3 miles in our first hour before stopping for lunch. We packed out Taco Bell so we were quite excited for our luxurious lunch on trail.
Mid meal we were met by a group of older men section hiking the PCT and their furry companion. She's the one who forced them to stop hahah. She laid down next to us in the shade telling her owners that she needed a break. Cody shared his water with her while we chatted with the group swapping stories.
Later in the afternoon we bumped into two girls who told us that numerous other groups had given us trail nicknames. We're being referred to as Speedy 1 & Speedy 2 and REI Power Couple. We find both pretty funny but haven't decided on a permanent one. The girls were very friendly and fun to talk to. We looking forward to seeing them again.
DAY 18
Mileage 276.6 – 301.3
We woke up with our usual plans of doing our ordinary mileage. We walked and walked, crushing miles as we enjoyed the brisk morning air. We even met up with a friend who we had lost days earlier on the trail. Everything was going our way. Tons of water and deep cool pools of it had us feeling spoiled as the temperature rose. We even took a break to swim at one point.
We had decided that with our progress we may as well push it and hit the 300 mark that day. All was good until it almost wasn't. Cody tripped hard at one point causing our phone to launch from his hip belt pocket. The problem was that we didn't notice until we were about 1.5 miles farther. Cody walked back until he found the phone and ended up trail running back to where Kelsey was with the packs. Crisis averted!!
After some quick water we walked some more before eating dinner under the Deep Creek bridge. It was scrumptious but we knew that we had the big 3 Hundo to hit.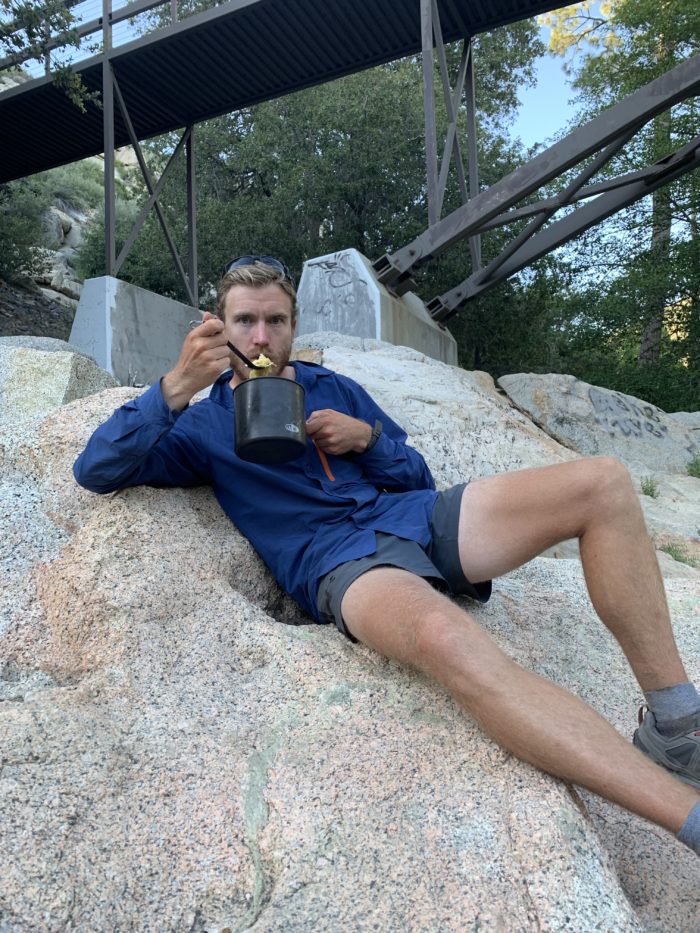 After being rattled at several times by a very angry snake we hit our target. The only problem… no tent sites within a mile. We were smoked but knew that we wanted a nice spot to rest and that's exactly what we found. A beautiful  riverbank just off trail with good water and flat ground. All was good in the hiking world.
Affiliate Disclosure
This website contains affiliate links, which means The Trek may receive a percentage of any product or service you purchase using the links in the articles or advertisements. The buyer pays the same price as they would otherwise, and your purchase helps to support The Trek's ongoing goal to serve you quality backpacking advice and information. Thanks for your support!
To learn more, please visit the About This Site page.