Bobcats and Coffee: PCT Days 21-23
Day 21.  Miles: 23.9  Total: 341.9
It's finally not so cold in the morning, so I start hiking from Grassy Creek early. The views are lovely as I enter Silver Lake State Park. Brush encroaches on the trail, but nothing too poky or irritating. I managed to hike 10 miles by 10 a.m. Then, I take a break for second breakfast. My last sandwich thin is moldy, so I eat my Nutella with a spoon.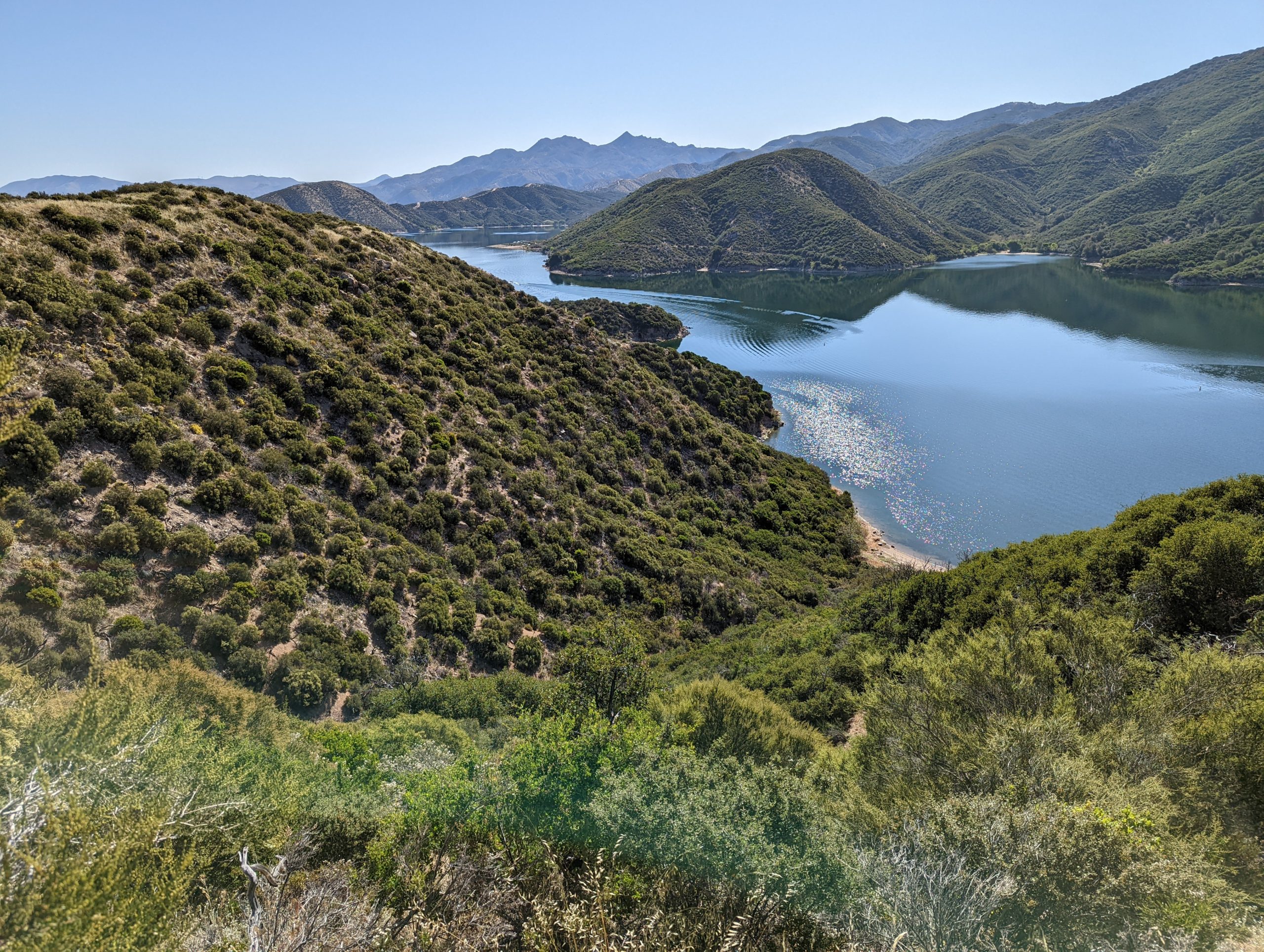 Upon exiting the park, the temperature rises and the trail winds gradually up a sandy ridge. At a hairpin turn, a loud rattle stops me in my tracks. Then, from the corner of my eye, I see a pale brown blur plummet down the hillside, across the trail, into the small gully inside the turn. Just before it disappears from sight, I recognize the rippling fur of a feline. The rattle abruptly goes silent.
My phone is in my hand already– I was looking at Spotify– and I pull up the camera and start recording. But the cat (Bobcat? Mountain lion? It happened too fast to tell.) is out of sight. My first impulse is to try to get a closer look, but I come to my senses and stop moving. My heart is racing. I am ten yards from a big cat, and it has a fresh kill. If it is indeed a mountain lion, I could be in extreme danger.
I back slowly down the trail, undecided about whether shouting to other hikers might help scare the cat away or just alert it to my presence. Luckily, moments later, another hiker comes up behind me.
"Stop stop stop," I say, as she reaches me. I point into the gully where the trail curves. "A mountain lion just killed a rattlesnake right there."
Before either of us can say anything else, the cat darts up the hillside opposite us and disappears. I heave a shaky sigh of relief. It was moving fast, but it was unmistakeably a bobcat, not a mountain lion. The other hiker, Chewy, and I share a nervous laugh and marvel at our luck. What an insane wildlife sighting! Neither of us clocked whether or not the leaping cat was holding a snake in its mouth, but when we round the bend and look down at where the cat was, the rattlesnake is gone. I fall behind Chewy and keep hiking. Eventually my heartbeat returns to normal.
It's a steady climb through the hottest part of the day. My umbrella comes in handy. As the afternoon drifts toward evening, the trail slopes downward again through golden hillsides toward Cajon Pass. At long last, I reach I-15 and road-walk a third of a mile north to the McDonald's. The dining room is under construction, so close to twenty hikers are sprawled on the green lawn. I get a burger and a McFlurry and devour them. Across the parking lot of the gas station, a man is standing at a fruit cart. For $10, he swiftly chops mango, melon, coconut, and cucumber into an enormous fruit salad and seasons it with salt and tajin.
I've been at the interstate exit for an hour or so when Jackrabbit, Billie Goat, Becky, and Luca all arrive. We have a fun reunion gorging ourselves on fast food and fresh fruit. I have booked a room at the motel down the road, intending to rest now instead of pushing to Wrightwood and zeroing where most of the lodging looks expensive. Billie Goat is having foot issues, so she decides to stay with me, and the others hike back to the trail to camp just past the railroad.
Billie Goat and I stop at Subway to buy ourselves lunch for tomorrow. Then we check into the motel, which is much nicer than the Motel 6 in Big Bear. A shower feels heavenly.
Day 22.  Miles: 19.8  Total: 361.7
Billie Goat and I relax in the motel until around 8 a.m. On the way to the trail, we stop at McDonald's again for iced coffees and spontaneous ice cream cones. It's already warm, and we're hiking mostly uphill today. Billie Goat is a bit faster than me, but to pass the time, we hike together and chat most of the day. She's from California but lives in Salt Lake City. Like me, she has been doing seasonal work in the outdoor industry instead of her "real job." With a background in engineering, she works as a ski instructor in the winter. This story is common out here on the PCT.
Around 4 p.m., as we reach the transition zone between desert and pine forest, Billie Goat resolves to get to Wrightwood today. She hustles up the remainder of the mountain, while I continue at a slower pace, intending to arrive tomorrow. I cowboy camp at the top of the ridge, where a few other hikers are already asleep in their tents. The campsite is beautiful. All the FarOut comments warn about the wind exposure, but it's a remarkably quiet night. The moon is almost full. I use my buff as an eye mask to block its glow and go to sleep.
Day 23.  Miles: 7.6  Total: 369.3
Today I nero into Wrightwood, finding a hitch with the first car to leave the trailhead parking. I arrive in town around 10:30 a.m. I meet Billie Goat, Becky, Luca, and Jackrabbit for a delicious breakfast at the Village Grind Cafe, where thru-hikers get a free coffee. Then we head to the hardware store, where we receive a free PCT pin that I attach to my pack. We stock up on electrolytes and other random items, paw through the hiker box, and head back to the AirBnB. Even though I showered less than 48 hours ago, I still feel gross after yesterday's long, hot climb, so it's a relief to get clean.
Fry drives us to a neighboring town to go to Stater Bros, and we buy a large resupply, intending to mail ourselves provisions at the Acton KOA, where there's no large grocery store nearby.
In the evening, we wear goofy loaner clothes to dinner at a Mexican restaurant with Wild Card and Lana, whom we haven't seen since Big Bear. We had plans for a movie marathon, but after dinner we just eat ice cream (we need the Talenti jars for cold soaking, of course) and swap stories and then go out to the street to watch the lunar eclipse.
It's barely 11 p.m. when we go to bed, but it feels hours later, since I'm usually asleep by 8. I'm feeling thankful to be in town but looking forward to the next section of trail. We climb Mount Baden-Powell tomorrow.
Affiliate Disclosure
This website contains affiliate links, which means The Trek may receive a percentage of any product or service you purchase using the links in the articles or advertisements. The buyer pays the same price as they would otherwise, and your purchase helps to support The Trek's ongoing goal to serve you quality backpacking advice and information. Thanks for your support!
To learn more, please visit the About This Site page.