Book Five, Chapter One: Out of Ashland, into Ash Land
Taking 48 hours off in Ashland was a great idea. However, my feet already hurt again despite the rest and new shoes, but the half day today to a campsite up on a ridge, with a breeze, a slowly trickling spring, and a new hiker to hang out with named TickTock. He recognized me from the water report and thanked me for updating it, so that was kind of cool. The smoke is getting kind of bad, ruining the views, and maybe our lungs?
27.2
Did 27.2 the next day. Lots of rolling hills, and high, dry, meadows. Oregon is pretty nice, weirdly different from California. It's only a handful of miles distant but its different. At the same time, the days are 20-25 miles now, so a few days do mean 50-100 miles. The hazy sun is at least keeping it cool. Late in the day I got to the closed campground at Krum Lake. The lake stank, I think because it was low. Despite it being closed, the bathrooms were open and super clean, and the power was on! So while I ate dinner, I fed my phone as well. It was great to drink real water without filtering, and great to sit on a real toilet. Fueled with food and water, and a few hours left in the day, I decided to push on. Why not grind miles when you can?
Woke up cold the next day, for the first time since I can remember.
Smoky walking again. But there was a cool cabin to hang out in for second breakfast, and loads of huckleberries. And there was real trail magic – not a dude sitting there, needing to be entertained, not a guy saying he was a trail angel, just two 12-packs of soda on the side of the road.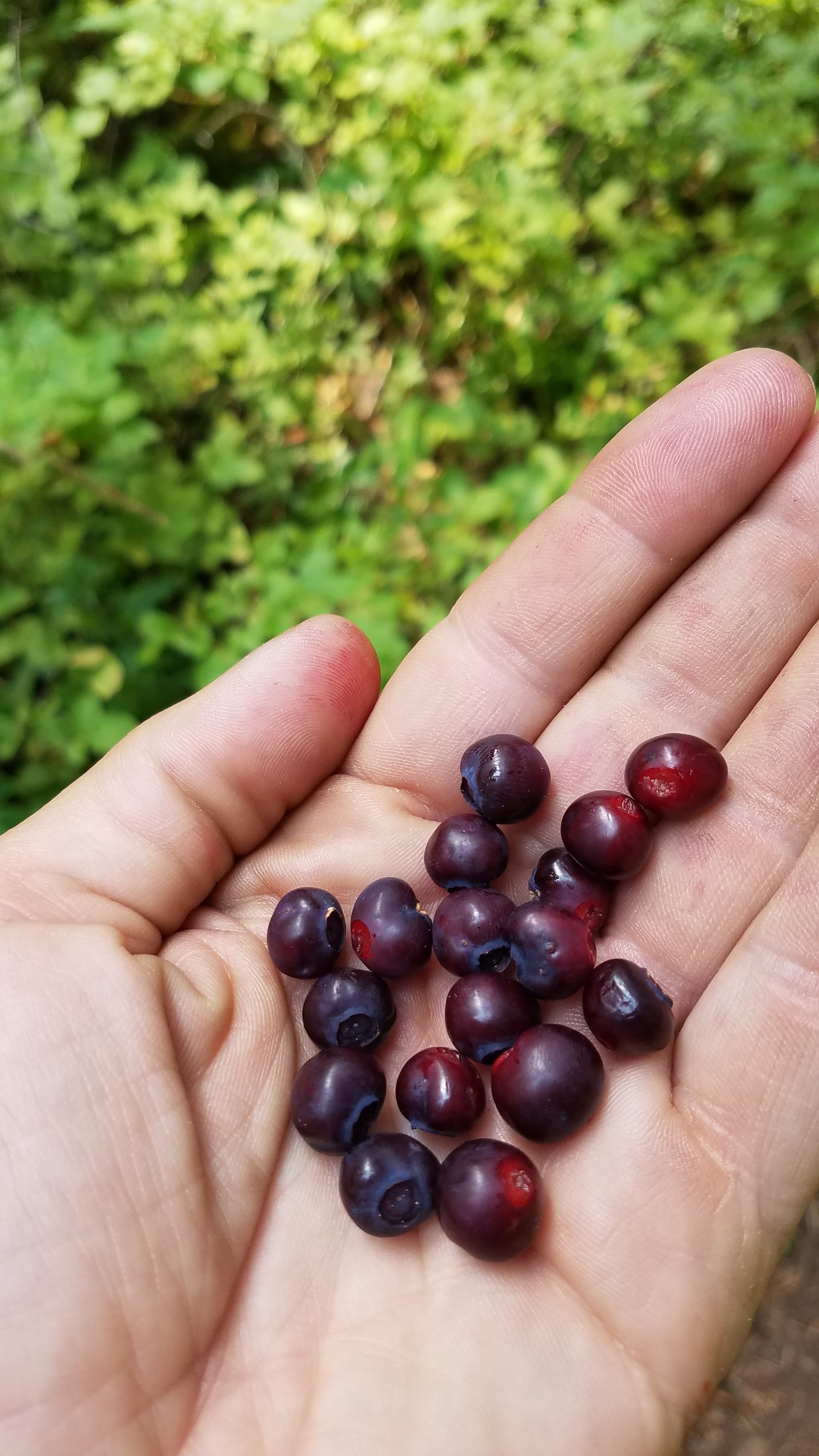 The highlight, though, was hitting the two-thirds mark of the whole trail. It's hard to believe, or more hard to internalize.
Vacation Day
Only 22.6 miles.
Got to camp early, around 6:30, read, napped, and ate. I figured that 22+ miles was still good.
Aug. 1, Holy Crap!
Aug. 2
Seventeen-point something miles plus the side trail to Mazama Village, a campground, store, and most importantly, showers and laundry! Beer, ice cream, and my resupply box, in that order. A soapless shower, and now we're doing laundry. Soon will be dinner, then camping, then I'll start it all over. Tomorrow will be Crater Lake, one of the wonders of the world. Another dawn start. At 6 a.m., I could see my breath. I kind of wish that I had my down jacket, or at least any shirt with long sleeves. But that stuff is waiting for me five days away in Shelter Cove. Where, realistically, I'll probably bounce it again, up to Cascade Locks. Despite there being other hikers, there are a lot of places where you might be the only person on Earth. It's beautiful, but creepy. Because of the smoke, I think, a lot of the birds are quiet. I'm sitting here at the visitor center of the park, breathing in the manmade cigarette smoke as well as the finer, bluer, more natural smoke from the fires. It's amazing how many hikers smoke! I learned that my old desert trail tamily left this morning; I'm now a day behind. That was fun while it lasted, but I'll never see them again, I think. They have schedules to meet, and young legs with which to meet them. It's kind of nice being part of the large hiker mob again, even if I'm just orbiting the outside. Hiking and camping alone gets a little monotonous after a while. Most of these folks know each other from way back down south. I've got nobody like that, a consequence of both being me and being outside your typical hiker demographic. Faceplant and I keep leapfrogging each other, but we're on our own schedules.
Wonder of the World
Crater Lake was awesome. I got to the rim around 9:30, ate some snacks at the cafe, and started walking the high trail along the top. By midafternoon, the wind had shifted, and the smoke started to pour in.The trail loses altitude pretty quickly, and in a handful of miles I was down in the trees, at a trailhead where a guy named Devilfish fills the bearbox with jugs of water. Because you're not supposed to rely on caches, I got there with a few liters of water left. Enough to get me to the stream in eight miles. Most of the others got there dry and drank deeply.
Aug. 4
Affiliate Disclosure
This website contains affiliate links, which means The Trek may receive a percentage of any product or service you purchase using the links in the articles or advertisements. The buyer pays the same price as they would otherwise, and your purchase helps to support The Trek's ongoing goal to serve you quality backpacking advice and information. Thanks for your support!
To learn more, please visit the About This Site page.