[Book Giveaway] "Americana," Graphic Novel About the PCT
Luke Healy's Americana is a graphic memoir chronicling the author's 2016 thru-hike of the Pacific Crest Trail. Through illustrations and interludes of prose, Healy brings to life the everyday joys, struggles, and banalities of the thru-hiking experience. 
Author: Luke Healy
Paperback: 336 pages
Publisher: Nobrow
MSRP: $18.95
*Want to win a copy of Americana? We're giving away two signed copies, info at the bottom of this post.*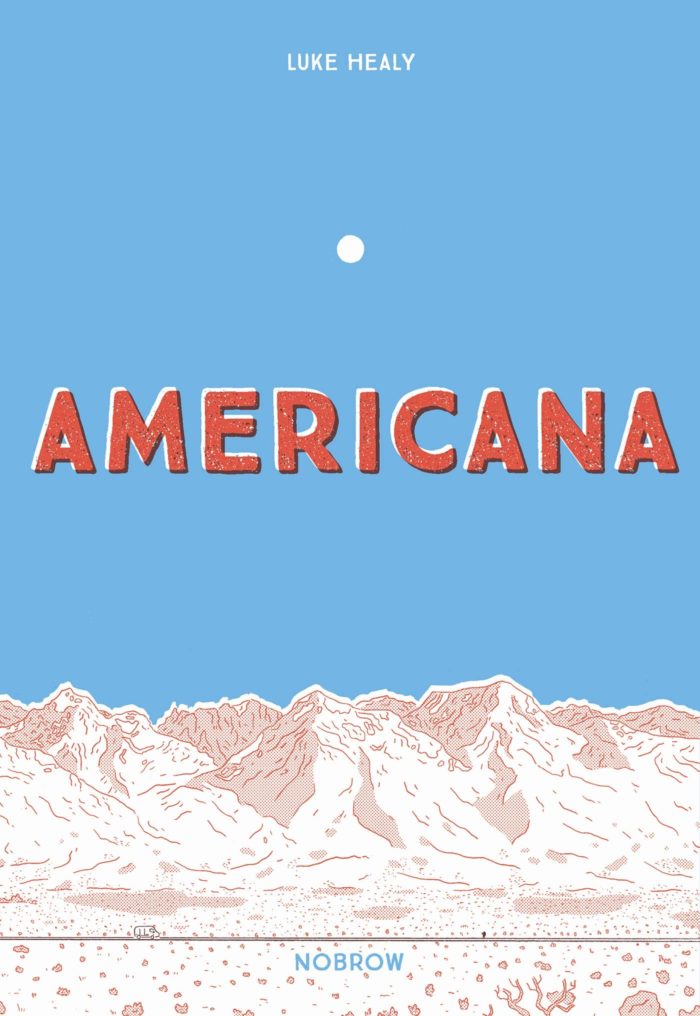 An Outsider's Perspective
Everyone has their own reasons for embarking on a border-to-border journey of thousands of miles on foot, but Healy's seems especially unique. He writes in the first pages of how, growing up in Ireland in the 1990s, he was obsessed with America. He describes the US of his childhood imagination, the feeling of wonder he experienced as a young boy witnessing the Fourth of July parade at Disney World in Orlando, and the relatively drab and unexciting life he felt he was bound to live if he stayed in his hometown of Dublin. By the time he read Cheryl Strayed's Wild and learned about the PCT, he says, America had already broken his heart twice. After studying in Vermont for two separate years during college, only to be hastily kicked out of the country at the conclusion of each, he had desperately applied for extensions and jobs that would sponsor a work visa to no avail. Thus, when he applied for a tourist visa that would permit him to spend six months hiking the length of the West Coast, he claims to have done so with the hope of soaking up so much Americana that he would fall out of love with the country once and for all. 
Personal Journey
Of course, there are other ways to gorge oneself on America that don't involve any grueling slogs through some of the country's highest mountains and most remote wildernesses. It is clear that Healy set out, like nearly every thru-hiker, on a soul-searching journey as well. His roller coaster of self-doubt, determination, guilt at leaving his family, elation, awe, utter boredom, physical pain, and delight at discovering his own potential will feel all too familiar to anyone who has attempted a similar undertaking. Most of these trials and triumphs are stated simply through his illustrations rather than through prose. This allows Healy's illustrations to speak for themselves and sidesteps some of the irony of describing landscapes and experiences that are essentially indescribable. 
His account of his journey is charming and humble. He does not boast about his physical prowess, but admits how good it felt transitioning from one of the slowest hikers in the deserts of California to one who actually passed others in the forests of Washington. He notes the tense political atmosphere of the particular election year in which he hiked, but does not frame his hike in political terms. He is honest about skipping miles and about nearly quitting in Agua Dulce. He describes the odd mixture of guilt, gratitude, and discomfort that comes with receiving trail magic from people who go on to espouse views you find distasteful or even threatening. He captures the boredom and the loneliness; the pull to join up with a trail family and the push to go it alone. He peppers in references that will give past PCT hikers the same warm fuzzy feeling of an inside joke. One panel in which he and his companions are sitting on the ground in Southern Oregon staring at the giant volcano they've been skirting around for hundreds of miles saying they are "so sick of looking at Mount Shasta," made me smile and laugh to myself, "same."
Familiar Ambiguity
By the end of the book, it was unclear to me whether hiking the PCT helped Healy fall out of love with the US or not. I think it is safe to say that by the time he reached the Northern Terminus (and well before) he had a far more nuanced vision of the States than he had when he saw the parade at Disney World on the Fourth of July. He also makes clear that he was ready for more regular showers and less regular physical punishment by trail's end. But had he had his fill? Had he done what he set out to do? Gotten everything out of the hike that he wanted? Healy does not provide those answers. However, this also rings true. Many a long-distance hiker can probably attest to the feeling that a thru-hike on the one hand is a life-changing, paradigm-shifting experience, and that on the other its lessons can be elusive and sometimes devastatingly vague. Some readers might find it dissatisfying that Healy does not neatly sum up the relative success of his American experience in terms of the motives he presents at the outset, but his choice to refrain from any such proclamations feels relatable and honest. 
A Fresh Look at Thru-Hiking
I usually hesitate when it comes to reading thru-hiking memoirs. Of course, every thru-hiker has a unique journey and story to tell, but it is not always easy to make a tale that starts at Campo or Springer, ends at Manning or Katahdin, and winds along a path that thousands of others have walked and written about feel fresh and interesting. What I appreciated about Americana was that it offered a foreigner's perspective of trail life and America as a whole, and that it did so utilizing a medium that is rarely, if ever, used to depict thru-hiking, despite being perfect for it. Thru-hikes are internal journeys, of course, but so much of the experience is about immersing oneself in what is outside, about slowing down and seeing the world in a way that it cannot possibly be seen at the speeds at which we now normally travel. Thru-hiking is a very visual experience, and Healy does a wonderful job of conveying it that way. 
Want to win a copy of Americana?
We're giving away two signed copies of Americana. To win, comment on this post telling us what inspires you about the PCT. Winners will be chosen at the end of the day on October 16.
Affiliate Disclosure
This website contains affiliate links, which means The Trek may receive a percentage of any product or service you purchase using the links in the articles or advertisements. The buyer pays the same price as they would otherwise, and your purchase helps to support The Trek's ongoing goal to serve you quality backpacking advice and information. Thanks for your support!
To learn more, please visit the About This Site page.