Desert's End
I've finally made it to the Sierra! (everyone cheers)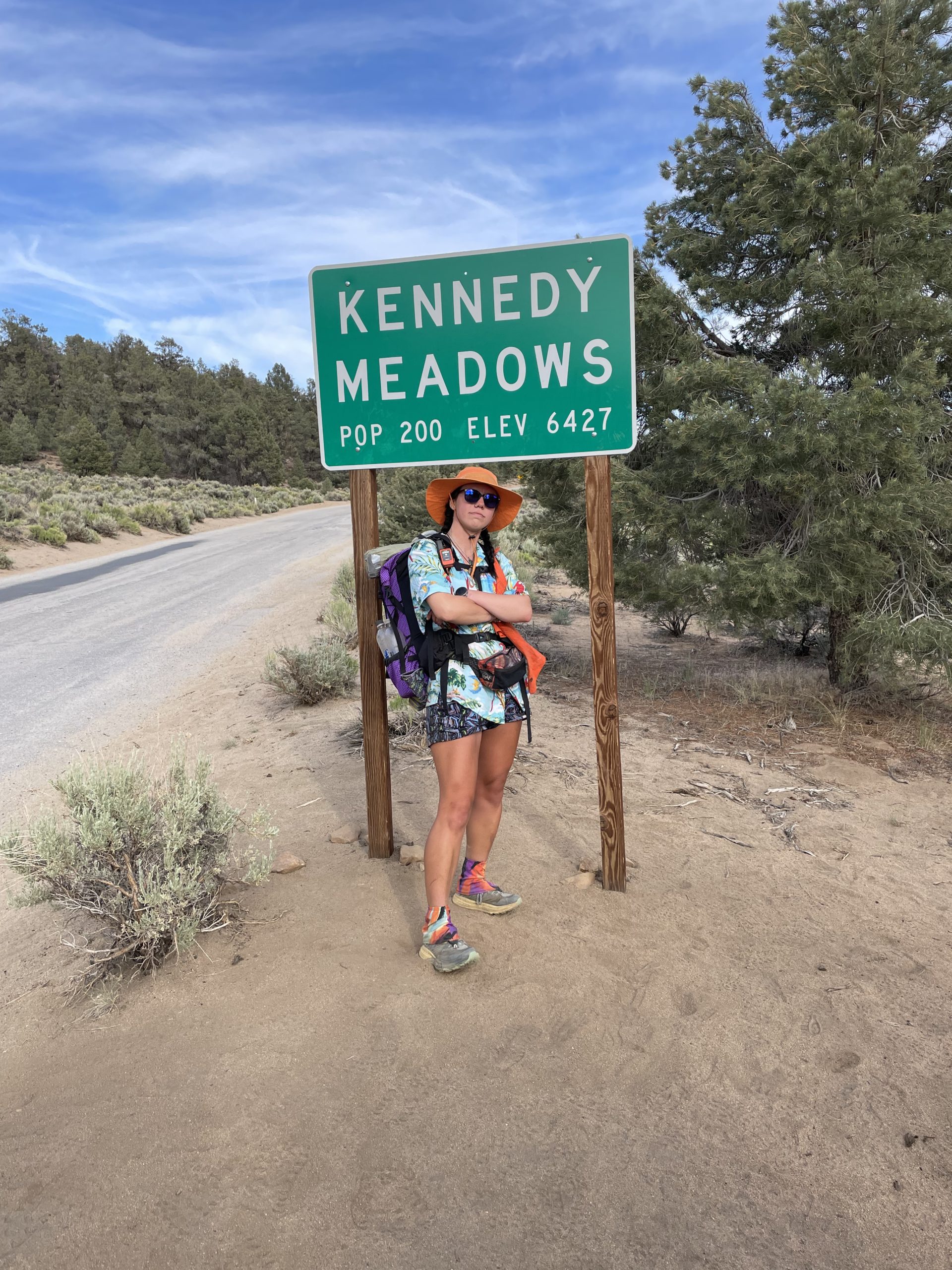 It's hard to describe the feeling of knowing that the desert is complete. It was incredibly harsh and downright miserable at times, but also filled with a raw beauty I haven't experienced in many places before.
Growing up in the muggy and basically aquatic environment of Louisiana did not prepare me in the least for hiking 700 miles in Southern California. There were stretches where I struggled momentously, whether it be from water carries, the baking sun, or the irritation of the spiny vegetation on overgrown sections. However, with the desert now firmly in my rearview mirror, I can begin to appreciate the experience. It was definitely overwhelmingly type 2 fun. I don't mean to sound like a whiny brat, but there's a reason (that I became very familiar with) why the desert makes people go insane in so many stories.
At a certain point, I realized some parts of my gear just weren't working for me, unnecessarily adding to my discomfort. I started this trail with a frameless pack, the same one I used on the Pinhoti this spring, but realized after weeks of water carries (some up to five or six liters) that the pack was simply not suited to this environment. On the Pinhoti, the most water I needed at a time was two liters, which the frameless pack handled superbly. On the Pacific Crest Trail, my shoulders ached every day, all day. In hindsight, I should've known better. I was in a car accident in 2018 that left me with permanent spinal damage in my neck, which radiates pain to my shoulders. At the time, I was told by medical professionals it was unlikely I would be able to hike the Appalachian Trail, my goal for 2020. In the end, I did end up hiking the AT, completing it in 2021. On that trail, I wore a stoutly framed Osprey pack, which focused nearly all the weight onto my hips, keeping my neck pretty much out of the equation. So, after much back and forth with myself, I decided I needed a pack with a frame.
Several issues arose from that decision. For one, the lead times on many gear companies' packs can extend for months. Secondly, I didn't want anything significantly heavier than my current pack. I'm talking maybe a pound more. Lastly, and my main problem it turned out, was that it seems most cottage companies do not cater to women's bodies. I understand from a business perspective that small companies must make products for their largest consumer base (men) if they want to hope to turn a profit, but it made my search very difficult. My frameless pack was a size small torso length, using a size small hip belt. Once I received it, I had to DIY shorten that hit belt over six inches to fit my frame. Even after all that adjustment, it still wasn't right. I would have loved to order a fully custom pack to my height and waist specs, but the lead time problem made that impossible. So I began looking to my fellow hikers around me. Any time I met a slender woman hiker, I asked her how she liked her pack and what size it was. Many let me try their packs on.
Eventually, after meeting my friend Early Bird who is completing her triple crown, I decided to go with a ULA pack. Looking through their website, they had many options on pack sizes. What really stuck out to me is that their hip belts go down to an XXS. I went back and forth on whether I needed a small or an extra small hip belt, even consulting with ULA themselves about what they recommend. Eventually, I put in the order for an Ohm 2.0 and just got both sizes so I could try them on in person. Of course, not even 24 hours later, I met someone wearing a ULA pack with a size small hip belt. She let me try it on, and I knew immediately I needed the extra small. I contacted ULA and requested to remove the size small hip belt from my order, which they did immediately with no problem. They were extremely helpful from start to finish in the ordering process, and my new pack was on its way to me within 24 hours of ordering it. My old pack was purple and I hated to give that up as a born and raised, lifelong LSU fan. Thankfully, ULA offers a lovely bright purple shade for their packs. It was love at first sight. With my new pack ordered, I had a new spring in my step on the way to Tehachapi, where it waited for me. I still had about a week to get there, but the knowledge that it was there kept me going and raised my spirits. You know what they say, "there is no bad weather, just bad gear." I had fallen victim to a bad gear choice. I don't mean this to trash my previous pack, because all in all, I really liked that pack. It just was not suited to my frame, as a woman with a small waist, nor was it suited to my environment.
Somewhere along the way, I also replaced my shoes that had seen way more miles than they should have. I started the PCT in the same shoes I wore for over 200 miles on the Pinhoti, so by the time I replace them they were almost at 700 miles. I do not recommend waiting this long ever, but coordinating with folks back home to send things out was a bit more of a challenge than I imagined.
By the time I arrived at Kennedy Meadows, I had amassed a laundry list of items to replace, repair, and/or acquire. My original bear canister strategy was to borrow a friend's, but another hiker, Doggone, told me a few weeks back about renting a Bearikade from Wild Ideas, the makers of the Bearikade canisters. If you are unfamiliar with bear canisters and the different kinds, let me explain. A bear canister is required for a long stretch in the Sierra. They are heavy, unwieldy cylinders you must pack all of your food in to keep the black bears from eating dozens of honey buns in the unfortunate chance they try to get into your food. The standard model weighs over 2 pounds, basically a nightmare to a thru hiker. The Bearikades, however, are made from carbon fiber instead of the standard thick plastic. That makes them about a pound lighter, therefore much more favorable to an ounce-counting thru-hiker. This weight savings does come with a staggering price, costing almost $350 new. Because of the price tag, I thought the Bearikade was completely off the table until Doggone mentioned they do rentals. It cost me about $5 more than a standard bear canister rental from one of the outfitters at Kennedy Meadows. The only difference is that you must order it in advance. I contacted Wild Ideas about a week and a half before I needed the canister and arranged my rental. They said that as a PCT hiker I can use it as long as I'd like, even take it to Canada if I want to (I don't). With a pound saved, I was feeling pretty good.
I also had to replace lots of bits and bobs, like my dirty water bag that had succumbed to a ton of pinholes near the base. This is the same bag I've used for almost 3000 miles of hiking, so I have no gripes with its performance and appreciate the great job it did for so long. Also, I got a new hat and hopped on the Hawaiian shirt train!
One piece of gear I did not pick up and Kennedy Meadows was an ice axe. I did not know a single hiker who, at this point, is bringing one. Some people aren't even bringing micro spikes, but as a true southerner, I did not feel comfortable without my pair.
As I enter the Sierra, with a refreshed set of gear and an even more refreshed mindset, I feel excited, grateful, a little bit anxious, and triumphant. I've made it through the gauntlet that was the desert and lived to tell the tale. Now the real fun can begin!
Love,
Pippin
Affiliate Disclosure
This website contains affiliate links, which means The Trek may receive a percentage of any product or service you purchase using the links in the articles or advertisements. The buyer pays the same price as they would otherwise, and your purchase helps to support The Trek's ongoing goal to serve you quality backpacking advice and information. Thanks for your support!
To learn more, please visit the About This Site page.