Episode 18: Snoqualmie to Stevens
Snoqualmie Pass to Stevens Pass (mile 2483)
It was a little after 1PM when Centerfold, Spoon and I finally peeled ourselves away from the creature comforts at Snoqualmie. We knew the forecast called for some rain in our future and the guys joked for the first couple miles, "What if we just go back now? It's trivia night at the brewery…" It wasn't long before we broke the town spell and stopped doubting our choice. The trail was gorgeous, with wide open views from a ridge line that never seemed to end. It was also steep (which we expected from looking at the elevation profile) and extremely rocky (which we didn't expect). for hours we stumbled over rocks the size and texture of dinner plates. The biggest danger was that we could not keep our eyes on the ground; The setting sun bathed jagged rock walls in gold fading into rose. The colors were so vivid they were almost shocking; the blue cloudless sky, the dark monoliths of rock twisting fingers up like turrets, green grass, bright red berries and the early autumn color of the Huckleberry bushes brushed by cold nights – all of it was visually overwhelming as we rolled around the mountainsides, tripping on shale. 
We ran into Clockwork and Squirrel who we had seen leaving Snoqualmie the day before. Apparently, they had had the same debate as us the day before – should they stay or go? They decided to stay the night in Snoqualmie. Did I mention how good the food truck was? After passing them, we finally saw the culprit behind the silly squeaky toy sounds we'd been hearing for weeks – it was the pika! They're sort of a pint-sized cross between a woodchuck and a mouse, and they look adorable. One of the little furry mammals hopped up on a rock and challenged us with a bold squeak when we passed him by, which interrupted our progress with fits of laughter.
At dusk we went around a bend in the trail and came face to face with the moonrise. Nearly full, it floated above the dark fingers of the mountainside in front of us. It looked like we could have climbed up there, reached our hands up, and touched it. For our entire descent into the trees, we watched the moon grow brighter against the pink and blue sky. There were no stars out yet, only this alien scene of the white orb, the austere rockscape, and the watercolor horizon.
We reached the trees and the first water we had seen since reaching the exposed ridge and met the 'Double D's' – Doug and his son, Dodge. There wasn't a ton of room at their site so we found a campsite a short distance away. There seemed to be dozens of tents spread throughout the woods, the scattered headlamps like stars among the trees.
The next day we paid for the beautiful views from the night before. Entering one of many wilderness zones in Northern Washington, we quickly met an obstacle course of fallen trees. But, after miles of maneuvering, we ran into a trail crew cutting logs. I was really excited to see them – and not only because it meant an improvement in the trail. We were only a couple miles from Escondido Ridge, which is the Northernmost region that Toe Touch and I did trail work in 2011. We had spent our longest hitch there, rebuilding a large section of trail for eleven days straight. I've been looking forward to hiking this section of trail for five years.
When we got to the ridge, I was shocked at how much the trail had regressed. It was overgrown with brush and huckleberries and rutted out by water. Already, tread creep – when the usable trail slides lower on an embankment – had set in, narrowing the trail significantly. We left that trail a highway; now it was a goat path. It was a surreal experience, walking that section. Old corners of my memory lit up again. But mostly, I felt so grateful for all the hours of hard work that had made the path in front of me. Every day, we walk a section of trail that would take at least an entire summer to just maintain.
We reached a campsite that night just in time for darkness to settle. There were two tents there already, but they were happy to share the space. We were in a hurry to set up before we would need headlamps, so we threw our tent up, changed inside, set up camp and started cooking dinner as soon as we reached camp. It was funny when we realized that the other campers were only out for the week – and we shocked them slightly with our manic set-up. By now, Spoon and I have turned our set-up into a science. We each have our own camp chores and if we want to, we can be making dinner in our long johns within 10 minutes of stopping.
The two men had a lot of questions and eventually, we felt like we didn't have any answers. "You must have some amazing stories from your trip." They said, leadingly. But we were full of our own stories; we wanted to hear from them. When we stopped talking though, they sat in expectant silence like children, hugging their knees and looking at us pleadingly. It felt silly, in a way, to be telling stories about our summer. It wasn't a collection of short tories; it was more like a novel, a flowing change that moved through us and around us. We had traveled through America's backyard, but we had also been living in a different world than most Americans. Even now, I don't know how to put it into words. In two weeks, I will have to answer the question, "how was it?" a thousand times – and I will still not know what to say.
The next morning, we got out early but stopped for a long time in a patch of blueberries by the river, making coffee and enjoying the sunlight. Now that we've opened the door of 'what do we say to people when we finish?' It's becoming increasingly hard to ignore that we will have to finish. Our steps are a countdown, and although I miss everyone at home, there are days where I want to rip up the earth and hold it.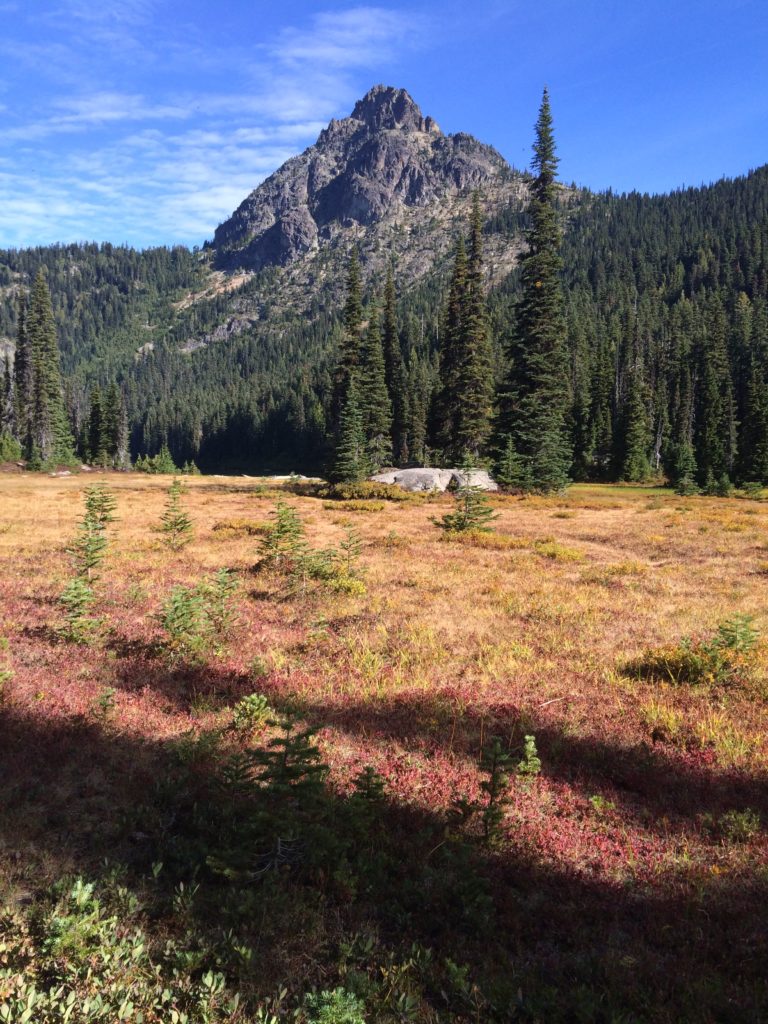 Nightfall found us pushing up a steep climb. We tumbled over the top and hiked the next four miles by headlamp, teased by the last glowing patch of sky on the horizon. We knew the rain was coming. We knew we should have hiked bigger miles to avoid it, but now it was too late. So we hiked well into night while encroaching clouds blocked the stars, one by one. A light mist started to fall as we set up the tent, and we threw everything inside. We were 7 1/2 miles from Stevens Pass, and we would be there soon no matter what the morning brought.
The morning did not go easy on us. We woke up to steady rain and forced ourselves to pack up and move. Stevens Pass was only a few hours of hiking away. There was some steep up and down before the pass, which we gradually grew to be grateful for. The day started cold and only got colder. Even though we were descending, the temperature was dropping and the rain was picking up. It poured on us for the entire hike, eventually soaking through our packs and our clothes. This was the wettest we had been on trail, it felt like we were swimming to Stevens. By the time we reached the ski lifts, we could see our breath and the rain was mixing with sleet. When we saw Stevens Pass lodge, we cut the trail and ran down to it. Mountain bikers were tearing down the same hill, soaked and splattered with mud. We reached the lobby and stood there, uncertain of how to proceed.
There were puddles of water on our packs, pooling in the folds of our rain gear, and we were shivering all over. One by one, we removed the wet items in the locker rooms at Stevens Pass and changed into all of our dry layers. Upstairs was the most welcome sight on earth: a pub with a roaring fire, hikers drying their gear on the backs of chairs, and Centerfold holding a table for us. It seems like he's getting to where he can guess our arrival time.
A couple of beers later, we decided that we didn't want to hike in the rain any more that day. Also, our box didn't make it to Stevens Pass in time, which meant we were facing the upcoming 130 mile stretch with a couple of granola bars. So we hitched into Skykomish with a couple and their dog, got beds at the hostel, did a gas station Resupply and a criminally expensive load of laundry, and spent the rest of the evening at the saloon chasing away patrons with our juke box choices. There is nothing better on trail than feeling like you cheated the rain. Except maybe feeling like you braved the rain – and then cheated it.
Other links to check out:
My Instagram
Little Spoon's Instagram (Mark Santoski)
The Camel of Corvallis' Instagram
Centerfold's Instagram (Jon Graca)
Toe Touch's Instagram (Julie McCloskey)
Toe Touch's Blog
Sponsors of Chuckles and Little Spoon that you should check out:
Mary Jane's Farm organic dehydrated meals
Honey Stinger bars, waffles, and energy chews
Big Sur Bars
Katabatic Gear
Mom's Stuff salve
Affiliate Disclosure
This website contains affiliate links, which means The Trek may receive a percentage of any product or service you purchase using the links in the articles or advertisements. The buyer pays the same price as they would otherwise, and your purchase helps to support The Trek's ongoing goal to serve you quality backpacking advice and information. Thanks for your support!
To learn more, please visit the About This Site page.