Only The Essential: A Behind the Scenes Look at the PCT Documentary
Give two college buddies a camera and five months off and what do you get? Only The Essential: A Hike From Mexico to Canada on the Pacific Crest Trail. Okay, so it's not that simple, but Colin Arisman and Casey Gannon make it look that way. This documentary of their 2013 thru hike of the PCT is a stunning representation of the journey. The shots are beautiful and the story is inspiring. Little else pumps up an outdoor lover like seeing the idyllic landscape of the west coast unfold before your eyes and these guys have provided us with a major dose of motivating inspiration.
Casey and Colin were kind enough to answer a few questions I sent their way and enlighten me to the process of creating the film. It all began in their senior year of college when Colin came to Casey with the idea to thru hike the Pacific Crest Trail. Colin had hiked the Long Trail in Vermont three times and Casey had joined him for a week or so several times before, but neither had taken on a trek like the PCT before. After beginning research for their thru hike, they noticed a lack of video detailing the PCT. That is when their own hike quickly evolved into a documentary project as well. Colin had grown up in a creative family but had never dabbled in film making before. Casey had made some films in high school and studied it a bit in college. Still these two embarked on an adventure of many facets with each other and came out on the other side with a beautiful final product.
The title of the film itself is inspired by a Henry David Thoreau quote from his book Walden:
I went to the woods because I wished to live deliberately, to front only the essential facts of life, and see if I could not learn what it had to teach, and not, when I came to die, discover that I had not lived.
Colin told me that "the quote kind of captures the energy that led us to impulsively follow the thread of our inspiration. I re-read the quote last year and the title was just sitting there right in the middle of the quote." Casey added this explanation to the direction their film took: "Our culture has become very materialistic, needing all the newest gadgets that are supposed to make our lives simpler and happier. I have found that I value experiences much greater than material objects, exploring new areas and meeting new people brings me a lot of joy and happiness. Hiking the PCT was the (bare bones) notion of this philosophy; carry only what you need and take pleasure in your surroundings and the people you meet along the way. Colin and I wanted to share with people the power of nature and how much it has to offer. When you are on the trail, life boils down to food water and shelter, the essentials of life, a simplistic life that lets you take in everything around you and appreciate all that you do have." (He said it so beautifully that I can add nothing more!)
I asked them about what each their gear set ups looked like for their thru hike because as a gear nut and a fellow thru hiker I am really interested in such things! For those of you who are as well, this is what Casey said, "Our gear set up was light but not the ultra-light that many people are moving towards for long distance hiking. We each had about a 15-20lb base weight carrying very little creature comforts. I used a tent for the entire trail and Colin switched from a tent to a tarp about midway through the trip. For backpacks, I had the ULA circuit and Colin had the Granite Gear Blaze, both about 60L packs. For stoves we both used simple alcohol stoves; I made one out of a cat food can and Colin used the Caldera Cone. The idea was to keep all our gear simple, affordable, and low weight. For cameras I had a GoPro Hero and Colin had a Sony RX100 with multiple memory cards and batteries for both and an external battery pack. We also had a Zoom H1 mic, many GoPro mounting systems, and for most of the time an iPad to post mini webisodes of our hike."
As an AT thru hiker and a perspective PCT thru hiker, I was fascinated in how Colin and Casey's experience on trail differed from that of a regular thru hiker because of the film making process. I remember days where I barely wanted to walk, much less did I have the energy to shoot gorgeous and inspiring footage of my day! Colin said, "Our approach to filming was to pull the camera out everyday – even if we were struggling or passing under a freeway. We wanted to capture what the journey truly looked and felt." Eventually the guys did it. 2650 miles from Mexico to Canada and it had been fully documented, but that was only the beginning.
Just as they started the trail with a huge and unknowable task ahead of them, they started in on editing the footage they had shot as soon as they returned from the trail. "As far as editing the film, it's tough to describe what sorting through 40 hours of shaky hiking film is like. Switching gears from 15 hour hiking days to 15 hour editing days on the computer is really tough. It was emotionally and physically hard to be on the computer as much as was necessary to put the film together."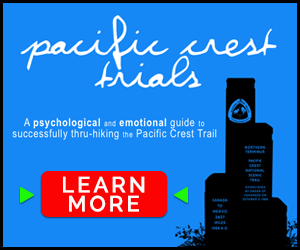 I asked Colin what advice he had for anyone who was planning on creating a documentary or keeping a video blog while on their thru hike and his tips are very sound. "Take your time with your shots. Looking back on a lot of the footage I wish I had held the camera stiller, wished the clip was longer, or taken multiple shots from different angles."
For anyone who hasn't seen any of the film, check out the trailer here. If you like what you see, go ahead and snag a copy here. As for Colin and Casey, they are not the sort to have idle hands. More adventures are on the way and I wouldn't be surprised if they turned into beautiful footage as well!
UPDATE: The movie has since been released in full!  Enjoy 40 minutes of PCT bliss below
Affiliate Disclosure
This website contains affiliate links, which means The Trek may receive a percentage of any product or service you purchase using the links in the articles or advertisements. The buyer pays the same price as they would otherwise, and your purchase helps to support The Trek's ongoing goal to serve you quality backpacking advice and information. Thanks for your support!
To learn more, please visit the About This Site page.