An Extended Approach To the PCT on the PNT
What about all the snow?
It's a question PCT hopefuls this year can't avoid.  NOBO, SOBO, or Whatever-BO, there is going to be snow persisting along the trail throughout the hiking season.  It is playing havoc with people's start dates, and the effective window for successful thru-hikes is looking quite short this year.
For me, it's still #SOBOornogo.  But, my projected start date of June 17th is, well, unlikely to be a good idea.  I've been reading blogs and journals of SOBOs from years past, and I'm coming to appreciate the dangers posed by traversing the northern-most 200 miles while the snow lies heavy on the land.
It's gonna be gnarly.
After talking with some Rangers from North Cascades NP, local outfitters, and former PCT thru hikers, I started to realize that beginning a southbound thru hike attempt before July 1st is not looking like a possibility at this point.  Cool, that's fine, I still haven't bought my train ticket, I think.  But damn, I'm really itching to go.
That, plus I've started to make preparations to leave my beloved Minneapolis for the anticipated June 17th start.  So, what's a stubborn, eager, yet also not-quite-ready-to-risk-death thru hiker supposed to do?
Make the hike longer. DUH.
Just because I can't shouldn't start the PCT on June 17th, doesn't mean I can't start hiking on June 17th.  I just need to think outside the box a little.  I've got the gear, and I've got the time.  There's gotta be something I can do that gets me on the trail but delays my PCT start.
ENTER THE PACIFIC NORTHWEST TRAIL
Seriously, if you've never heard of this trail, check it out!  Don't worry, I honestly hadn't heard about it until about a year ago, and until earlier this week I hadn't given it much thought.  But now, it seems like the most obvious solution to my little "problem."  I've got a plan!
Now an official National Scenic Trail, the PNT traverses some 1200 miles from Glacier NP to the Pacific Ocean.  Along the way, it shares ~20 miles each with the CDT and PCT.  Dubbed the "Crown to Coast" trail, it passes through some of the most remote wilderness in the Lower 48.  Meh, sounds alright I guess.
Though a thru-hike sounds like an awesome future-goal, for now I'm just looking at a shorter section hike.  The Goal: Delay my PCT start date by two weeks, without delaying the beginning of my overall trip.
I first pondered the awesomeness that would be dipping my feet in the Pacific Ocean before walking East to Holman Pass.  The two trails are as one from there to Castle Pass, about 17 miles to the North.  From Holman Pass, I would pick up my original PCT plan, just a bit later.  I had no idea how long this would take or what I would see along the way, but it sounded great!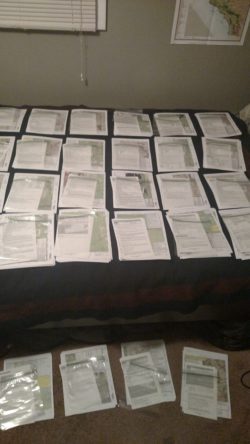 I started looking at maps.  Have I even mentioned that I FUCKING LOVE MAPS???!?!?  (Seriously, these are all of my PCT maps grouped into their 28 individual sections, as prescribed by the amazing Yogi.)  But, back to this story: The PNTA has easy-to-read, detailed maps available on their website.  I traced the red dashes as they made their way towards the PCT.  And it clicked.  I'm gonna do this.
So today, I called up the PNTA to ask them about a million billion questions.  The person I spoke with was the freaking bomb, and a wealth of knowledge (Former PNT AND PCT thru-hiker!).  Our 30 minute conversation was enlightening, and it not only strengthened my desire to incorporate some of the PNT into my thru hike; I even flipped my itinerary completely!
Instead of starting out from the shores of Puget Sound, I was instructed to depart from Oroville, just outside the eastern boundary of the Pasayten Wilderness.  After about 160 miles Westbound on the PNT, I would connect with the PCT at Castle Pass, just shy of 10 miles south of the Canadian Border!  I was told that the scenery in these 160 miles is the best the Pacific Northwest Trail has to offer, and can hold it's own against even the most picturesque miles of the PCT.
However, this section will not be without its own challenges.   I will be avoiding the more treacherous passes on the PCT for another few weeks, but there will still be plenty of snow to navigate.  Map and compass, and some GPS for backup, will be necessary to find my way.  There will be lots of blow downs.  Resupply will be, um, difficult.
WAIT, IT'S 160 MILES WITHOUT A DAMN ROAD!?
Sign me up!
I need to do some more research at this point, but it seems very likely that my first opportunity for resupply after starting at Oroville would be Ross Lake.  That would mean continuing on the PNT past it's junction with the PCT, pick up a resupply package, then hike back to the PCT to start my thru hike.  That's gonna be, like, two freaking weeks!  Well, I'm sure I'll figure something out…
Though this plan still obviously needs refinement, I feel like it will be a manageable way to delay my thru hike to a safe-er start date, plus be an amazing addition to my whole trip.  The downside to delaying my PCT start is the pressure to hike fast fast fast to avoid exposure to early shit snow storms in the Sierra Nevada.  I feel confident I could hike fast enough, but I would prefer to do more relaxed mileage and spend a bit more time on trail.  But, hey, these are the times we live in.
A general thought on thru hiking "plans"
DON'T GET ATTACHED TO THEM.  They will change.  You will be glad they changed.  You will want them to change!  This was another lesson I took from my AT thru.  It is important not only to be flexible, but to embrace any changes to your plans brought on by your changing circumstances.
I'm still planning to start walking on June 17th.  I'm still planning to walk from the Canadian Border to the Mexican Border.  I'm still planning to have some fun along the way (at least a little bit).  Let's all cross our fingers for a warm spring, now!
(Cover photo from pnt.org)
Affiliate Disclosure
This website contains affiliate links, which means The Trek may receive a percentage of any product or service you purchase using the links in the articles or advertisements. The buyer pays the same price as they would otherwise, and your purchase helps to support The Trek's ongoing goal to serve you quality backpacking advice and information. Thanks for your support!
To learn more, please visit the About This Site page.
Comments
1
Well, how'd it go Righteous???
I'm hoping to leave eastbound on the PNT mid June this year! And the PCT is my heart; I hope you had a wonderful hike!