Falling in Love on the Pacific Crest Trail
Sorry, it's been a long time since my last post.
After 50 days on trail (March to April), I guess I have no idea what's going on anymore. No kidding, right? Before I started, I genuinely thought I had a plan. I would hike the PCT. Finish by August. Go to grad school. Well, falling in love was an unexpected twist.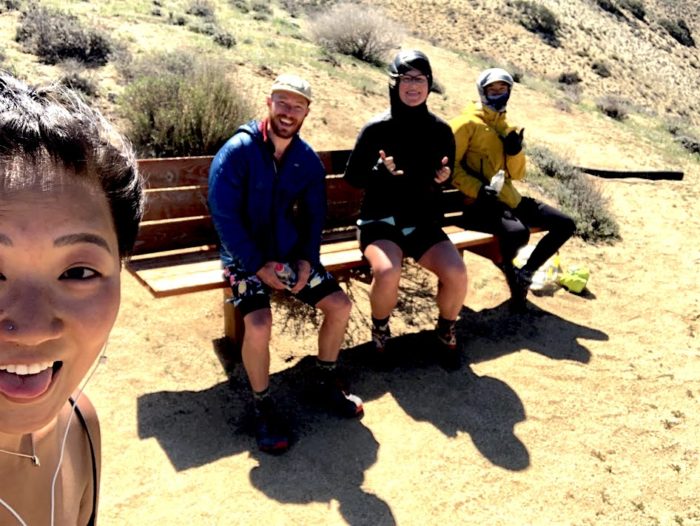 I applied to a couple of colleges, began the trail March 2, and set out for a solo adventure. At first, I really tried to avoid other people. I camped two miles farther past groups, set out early in the mornings, and tried to limit my resupply points.
By the time I had made it to Warner Springs in early March, I had acquired a couple of acquaintances. I tried to make it clear that I was going my pace and would remain independent. Right. My two companions, Feather and Viva, kept up pace with me for a 25-mile march to Paradise Cafe. Well, after such a day and a cold evening, we bundled up together in the employee bathroom to weather out the windy night. By this time, I suppose, I couldn't really deny that we were now bonded.
Trail Life Reboot
Well, life changes a mile a minute. As soon as the three of us entered Idyllwild, we were met by two more early hikers, Cheapdate and Sixes, who would both later become very significant to me in different ways. They had been held up in town for a couple of weeks after starting on the trail mid-February. After meeting them at the local library, all of us ended up staying with an amazing trail angel. Still not very keen on hiking with people, the plan was to hike up San Jacinto together and then I'd be on my own again.
San Jacinto mid-March was no joke.
After taking turns breaking trail in the fresh snow, we ascended San Jacinto on March 14. During the experience, my new companions definitely grew on me. The sound of crashing ice falling thickly from tree branches broke up the sound of our stomping feet in the snow. Then the frigid night spent in the emergency hut was comforted with mutual shivering and the sharing of snacks. By morning our shoes and socks were frozen solid. The long trek down to dry land was nearly morale breaking.  
We ended up losing two people that day on the descent down the mountain. One member for the rest of the trail and the other we regained the following day. Feather slid down the edge of Fuller Ridge, breaking both of her poles on the thick icy snow, and retreated back to Idyllwild. Cheapdate slid down the slope as well but made it to an abandoned cabin in the woods before dark (no confirmation from anyone else of its existence). We were able to regroup with Cheapdate in Cabazon, shaken and exhausted, dreading the next ascent up to Big Bear.  Feather, hating the snow, jumped ahead to avoid the extreme conditions.
Jumping forward, from hiking all day by myself, I was pulled into a new trail experience. Our group began stopping for long lunch breaks and board games, laughing at inside jokes, and planning the next camp spots. The "I" changed to "we," "my" to "our," and with much resistance, and some wooing, as well as tough days and the happy moments, I became part of a family.
Trail Romance
So I also started the trail with absolute certainty that I would not be caught up with any romance out on the trail. I was sure of it. I wanted to feel independent, badass, and untied. And, of course, the universe has some way of telling me that I, in fact, have little control over the matter of love.
So a stubborn-ass guy eventually wore down my borders. But let's be real; within days of meeting each other we were suddenly swept up in the fun of it all. I suppose with life on the trail, all relationships are on adrenaline. The regular expectations don't really seem to matter or exist. With the rest of the world so far away, on the trail I felt secure and confident in who I am.
And for a gal who never imagined receiving such attention, it was actually quite nice to be given bouquets, foot rubs, and snacks left for me along the path. It was hard not to resist the comfort of a hiking partner.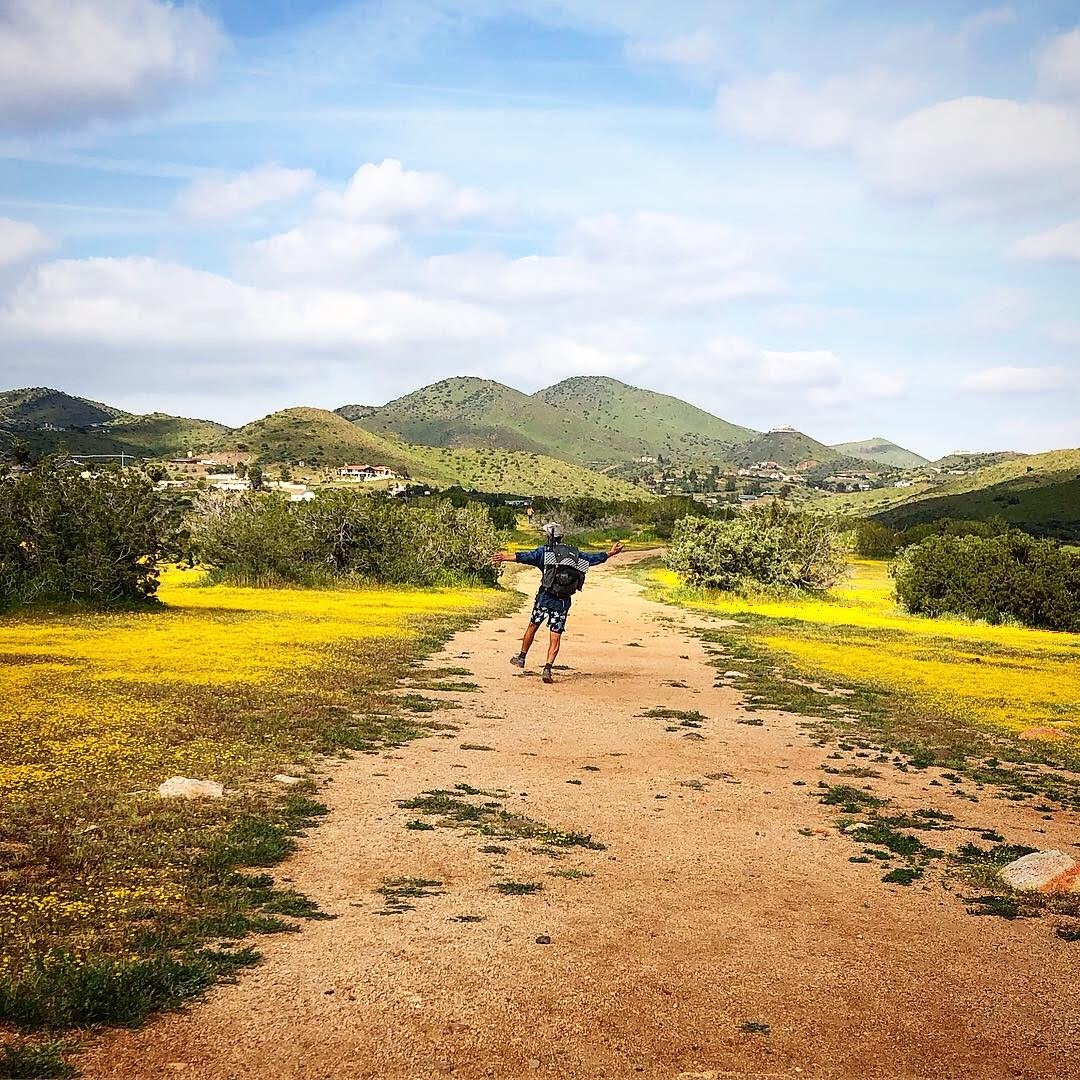 Soon enough I was mailing my tent forward, meal planning, and essentially living with some guy in the woods. It sounds complicated, but it was actually a seamless transition.
Together, with the rest of our trail family, we covered about 400 miles together. Cap'n Sixes, Cheapdate, Viva, and I hiked all the way to Walker Pass together.
Reflection
Starting so early on trail produced a very different experience than most hikers leaving during the peak season. The first day I hit solid rain showers and during the first week I encountered snow on the path as well as many snowbanks in my way.
For the first weeks there were only a handful of other hikers to keep track of. When someone got off trail, word would spread through to the other ten souls who were braving the rain and snow. Even if we didn't hike together, the same faces would show up 200, 300 miles down the trail.
So with a small ecosystem of people on trail in the early season, I met a group of people that quickly became family over a short distance. I think weathering the hardships of trail snow and storms bonded us is such a way that we can never forget these memories.
And perhaps someday I would like to hike the trail again within the larger bubble of people starting at the border. I have no regrets with starting very early in the season. I suppose my trail experience is just a very different story to many hikers; however, everyone's story will vary and be a unique experience.
Trail Life on Pause
And where am I now? Well, I took a break from trail. Crazy, I know! And it wasn't because I was tired, worn out, or not enjoying my trail life. I actually find it really hard to ignore my desire to be out on the dirt path, smelly and sweaty. I essentially got off to pursue a relationship.
Life in Kernville
Now in Kernville I'm working at a rafting center to pursue a relationship with a guy I only met two months prior. His plan the entire time was to hike here and raft guide through the summer. He planned to eventually get back on the trail after the snow melted. Well, along the way he met me and before I knew it, I too made a life in Kernville. I was offered a job and now live full time in a Sprinter van, rock climbing and rafting almost every other day.
However, life becomes more complicated with more stuff in your life. Adjusting to the experience of navigating new social circles while making myself a new home and a new life in a new town was quite overwhelming. I was worried I would lose the part of myself I gained being out on trail. But as time moved on, I slowly became part of the community and the little world here along the Kern River. It's a small town and suddenly I seem to know many people around these parts.
So here I am, living a new life with a guy I met on trail. All my expectations of my future completely vanished with no idea what will happen next. However, I am certain of one thing; I will finish this trail when I get back on in August. Although I am very unsure of what may happen next, I'm happy to not worry about it.
Affiliate Disclosure
This website contains affiliate links, which means The Trek may receive a percentage of any product or service you purchase using the links in the articles or advertisements. The buyer pays the same price as they would otherwise, and your purchase helps to support The Trek's ongoing goal to serve you quality backpacking advice and information. Thanks for your support!
To learn more, please visit the About This Site page.
Comments
4
What a great PCT experience 🙂 I'm happy for you!

Say hello to Chuck Richards for me, 'The ol' Boy' may not remember me from 1976-78, but nobody forgets Chuck!
Regards,
Mark W.

I got a feeling they won't do the trail again just like hundreds of hikers before them. Life does get in the way. And there is in my eyesight of the future a big change looming… The long sought after contraption that could very well put the word "hiking" in the back digital files where all the antiquated words are forever mislaid… The contraption will be the wheel-less hoverboard.

I just had ACL reconstruction surgery and could totally relate to the PT, crutching instead of running mountains struggle. To a fellow soccer playing, introverted, mountain loving, bad knee gal thanks so much for sharing and bringing hope through your PCT journey. Loved reading your blog posts.