Flipping Southbound
Day 15
This morning Martina, Karin, and I got picked up by Jeremiah, a friendly & safe driver, and driven to Walker Pass, trail mile 652. The pass is 500 miles north of where we got off at Paradise Valley Cafe. We flipped and are now traveling south, the logic being that it gives the three high areas in southern California (Mt Baden-Powell, Big Bear, San Jacintos) more time to melt before we reach them. Serendipity, Parker, and Debbie plan to follow tomorrow, but 94 miles south of us to Tehachapi. There is no resupply between the two destinations and for various reasons they were unsure they could keep up with our plan to do the section in five days.
Within an hour or so of the pass, Joshua trees began to dot the countryside. I liked them; their unique assortment of heights and shapes reminded me of saguaros with their varying limb distribution. There were also a couple hills with entire faces shaded yellow by the vast quantity of flowers.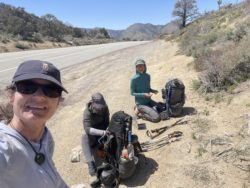 At Walker Pass, the three of us sat in the dirt on the side of the road and had a quick lunch. Karin & I hoped to get more water at the nearby campground, but we couldn't locate the spring. That left us with about a liter each to do eight miles and over 2,000 ft. gain. However, my pack felt light and the miles went quickly. When we reached a seasonal stream and found camping nearby, I was thirsty, yet not desperately so.
It did feel strange to go southbound (SoBo). On the AT I walked the entire way northbound (NoBo). Also we didn't see anyone else other than one lady in the campground. It seems we got ahead of the hiker bubble. Though there were patches of snow alongside the trail… a reminder of the winter we escaped.
Day 16
When I woke up, Karin was nowhere to be seen. I left camp shortly before Martina and started an audiobook, Kiki's Delivery Service. After several miles, I encountered my first NoBo hiker. Martina caught up and we walked together, chatting. (She is from Portland, which is exciting because I pet-sit periodically in Vancouver, directly across the Columbia River.) We met a hiker named Prospector who gave us yellow pins that read "this is an adventure".
Yesterday I read on Far Out that the 35 miles after our campsite were dry. Luckily there are two well-maintained water caches. I reached the first after 12.5 miles of walking. A SoBo named Dan arrived shortly before me. He was from Tucson and section hiking from Walker Pass to Tehachapi. As we were chatting, Martina arrived. I ate my lunch, a cold-soaked cowboy caviar and corn nuts. In addition to over 30, 5-gallon jugs of water, the cache had a box of battery packs for device charging. Trail angels are amazing!
It was an uphill climb from the cache, but even with three liters of water it felt fairly easy. I love the gentle grade of PCT climbs! After a couple miles, we came across Karin, who had just finished a long nap in the shade of a Joshua Tree. We took a short break, then continued on. The quantity of Joshua trees increased and some had large, white blossoms.
The last few miles were sandy, which made the walking harder, especially the downhill. My feet got a couple hot spots, I think from the terrain plus heat. Having gone 19 miles, we camped in the sandy shelter of Joshua trees. Dan was there and showed us his ultralight bivy, made from a large plastic sack, plus his Clima Shield sleeping poncho. Innovative, yet I'd rather sleep in a tent.
Day 17
I awoke sometime after 3 am and couldn't get back to sleep, then I heard Karin packing to leave. Karin asked "Strider, do you want to hike with me?". I said not to wait, but I did pack and was on trail shortly after 4 am. The Joshua trees were dark silhouettes against a sky lit with bright stars. My headlamp illuminated the sandy trail. I snacked and after a couple hours the horizon turned a rosy hue and I could see without my headlamp.
Shortly before 8 am I reached the second water cache and finished my audiobook. When I set out again, my feet felt sore for the first dozen steps. A new feeling for me, must be the desert? The trail climbed for the next five miles and I was glad it was still morning. At the top of the climb, I met and chatted with a hiker named Alaskan Panther.
Snow capped mountains appeared in the distance and the terrain transitioned from desert to pine trees. I kept walking, determined to keep going until I found water, feeling tired and afraid that if I stopped I'd want to take an extended break. About noon, Karin called out… I hadn't noticed the hammock strung between two trees. There was water across the road so I gratefully sank to a seat. I'd done 16 miles over the morning. We chatted and I ate a good-sized lunch.
Karin and I took a three hour break, then Martina showed up. We sat a little longer then set off, crossing numerous creeks, able to hop across each on rocks or patches of soil. Odd to transition from a 35 mile dry stretch to flowing streams. I felt super-charged from the afternoon rest, my feet no longer sore. We stopped at Robin Bird Spring; a 22 mile day. Martina and I erected our tents in the flat remains of a building foundation.

I had cell service and discovered that Serendipity was headed home in two days, to rest her hurt knee. Happy she is taking care of herself, but it feels odd to continue on without her. She was with me from the start and I always pictured us doing the entire trail together. I'm hoping she can heal and return!
Day 18
I slept well and had a lovely dream where I was in Colorado visiting my friends' Christine & Noel. In the dream, I met their new daughter and we played board games with friends. Thus refreshed I quickly got up, dug my cat-hole, fetched my bear bag, and made sure I had four liters of water. Our planned 20 mile day was a dry stretch. Martina and I headed out ~7 am.
The first half of the day was enjoyable conversation with Martina. I saw a couple rabbits and we climbed over a lot of fallen trees. We took a quick break in a flower filled meadow with expansive views. Wind turbines appeared in the distance. A large tree provided lunch-time shade.
In the afternoon, we got close to the turbines and I stared at them with fascination. Then it became my least favorite day to date. The trail seemed to meander in a pointless manner, it was hot, and gnats buzzed my face. I got tired and my left ankle started hurting a little. But I reached Golden Oaks Spring and Karin was there, smiling; Martina straggled in. We all agreed it was a tough day and decided to camp up the hill.
Eating dinner made me feel better. Karin and I went back to the spring for water and I heard frogs croaking. There were two and they let me get close for a picture. As I sat in my tent, the wind gusted and I heard a turbine whirring. The moon shone and I smiled, happy once again.
Affiliate Disclosure
This website contains affiliate links, which means The Trek may receive a percentage of any product or service you purchase using the links in the articles or advertisements. The buyer pays the same price as they would otherwise, and your purchase helps to support The Trek's ongoing goal to serve you quality backpacking advice and information. Thanks for your support!
To learn more, please visit the About This Site page.