Forester Pass
The Days Leading Up
We leave Lone Pine at the crack of dawn, and through various rides, road walking and snow hiking we arrive at Trail Pass and make camp.
After a 2:00 a.m. wake-up the next morning, we start walking an hour later with a goal of fourteen miles. I have some nausea early on, and quickly become paranoid that I've either got a stomach bug or the altitude is affecting me. I straggle behind and Dash gives me a pep talk that helps me snap out of my inner worry. After some altitude aids from Head Start and Mini Chimi I finally shake the sensation.
The sunrise brings amazing views and the rest of the day is enjoyable. We make it to our destination of a creek crossing that we intend to do in the morning. The dinner gathering is short-lived, as hail starts falling soon after our meals are cooked.
The following day, we leave at 4:30 a.m.–first light–to scout the rushing creek. The last snow bridge has washed away, so we look for an acceptable log. At one point Journey Man gets the idea to throw our own logs across, figuring six of us can manage a few decent ones to stand upright and let fall over the span. We push the first one over and the creek mercilessly gobbles it down the stream. If you listen closely, you can hear it laughing at us silly humans.
Two and a half hours are spent finally getting across this water, and our plan for eleven miles is reduced to seven. It gives us time to practice some glissading and self-arresting on the way, and the evening camp spot next to Whitney Creek is sunny and beautiful.
On the penultimate day of the Forester Pass approach, we again leave at 3:00 a.m. The sunrise is on a crest with a 360-degree view of countless peaks. No matter how often we get these moments of grandeur, we gasp every time we come to vistas like these.
Good morning vibes 
There is a descent on a 33 degree (Head Start measured!) icy slope that warrants switching into crampons and pulling out ice axes. Today we luck out and all three of our water crossings have snow bridges. Even though good time is made, we still encounter a slushy final couple of hours to our base camp at mile 778.5, elevation 11,950.
In the morning, we'll be going 2.2 miles to 13,200 feet, and over the highest point on the PCT.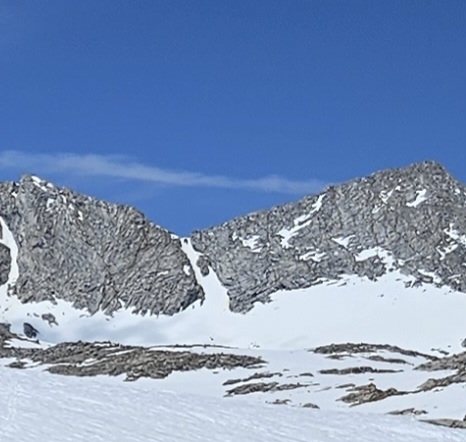 Forester Pass (center) as seen from our campsite 2 miles away 
Base camp before the climb 
The Approach to Forester
The alarm goes off at 1:30 a.m. I haven't slept much, between the frigid air and the restless anticipation. I pack what I can inside the tent, avoiding the cold as long as possible, but soon nature calls and I put on my frozen shoes.
I can see red headlamp lights on in all the tents, as Dash, Mantis, Journey Man, Head Start and Mini Chimi organize their things. We are leaving at 2:30, intending to start the steeper climbing at first light.
2:30 and ready to roll
We assemble on time, collect water from a nearby exposed waterfall, and start the walk. Few words are spoken, on account of both the cold and the trepidation for what lies ahead. What we lack in mountaineering skills, we make up for in courage and comradery, and we hope that is enough to get through the day unscathed.
The ascent rises up before us a little after 3:30. We've walked a bit too fast and decide to wait for the light to come. In the subfreezing air, we try to stay warm with huddling and dancing to the sounds of "This Must Be the Place" by The Talking Heads.
I get antsy by 4:00 and suggest we start up the climb just to get some elevation. "By the time the light starts, we can see our route better and we'll already have saved some time," I reason. This proves to be a potentially dangerous miscalculation.
The Climb in the Dark
"Ice axes or poles?" someone asks.
We figure that we'll be starting on a moderate slope that will end in the rocky switch backs where we can swap equipment, so decide trekking poles will suffice.
The climb begins. There are footsteps in the ice that we take advantage of. We have a strategy to take twenty steps then pause for 5 to 10 seconds, helping keep our heart rates under control. For fifteen minutes, the mood is casual.
Then it gets a lot steeper. First the icy footprint switchbacks themselves are steep, then they turn and go straight up the face for twenty feet. Some brave soul days or weeks before us had kicked steps into the slope.
"Looks like we've got a ladder," Journey Man calls from the front. I look down into a black abyss and up into another black abyss, and have no choice but to keep moving forward and upward. There is no pausing or turning back.
At the top of the "ladder," we all desperately want our ice axes. We are so precariously perched in the footpath that there is no possibility of taking off packs or turning around. I unpack Journey Man's axe and attach his trekking pole to his pack. Mantis does this for me from behind. Mini Chimi for Mantis. Head Start for Mini Chimi. Dash for Head Start. With no one behind Dash, he is left to proceed with just his poles.
After forty-five minutes on the face and more switchbacks and ladders, the light finally starts to break. For some it's better not to look down; for me, I prefer seeing the bottom over the dark unknown. Thirty minutes later, we arrive at the rocks and share many hugs, releasing the fearful tension in our embraces. We didn't slip and fall, how great is that? Only one more itty-bitty traverse to go.
"We choose to go to the moon…and do these things not because they are easy, but because they are hard."

-J.F. Kennedy
The Ice Chute
After several switchbacks on terra firma, we round a corner and get our first up-close view of the ice chute. Surrounded by rocks on both sides, this frozen terrain drops hundreds of feet to the base below. Spanning across the 40 meters is a feeble boot track, which is to be our path.
In theory, one could fall and slide to the bottom on the 40-degree slope and come away with bruises or a broken limb. If the fall turns into a cartwheel or angles to the rocks however, it could be lights out.
We collect ourselves at its entrance. I find myself pacing back and forth and at one point my heart audibly goes into my throat with a "gulp."
"What was that?" asks Journey Man.
"I think I need to go," I utter, "can't put it off any longer." I walk past him and take my first step onto the ice.
It's not the first time I've traversed in an icy boot track, but the stakes in this one are as high as can be.
Self-belay with the axe. Step. Step. Repeat. Always two points of contact. Don't look down.
After about ten steps there is a sort of mound bumping the path outward by twelve inches or so. I have my water filter in my right pocket, and the ice wall is so tight against my body that I have to move it to my left pocket so it doesn't push me off balance. With my right hand on the axe, I reach down with my left hand to help guide my right leg into the next carved-out footprint.
Once past the mound, it gets a bit more straightforward, but no less terrifying. I reach a left turn at the top of this first section and there is room to stand upright and rest.
"Are you okay Twist?" Dash calls.
I can't bring myself to talk, and simply hold out a finger to the side as if to say, I just need a second (and also, don't you dare talk to me right now, which we laugh about later).
Going across the flat section next, there are some steps that I find too deep to navigate comfortably. I plant my feet and use the ice axe to chop the ice surrounding the steps a little bit lower, which causes much anxiety in those watching from the ledge.
An eternity later, I reach the other side. I drop the ax on the far ledge and immediately am overcome with emotion as the cheers erupt from across the chute. Looking out on the valley and distant mountains, looking back at the track I just completed, thinking about life and death, I sit down with my head in my hands and allow myself a moment.
The others go one-by-one. Each bold teammate takes around ten minutes to cross. Every undertaking is met by held breaths and intensely helpless spectating from the rest of us. When the end is reached, the hugs are strong and heartfelt.
Head Start beginning the traverse (photo credit Journey Fleishman aka Mini Chimi)
Dash's Turn on the chute
When all are across, we whoop out into the expanse below. Back to the matter at hand, we turn to climb the final switchbacks to the top of Forester Pass, just two minutes above us and a safe passage.
Oh, what a feeling
Northbound
After taking some time to glow at the top, we descend the other side. Originally, we had planned to continue all the way to the Bishop Pass exit, meaning one pass per day for the next three days (Glen, Pinchot and Mather Passes). But at lunch, we get to talking.
No single reason leads us to decide to exit at Kearsarge. But, adding them all together, we conclude it is best. We had heard that there is a damaged bridge that is closed, that the weather may bring rain for a few days, that someone had tragically drowned in Bishop Creek, and that the exit points between Kearsarge and Bishop are untested or poorly regarded.
Eating lunch, looking at the time, we come to realize that setting ourselves up for Glen Pass today is going to be extremely challenging in the afternoon slush. All signs point to getting out.
Once we resolve to do this, the strenuous plans turn into a vacation. Between that lunch and the Kearsarge exit, we go six miles in a day and a half and eat double dinners. Timing and food rationing are out the window.
Sunrise at Kearsarge Pass
We don't know what's next. That's a universal theme for the PCT Class of 2023. Our group may return into the Sierra and continue to Bishop Pass and take the Piute Trail detour if we get promising reports from those ahead of us, or we may jump ahead to the Lassen area. I suppose we'll know the answer to this the next time I write. Until then, as we say nearly daily on the trail, "we'll see."
For now, I'm just so proud and elated that we accomplished Forester Pass. It's a day we will remember vividly for the rest of our lives.
Affiliate Disclosure
This website contains affiliate links, which means The Trek may receive a percentage of any product or service you purchase using the links in the articles or advertisements. The buyer pays the same price as they would otherwise, and your purchase helps to support The Trek's ongoing goal to serve you quality backpacking advice and information. Thanks for your support!
To learn more, please visit the About This Site page.