From Inside a Prickly Shrub
My body is scrunched, warped into a pretzel-like configuration in my best attempt to stay cool in the meager shade of a prickly shrub. My back and left arm are being jabbed by the spiny ridged leaves of this savage shelter and sunlight still speckles my legs. I've been out on the PCT for over a month and there is little I take for granted, especially not even a bit of reprieve from the afternoon sun in the desert of Southern California.
The heat is intense, sometimes to the point where I viscerally fear it. That day my eyes concocted mirages from heat waves and I was afraid of the severity of the weather. There are other times I have been fearful but more often hard moments stem from frustration.
I thought after five weeks on trail that I might feel like superwoman. A conquerer. A badass. A champion. I do not feel like any of those things. I wish I could lie, adhere to a cool crisp cliche and say I am feeling stronger with every step, but truly the trail is making me more and more humble. Humility can be very frustrating when I want so badly to be strong.
At the 250 mile mark, I was picked up at a dirt road along the trail because my right foot hurt so badly I couldn't bear to walk another mile. So much for my craving for invincibility. I had hurt myself, and in doing so I was reminded I am breakable, I am human.
For three full days, I stayed in Big Bear at a hiker hostel and rested. I saw a physical therapist who worked to realign my leg and remedy my foot. While I needed the rest my mind was antsy. I was equating my self-worth with physical progress, and seeing as I was glued to a couch I kicked myself, cried, and was angry with my weaknesses.
In that time, however, I met so many awesome hikers and trail angels, many of whom reminded me that I am in no hurry. Healing and rest are simply part of my journey not just a break from it. I am being more intentional about accepting all parts of this journey. I am trying to revel in the slowness of resting, making fewer miles, and taking time to listen and be still. 
This past week I have lowered my daily mileage and made more time to meditate and journal. I spent a whole day at the hot springs at Deep Creek and I took a morning to swim in Silverwood Lake. I ran my hands along epic pink rocks and hugged trees. I even found a beautiful hollowed tree and meditated within its emptied body, giving life and energy to it as it did for me. My physical pains are requiring me to slow, to listen. In doing so, I am feeling more connected to my physical and mental bodies and to the aliveness of this Earth.
My natural tendency to compare myself to others, and to an unattainable perfect idea of who I should be, still latches on sometimes, but I am beginning to let go.
Every day on trail since I left the border of Mexico I sing aloud the lyrics to my all-time favorite song, "Nobody's Stopping You Now" by Lake Street Dive. The other day a few lines emboldened themselves in my mind. It was as if the volume cranked and I sensed I needed to listen not only with my ears but with my heart.
"All winter trying for perfection, but somehow you're never satisfied. That hunger will last you for a lifetime until you learn how to set it down…"
I am learning to let go of what doesn't serve me. Comparisons. Lofty expectations of perfection. The appearance of unbreakable strength. This framework of defining myself keeps me from the present, it turns self-love into a conditional state.
I am on a journey north as much as I am on a journey within. I am sweeping away self-constructed stressors and filling myself with wild mint and endless stars. I am marking myself with the imprints of tree bark and the glow of sun-kissed (and sunburnt) skin.
The stretch of trail between Big Bear and Cajon Pass has been idyllic. I am fortunate to have the space to be on my own and to spend time with incredible new friends. I am fortunate too for my deepening connection with my emotions, which come in bouts of near-daily tears. I cry for joy and from pain. There are tears shed for glorious sunsets and in moments of heavy unknowing.
And there is an abundance of lightness too. I am munching on pop tarts and hollering off mountains. Birds and flowers color days and I never knew how beloved a cozy sleeping bag could be. It is all of the little things, and the way I feel so little in these big mountains that is creating a sense of place, of home.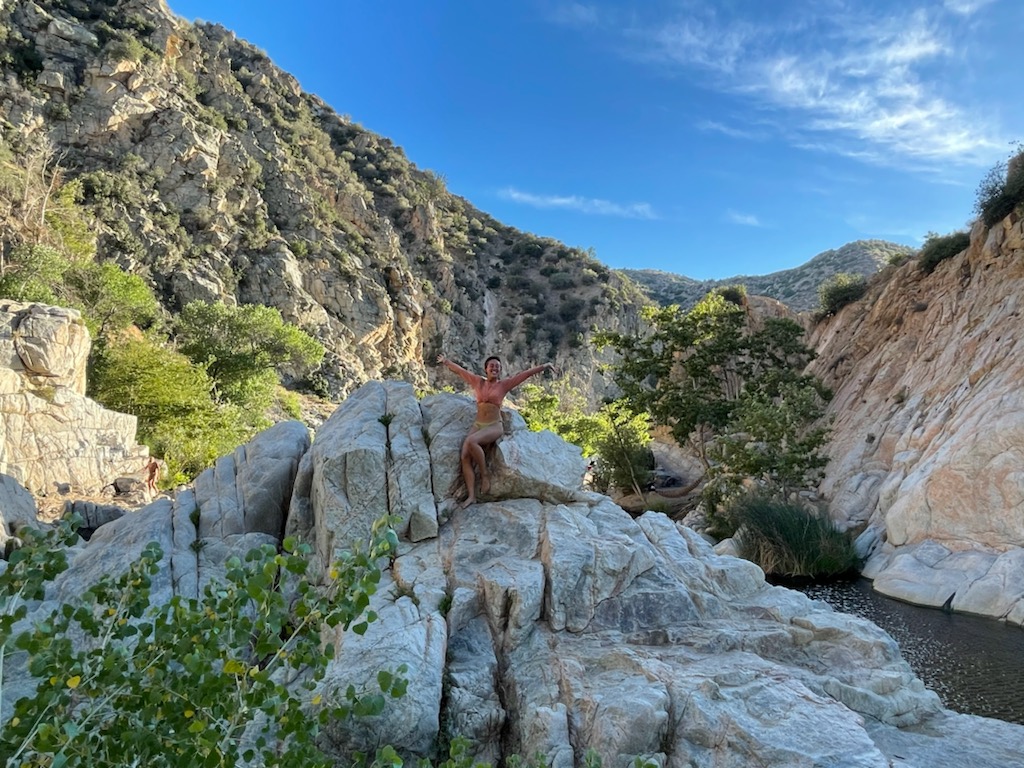 Mobile, tasking, and always afresh with challenge, hiking this trail is becoming not just an experience but a way of life. And with it, I am no longer seeing myself as an experimenter discovering the formula for strength or success, but a writer creating and recreating herself with each new blazing pink sunrise. I am not superwoman, nor do I have everything figured out. I am simply navigating a more wild existence and in doing so, being who I am meant to be. 
Affiliate Disclosure
This website contains affiliate links, which means The Trek may receive a percentage of any product or service you purchase using the links in the articles or advertisements. The buyer pays the same price as they would otherwise, and your purchase helps to support The Trek's ongoing goal to serve you quality backpacking advice and information. Thanks for your support!
To learn more, please visit the About This Site page.
Comments
3
Thank you for sharing your PCT journey with us Ava!
You have such a unique perspective and a deeply insightful way of describing what you are feeling, learning, and experiencing while on the trail.
I look forward to your posts and wish well on your travels!

"The end of all our exploring is to arrive at the beginning & know it for the first time."
I love reading of your deepening presence of being, insight knowledge & dropping cultural facades of humanness. Be well, mindful and healthy. Aloha

"Taking time to listen and be still" …. You summed it up perfectly! Reading lots of different people's stories on the trail it seems like so many of them are all about the miles hiked each day and how far they can push themselves. I just get the feeling that so many of them are missing out on all of the majic and beauty that the trail has to offer…. Keep your heart and spirit open each day and enjoy everything that the trail brings you!!!