Halfway There and Livin on a Prayer
I turned 27 on the PCT! We spent my birthday in South Lake Tahoe, riding around on scooters, laying out at the beach, and eating through the town. This was a welcome break from the trail and the chores that normally fill up my time when in town. Once the celebration was finished we got a trail angel to drive us back to the trail head and began the next leg of our journey.
The first few days back on trail were extremely hot. Like over 100 degrees kind of hot. I'm a southern gal that promised myself to not complain about the heat because I would rather be hot than cold, but let's just say it was hot. Thankfully, we passed by multiple lakes so naturally we went swimming to cool off in (almost) all of them.
During this section the trail begins to climb up mountains with ski lifts spotting the horizon. So strange to stand on top of this rocky mountain with sweat dripping down my face and picture people skiing down the slopes covered in snow. I need to come back in the winter, I think to myself.  The trail then opened up onto an epic ridge with drop offs on either side. This is why they call it the pacific crest trail. We spent that evening enjoying free beer for hikers from the Donner Ski Ranch and hanging out with fellow hiker trash.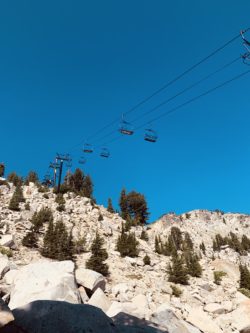 The next couple of days passed in and out of forests with every shade of green you could imagine. Dark green from the pine needles, lime green from the wolf lichen lining the tree trunks, light green from the ferns carpeting the forest floor. The girls all hiked together these couple of days since our time with our friend Caterpillar was coming to an end as she is set to begin grad school soon.
We made the 5,000 ft descent to the town of Sierra City just in time for the Fourth of July. Boy was it a blast. There was live music in the local coffee shop with a band that included a banjo and fiddle. We had ourselves a California Hoedown.  The Alabama summer camp counselor in me couldn't help but lead the entire room full of people in line and partner dances. We were all having so much fun, the band ended up playing for an extra hour. God bless America, folks.
How does the saying go? What goes down must come back up? Because the trail descended 5,000ft to town, we then had to ascend 5,000ft back up the mountain. Nothing helps me climb a mountain quite like my friend Merideth's playlist. I put my headphones in and jammed to the tunes. That wasn't so bad, I'm getting stronger. It's a good feeling.
The next couple of days strolled through a burnt section of endless blackened, limb-less trees with the trail covered in ash. At first, there was something eerily beautiful about the lifeless trees. After several miles, however, it became mundane and repetitive. Can we bring back the ever changing views of lakes and mountains? This day was hard for me. My foot started to hurt again, I kept tripping over the fallen logs, and my mental game was weak. Not everyday can be a good day.
Luckily, the next day was a great day. We walked passed views of layers and layers of mountains painted in shades of blue. It felt as though I was back on the east coast at the blue ridge mountains. I grew up hiking those mountains with my Grandpa. It made me remember how and why I love hiking. Later that day we even got to jump in a lake and wash off the layers of ash that had built up on our legs.
The next day the trail descended again into the town of Beldon, if you can call it a town. More just a restaurant next to a river. Perfect, that's all we needed. After shoveling food into our mouths, we spent the day waiting out the heat (it was 105 degrees) by wading in the swimming holes. Once the sun started to set, we set on our way back up the mountain. Like I said earlier, what goes down must also come back up. We listened to EDM music and had a dance party during our night hike to scare away the wildlife. Good thing we did. We later found out that someone saw a mountain lion just an hour before and less than a mile from where we camped. There ya have it folks, mountain lions are scared of EDM.
We then entered our fourth national park on trail, Lassen Volcanic National Park. The trail terrain begins to turn from granite rock to volcanic rock as we end the Sierra mountain range and begin the Cascade mountain range. Lassen peak stands off in the distance. It's hot. Long water carries. The trail provides. We got not one, but two trail magics in a single day! Beer, sodas, lasagna, fruit, vegetables, more fruit, cookies. What more can a sweaty, tired hiker ask for? Trail angels are truly a blessing.
The next few days were weird. In the Sierras, you're out in the backcountry wilderness for days and miles away from any sort of town or resupply shop. Northern California is full of small towns, random gas stations on trail, campgrounds and RV parks, etc. I started to feel spoiled. I bought an icecream sandwich and a beer everyday for 4 days in a row just because I could. We also packed out a beer to celebrate a big milestone….. the midway point!!!! Cheers to 1,325 miles down and 1,325 miles to go! It was such a special moment celebrating with fellow thru hikers. Halfway to Canada. Wow.
This last stretch has been slowly meandering its way closer and closer to the grand Mt. Shasta.  Standing at 14,179 ft, it looms over everything surrounding it. With a fire north of us and a fire south of us, sometimes the haze will cover the mountain so much I can just barely make out it's peak. Sometimes the wind will shift and I can see the mountain in it's full entirety. One night, we camped with the most beautiful view of Mt. Shasta and Castle Crags with the sun setting over the horizon. The clouds turned from white to yellow to orange to pink as the sun sank behind the mountain range. We sat and ate our yummy dehydrated dinners simply in awe of this beautiful creation. Yes, some days are hard. But boy am I lucky to be able to live this life and do the hard things.
Affiliate Disclosure
This website contains affiliate links, which means The Trek may receive a percentage of any product or service you purchase using the links in the articles or advertisements. The buyer pays the same price as they would otherwise, and your purchase helps to support The Trek's ongoing goal to serve you quality backpacking advice and information. Thanks for your support!
To learn more, please visit the About This Site page.