Heat (Days 87 to 93, Sierra City to Drakesbad Guest Ranch)
Before I get to this week's updates, since we are just getting back from the Denver wedding and our 5 days off of trail, I wanted to touch on what a delicate dance it is for a thru hiker to take significant time off from hiking.
On a thru hike, you kind of have to trick yourself into forgetting what is waiting for you back home. All of your loved ones, plentiful food, flushing toilets – all that good stuff just doesn't exist as a hiker. I think most people would hit a mental wall and quit the trail if they dwelled on what they left behind. So, we trick ourselves. Of course there's no option for breakfast other than clif bars. Digging cat holes is what everyone in the world does when they need to poop. No one but your trail family exists. Mango and I had this unspoken deception shattered by flying to Denver for 5 days away from hiking, and among the comforts of the real world, the truth came rushing back – we don't have to hurt any more if we don't want to. We could have it all back. No one would blame us after 1,200 miles. All we would have to do is not take that return flight back to Reno. I haven't wanted to quit trail once during the entire time I've been on the PCT, but it was scary how quickly the voice in the back of my head started speaking up.
Anyway, I was just thinking deep thoughts as we were hiking out of town tonight. We flew back from Denver this afternoon, got to Sierra City earlier than expected, and got an easy ride back to the trailhead, where we met up with Dirty Rice, Wildflower and Papa JR. We hiked a few easy miles up out of the gap, and set up with an amazing view just above treeline.
I feel a huge sense of relief now that I'm back on trail. And I'm glad the voice in the back of my head has retreated to its cave. This is where we belong, and nothing short of injury or disaster is going to take us off the trail this year.
Day 87
Start: Bushcamp just above treeline, 3.3 miles out from Hwy 49
End: West Branch Nelson Creek
PCT Miles Hikes Today: 25.2
We treated ourselves to an extra 30 mins of sleep this morning – turns out during our 5 days off trail, we only managed to get an average of 6 hours of sleep a night, which left us very tired.
We awoke to an awesome surprise – our friend Spaceman was camped 20 feet away! He had rolled in after we went to bed last night. We met Spaceman on day 2 of our hike at Lake Morena, and lost touch with him around Tehachapi. We ate breakfast with him and caught up, enjoying the spectacular views.
Our first 5 miles were ridgewalking uphill, over terrain that was constantly trying to break my ankles. It warmed up so quickly! Thankfully, the trail curved around the mountain and we finished the climb in the shade.
As we ascended, we caught up with a few other hikers, who mentioned that there was an alternate we could hike for part of today. The old PCT hugs a ridge and provides views into two valleys, but it's a combination of a short road walk and a mixed-use trail which allows bikes, so the official trail was re-routed down into the valley. Since it was a weekday, we decided to hike the alternate to save ourselves some elevation change, assuming that there wouldn't be many bikers out on a Tuesday. The alternate definitely delivered – lots of beautiful trees, and we got views of Packer Lake and Deer Lake. No bikers, either! I think the majority of hikers today took the alternate, based on the people we saw while hiking.
The day was really heating up, and unfortunately our ridge-walk detour took us above all the water sources. We stopped for lunch at Summit Lake, but the water was full of algae and we didn't feel comfortable drinking the water. We raced a few more miles to Pauley Seep, a beautiful spring with lots of shade. I chugged a few liters to get my hydration back on track for the day, and we hiked out, returning to the ridgeline and huge views of the valley.
My body had so many types of pain today, it was actually quite exciting. The inside of my left knee was shooting with pain every time I took a step, a pain that I hadn't felt since I left the AT 5 years ago. My right ankle pain came and went, and I was stepping gingerly to avoid loading the ankle too much. And, the bottoms of both of my feet were on fire – it's like I regrew all my nerves during the days off, and I'm just now seeing what kind of crazy abuse I put my body through each day. Brutal. I was hiking much slower than Mango because I needed to stop and rest so often towards the end of the day, and she beat me to camp.
I wanted to soak my feet in a river tonight, but the river was dry when we arrived. Surprise! Fortunately we could backtrack and get water from a nice spring 0.1 back up the trail, but we're increasingly concerned about water sources drying up, with these crazy hot days. Another heat wave is slamming NorCal this week. We are heading into a very interesting summer…
Day 88
Start: West Branch Nelson Creek
End: Middle Fork Feather River
PCT Miles Hikes Today: 25.8
I awoke around 3am to what sounded like a few deer walking around the campsite, probably hitting all the spots that we had recently peed. Deer around here absolutely love licking pee spots for their salt. If you pee near your tent, you may have a deer haunting you all night long! Luckily these deer were a little farther away, and I easily fell back asleep. I don't think Mango woke up at all.
The elevation profile of the trail has really flattened out recently. There are rarely any climbs more than 1000 feet. Looking out from views, we see rolling hills with lots of trees. It's a very different type of hiking than the Sierra – very low stress. We haven't needed to plan our ascents for the early morning, and we have zero snow worries. Most of our day is spent under very enjoyable tree cover, which helps reduce the heat and keep us hiking. We unexpectedly did another 10 by 10, absolutely crushing the easy miles.
We reached a paved road (which are also becoming more and more common), and as we were taking a break, who rolled up but Sunspot! We haven't seen her since the Sierra! There was also a water cache, which we used to fill up to 2 liters, which would hopefully be enough to get us all the way to camp.
The trail soon entered a burn zone, with sparse tree cover and lots of ash. Walking through a burn zone is eerie – there are no birds so it's silent, it's hot as hell, and there is a constant smell of ash, even a full year after the fire.
I was appreciative of my sun umbrella to keep me cool(ish), but since everything was so dry, the dust kept kicking up and getting in my eyes and mouth while hiking behind Mango. I had to drop far behind and let the dust settle before I could follow.
We plunged down the side of a steep mountain via numerous switchbacks, and eventually came to the Feather River, which had a very cool bridge spanning across it. Also, the flames had stopped for some strange reason in the 100 feet or so surrounding the river. Both sides of the valley were burned to a crisp, but still lots of green down at the river. We gratefully hiked beyond the bridge and found a nice bushcamp.
Mango's legs and feet were so dirty from the burn zone today. Lots of ash getting in her shoes. Our feet are sometimes dirty after a long day of hiking, but today when she pulled her shoes off, they were positively filthy.
God, it's so hot at our campsite tonight – definitely the hottest night we've had on trail. We are lying in our tents sweating and hoping it cools down, but we're now at 3,000 feet, the lowest we've been since way before Kennedy Meadows. We also heard there's another heat wave coming – wonderful. Just in time for us to hit Belden in a few days, at 2,200 feet! We are going to roast over the next few days, especially if this burn zone keeps going.
Day 89
Start: Middle Fork Feather River
End: Bushcamp near Silver Lake Junction
PCT Miles Hikes Today: 23.2
After we went to bed last night, a group of 10 thru hikers rolled in with headlamps on and camped about 5 feet away from our tent, talking and eating and just generally keeping us awake. Not much we can do when something like this happens, other than try to shoot for smaller campsites in the future – when we awoke at 5, they were all set up in every flat (and many not-so-flat) spots around our site. We picked out way between the tents back up to trail and were hiking by 5:45.
Did I say yesterday that we were done with the big climbs? Because I lied – lots of climbing this morning. Another hiker referred to this valley as the Grand Canyon of the PCT, and it was an apt comparison. We plunged down 4,000 feet over the end of our day yesterday, and this morning we climbed right back up, beginning with a 1,000 foot up-and-down to Bear Creek, then a 3,000 foot ascent straight up and out of the valley.
Fortunately, this side of the valley seems like it didn't get hit as hard as the side we descended yesterday by last year's wild fire. The majority of the ascent was spent in beautiful tree cover. We only hiked through a brief burn zone towards the top. As the morning sun fully hit me, I realized how lucky we were to be knocking out this ascent first thing in the morning – today was another scorcher.
We broke out at the top of the climb, and grabbed water from a beautiful, ice cold, gushing spring. I let the flow of ice water wet my face and head, and it was glorious after sweating my way up that ascent. We happily walked flat, covered trail for the next few miles.
Around 1, we decided to stop at another spring for lunch. A curious deer was poking around, and it was fun to eat and watch him. We killed about an hour in the shade. Since we had already done 16 miles on the day, we knew the hardest part was behind us, and we could indulge a bit.
We hiked up to the final ridgeline before the descent to Belden, and found an amazing little bushcamp just 10 feet off the trail with views way out. I'm very happy to have our own little campsite tonight – maybe we can catch up on sleep!
During our time off in Denver, I think I must have regrown some of the nerves in my feet, because the bottoms are feeling really rough – towards the end of the day, each step is painful. Fortunately I'm well on my way to killing them off again, as today was far more comfortable than the last two days.
One last note – Mango has been absolutely crushing it this section. She is consistently hiking ahead of me, and even when I'm ahead and I stop for a break, within 2 minutes she shows up. Big difference from the Sierra, when (in her own words) she consistently felt like the rest of the group was moving much faster than her. Maybe it's the lower elevation that is speeding her up, or maybe it's the heat that's slowing me down. Maybe not hiking with speed racers like Meals and Steve is good for us (but we are to not be hanging with them any more). Regardless, she is hitting her stride at a good moment – I've heard the next 800 or so miles until we get towards Washington can be a grind. Very happy to be in a good place mentally.
Day 90
Start: Bushcamp near Silver Lake Junction
End: Williams Cabin Site
PCT Miles Hikes Today: 19.9
I feel like I finally caught up on some sleep last night, after a few later days. This was definitely one of my favorite campsites on trail. It was wonderfully cool, with a slight breeze blowing through our tent all night, and when we awoke we were treated to an epic sunrise.
Our day was pretty much all downhill to Belden. We broke out of the dense hilltop forest to some great views, and I could see the trail winding down the side of the mountain, all the way to the highway 4,000 feet below. Most of it was exposed, and the day was already heating up, so I popped open the sun umbrella despite the early hour, and we began our descent.
The trail was overrun with poison oak, and I felt bad for Mango, who was wearing shorts. She tried to dodge all the plants sticking out in the trail. It looked very tiresome – I plowed through, assuming my pants would protect me. After an unexpectedly urgent bowel movement prompted me to run the last mile to the trailhead (where there was a privvy), we walked in to Belden just as lunch began.
Belden is less of a town, more of a resort. Well, less of a resort, more of a motel/restaurant/taxidermy exhibit. The trail passes right by the resort, across a small bridge, across a road, then every one of those 4,000 feet we just descended immediately need to be reascended (with another 1,000 feet to boot). As we rolled in to the restaurant, it was over 90 degrees, and after we finished our burgers, the thermometer hit 99.
The resupply at Belden was terrible, so we got a ride from a friendly local over to Caribou Crossroads, a small store and restaurant, to see if it was any better. It was even worse, unfortunately. Still, it was nice to drink soda and relax, and we saw a whole slew of hikers we hadn't seen since the Sierra, including Link.
As we were trying to find a ride back to trail from Caribou, who rolled in but Spaceman! With… an older man? And a middle schooler? This was way different than his usual trail family. Spaceman let us know that these were his dad and brother, and that he was getting off trail for good. We were shocked – but he had apparently lost a dangerous amount of weight, and nothing he had tried had stopped his weight from dropping even more.
Spaceman's dad gave us a ride back to Belden, where we happily discovered that they had restocked the shelves over the last few hours, and now had plenty of mediocre expired food, instead of pretty much no mediocre expired food. We sat in front of the air conditioner and waited for the day to cool off.
We scarfed down another bacon burger with onion rings for dinner, then hiked out with Dirty Rice around 7, intending to do 2 miles up to a water source.
We quickly reached 2 miles, and despite the late hour, we were fueled by bacon burgers and decided to push on up the climb another 3 miles, to get a jump start on tomorrow's crazy climb. We broke out the headlamps and kept going up, up, up.
Mango stopped to filter water about a half mile before our campsite, and I expected she and Dirty Rice to stay together while I zipped ahead to set up the tent. Between the water and the campsite, I heard something crashing through the brush, and shined my headlamp to see some kind of mountain cat. It was far enough away that I wasn't concerned, so I kept rolling to the camp. Dirty rice showed up 10 minutes later, but no Mango – She had stayed behind to chug some water and refilter. Damn, I really didn't want her walking alone in the dark with a cat around. Mango showed up a few minutes later, and told us that the mountain lion had appeared ahead of her on trail and stared her down. She yelled at it and clacked her poles, and it reluctantly retreated. Scary!! But we were likely within hollering distance if something really had gone sideways.
Wow, this is our latest hiking of the trail, rolling in and setting up while it's completely dark. We collapsed exhausted into our tent around 10.
Day 91
Start: Williams Cabin Site
End: Bushcamp a half mile before Little Cub Spring Junction
PCT Miles Hikes Today: 22.7
A whole lot of folks night hiked after we went to bed, and cowboy camped right next to us, resulting in an awkward pack up this morning.
The trail climbs from 2,200 feet at Belden to a peak of 7,100 feet over 14 miles. We had knocked out around 6 of those miles and 1,400 feet of the climb last night, leaving us with 8 miles of climb this morning. We were very happy to have set ourselves up to finish this uphill in the cool morning. After yesterday's blazing hot temps, no way would I want to be trudging up the mountain after noon.
Most of the poison oak seems to be behind us, and I felt much more comfortable plowing through any overgrown brush at shin level. Yesterday, I had to carefully judge each step to ensure I wasn't jumping into a whole bunch of poison oak, which quickly became tiring. This morning we hiked quickly, anxious to hit the summit as early as possible to beat the heat. The morning was already hot, and I felt oppressively heavy as I climbed. Still, all things considered, the climb was easier than I expected.
We broke out onto a beautiful summit, where we could see Mt Lassen for the first time, and if we squinted, we thought we could see the shadow of Mt Shasta as well. Huge, towering volcanos, far in the distance. We took a nice long break at Frog Spring, where the water was ice cold and flowing plentifully. All the other hikers in this bubble also took a break there, celebrating having the hardest part of the day behind us.
It's a Saturday, and there is a massive heat wave slamming the west coast right now. So, we shouldn't have been surprised when we hit not one, but TWO of the best trail magic setups we've seen all trail!! All of the trail angels said the same thing – it's hot as heck back home, so they headed to the mountains. The first magic provided salad and home-cooked lasagna, and had the world's friendliest black lab, which we all took turns scratching.
The second provided some much-needed ice cold soda, after we spent much of the intervening 2 hours baking on the ridgeline. Even under the sun umbrella, I was completely toast. We were immensely appreciative of the snacks and the fresh fruit. I absolutely chowed down on three bowls of blueberries.
We had planned on getting another 3 miles today, but when we rolled out of the second trail magic, we realized how tired we were from the late night last night, and the hot weather over the past few days. So, we set up at pretty much the first good site we could find. So sleepy as I write this. Time to crash, and see if any of those blueberry antioxidants are able to heal my aching feet.
Day 92
Start: Bushcamp a half mile before Little Cub Spring Junction
End: North Fork Feather River
PCT Miles Hikes Today: 25.3
Well, the blueberries didn't heal my feet, but they did give me a massive stomachache this morning, and I had to run into the woods shortly after we started hiking. Why can't I do things in moderation? It's not a day hike, it's got to be a 2,650 mile thru hike. It's not a handful of blueberries, it's got to be 3 bowls. I'll never learn.
The trail angels yesterday were generous enough to provide clean water, which meant we didn't have to hike straight downhill for a 1/3 mile to get water this morning. Nice! We had enough to take us to Solder Creek, 13 miles into our day. We hiked to the top of a ridgeline this morning and got more amazing views of Lassen.
About 8 miles into our day, we hit the halfway marker of the PCT. Everyone was whooping and celebrating, cracking beers or sodas and high fiving. I feel like I should have been more excited than I was. This is a huge accomplishment, to make it 1,300 miles. We've trudged through the desert heat, fought up the High Sierra passes, and faced down mosquito hell. But I've been here before – halfway through a long trail. The second half is no cakewalk. Pushing bigger mileage and longer days, the second half of a thru hike can feel like a grind. Certainly with the temps pushing 100 degrees every day, this section is feeling like a grind. While Mango was celebrating with the others, I tapped my hand on the halfway marker and turned my attention up trail. Eyes forward, on we march.
Mango wanted a picture to express how tired she was after the first half of the trail, so here you go: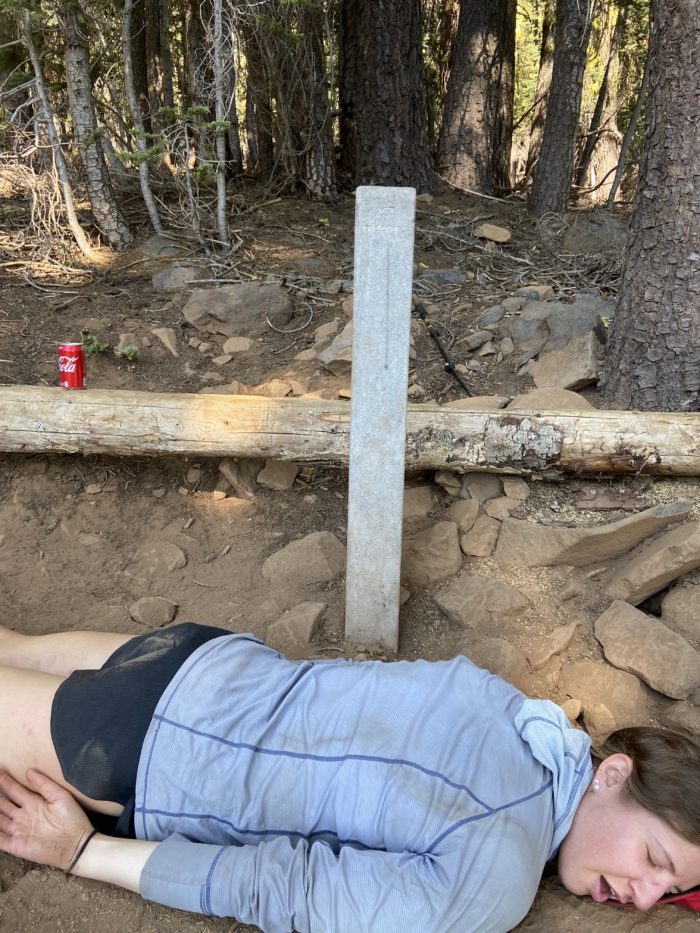 As we hiked the next 9 miles, the terrible heat set in, and I really struggled, requiring lots of breaks. To me, this is harder than the desert. We reached Stover Spring and dunked our heads in the flowing water, trying to cool off our body temperatures. We sat out for an hour waiting for the temps to die down before we finished off the last 6 miles of the day.
We reached our campsite at the Feather River around 7, and went right for the river to cool off. Blessedly cold flowing water greeted us, and we sat on some good sittin' rocks in the water for 15 minutes, doing our laundry (since there is no laundry at Drakesbad and we needed clean socks and underwear to get us to Burney).
We rolled into our tent, exhausted. Unfortunately our zipper on our tent is only getting worse. I've owned two zpacks tents, a Solplex on the AT in 2016, and now a Duplex for this trail. Both tents have had the same issue – the dang zipper fails far too quickly, on both doors. The zippers are clearly too "ultralight" to hold up to a thru hike. Zpacks is trying to shave ounces off of their tent in dumb ways – and their product quality is suffering. We have emailed them over the past few weeks trying to get this resolved, but so far we have been unimpressed – it sounds like they have no loaner tents right now, so if we wanted to send in for repair, we'd have to find another tent in the interim. I'm frustrated enough to just buy another tent at this point. Between me and Mango (who also owns their backpack and is frustrated by multiple failures in the pack as well), we have spent multiple thousands of dollars on Zpacks gear over the past half decade. I think I'm now at the point where I will get slightly heavier gear that has better quality… I don't want to have to worry about my gear failing halfway through a hike.
Day 93
Start: North Fork Feather River
End: Drakesbad Guest Ranch
PCT Miles Hikes Today: 9.4
Last night before we fell asleep, we briefly debated waking up at 3:30 and hiking hard so we could make the breakfast buffet at Drakesbad, which only runs from 7:30 to 8:30. But, common sense prevailed over our greedy stomachs, and we woke at our usual time of 5am.
It was a pleasantly cool night last night! I think cooler air settles near rivers, so when we awoke, we actually had to put on our puffy jackets for the first time in weeks. We both slept amazingly well, with the river gently running nearby.
We quickly entered Lassen National Park. Lassen is famous for its volcanic activity, and we took a side trail down to Terminal Geyser. Lots of steam venting into the air, and the whole area stunk of sulfur. Super cool.
It was an easy rest of the morning over to Drakesbad, which is a resort and ranch 1/3 of a mile off trail that is very friendly to hikers. Although we missed breakfast, we made it for lunch – pork fried rice bowls!
Mango and I showered up, then went to grab our resupply box. Mango's parents usually include some extra goodies, and this time they included four packages of hot hands. Literally the worst section to include those, as it's been a million degrees every day. Straight to the hiker box.
Drakesbad had a really, really good vibe. Lots of comfy chairs in the common area, charging outlets for hikers, super friendly staff. We got our own room, and Sunspot is spending the night as well to try to sort out some of her blister problems. Mango and I paid for a room for the night, and so did Sunspot, and Scout and Bear, another couple. We all checked into our rooms around 3, then every one of us fell asleep for over an hour. I swear to god, I would have just kept sleeping for the rest of the night – except that around 6, like clockwork, my stomach started howling at me. The 5 of us ate an amazing dinner and spent 2 hours having a lot of fun telling stories and eating everything on the menu.
And that's all for this stretch! It's been so hot recently, but hopefully it's cooling down in the coming days, and I can get back to not hating my life between the hours of 10 to 4. The plan is to stick around for an epic breakfast buffet tomorrow morning, then try to get a mostly full day of hiking tomorrow to enable us to clear the 63 miles to Burney in 3 days. Then, another 4 days / 90 miles to Shasta, where we will hopefully take our first zero since Sierra City.
Until next time, happy trails!
– Slice
P.S. If you like this post, check out Mango's trail podcast, Take a Hike!, now available on all major platforms (except Apple for some strange reason, probably due that time I realized that Tim Cook and I were in the same business fraternity in college. I forgot our secret handshake when we met on a job interview in Cupertino, and I've been shunned from the industry every since.) https://anchor.fm/takeahikepodcast
Affiliate Disclosure
This website contains affiliate links, which means The Trek may receive a percentage of any product or service you purchase using the links in the articles or advertisements. The buyer pays the same price as they would otherwise, and your purchase helps to support The Trek's ongoing goal to serve you quality backpacking advice and information. Thanks for your support!
To learn more, please visit the About This Site page.