Highs, Lows, and Some Trail Haikus: PCT Days 54-59
Note: I'm falling a bit behind on the blog, so this post contains some days described in my usual long-form journal entries and others condensed into a trail haiku to help me catch back up. Enjoy!
Day 54.  Miles: 20.7  Total: 855.7
Today we tackle Muir Pass. It's not as steep as some of the other passes, but it has by far the most snow. I use my microspikes and pick my way across broad snow fields, thankful to have good sunglasses to filter the bright sunlight reflecting from all directions. It's hard to reconcile how hot I feel with the snowy scenery. I take care not to post hole and eventually I find myself at the top, where Muir Hut offers shelter in inclement weather. There's no inclement weather today– no wind at all, only warm sunshine.
I feel better today. Still inordinately tired, but that could easily be the altitude. A little sinus pressure, but that could easily be allergies. It's hard to disentangle possible COVID symptoms from the normal minor complaints that accompany thru-hiking, especially in the Sierra.
I leapfrog with Liz into the early afternoon, but eventually she gets ahead. When I can't find the Second Breakfast Club– they're not at either of the campsites they told me they'd stop at– I eat lunch alone, then set off for the river crossing, unsure if my friends are ahead of me or behind. I like hiking alone most of the time, but this is supposed to be one of the more treacherous crossings in this section. Even in a low snow year, some FarOut comments reference water above mid-thigh. Given the option, this is not a moment I would choose to be solo.
Luckily, just before the water, Jackrabbit, Poseidon, and Captain Something pass me again, explaining that they found a lunch spot a few hundred yards off trail to seek respite from mosquitos. Sometimes it's tiresome always trying to track down the group rather than take breaks when I feel like stopping, but for now at least, I'm glad to not be alone at the river.
It turns out my worries were unfounded. The river is wide but only reaches my knees. It's such a sunny day that I don't even bother taking my shoes off. My Altras don't take long to dry.
My phone dies in the afternoon. I still have some juice in my external battery, so I can charge it tonight, but for now, I have nothing to listen to but my thoughts. I think about quitting. I'm so, so tired. Not good-tired, the kind of exercise-induced tired that makes you sleep well at night, the kind that makes backpacking so satisfying. This is a different kind of tired, bone-deep and demoralizing, the kind that just makes you feel old. I reflect on the fact that there's nothing in my life I'd be particularly excited about returning to if I did quit. This makes me reconsider the urge to get off trail, but not in a good way.
This time when I reach camp, Jackrabbit takes pains to flag me down so that I notice where the group is stopped. I appreciate the gesture after missing them at lunch, and I try to banish my negative thoughts and have a nice evening. We watch a train of pack horses pass above us on the trail, heavily laden with supplies. The riders are guiding them to Muir Trail Ranch, which opens this weekend.
I remind myself that it's impossible to enjoy a thru-hike 100% of the time. Highs and lows are inevitable, and this is just a low point.
Day 55.  Miles: 17.9  Total: 873.6
Better day today
But I still feel very tired
Gorgeous out here though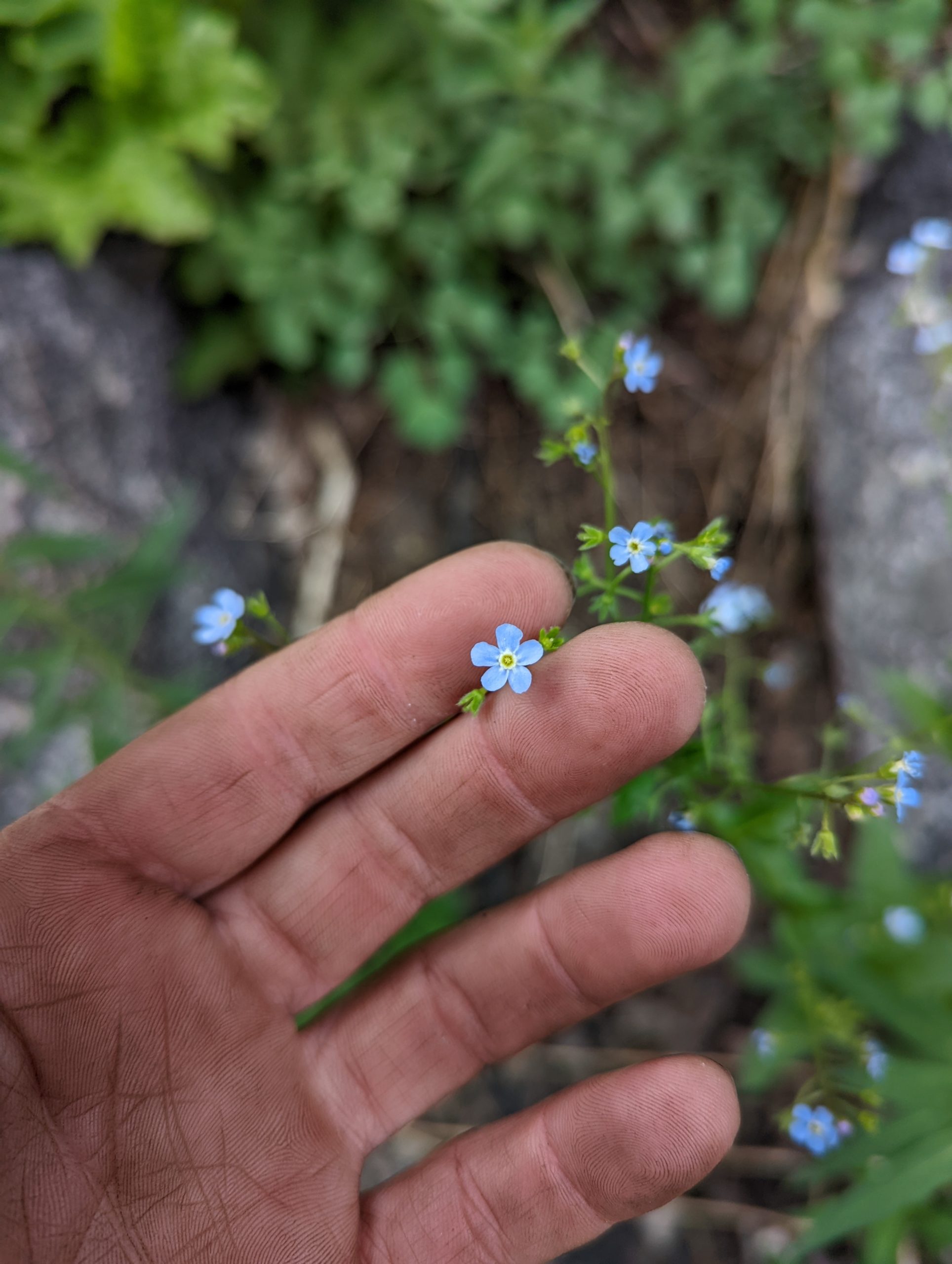 Day 56.  Miles: 20.0  Total: 893.6
Overnight, I jolt awake when my hip seizes up. I dislocated my left hip falling off my horse when I was 19, and sometimes the old injury still bothers me, especially when the weather is turning cold and damp. (This makes me feel like a grizzled old sailor– "Argh, a storm's a-comin', I can feel it in me achin' bones!")
But this pain is different. It's my right hip, not the left, and the pain is not a dull ache. It's sharp and cramping, radiating from my hip into my groin and down my thigh. I figure I pinched a nerve while sleeping, and I twist and turn, trying to find a comfortable position, but I lie awake for hours.
I consult Captain Something about it in the morning, and she recommends stretching it out and walking slowly to see if improves throughout the morning. After taking some acetaminophen, I start hiking, wondering if I should abandon the trail at the junction to Muir Ranch to seek help.
However, the hip does hurt less as I get moving. My sore ankle after Idyllwild and my sore knee after Wrightwood both improved with a bit of rest and a slower hiking pace. Here in the Sierra, during my longest food carry ever, I don't have the provisions to add a day to Mammoth, but it's the middle of June. The days themselves are long. I can walk slowly today.
I pass the junction and proceed up Silver Pass. As the morning wears on, I fall far behind my friends and reach the heights of the pass alone, just as it begins to snow. The wind is fierce, and my feet are soaked from fording a stream. My toes are cold, but I resolve to keep moving as long as they don't go numb. If I have to stop, I can switch into dry socks and add hand warmers to my shoes, but the safest option is to keep moving and get back down below treeline before conditions deteriorate more.
Silver Pass is not steep, but it is long. I navigate more streams and periodic snow fields, my hood cinched tight around my face to keep out the gusts of snow flurries. It occurs to me that this– being here, exposed above 10,000 feet in a snowstorm, alone– is probably the most dangerous situation I've found myself in on the PCT.
"I have the knowledge, gear, and fitness to get through this safely," I say out loud to no one. I repeat it in my head, thinking of snowshoeing in sub-zero temperatures in New Hampshire, of sheltering from lightning on trail projects in Wyoming, of going through Wilderness First Responder training for my job with REI. It's true. I am an experienced outdoorsperson. I have the appropriate equipment for adverse conditions. My legs can carry me over this pass, even through the snow, even close to exhaustion.
Oddly enough, the seriousness of the circumstances helps me stay clear-headed and focused, and I feel mentally better than I have in days. My hip hurts, and I'm leaning heavily on my trekking poles, but I just keep moving. I feel steady and determined. Within hours, I am descending into pine forest. The snow fields are gone. The wind filters through vegetation until it is just a cold breeze. Eventually, the sun comes out. All evidence of the storm on the pass is gone. I expect to find my friends eating lunch at every campsite, but they are nowhere to be found. I give up and eat alone near a bridge.
By late afternoon, my hip is feeling much better, and I pass numerous JMT hikers on the switchbacks up the next climb. The views are phenomenal.
I pass a few lakes as the temperature begins to fall. I arrive at camp feeling spent but accomplished. Despite the weather, despite the hip problem, I hiked exactly 20 miles today. My friends are already squirreled away in their sleeping bags, hiding from the cold, but they emerge to cook dinner. We're all excited to reach Redd's Meadow and Mammoth tomorrow.
Day 57.  Miles: 13.0  Total: 906.6
Hip is fine today
Shuttle down to Mammoth Lakes
So much sweet town food
Day 58.  Miles: 0  Total: 906.6
This morning, pancakes
At a place called Breakfast Club
This feels meant to be
Day 59.  Miles: 9.3  Total: 915.9
COVID negative
I guess I'm not sick at all
Just the altitude
Affiliate Disclosure
This website contains affiliate links, which means The Trek may receive a percentage of any product or service you purchase using the links in the articles or advertisements. The buyer pays the same price as they would otherwise, and your purchase helps to support The Trek's ongoing goal to serve you quality backpacking advice and information. Thanks for your support!
To learn more, please visit the About This Site page.