Endings are Difficult (and my titles are misleading)
Of all of the difficult things in life, unplanned endings remain the hardest for me to handle. Endings can be bittersweet or they can bring about a huge sigh of relief. They can be a reason to celebrate the "end of missing someone," as Jonathan Safran Foer wrote in Extremely Loud and Incredibly Close, or conversely the beginning of missing a person or place or moment of time. When we see it coming, we anticipate it and we have the opportunity to do our best to prepare for it and process it. But when we don't, that's the real tragedy. It wasn't supposed to end like this. This wasn't the plan. It's not supposed to be over.
That is a more articulate transcription of what I jotted down in my notebook this morning when I heard the section of trail that we were going back to complete was closed. Henri and I were alone in a house in Portland, both completely overwhelmed with sadness and confusion. When we hopped off trail yesterday, we had checked and saw one page of the PCTA noting that the section we had to complete was now open. Today we woke up to a message saying otherwise, and another PCTA page noting it as a closure. We didn't get off trail yesterday thinking that it would be the end of our hike.
So, let's back up. We made the decision at Timberline Lodge (over the most bougie breakfast buffet / why does nobody talk about how fancy it is?) to hop down and finish California. After flipping up to the Northern Terminus because of the many NorCal and Oregon fires, we finally hit our first state line/2,000 trail mile mark at Bridge of the Gods. That's right. It took 2,000 miles before we finally crossed a state line (…such is the 2017 PCT experience)! Thanks to a bad storm at Stevens Pass and a flight back to the east coast for our friends' wedding, we had acquired an incredible trail family: A family that we planned to hop around fires with until the end for 3 of them in Ashland, our end in Mt. Shasta, and Reptar's end in Tahoe. While we were fully enjoying each other's company and the breakfast, I couldn't shake how I felt the night before.
We had night hiked the last 5 miles to camp in the freezing cold over a slushy, snow-covered trail. Condensation was dripping from the trees and there were a few really difficult blow downs to get around, especially with absolutely no feeling in my feet or hands. (Everyone who knows me knows I cannot handle this weather. I am the person that can't sit on the logs around the campfire because I need to hover over the flames and occasionally rotate myself so that my backside never gets too cold. I am the child that got in trouble by her parents for wasting the electricity by putting the stove burners on and warming up my hands inside of our heated home). I lost the ability to hike properly. I was stomping my feet. I was sloppy and weak. I couldn't feel my hands. I couldn't open my own water bottle. I was crying. Sobbing. I was pathetic. I was dying to get to camp and also dreading it. How was I supposed to set up camp or get water or unpack my bag or make dinner? I felt weak and inadequate. I was reaching my limit.
I am extremely lucky to have Henri, who definitely took on the bulk of the tasks that night, but that didn't help with my feeling of inadequacy. I pitied myself for being unable to do the one thing that usually makes me feel strong.
Our gear was soaked by the spray from the near by river and by morning was frozen, covered in ice crystals. Our sleeping bags, our shoes, our water. I didn't get any sleep. We've been in a few storms before where I thought to myself 'I'm not really enjoying this', but i was able to get through the night. The thing is, we keep waiting for these dangerous winter storms to pass and hiking through the less severe winter conditions. This was just what the trail had become. We had been heading south, along with the winter weather.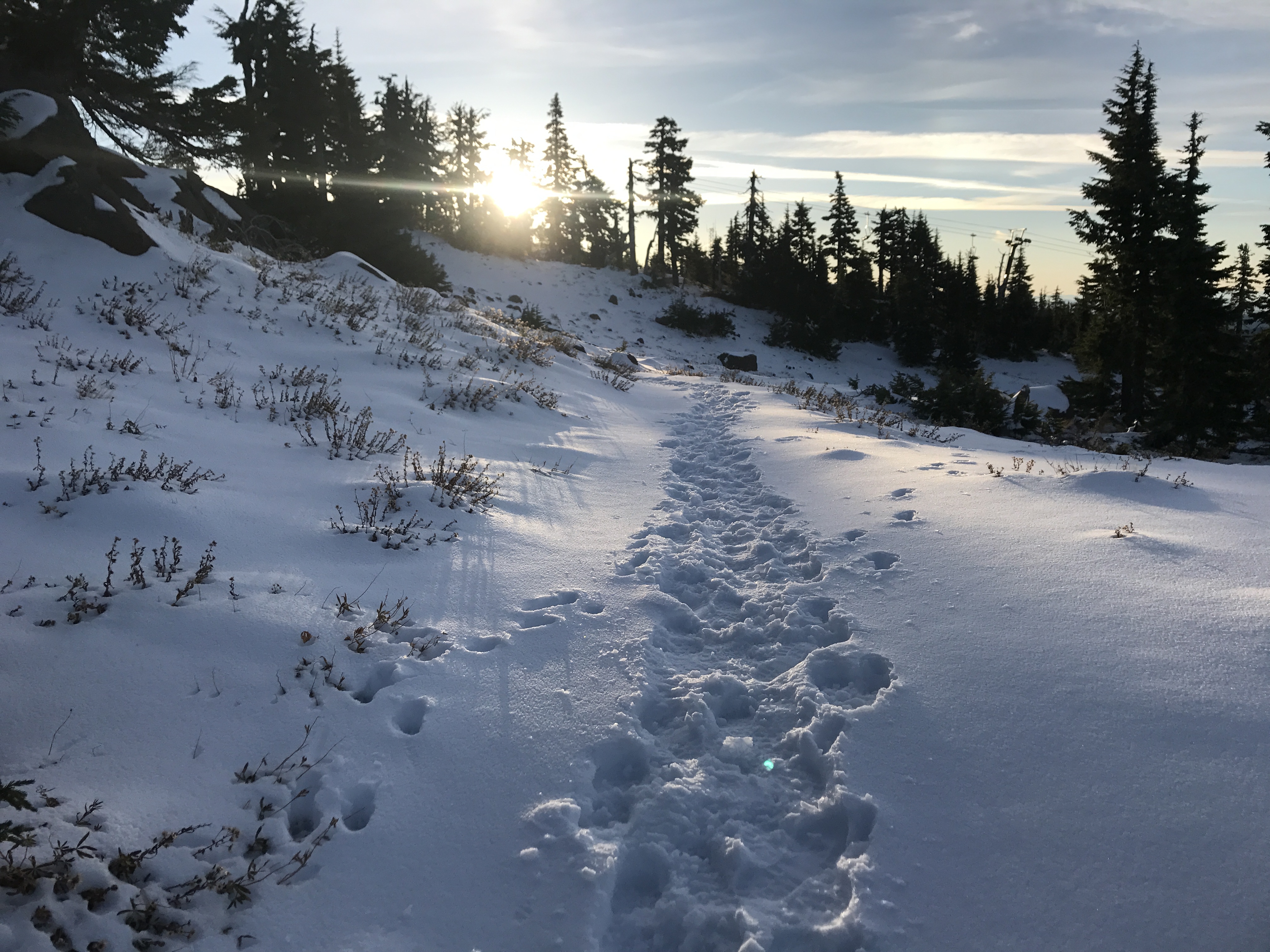 We could keep doing this and I promise you I would have had as much of a hard time with myself as the group would have with me. I don't want to self sabotage, and I not trying to be resented, either. I want to challenge myself but I don't want to radiate negativity. So, Henri and I made the choice to go back and complete California. In the year of fire and ice, I would feel pretty damn satisfied with the plan to just come back and finish the trail with Oregon when we can truly enjoy Oregon!
For about an hour this morning, I sat there on that couch in Portland with Henri, feeling completely lost. If the trail in Northern California was actually closed, what would we do? No other place on trail felt right. But alas, we remembered that the PCTA is awful at updating their website (they seem to be under the impression that hiker season is over) (this is the Trek so I can be a tiny bit hateful and brutally honest on here a little, right?), so we called the park where the PCT closure was located and was told by the parks department that… it had been reopened!
So.. this continuation of trail IS an ending of sorts. Its the end of a chapter. An ending in the way that flipping up from Mt. Shasta was an ending. The end of hiking with some of the most wonderful humans I've ever known. Hopefully the end of the numbing snow storms. Not all of these endings were planned, but they were based on our grit and our desire to stay on trail. So, in about two weeks, we will complete California and it will be the end. It won't be an easy end, but at least we will be able to acknowledge that when we walk away from the trail, we will be soaking in what we will hold onto as the last moment of our 2017 PCT adventure.
Affiliate Disclosure
This website contains affiliate links, which means The Trek may receive a percentage of any product or service you purchase using the links in the articles or advertisements. The buyer pays the same price as they would otherwise, and your purchase helps to support The Trek's ongoing goal to serve you quality backpacking advice and information. Thanks for your support!
To learn more, please visit the About This Site page.