Injury Roulette (Days 5-9, Mt. Laguna to Warner Springs)
Day 5
Start: Mt Laguna
Finish: Bushcamp on ridge a few miles short of Sunrise Trailhead
PCT Miles Hiked Today: 14.7
We had a good stay at the Mt Laguna Lodge! We were honestly just thankful to be out of the cold and wind – our poor friends at the campsite endured some crazy winds last night.
There were two topics of conversation today. The first topic was water. We had heard a few days ago that there was no water between Mt. Laguna and Julian because a water spigot at a campground had broken. After briefly panicking over a 35 mile, 3-day water carry, Lauren found a water source about 10 miles into our day today at Pioneer Mail picnic area.
The second topic was Julian. Other hikers had let us know that no one could get a hotel in Julian this week due to a motorcycle convention in town this week. We called around and found to our dismay that the rumors were true: no hotels available. Jackie let us know that she heard we could maybe camp for free behind the brewery – that may be our best option when we roll into town in a few days. Regardless, still 35 hot, dry miles ahead of us.
It was absolutely beautiful hiking out of Mt Laguna this morning. The high elevation of 6,000 feet was a totally different environment than we've been hiking through – we meandered through towering pine trees, with plenty of shade. Eventually, we made our way back down towards the desert and were greeted by some spectacular views.
As I started hiking today, the top of my left ankle was on fire. I've had trouble with the tendons in that area before, but this felt like 10x the pain as last time. The pain has been bouncing around so far this trip – it's like, wake up and spin the wheel, see what injury you land on today. Sounds like the least fun game of roulette you'll ever play.
Lauren and I hiked with Savannah for most of the day today. It's funny the games that hikers play on trail to pass the time – eventually, we run out of questions like "So, you have any siblings?" and turn to anything else to pass the time. Today, we were playing "Perfect 10 But," a game where you think of a significant other that is perfect in every way, except for one funny deal breaker. Three examples we came up with were 1) permanent Cheetos dust fingers, 2) singing every word in all conversations, and 3) burp before every sentence.
While we were busy playing dumb games, we passed 50 miles!
Lauren and Savannah took a side trail to hike to the summit of a local mountain off-trail, and I continued on, wanting to get to the water source at 10 miles before the heat of the day set in.
I rolled into the picnic area around 11 and went to sit in the shade with the other hikers who beat me. Over the next two hours, upwards of 10 or 12 other hikers coming from Mt Laguna came in and joined the circle. It was great sitting around and chatting while the hottest part of the day passed.
A few funny things happened as we were sitting at the picnic area. First, a car rolled into the parking lot, and an extremely pregnant woman hopped out and yelled over to us to ask if we wanted some ice cream. Uh, yes we do! She and her husband are from San Diego and were on their way to do maternity photos, but while in the area, the husband (who hiked part of the PCT in a prior year) wanted to do something nice for hikers. Mango ice cream was a real treat! Thank you Bagel (and Bagel's 8.5-month pregnant wife!)
The second funny thing that happened was about a dozen of the motorcyclists currently having a convention in Julian decided to come up to the picnic area for lunch. It was very amusing to see these big men climb off their Harleys, grab their little lunch boxes, and sit down at the picnic tables. A few of them came over to us to ask what the heck we were doing, and when we told them we were hiking to Canada, they just shook their heads and said "God bless ya!"
On a sad note, Mr. Tea got off trail for good today, due to an injury. Mr. Tea was always such a pleasure to speak with and we will miss the heck out of him. Mr. Tea has been giving dried mango to Lauren for the past few days, even hiking down to Kitchen Creek without his bag, but with a Ziploc full of mango for Lauren, because he saw how surprised and happy she was every time he pulled out the bag for her. As he departed trail for the final time, he left the rest of his supply for Lauren, and she definitely teared up a bit. She was dubbed with the trail name: Mango.
We will miss you, Mr. Tea!
We hiked 5 or so more miles to an amazing campsite just off the ridge. Tomorrow is looking dry, but mostly downhill, so I hope it won't be too bad.
Day 6
Start: Bushcamp on ridge a few miles short of Sunrise Trailhead
Finish: Bushcamp a few miles short of Scissors Crossing
PCT Miles Hiked Today: 15.3
Very cool campsite last night – nice and quiet, and it felt neat to be nestled into the bushes on the side of the ridge.
Mango and I hiked with Kyle for most of the day today. As I hiked, I was glad to see that my left ankle was feeling much better, but also extremely concerned that my right knee had shooting pains every time I landed on it. I think what happens is that I walk a little funny to compensate for an injury, but that tweaks another part of my body, so the next day something else hurts from changing my gait all day. It's a vicious cycle and I never know what will hurt when I wake up. Yesterday I called this "Injury Roulette" and I think that's a good name for it. Spin the wheel and see where you land – good luck, and I hope it doesn't end your hike! (If I don't laugh, I'm going to cry.)
Water was heavy on our minds today. We heard of a dirt road crossing 10 miles into our day that hikers reported hiking 1.1 miles / 500 feet downhill off-trail to collect water, which was the last water source before Scissors Crossing. Going that far off-trail hurts my soul (I am not in the business of doing bonus miles), but what else can we do?
We pulled off at Sunrise trailhead to use the restroom (pro tip: always use a toilet when one is available), and as we were packing up to go, a woman rolled into the parking lot, hopped out of her car, and asked us if we wanted water. Uh, yes please! She dropped 8 gallons of water off for hikers and gave us apples and oranges to boot. Thank you, Desi!
As we were leaving the parking lot, Doc and Tenderfoot were road walking in – which was a bad sign. Their injuries had caught up with them, and they were hitching into Julian to take a zero and regroup. I hope this isn't the end of their hikes…
The rest of the day we cruised downhill. Beautiful views and we saw our first rattlesnake!
Since we got such great water from Desi, we didn't have to do the bonus miles down the dirt road. We still pulled off and hung out under the bushes for a few hours, to sit out the heat.
Our group found a beautiful campsite overlooking the valley floor. I think we're hiking across that tomorrow to get to Scissors Crossing – hopefully easy miles!
The group decided to stay at Banner Ranch tomorrow, where we booked a tiny house for four of us. The rest will stay in the campground.
Day 7
Start: Bushcamp a few miles short of Scissors Crossing
Finish: Scissors Crossing / Julian
PCT Miles Hiked Today: 5.8
Finally, a warm night! I was very comfortable walking out of camp, despite the early hour.
We did indeed turn onto the valley floor for 3 or so miles, which was very enjoyable. Savannah and Shooter got a little ahead of me and Lauren, as the sun rose and it started to get really hot on the desert floor.
As we emerged at the trailhead, Brandon from Banner Ranch was dropping off the prior night's hikers. He scooped us and brought us right into town. Easy first hitch!
Julian was so much fun. We got an incredible breakfast (with maybe the best sticky buns ever??), a free slice of pie at Mom's, and spent a few hours at the brewery. Good times! But, I was still glad to get a ride back to Banner and hop in the shower. Oh, and do laundry. I ran out of clean underwear yesterday.
Our tiny house is cramped but cute. Just glad to have an air conditioned spot to sleep tonight. I think Banner is new this year, so let this be the first review: a pretty good stay! I recommend it. Tiny house was $200 per night, not bad split 4 ways.
Day 8
Start: Scissors Crossing / Julian
Finish: Third Gate Water Cache
PCT Miles Hiked Today: 13.9
I allowed myself to sleep in this morning, but my body still woke up naturally at 5am. Hmm, I know waking up early is good on trail, but dang, I wanted to sleep in! Oh well. We all piled back into Brandon's van at 7am for an easy ride back to the trail.
7 am may sound early, but we've been hiking around 5:30 every day to try to bet the heat. Late start, lots of water, fresh food resupply… it added up to a hard day. Still, day after town day isn't all bad – I got to eat the second half of a sandwich as a late breakfast!
I think Mango struggled more than I did today. Slight uphill really doesn't bother me too much, it's the steeper downhills that my joints have trouble with.
We arrived at the third gate water cache, the only dependable water cache on the PCT. Volunteers haul up hundreds of gallons of water every year to help PCT hikers through this dry stretch. There is both a donation jar and a Venmo account to contribute to the cause – and I encourage all future hikers to consider how much time, effort, and money it takes to maintain something like this.
Injury roulette sure tossed out some weird results for other hikers today. First, Mango got stung on the face by a very aggressive bee about a mile before we arrived at the water cache. Then, we find out that Jackie almost walked off a cliff earlier and barely caught herself! It's dangerous out here, folks.
Really pretty campsite tonight, nestled into the bushes. Plenty of other hikers around us, as this is a good day's hike from Scissors and the only game in town when it comes to water. Looks like a lot of flatter ridge walking tomorrow, so maybe a bigger day? We will see.
By the way – We all have trail names now! Me (Slice), Lauren (Mango), Savannah (Songbird), Jackie (Squeaks), Chandler (Tenderfoot), Delaney (Doc), and Kyle (Shooter) – and the broader group is mostly named as well – David (David Bowie), Sorority Steve (no idea what his real name is), Rebecca (Snooze), and Ethan (Steve Irwin). What a life.
Day 9
Start: Third Gate Water Cache
Finish: Stream campsite a half-mile short of Warner Springs
PCT Miles Hiked Today: 17.8
Another warm night last night – feels good to leave the sleeping bag unzipped and draped over me like a quilt. I didn't need any extra layers this morning as we started hiking for what feels like the first time! Although warm mornings mean hot days, so it's a mixed blessing.
Ridge walking for the entire first half of the day, and very smooth trail. We banged out 10 miles before 10 am to the first water source of the day, and hung out / stretched for about 45 minutes before pressing on.
We passed the 100-mile mark! Big accomplishment. I am in good shape, honestly – better than I expected before starting. Looking around me at my friends, it seems almost all are struggling with an injury or two. Mango and I are the exception at this point.
After grabbing water, the trail began making its way through valleys and meadows, an amazing experience, but the day was really becoming a scorcher. I didn't linger in the open air, I scampered across the meadow to the safety of the shade. Even so, I could feel the sweat pouring off of me as I hiked.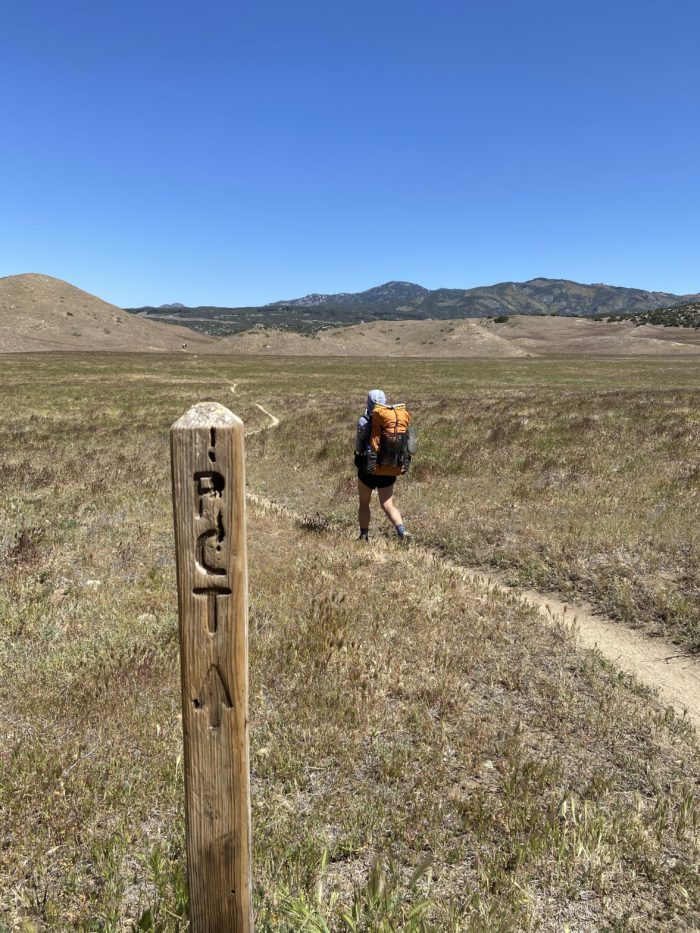 We took a nice long break below a giant tree, which cast enough shade for everyone who walked through to stop and rest for a bit. As we were talking, a few horses rolled through! I sometimes forget that this is a horse-friendly trail. (Until I see the big piles of horse poop on trail, that is.)
More meadow walking after we moved on from our break spot. But, we passed Eagle Rock, a very cool rock formation that looks like an eagle.
We were happy to roll into our campsite after more than 17 hot miles today. An unexpected feature tonight is a cold stream that flows by the site! We got to soak our swollen feet at camp for the first time on the entire trail. And now we are lying in our tent, being serenaded by a chorus of frogs as we close our eyes for the night.
I'm going to cut this post here, because my WordPress app keeps crashing, probably because of all the pictures. It's been a learning curve figuring out how to get this written every night on trail. The WordPress app is clearly not meant for what I'm doing here – in airplane mode for multiple days, keeping a draft post with tons of pictures, editing it each evening. The app has been very glitchy (even on an iPhone 11), and it ate a few days' worth of completed posts this week. I'm clearly still learning, and I hope it comes more naturally in the coming months. If anyone has any tips, let me know in the comments.
Until next time, happy trails!
-Slice
P.S. If you like this post, check out Mango's trail podcast, Take a Hike!, now available on all major platforms (except Apple for some strange reason, probably due to my long-running personal feud with Tim Cook).
Affiliate Disclosure
This website contains affiliate links, which means The Trek may receive a percentage of any product or service you purchase using the links in the articles or advertisements. The buyer pays the same price as they would otherwise, and your purchase helps to support The Trek's ongoing goal to serve you quality backpacking advice and information. Thanks for your support!
To learn more, please visit the About This Site page.