Jackrabbit Hikes: Day 43-46
Day 43: Walker Pass (mi 652.1) -> Spanish Needle Spring (mi 668.7)
It's amazing how much you appreciate good weather after a few days getting of not-so-great weather. The last few nights in the freezing cold were the hardest yet. Heavy, consistent winds matched with cold temperature worked my mental. It was the first time on the PCT where I was not having fun.

But that time has gone and it's sunny, it's warm, and the wind has finally kicked rocks. Me and Squalo rode in a full car across the desert as we headed back towards the mountain and Walker Pass. Slowly the mountains grew larger and eventually you were surrounded 360 by ridges and peaks.



When we arrived, both me and Squalo were so excited to hike. There was a hiker trash pile-up at Walker Pass and there were some familiar faces, but the good weather got me so excited to hike we started climbing immediately. We high-fived about 20 times in the first few miles and tilted our head backs and let out some "Hell yeah!" 's.

The hike was phenomenal as we spent all day going up and around Owen's Peak, just cruising in the sunshine. We got to trail near noon so our mileage expectations were low and we coasted to a water source through the day. A late start usually means a late finish, so I was able to spend the sunset hiking rather than sitting. Hiking in the last hours of light is the best on a warm day, the temperature cools and you're stress free as you finish your last few miles.

Camp was packed with lots of friendly faces and some new faces too. Nice protected sites in the woods, but for the first night in a few I didn't have to worry about wind protection. I pitched my tent, boiled some water, and climbed into my tent with a full belly.

Last section to Kennedy Meadows. Less than 50 miles. I still can't believe I'm that close. The most iconic stop on the PCT.

Soon.
Day 44: Spanish Needle Spring (mi 668.7) -> Tent Site (mi 689)
I know the last entry was all about the weather but damn it's so nice. Me and Uncle Bob linked up at camp and we took our sweet time getting out of camp. We hit the trail around 9:00 am, my latest start on trail so far and the last ones out of our vert busy campsite.

My hiking pace and vibe varies so much out here. Some days I get so much serotonin from crushing miles and other days I get the most enjoyment from taking my time. We cruised out into the crisp morning air after finishing our 8:30 am coffee and talked and walked.

The day was more nice up and down hiking on the graded trail. It was one of those days where I just felt like I was walking and not hiking. Just moseying along.


We picked up speed later in the day and cut out some planned breaks as we tried to finish the last climb before descending into Kennedy Meadows. We made it to the summit of the last climb 30-45 minutes before the sunset.

It was one of the most amazing sunsets yet. Even at 8000ft up, we were surrounded by plains and ridges. The ridges were painted blue as the sun shine brightly behind them and the biggest boy of them all peaked at us from less than 100mi away.

Mt. Whitney. Finally within sight. The most prominent on the horizon, I confirmed with the map that we were looking at the big guy. Me and Uncle Bob drank a tall Modelo as we looked at Whitney and talked about the miles to come.

Less than 20 miles to Kennedy Meadows and the Sierra's. Less than a week from summiting the tallest mountain in the continental United States. Insanity.
Day 45 & 46: Tent Site (mi 689) -> Kennedy Meadows (mi 702.2) -> Kennedy Meadows Zero (mi 702.2)
Weather: Sunny and 70.
Vibes: Immaculate.
Pack Weight: Minimal.

Last day of a section is always so nice because you can get your pack basically down to base weight if you packed right. I never carry extra water either, always dumping water out as I get closer to the next source.

I woke up this morning with so much hype to make it into Kennedy Meadows. The only thing that stopped my momentum was running into old friends skinny dipping in a river. We hung out for a while until my anticipation for Kennedy Meadows pulled itself off the back burner.

I strapped my pack on and quite literally ran the last 4-5 miles to Kennedy Meadows. I finally reached the road crossing to the general store and relaxed.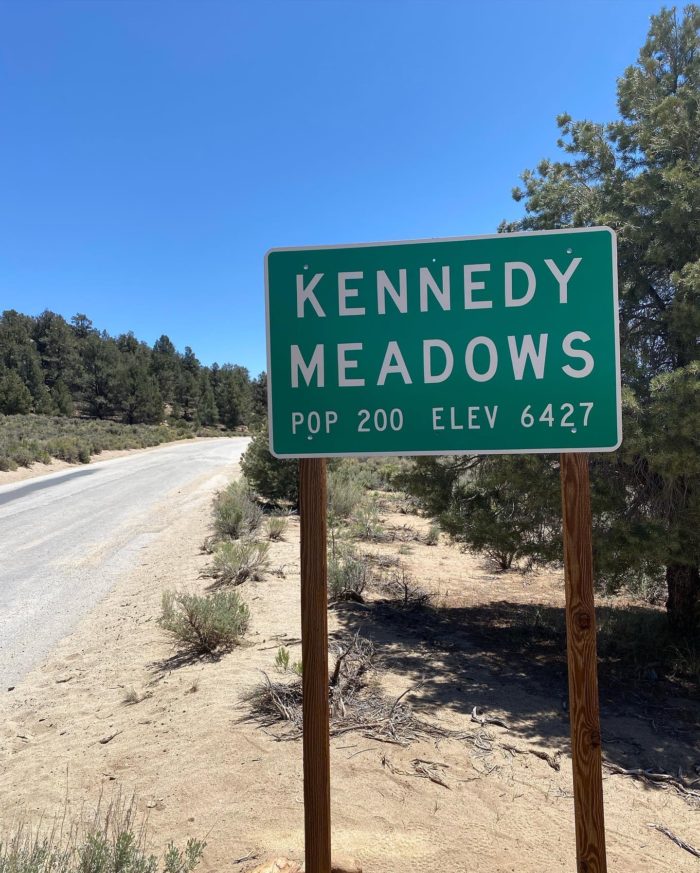 I made it. The desert is over. Time for the High Sierra's.

It still gives me chills to think about it. It was just such a long time coming with so much hype and anticipation. Sometimes things can be so overhyped you think it's never going to happen, but finally, I had made it.

I walked up to the general store and dropped my pack on the busy porch. The sun was beating and hikers were running everywhere. Checking the hiker boxes, checking their battery banks and most importantly drinking some cold beers. (Sierra Nevada's seemed most appropriate – looking at you, Lil Hazy Thing)

This is a place to celebrate.

A place to celebrate the adversities you overcame to get here. A place to celebrate your passage into the High Sierra's. A place to celebrate running into old friends and making new ones.



And I celebrated. Hard. Kennedy damn Meadows! I'm actually here. Soon I'll be carrying a bear can and a few other items and my base weight is going to go up a lot. "Who cares?", I thought to myself. That's a trail problem and tonight I'm around my first campfire on the PCT surrounded by friends.

I'll raise a toast to that.
Affiliate Disclosure
This website contains affiliate links, which means The Trek may receive a percentage of any product or service you purchase using the links in the articles or advertisements. The buyer pays the same price as they would otherwise, and your purchase helps to support The Trek's ongoing goal to serve you quality backpacking advice and information. Thanks for your support!
To learn more, please visit the About This Site page.