Long Time, No See: Mile 369-906
Well, there's no way to sugar coat this, I have been quite aloof with posting my adventures on trail. Quite honestly I have been rolling with the punches and trying to enjoy every moment. This has put writing on the back burner, however I will procrastinate no longer. Without further ado here is a brief synopsis of the last 537 miles.
Onward and Upward We Went.
Last time I updated you all I was headed out of Wrightwood with hopes of leaving the sour taste of Deep Creek Hot Springs behind. Well, we did just that. After hopping over Baden Powell we continued our cowboy camp tour through the desert. We didn't spend much time in Acton, but chose to power through to the famous Hikertown USA. For those who may not know Hikertown is a pit stop/hostel/junkyard/rally point before tackling the LA aqueduct.
The Aqueduct Convoy
The timing of our trip across the LA aqueduct was quite opportune. We hit the 24 mile waterless, flat stretch over the Mojave Desert on a full moon. With such an event it was more of a party than a hike. We all adorned each other with glow in the dark paint and stepped off from Hikertown at sunset. We, like so many others, chose to hike the aqueduct at night to avoid the blistering heat of the desert floor. Our convoy of hikers were in for a long night of walking on essentially flat terrain that gradually changed from pipe, to concrete, to gravel, and back into trail. We lasted until about 4 AM and we threw in the towel, hastily cowboy camping in the middle of a wind farm. We captured a few hours of sleep and we're back on trail in order to push to Tehachapi.
End of the Desert.
After taking our first full zero in Tehachapi, the tramily continued northward with the end of the desert in sight. Waiting for us at mile 702 was Kennedy Meadows South, a small town of 200 people, but home to the famous General Store and Grumpy Bear Resort. Our journey from Tehachapi to Kennedy Meadows was rather unremarkable. We had pretty much grown accustom to the desert at this point so the long water carries and mandatory siestas were nothing new. We were rewarded for our efforts by thunderous applause from the hikers who awaited us at the General Store.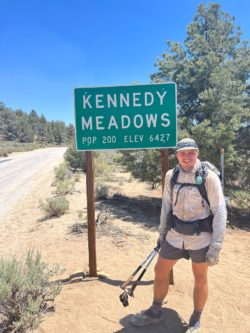 Into the Sierra.
After a few days of rest we once again set out, this time lugging around extra gear. We all added bear cans and micro spikes as well as a few extra layers for the cold. Our plan was a 5 day carry plus a summit of Mt Whitney. Overall the first week the Sierra was awesome. The climbing was tough but we kept up our 20 miles days and made it up and down Whitney as well as up and over Forester Pass. Then a quick stop in Bishop and back out to conquer the most of the remaining passes. With a few days of over 5,000 ft of gain we quickly found ourselves on a trolley to Mammoth Lakes.
When in Mammoth.
So that pretty much sums it up. We now sit in town gorging on town food and planning our next resupply. Town days have luckily gotten a little less hectic. Chores are completed so that we may actually relax with our day off. By the end of the day we are all itching to get back on trail.
Cowboys No Longer.
A minor loss with our entry into the Sierra was our cowboy lifestyle. Our crew of hikers had cowboy camped (just sleeping under the stars without a tent) since we first climbed San Jacinto. However, with the onslaught of mosquitoes we eventually had to give in and actually use the tents we have been toting around. All except for Your Highness, the Dane I've been hiking with since day one. He is the only one brave enough to carry on the tradition by continuing to cowboy with his head net securely affixed.
Affiliate Disclosure
This website contains affiliate links, which means The Trek may receive a percentage of any product or service you purchase using the links in the articles or advertisements. The buyer pays the same price as they would otherwise, and your purchase helps to support The Trek's ongoing goal to serve you quality backpacking advice and information. Thanks for your support!
To learn more, please visit the About This Site page.