Miles with Smiles: Confidence Rising
"I can't do this."
I clapped my hands over my ears (as if that would help), but it was too late. I had accidentally thought the thought that I had promised myself I wouldn't think.
Doubt had been creeping up on me since the moment I left my parents' house in Nebraska, but I had always been able to push it away. The doubt simmered as I spent a wonderful day in Winthrop with the truly amazing trail angels who fed me, sheltered me, and brought me to Hart's Pass. The doubt had circled hungrily as I put down way too many miles on day one and hiked through a snowstorm on day two. And now, the morning of day three, as I stared out at my empty campground three miles from the border, the doubt had finally got me.
I pushed on anyway, slackpacking to the monument, not really knowing what else to do. And then, as I rounded a corner and the monument came into view, it hit me:
"I can do this!"
I had already come 30 miles, which was more than I'd ever hiked on my own. I had spent so much time convincing everyone else in my life that I was ready for the trail, that I forgot to convince myself.
And things started really looking up from there.
The hike back to Hart's Pass was quite fun, and I met so many wonderful people along the way. In fact, from the moment I started my journey, I have met countless spectacular humans, brimming with more kindness, happiness, and generosity than I have ever encountered in my life (I promise I'm not overstating; these hikers are seriously rad).
And trail angels are in a class of their own. The love, support, hospitality, and snacks they provided have been seriously blowing my mind. (Special shout out to Funhog, St. Nicki, Oreo, and Kimchi for the shelter and rides, to Pacer for the best beer I've ever had in my life, and to Broken Toe for the advice, fire-building class, and the extra-warm sleeping bag!)
And the views! THE VIEWS!
I've never experienced landscapes like this before either. Not every moment of the PCT is spectacular, but but the breathtakingly beautiful far outweighs the more regular scenery (which, coming from Nebraska, even the "regular" stuff is pretty off the chain).
I made it down to Rainy Pass on day seven, and now I'm sitting in Winthrop with a beer, after my first-ever hitch (the guy who picked me up offered me doughnuts and taught me about the best way to handle bear encounters). And an extra special shout-out to Funhog and St. Nicki for taking me in again. No one is more surprised than me to find myself here.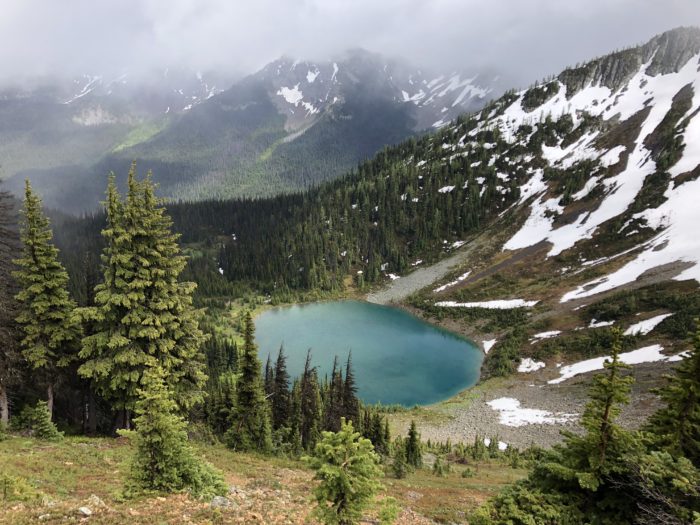 I'm far from a pro, but I feel a lot more confident now, and I've learned a lot.
I've learned how to hike with trekking poles, I've learned how to glissade, and on day five I finally learned how to properly put on my backpack (learn how to use your gear before you go, people). I stopped counting how many times I've fallen down (I was up to 16 times on day two), but I think I'm starting to get the hang of it. I can only go up from here.
P.S. The night before we started at Hart's Pass, I was gifted my trail name, Smiles, as we sat around the campfire. Nice to meet you all, and I'll report back soon. Right now, I have some beers to attend to.
Affiliate Disclosure
This website contains affiliate links, which means The Trek may receive a percentage of any product or service you purchase using the links in the articles or advertisements. The buyer pays the same price as they would otherwise, and your purchase helps to support The Trek's ongoing goal to serve you quality backpacking advice and information. Thanks for your support!
To learn more, please visit the About This Site page.