Milestones – Week 6
Amidst the highs and lows, the gear failures, the challenges and victories, there has been one constant in my life since April.
Every day I am one step, one moment closer to the northern terminus, even when I'm sitting in town waiting to go again.
So far nothing has stopped me, and every now and again I get a special reminder of my progress. Big round numbers spelled out on the trail herald my success amidst the daily frustrations and failures that sometimes seem all encompassing.
50, 100, 200, 250… Most of the time they are pieced together out of rock, but one time it was pine cones of all things. I suppose you work with the materials you're given.
Within all of this forward motion, though, I have found a rhythm and a new way to live. From an outside perspective, my days would seem to bleed together for all their similarities. I get up at the same time, eat the same breakfast, and push as far as I can, my distance limited only by terrain, level of exhaustion, availability of campsites or water.
Still though, whether I cover fifteen miles or twenty, every day I'm out there, I'm one step closer to the next resupply, and one step closer to the ultimate goal.
The northern terminus point has become more than a dream—it's become a mission. And within the fires of effort and will, the chaff of annoyance and setback burns away in that purifying flame.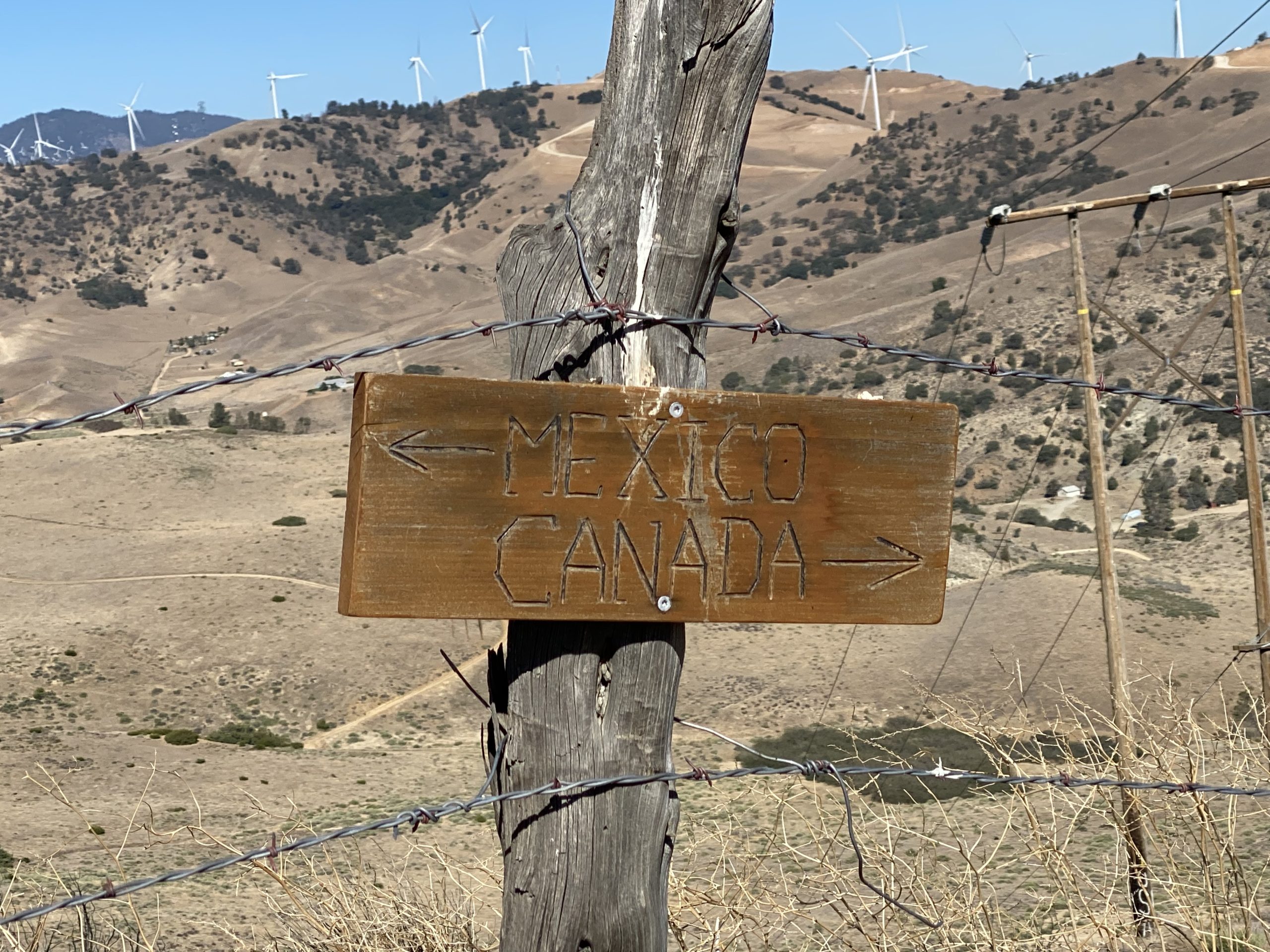 Every choice I make on the trail boils down to a binary decision of keep going or don't, surrounded by an overriding fire to keep pushing north through sweltering days, freezing nights and ever shifting challenges.
I broke another set of trekking poles climbing over a log on my way to Walker Pass. My pack shifted, I started to slide, and I grabbed for a branch only to miss and hook my pole.
It bent ninety degrees before shearing in two.
Three days from town, with no option to turn back, there was only one choice…forward.
No matter how I felt, town was days away and there was nothing to do but push.
My poles, though, aren't just a luxury item but vital in pitching my tent. Its breakage didn't just affect my comfort, but also vital elements of my daily function on the trail.
It was infuriating and demoralizing. Yet another gear failure, more bad luck, little accidents that suddenly had huge consequences, and what could I do about it?
Get mad? Yes, for a while. Expletives flew as I stared at my sheared pole in disbelief. As my anger deflated, I began to feel demoralized, lost, and even scared. Those feelings echoed that entire afternoon.
Still, at the bottom of the well of my negativity and frustration, there was only one choice…
The only way out was through, towards Walker Pass and Ridgecrest. Forward toward the goal and with each day, as I picked my way through forest and scrub desert, sometimes with a yucca stalk staff, and later with one made from fallen oak, I made my progress towards Canada.
By the second day I had ceased to care, even though I tore a hole in my tent mesh erecting my tent one night with my walking stick.
As I stared up at the hole, I didn't get mad but instead accepted it. There was nothing I could do but deal, and sew it up when I got to town.
Far from stoking anger or any other reaction, there was instead a grudging acceptance as I worked out how to deal with it.
The next morning I packed up, got underway, and crossed mile 650, leaving me with only 2000 more to go.
It was at that moment, as I reflected on the journey before me, that the words of a fellow hiker I had met echoed in my ears.
Suffering is inevitable, but misery is a choice.
Bad days will happen, gear failures will happen, luck as rotten as six-month-old fruit will happen, but so will those milestones…
400, 450, 600, 650…
But that progress will only come if I do not let the frustrations and the failures slow me down.
The northern terminus is waiting, and the journey, with all of its trials, is the way forward, towards the next milestone, the next challenge, the next day.
We'll see you out there!
Affiliate Disclosure
This website contains affiliate links, which means The Trek may receive a percentage of any product or service you purchase using the links in the articles or advertisements. The buyer pays the same price as they would otherwise, and your purchase helps to support The Trek's ongoing goal to serve you quality backpacking advice and information. Thanks for your support!
To learn more, please visit the About This Site page.