Mooooving on, Days 5-8: Cows and Eagles, and Rattlesnakes, Oh My!
Day Five
Mileage: 77.3 to 86.6
Woke up in our hotel room with clean laundry and clean bodies, feeling nice and refreshed! We did all of the rest of our chores (cleaning the cook pot and our water filters, writing the blog, charging our electronics, etc.) and then it was already time to check out. We hiked up into the town of Julian and went back to our beloved Julian Beer Co. for a slice of pizza and then headed to Moms Pie shop where thru-hikers get a free slice! The line was out the door and the day was dwindling away so we had to leave without pie and Cody is still holding a grudge about it. Everyone said it was delish so I can't blame him. We got a Hummer hitch from an awesome guy who thru-hiked last year and we were on our way… through the desert heat at prime time. It actually turned out really awesome because the storm from our previous day was long gone and the hiking was beautiful. We could see all around the rim of the mountains we were traversing and could see exactly where the trail was taking us. We only had two miles planned because of our giant day beforehand, but ended up doing 9.6 because of how beautiful it was.
Day Six

Mileage: 86.6 to 104.9
We were unaware that the tent site we chose was a wind vortex! We were up between 9:30 and 11:30 p.m .constantly fixing the tent. Tent stakes were flying everywhere and it was chaos. We awoke happy enough and carried on as usual. We had more awesome hiking around the ridges and even hit the 100-mile mark at 11:45 a.m.
We took a nice shady lunch break with the most people we had seen on trail yet (11). We then took a nice easy stroll into our last five miles through beautiful rolling hills full of COWS!
Kelsey's most excitement has come from those cows and it was quite fun walking among them and then later watching them pass through our campsite. We were quite pleased with our new neighbors and now half of the photos on Kelsey's camera are of cows.
Day Seven

Mileage : 104.9 to 119.6
We woke up to more cold, wet California morning dew. Not nearly as fun as the canned mountain kind, hehehahahoho. Cody thought it'd be a great idea to start the morning off right by making some warm coffee for us to split. NEWS FLASH. Talenti cups (our ice cream container we use to cold soak food) can not handle warm stuff. We warped the heck out of it, hahah. Just another reason to splurge on some delicious gelato in the next town.
We took a leisurely stroll into Warner Spring with a quick pit stop at the infamous Eagle Rock. It's way cooler in person; photos don't do it justice but we'll try.
Once in Warner Springs we stopped by the Resource Center to drop our packs, dry our damp gear, and pick up our resupply at the post office. On our walk back we stopped at the Warner Springs Golf Grill for an awesome breakfast. We headed back to the Resource Center with our newly filled food bags and our full bellies and then we chillaxed in the shade until 2 trying to wait out some of the heat. We finally packed up and moved out and had a difficult ten miles to finish out our day. There was more uphill than usual and our backpacks were ten pounds heavier. We made it into camp and were able to watch a beautiful sunset, though.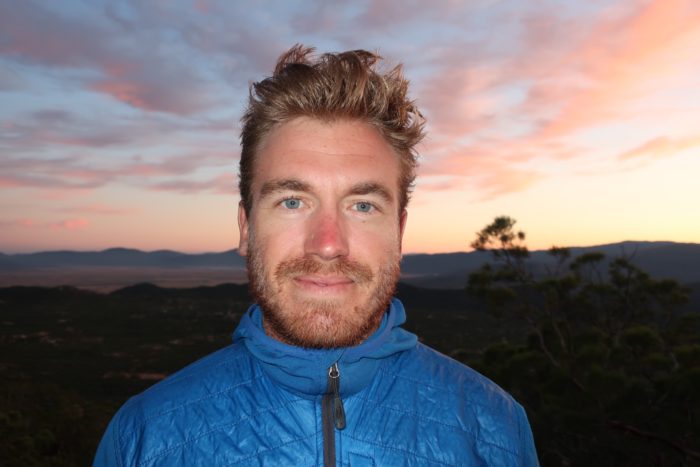 Day Eight
Mileage: 119.6 to 140.6
Woke up to a warm day that really just continued to get warmer. We stopped in at trail angel Mike's Place and filled up our waters and grabbed a banana (who knew how delicious a banana would be after eight days on trail. omg) and continued on our way. We were walking around ridges and got some of our first views of Palm Springs way off in the distance. This is where we encountered our very first rattlesnake! We never got to see him but we most definitely knew he was there with his ominously loud rattle coming from the bush right next to our feet. We hightailed it out of there and were on edge at every single noise we heard from the brush for the next few hours. We stopped for lunch after 12 miles and put the tarp for our tent up in the bushes to give us some shade. Such ingenuity!
Clouds were rolling through and we thought, Oooh, it's going to cool off!" but boy were we wrong. We were both out of water by the time we got to a large concrete cistern described in Guthook Guides. This is where our Katadyn filters really gave us our money's worth! The water inside was neon greenish and full of little larvae swimming around; when it came through the filter it was almost clear and tasted delish! Quite unbelievable how the filters work.
As we were getting water we heard people coming up trail. It was two people and three horses; we said our hellos and then found out they were also doing a thru-trek of the PCT, on horseback. We knew this was a thing, of course; the only traffic allowed on the PCT is by foot or by horse, but we hadn't ever actually met someone doing it. We really hope to see them again and learn all about their journey.
Days five to eight were fun and full of surprises. We find new little aches and pains in our bodies but overall we're both feeling really great. Tomorrow we get into Idyllwild and the infamous Paradise Valley Cafe! Until next time, peace out, cub scout(s)!
Affiliate Disclosure
This website contains affiliate links, which means The Trek may receive a percentage of any product or service you purchase using the links in the articles or advertisements. The buyer pays the same price as they would otherwise, and your purchase helps to support The Trek's ongoing goal to serve you quality backpacking advice and information. Thanks for your support!
To learn more, please visit the About This Site page.