My Extensive, Comprehensive 2023 PCT Prehike Preperations
A Photographic Log, a Phlog if You Will Thr…
(a Phlog? Wait, that doesn't sound right. Scratch that.)
A Photographic Journey Through Dulceland
Hiking the PCT is serious business. There are no shortage of plans to be made, money saved, food to be figured out and gear to be tested. Plus the mental and physical preparation needed to be able to hike for miles a day, day after day, while carrying everything you need (but only the things you really, really need) on your back. Scroll down to see how I got ready for my big hike.
Take A Trip to Mexico!
You really need to start saving money early on if you don't want to work for however many months, but you still have pesky bills to pay. Plus, you need money to stay in places with actual walls and proper beds on occasion, as well as eat food that wasn't (hopefully) previously dehydrated. Or, you can go to Mexico with your boyfriend and his family for the holidays.
Buy Some Fun Toys!
The afore mentioned boyfriend and myself both enjoy the water and rafting, but it's hard to get my large raft on many of the rivers back home. We had already been toying with the idea of getting something smaller, so when my friend bought an inflatable kayak this last winter, we were keen to check it out. We decided we liked it so well that we bought a pair for ourselves! And since they were on a good sale, it's not really frivolous spending, right!? Even if I don't get to use mine for another year? Of course, it did come with its own storage backpack, and with all the snow in the Sierras this year, maybe there could be a use for it during my hike… hmmmm…
Live in Snow to Prepare for a Big Snow Year Hike
Ok, to be fair, I live here anyways (this particular photo is out the front door of the boyfriend's house). ***However*** I usually can rearrange my life enough to run away with my horses and dog for a couple of months through the worst of winter. That was a bit everything prohibitive this year, so I stuck around home instead. To my dismay, we had an actual winter this year. You can absolutely bet I 100% took credit for that. If I hadn't been there, it would have been another mild winter, no doubt. So now, I'm all polished up on how to survive (and get around in) the white stuff. I'm also incredibly thankful seasonable weather patterns have returned to Southern Cali.
Ride My Horses!
Horses are my passion. I get itchy when they are just hanging out, waiting for attention (well, cookies at least) and I haven't gotten to ride in awhile. We all enjoy doing something together, be it trail riding, dressage, flat work or jumping. This year, I moved my ponies to a barn with an indoor riding arena for the winter. Ooohhh, aaahhh, yaassss. It was terrific when it wasn't 10 below. We even played some broomstick polo! Here I am taking a swing at a four square ball on Cash. I definitely considered riding to be cross training to get ready for my hike, and no one will convince me otherwise! Lol, as a bonus, I got to carry their grain and hay through snow drifts regularly, again, prepping for postholing through snow on the trail. At least that's what I told myself all winter…
Try to Convince Someone to Care Lease my Horses for the Summer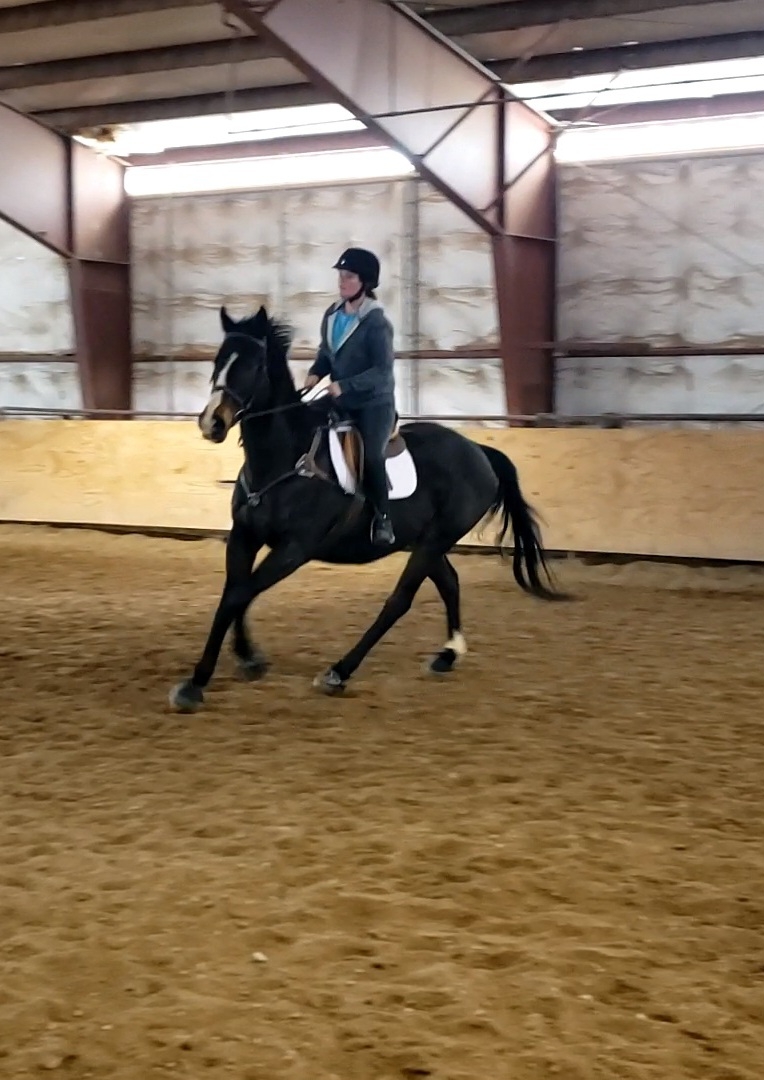 All of my horses are functional riding horses. It seemed a shame for them to just stand around in a pen doing nothing all summer, especially when I know people who ride. The challenge, though, was finding the right sort of person who could deal with my horse's periodic evil ways. Fortunately, a friend of mine who can ride was between horses for the summer and her boyfriend agreed that she needed to get back to riding and encouraged her to take up the reins again. This is her taking my horse Joey over some tiny jumps, the first time riding him, after not riding at all for several years. They look pretty good together! This seems like it should work out perfectly. Fingers crossed…
Go to the Dentist!
Let this be a lesson for anyone else out there. I avoided dentists like the plague for decades. I'm not joking, decades. I thought my teeth were more or less fine. Until I broke a molar, that is. There was maybe enough left to save it at first, but then not really. After putting off dealing with it for more than a year (though getting regular dental care again, at least), I finally decided to stop being a pansy and just get the thing pulled along with yet another broken tooth (a very slowly erupting wisdom tooth that practically fell out of my head). So now, you will certainly see me brushing and flossing while out on the trail, trying to keep my remaining teeth intact and where they belong. For real, people, take care of your teeth!
Get Used to Eating Everything on a Tortilla
Tortillas are awesome. They are bready goodness you can smash in your pack and they still come out functional at the end of the day. You can eat them with sweet foods, savory foods, bland foods, spicy foods and anything in-between. Use torn off bits to scoop up runny foods like a chip. Add bits to soups for a cracker-ish effect. Eat one plain when you're too hungry to think but you don't want to eat another protein bar. And they come in corn or other varieties if you don't do wheat. Pro tip; a tortilla also makes a handy wipe for cleaning out your cup at the end of a meal!
Convince My Friends to Sponsor me!
I do own other sleeping bags. They were really nice years ago when they were purchased. But technology has moved on since then and now we have all this cool ultra light stuff that not only weighs less, but also works just as good, if not better than the old stuff. Looking at my old sleeping bag, I realized I could cut more than a pound and a huge amount of bulk out of my sleep system if I could get one of the fancy new backpacking quilts. Of course, the really nice, responsibly sourced down ones can be a bit spendy… Enter an awesome friend who had a little extra money to help me out. Lol, here we are unboxing the quilt together, like opening a Christmas present! Thank you again Jan! I am grateful to have it every night : ).
PS- Also, many thank yous to my other friends who helped me out with gear. You guys are awesome!
Talk About My Upcoming Hike With Everyone I Meet!
It turns out a lot of people were really interested in my hike. How do you plan for something like this? What do you eat? Where do you stay? At first my answers were pretty short and simple, but as my start date drew closer, and I got more excited, my trail discussions got longer and longer. I'm fairly certain that by the time I left, other people were ready for me to be out hiking too. Like these poor bar patrons…
Have a Party!
We do like a good party in Centennial, Wyoming, even if it's happening while a blizzard is raging outside! This particular one was our annual Muckboot Ball, a celebration of the end of winter winter and the start of winter spring, when warmer temps melt snow piles, giving one the false hope of spring, only to have that hope slapped to the ground under feet of new snow. Now repeat this cycle until June and you have mud season in the valley, hence why everyone has muckboots to wear to the ball. But at least winter winter is over! View a short clip of the boyfriend and I dancing to the music of Natalie Prauser at the following link: https://youtube.com/shorts/3Iph_ho8ugs?feature=share
Last, but Not Least, Go Hiking!!!
Or, in my case, snowshoeing. This was our first outing, with many friends from around town. I started the season pack training with maybe 10lbs. By the time I left I could average 20-25 min miles for ten miles over varied terrain and snow conditions with considerable elevation changes carrying 35+ lbs in my pack. I called that ready enough…
Rock on my friends! See you down the trail : ). Dulce
Affiliate Disclosure
This website contains affiliate links, which means The Trek may receive a percentage of any product or service you purchase using the links in the articles or advertisements. The buyer pays the same price as they would otherwise, and your purchase helps to support The Trek's ongoing goal to serve you quality backpacking advice and information. Thanks for your support!
To learn more, please visit the About This Site page.