My Only Actual Border Crossing: PCT Days 114-118
Day 114.  Miles: 9.6  Total: 2102.2
Many thru hikers have said it before, and many will say it again: my feet hurt.
When I emerge from my tent the morning after my 24 Hour Challenge, everything aches, but my feet are the worst. Forty-four miles. What was I thinking?
But once I pack up and get moving, I'm actually okay. I'm more tired than on a typical morning, but nothing feels injured. The trail ascends through green forest at the base of Mount Hood. I'm on track to arrive at Timberline Lodge in time for my breakfast reservation. Then, the path leaves the woods onto the open mountainside.
The views are incredible, but instead of packed earth, the tread is now deep, soft sand. With each step, my feet slide back down the steep incline, and my progress slows to a crawl. There's no way I'm missing this breakfast buffet, so I hustle up the mountain anyway. Between the sand and my muscle fatigue from yesterday's exploits, the mile immediately south of Timberline is one of the hardest on the whole PCT.
I make it to the lodge with ten minutes to spare. The breakfast buffet is heavenly. Timberline Lodge was the film location for most of the indoor scenes of The Shining, and it's fun to wander around its iconic hallways. I relax for two hours, charging my devices and compiling a blog post. Eventually, I stand up, stretch, and start toward the door. I need to get back on trail.
Instead, I find myself in the other building, with a second gift shop and a second restaurant. I might as well eat again, right?
After a lunch of vegetarian chili, I finally get back on trail. The weather and scenery are beautiful, but my legs feel heavy and tired from yesterday. I've only made it four more miles when I find a beautiful little campsite, just big enough for my 1-person tent. "On-trail rest is underrated," I wrote in a post back in the Sierra, when we took a half-day off to enjoy Rae Lakes. And yet, I haven't taken a trail nearo since then. So, I decide to stop here. This is what I enjoy about solo hiking. Tramilies are a wonderful part of a thru hike, but when you're on your own, you can spontaneously decide to hike 44 miles, or only nine.
Day 115.  Miles: 22.7  Total: 2124.9
Today, the trail feels difficult. I'm sure part of it is still residual tiredness from my 44-mile push, but it's also less flat than most of Oregon, and dozens of blowdowns block the trail. The small ones are minor inconveniences, but sometimes massive trees have fallen across the trail. You're left with the choice to either squeeze underneath on hands and knees or else scramble over an obstacle four or five feet tall.
Nonetheless, I have a good day. I downloaded new podcasts and music at Timberline, so the time passes easily as I trudge down the trail at a slow, steady pace. I'm on track to reach Cascade Locks tomorrow.
Day 116. Miles: 17.0 Total: 2147.6
Oregon is the land of cool alternates, I've decided. Yet again, I'm thankful that fires forced me to relinquish my red-line purism, because today, I'm taking the Eagle Creek Alt. The official PCT curves east before descending to the Columbia River. Instead, I take a steep trail straight north, which plummets downward through a burn area to the popular Eagle Creek trail. After the swift initial drop, the trail flattens out and passes one stunning waterfall after another. At Tunnel Falls, the trail actually goes through a short cave behind the waterfall.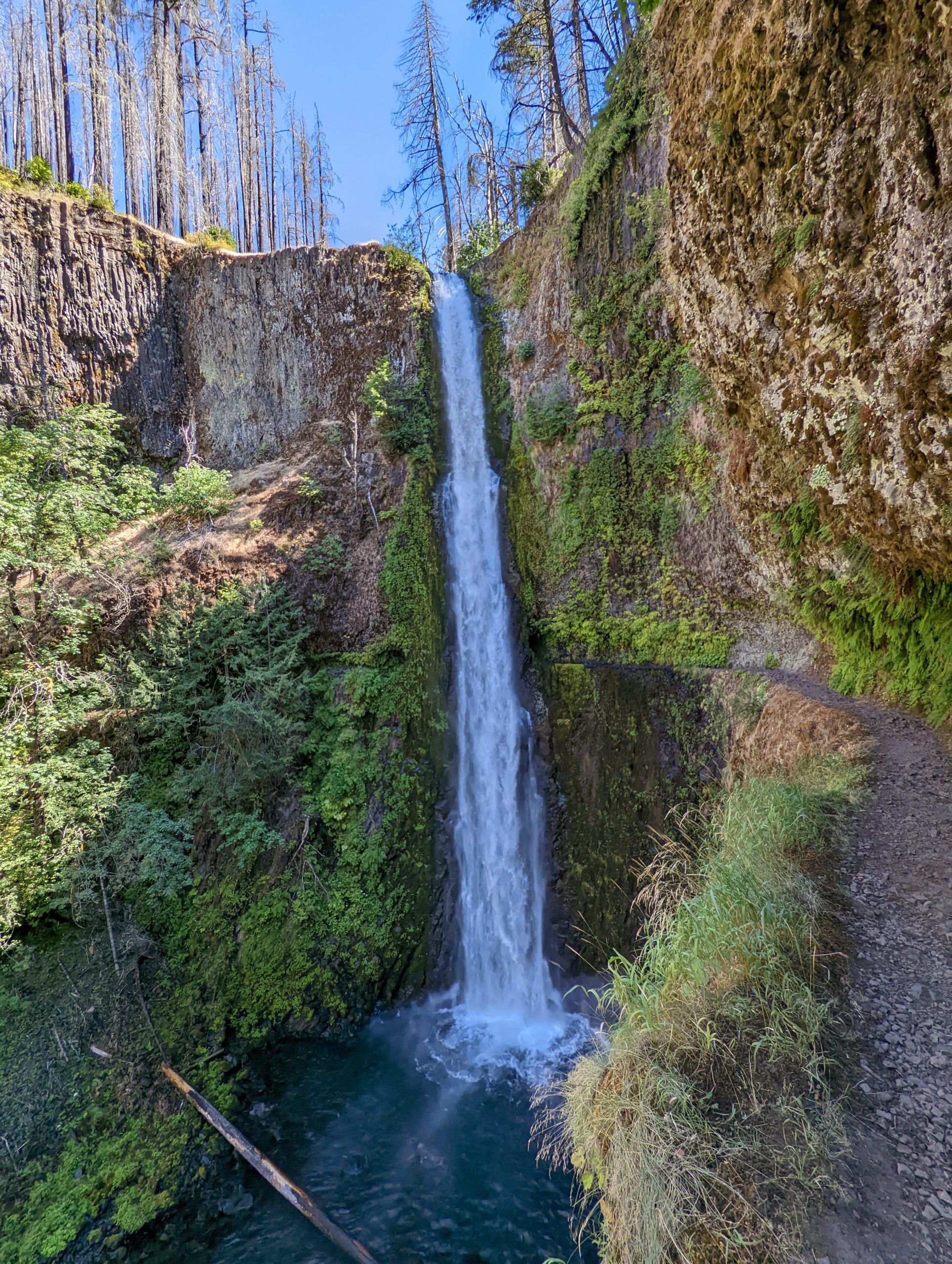 Right before I reach the trail head, I hear a familiar "Howdy howdy!" behind me. It's Jackrabbit, who got ahead of me when he did a whopping 100 kilometers for his 24 Hour Challenge back near Crater Lake. It turns out I passed him back when I did the challenge myself. He's camping at the park, but I've reserved myself a motel in town. I haven't had a room to myself since Burney, and between camping at Trail Days this weekend and the infrequent towns in Washington, this might be the last time I treat myself to this luxury on the PCT.
In town, I buy groceries and take a long shower in my motel room. Tomorrow, I will cross the Bridge of the Gods and reach the third and final state on the PCT.
Day 117. Miles: 10.0 Total: 2157.6
I spend a lazy morning in town. My college roommate Jess lives in Seattle and wants to visit me on trail, so I map out a tentative schedule to the border, send her some approximate dates, and buy a plane ticket home to Virginia. When I click "purchase," there's a mix of emotions. It's exciting to be this close to Canada, and in some ways, I'm beginning to feel mentally and physically drained by the trail. But at the same time, it's sad to imagine the journey ending. I love thru-hiking. Don't get me wrong– there are moments when I also hate thru-hiking– but its simplicity, its physicality, and its immersiveness are almost addictive to me. I feel nervous about attempting to reintegrate into a lifestyle that is complicated, stressful, and –worst of all– sedentary.
But I'm getting ahead of myself. Five hundred miles remain between me and my goal. There's plenty of thru-hiking left to do.
I don my pack and start walking. I cross through a park and climb a hill to the entrance to the Bridge of the Gods. The toll booth attendant waves at me cheerfully. I wave back and start across the bridge.
Honestly, it's kind of a scary bridge. You can see the river below your feet through the metal grate, and there's no barrier to separate pedestrians from the traffic.
The bridge rumbles and vibrates under the car tires. The wind is blowing, and I barely manage to keep a gust from snatching my hat away and tossing it down into the Columbia. I cross slowly, inevitably thinking of Wild. This is where Cheryl Strayed finished her section hike. This is the first state border I've been able to cross, after the McKinney fire robbed us of the CA/OR crossing. I don't know it yet, but this is actually my only border crossing, since fires will also close the international border and the PCT terminus.
"Stevenson, Washington," announces a sign on the far side. There's a lot of traffic at the moment, so I settle for a quick selfie from the shoulder with the Bridge of the Gods sign in the background.
My first impression of the Washington PCT is that it's blackberry heaven. The trail is lined with shrubs heavily laden with red and purple berries. It's not very steep, but I move slowly, picking berries off the bushes as I walk. They are impossibly sweet.
Eventually, the trail begins to climb. I finished The Song of Achilles two days ago, and in town, I downloaded something entirely different: Project Hail Mary, by Andy Weir. The audiobook entertains me throughout the afternoon and into the evening. I arrive in camp late, once again taken aback by how early the sun is setting now.
Day 118. Miles: 25.4 Total: 2183.0
Alisha is coming today! (You may remember Alisha from my Trans-Catalina Trail shakedown hike back in March.) We've agreed to meet at Panther Creek campground. We'll camp there together tonight, and in the morning, we'll take her rental car back to Cascade Locks for PCT Days. I figured it would be good to get a little ahead of the town itself so that when we start hiking north on Sunday, it's not among a bubble of a hundred hikers leaving Cascade Locks.
Because of my lazy day yesterday, I have a lot of ground to cover to rendezvous with Alisha on time. I get up early. It's raining a bit, which seems fitting for my first full day in Washington. I use my umbrella and keep hiking. The humidity makes the air feel thick and heavy. I continue listening to Project Hail Mary. It's an engaging story, and the Audible narrator sounds like a Tom Hanks impersonator, so in my imagination, the main character looks like Tom Hanks circa "You've Got Mail."
I arrive at Panther Creek on time. I circle the campground but Alisha isn't there yet. It's getting dark, and I'm just starting to fret about what to do next– I have no phone service, and we didn't arrange a backup plan for if we couldn't find each other– when she pulls into the entrance. We pitch our tents, which are matching now. I chose my GG The One when my REI tent wore out in NorCal in large part because of how well the One performed for Alisha on Catalina Island.
It's fun to catch up with a friend. In the morning, we'll pack up and head back to Cascade Locks. It's time for PCT Days, the biggest hiker festival on the trail.
Affiliate Disclosure
This website contains affiliate links, which means The Trek may receive a percentage of any product or service you purchase using the links in the articles or advertisements. The buyer pays the same price as they would otherwise, and your purchase helps to support The Trek's ongoing goal to serve you quality backpacking advice and information. Thanks for your support!
To learn more, please visit the About This Site page.