Okay, Now I'm Having Fun!
Day 27
Miles: 6
I left White Pass at around 6pm. I wanted to get to the viewpoint to see the sunrise on Mt Rainier. I figured since I did 16 earlier I had 6 left in me. I arrived at the campsite at about 9pm and it was crazy windy! It wasn't too cold and I was already there so I only fumbled a little putting my tent up. I didn't cook dinner as I ate enough in White Pass. But I did eat the nectarine I packed out from the crate dropped off before I left.
Day 28
Miles: 13
Well, I didn't wake up for the sunrise. It was really windy and cold all night so I wanted to sleep in. I woke up at 7:30am and was out of camp by 8am. Almost immediately walking out of camp I met Pololo and Little Mouse, an older couple who I hiked with for about 3 miles.
They stopped for a water break and I kept going because I needed to use the bathroom. I figured they'd catch up. But then I began talking with a NOBO, The Lorax. Once I get to the NOBO bubble I'm doomed! Anyone who will, I stop and talk to for like 20 minutes each. I'm just so excited for them to be going through Washington to finish their journey!
I ate a quick lunch before beginning my trek into knifes edge. I cannot put into words the excitement I felt seeing the climb I was about to make.
NOBOs informed me they took 3 hours going through this section, and it took me just as long. In fact, I'm not even out of it yet!! I had so many people recommended the alternate stock route right after the saddle climbs. While it was another uphill, this climb was well worth it.
About the middle of the stock route, there was an extra route to the top of Old Snowy Mountain. Of course I climbed to the top! The view was spectacular! I could see Mt. Rainier, Mt. St. Helen, and Mt. Adams all at the same time!!
Near the top I met another NOBO, Link, he was camping there! I caught him while he was making dinner so I sat and talked to him for hours. My original plan of 21 today was already out the window because of the Knife's Edge Views and because of how long we sat I was thinking I needed to make it a half mile down he rest of the stock route back to the PCT. But as I'm starting to walk down, I see this sandy space on the side of the mountain. I decided that since tomorrow was downhill and flat, I could make up miles there and I was going to camp at this beautiful spot, and I'm so happy that I did. The sunset left me speechless (yes from talking to myself).
There is no wind, nor is it too cold. I think this is my best camping spot so far!! I made dinner watching the sunset, I couldn't ask for anything better.
To add: The wind picked up at 2am and I was going in and out of sleep from then until 5am, where I got up and got moving because I was awake anyway.
Day 29
Miles: 27
I went through mosquito hell today. If there are any NOBO's reading this, I know Oregon is crazy bad for bugs and this experience probably doesn't compare. But for 15 miles, it felt like there were 100s of them on me all at once. I could not stop and walking faster didn't help. Every time I went around a bend there was more still water, just breeding grounds for them. I couldn't stop to put on deet, and I still haven't bought a bug net for my head. My arms, face, and neck were painted with dead mosquitos.
Before mosquito hell, the trail was beautiful. I saw this amazing meadow with a powerful waterfall. I met some NOBOs and day hikers whom were all pleasant to converse with.
I camped at Lava Spring, finally the bugs weren't bad. It was so fascinating to see the water coming out of the rocks into a pool.
Day 30
Miles: 20
Yesterday mosquitoes, today biting flies. I thought I could get into town pretty early as looking ahead on Guthook, the terrain didn't look too bad. But for whatever reason I was going so slow, even the flies couldn't motivate me to hike faster.
I was meeting a lot of NOBOs coming out of town, all telling me to get huckleberry pie and the milkshakes. This still wasn't motivating me to move faster. Not until about 3 miles out my foot started hurting. I felt pain both at the top and bottom of my middle metatarsals.
With the pain in my foot and the biting flies, it was hard to stay motivated. But somehow I made it to the two mile mark and called Bill (thanks Rugby) to ask to see if he would be willing to pick me up. He said he'd be up and ready when I get there in 40 min, and not to hurt myself. How did he know my foot was hurting? I also called Joanna, and she put me in touch with Dave. So I called Dave and he said he has space for 5 hikers and I would be the third. He had a bed still available on his loft, it was just warm. A bed!! I was so excited to sleep in a bed! He told me to call him when I got to the Cafe.
I got to the road and saw Travis, he said the rest of the group headed out but he wanted to wait until I got there to say hi. He's a real friend and I'm really happy that he's still cheering me on from in front of me. I gave him the wild strawberries I picked because he still hadn't eaten any as a gesture of thanks for waiting for me. I think he could see the fear in my eyes as I told him my foot was really starting to bother me. He wished me the best as I climbed into Bill's car.
The ride into Trout Lake was wonderful. Bill said he could take me directly to Dave's so I could drop off my pack and then drop me off at the Cafe so I could get some food, and that huckleberry shake I've been dreaming about as soon as possible. As I sat waiting for my food and just letting my phone die, three NOBOs walked up and asked if I was a hiker. They introduced themselves, Bloodbeard, Sippy and Deep Roots.
When my food came, a burger, lemonade, huckleberry milkshake, and huckleberry pie, Bloodbeard bet me that if I ate all of it right now, he'd pay for it. But if I couldn't I had to pay for his and Sippy's beers. I was immediately in a dilemma. I knew I could eat it all, but I wanted to save the pie for later. My competitive side got to the better of me, and I bet Bloodbeard and lost. I did end up taking the pie to go, and paying for their drinks. Bloodbeard, as kind as he is, tried to get out of me paying for their drinks. But a bet is a bet and I was happy to oblige.
Deep Roots and Sippy went to the grocery store so Bloodbeard and I walked back to Dave's. He was staying at Joanna's but wanted to see if the hikers at Dave's wanted to play cards with us.
I walked in the house as Meghan was coming out of the bathroom. Oh man I was so excited to see her. And Still was in the kitchen eating. Some of my SOBO friends were here!! After I got settled we all hung out, chatted and relaxed. Meghan let me complain about my foot and we both came to the conclusion I should probably not push it and take a zero tomorrow. I wanted to leave with her but I'm only in Washington. We have two more states to hike through!
Days 31 & 32
Miles: 0
I was only planning on taking one zero. But my new NOBO friends had to twist my arm to take another with them. So Niko, Sippy, Boom, Bloodbeard and I stayed another day at Dave's. Both days we walked around meeting the other hikers that were coming in, ate delicious food at the café, watched a bunch of movies and played cards. Doolittle was around for the first zero but left too early to get sucked into the second. As we were leaving we took a photo with Dave and he called us his children. I wouldn't change the last two days for the world. This whole hiking thing, it gets better everyday.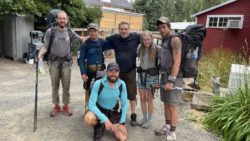 I think it did my foot good to rest and ice it that extra day. I'm also mentally ready for more challenges! I'm so excited to see what's next!
Affiliate Disclosure
This website contains affiliate links, which means The Trek may receive a percentage of any product or service you purchase using the links in the articles or advertisements. The buyer pays the same price as they would otherwise, and your purchase helps to support The Trek's ongoing goal to serve you quality backpacking advice and information. Thanks for your support!
To learn more, please visit the About This Site page.