Perils and Pleasures on the PCT
As the dry spring advances into what will surely be a hot, dry summer in California, one of the greatest perils I've seen on this trail is the combination of hotter temperatures and a lack of natural water sources.  Day by day, the stream flows have become trickles, and the trickles will soon be nothing but drying mud puddles.
Many hikers have gotten their trail legs and are doing 20-mile days to get from water source to water source in a reasonable length of time.  Not everyone (including me, an older, less strong hiker) can hike that far in a day or comfortably carry enough water to break longer segments between water into manageable hikes – we're talking at least 6 liters for use over 2 days, which weighs more than 13 pounds.  It's a dilemma, and a real peril for some hikers.
Being a creative bunch, there are several techniques I've seen hikers use to deal with the increasing heat and decreasing water sources.  Sunbrellas are a favorite – they provide great shade and lower the temperature on your head and shoulders (though I'm told they can be difficult to manage if there is high brush or wind along the trail).  It's like having your own personal cloud along with you!  I definitely have sunbrella-envy.  Various sun hats and buff face coverings are smaller and more commonly in use.  Sunglasses are a must.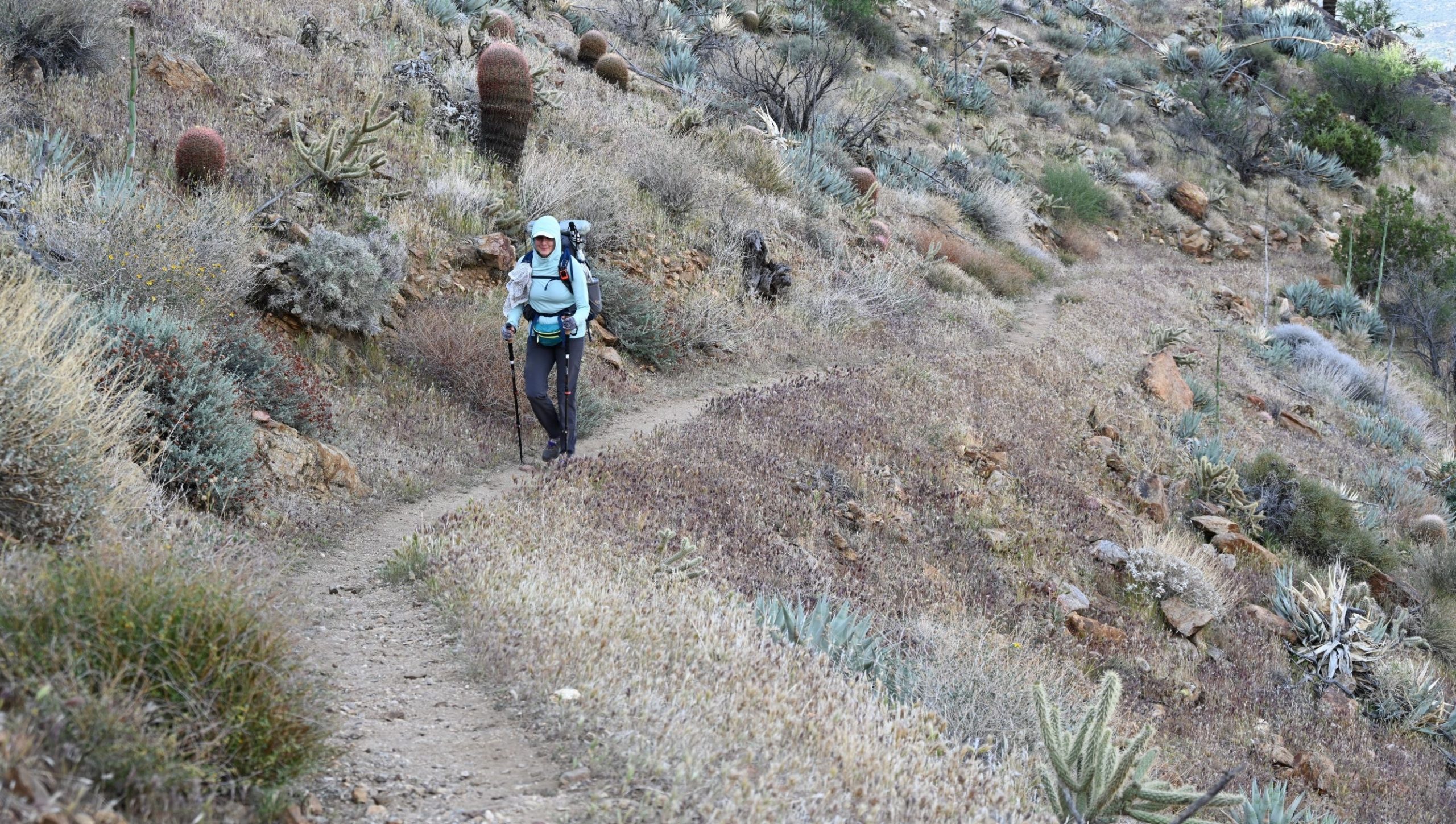 My one "luxury" item is my camera with extra batteries and charger, and I couldn't justify or manage a sunbrella also.
To beat the heat, what works well for some hikers is to hike early (REALLY EARLY!) in the morning when it's still cool and the sun hasn't hit the trail yet, then hole up in any shade you can find (or make) during the hot afternoon, starting out again in late afternoon when the temperature begins to decrease.  Hiking into the evening cool-down works well for some.
Your need for water is less if you aren't out in the worst heat of the day.  Hikers also routinely "camel up" – drinking lots when water is available at a source or in town, so you need to carry less as you walk.  You learn to be a whole lot less choosy about what water you're willing to drink.  Generally, if it's wet, it's drinkable (with filtering and sometimes chemical treatment as well to make it safe).
Coming across an empty water cache is always depressing.  You can't rely on the kindness of strangers to leave water.  But when there are gallons left, it's always very much appreciated.  Streams are becoming increasingly unreliable as water levels drop.
In several places on the trail, there have been privately owned water tanks made available to PCT hikers, and the Desert Water Agency (a groundwater management agency which provides water service around Palm Springs) maintains a water source shortly after mile 200.  These much-appreciated and looked-forward-to stops become gathering places for many hikers.
I have to say, my favorite "peril" is the occasional rattlesnake I've been lucky enough to see.  I had never seen a rattler before I came out to California in 2020 to hike the PCT, only to have the State and Federal lands closed due to Covid a few days before my start date.  The PCTA asked people to stay off the trail (to avoid carrying Covid from town to town).  I did some fully self-contained overnights near Scissors Crossing and saw my first rattler there.  It was a large beauty, very picturesquely situated in a bed of spring blooms.
This year, I was walking just after the 200-mile marker when I passed a ledge of rock, about 4 feet high.  I would never have seen the bad-tempered rattler on the shady ledge if it hadn't hissed and rattled furiously at me.  I stopped moving immediately, adrenaline spiking and heart pounding, and I debated whether I could safely continue walking past it (there was no way to give it a wide berth, but it was a few feet off the trail).  It seemed to get more agitated, coiling and raising its head as I watched it and considered my options. I gave up on trying to get a clear photo (I use a telephoto lens, so no need to get close), and keeping a close eye on the snake, moved as near to the edge of the trail and big drop-off as I dared, hurrying past it.  I have to say, it was a thrill, but it took a while for my heartbeat to slow down to normal!
I didn't see another rattlesnake until recently, around mile 450 near Vasquez Rocks County Park.  I got to share this rattler with several other PCT hikers.  It was on the side of the trail and hissed and rattled furiously at each of us as we made a wide circle around it and then paused at a safe distance to take photos.   I was surprised it didn't slither away, since it was obviously unhappy about our presence and had plenty of space to move away from the trail.  Definitely a "stand-your-ground" personality.
Other perils include blisters, ticks, fires, landslides, and snowy or icy trails – they're all part of the experience.  Most hikers do what they can to minimize the risks through thoughtful planning, having protective gear (hats and face coverings for sun, micro spikes for ice, etc.), following trail reports and safety updates, being extremely careful with the use of flame, and so on.
Hikers at a gathering place often discuss what they've read on the trail and water apps and what they've heard from hikers further up the trail about upcoming conditions.  It's great to be able to discuss your options (for instance, how to deal with a fire closure or long stretch with no water source) with other hikers in the same area as you.
The pleasures far outweigh the pain here – at least most of the time.  The trail conditions are generally excellent, with all this amazing scenery around you.  Trail towns and some businesses, campgrounds, and private hiker oases along the way have been welcoming and great places to take a break, resupply, let your guard down, clean-up, and generally rejuvenate.  The folks who maintain these places and provide these opportunities to hikers are truly Trail Angels.  And the hikers – well, they are the most open, accepting group of people I've ever met.  There aren't many opportunities in life for an older hiker like me to meet and interact with and be accepted by a group of younger people like those that occur on the trail.  I'm grateful for the experiences I've shared for a few minutes, or a day, or longer with this wonderful and varied collection of people.
I have been struck repeatedly by how much beauty there is on the PCT.  Daily, I find lovely sights, moments, and new experiences to delight me.  Stopping to look at my surroundings and snap a photo has really given me the opportunity to be in the moment, rather than hiking by, never to remember a particularly beautiful scene again.  I'm a very visual person, and I find through my photographs that I get to live the experience in the moment as well as relive it as I review the photos later.  For me, there would be so many memories lost without my photos.  All my stopping and starting does slow me down, but I don't want to lose a minute of the experiences I'm having.
These certainly aren't all the perils, or all the pleasures, on the PCT.  But what is life without risk and reward?  They add all the spice!  I'm not likely to finish the trail this year – that's largely out of my control, as you know if you've read my earlier posts.  But I am going to live and breathe the trail, and experience and photograph every bit of whatever I can walk.  As Professor Elizabeth Dunn said: "Anticipation is such a valuable source of pleasure."  I can't wait to see what's around the next corner!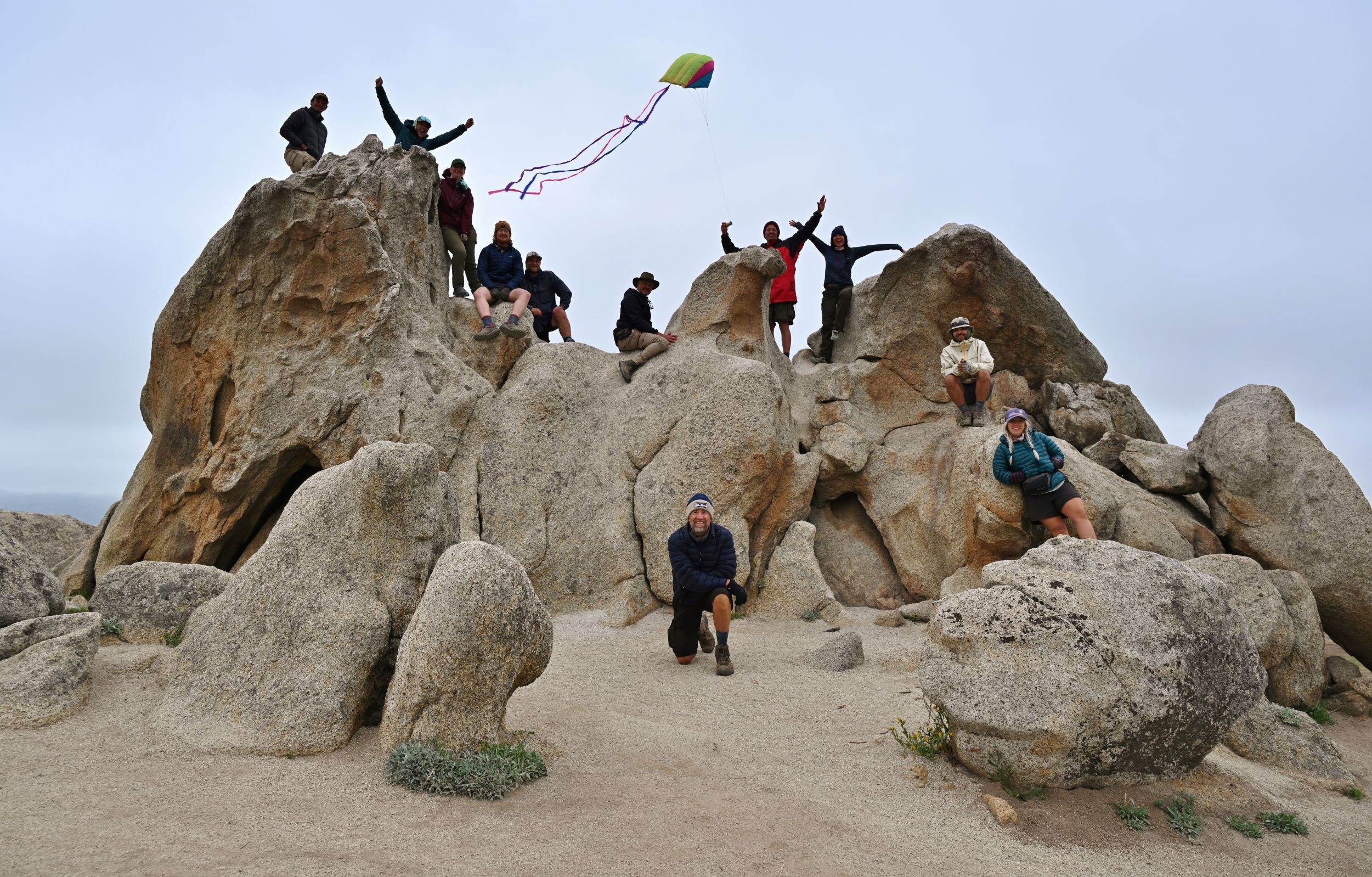 Affiliate Disclosure
This website contains affiliate links, which means The Trek may receive a percentage of any product or service you purchase using the links in the articles or advertisements. The buyer pays the same price as they would otherwise, and your purchase helps to support The Trek's ongoing goal to serve you quality backpacking advice and information. Thanks for your support!
To learn more, please visit the About This Site page.