On Introductions: Sore Toes and Dusty Cheeks from the Semi-Desert
"Is this it?",
Chris asks me as we zigzag our way down a two-track dirt road that leads to an area that can only be described as inexplicable. A 50 foot metal barricade dwarfs Chris's navy blue Honda Accord as border patrol helicopters swirl overhead.
Nothing can prepare you for the surreality of standing at the Southern foot of the United States.
The border wall makes me think of a lesson I often teach my kids on trail – the difference between borders and boundaries, the former being man-made while the latter naturally occurring. As I stare at the arbitrary line drawn centuries ago by old men in board rooms, I imagine myself straddling the Pacific Crest, a boundary formed millennium ago thousands of feet below the Earth's crust – a natural divide. Months ago I was dreaming of this moment – now I'm finally here.
We do a lap around the premises, Chris films a video of me as I place my hand between the metal bars that separate California from another country, then I do the same for him.
The monument is a seven-foot edifice that denotes the start of 2,650 miles of dirty socks and sunburnt noses.
It's remarkably smaller than I expected. The layered wooden blocks feature engravings of mileage and elevation, marking the tiny moment in human history when the trail was codified into legal being.
"Howdy! Are y'all hiking the PCT?"
A young woman from the PCTA greets me with a smile and a hang tag. She asks to see my permit, then looks at Chris.
"I'm just the chaperone this time", Chris replies. He's quite possibly the best hiking partner I could ask for. Where I'm often push and go, he reminds me to slow down and enjoy. The hours spent bathing in alpine lakes and enjoying high-mountain views were plentiful on our thru hike of the John Muir Trail back in 2021, mainly due to Chris whispering in my ear to slow down and relax. Leaving for this trail without him would certainly be an adjustment.
"Love you buddy, stay safe."
Chris gives me a bear hug and sends me off with a small handwritten note. He follows me down to his car in the first 500 yards of trail before I disappear into the bush. Before I know it, he's gone. Now it's just me and this small dirt path that leads me to Canada.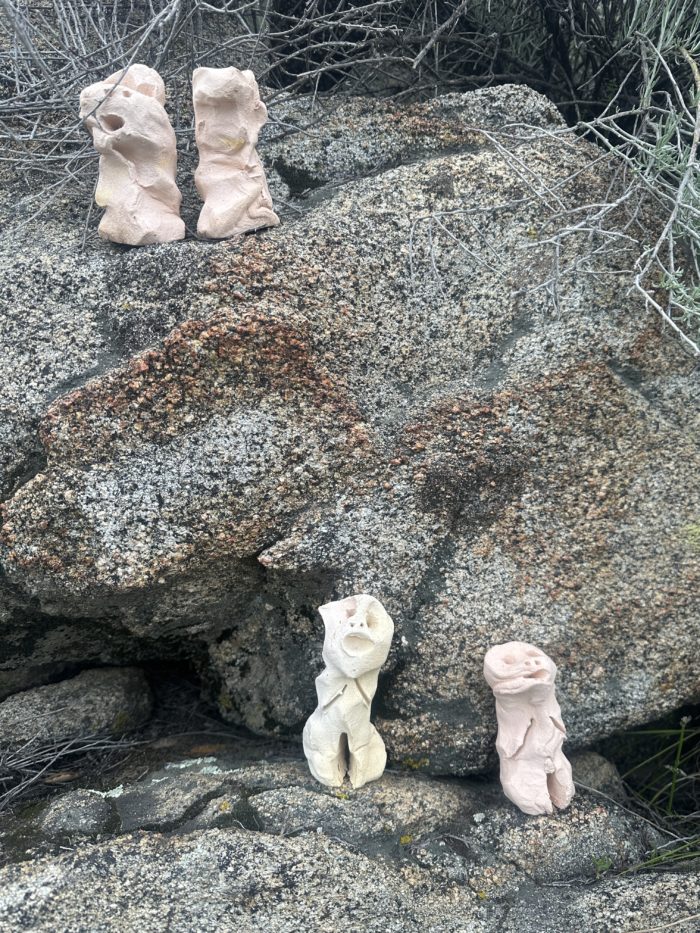 The first miles of trail feel odd. I walk the 0.7 miles back to the Camp Locket Equestrian and Event Facility where I spent the night prior. A road walk greets me at mile two before I bank left and head up into the hills. As I walk, the top of the border fence slowly drifts further and further out of sight. I cross another road, then a set of train tracks, finally entering the foothills of the Laguna Mountains and onward into empty, green hills that stretch on for miles.
The Desert is remarkably lush.
As I hike up sparse, rocky ridge lines and look down into the basins below me, groves of manzanita bushes and madrones hug me on either side as yucca bushes sprout blooms six feet up in the air.
I think of Edward Abbey's quote – "There is no shortage of water in the desert but exactly the right amount, a perfect ratio of water to rock, water to sand". These gentle green creatures have perfectly adapted themselves to life in this landscape of extremes. I hope to take some lessons from them.
Solitude gives me company for the first five miles.
Then, I run into my first human companion. Rachel, a fellow thru-hiker, right before a slight climb uphill. We begin to chat about our backgrounds – her life in Denver, mine in my Subaru. We share why it is we both decided to put life on hold and walk for five months straight, something I still have yet to figure out.
We spend the majority of the day walking together, stopping after a descent down to Hauser Creek to soak our toes in the cold stream.
"Plenty of water", Rachel says to me as we fill our bottles in the cool blue creek that has spent eons carving this deep valley into what it is today.
"They call this a desert?"
We hear a voice from the trees behind us. Another human – Detour, as we'd call him further down the trail, pokes his head out from behind the bush.
I had met him the night prior. His aviator glasses are a warm sight to see after fifteen miles on the first day. Detour's a fellow midwesterner – an Iowan. So not too far from my stomping grounds.
We laugh about the water situation, how we'd each been so nervous and packed out close to a gallons worth. The semi-desert we'd found ourselves wandering in was a sight to behold, seasonal steams still swollen from the heavy winter California had been needing for close to two decades.
We chat about our plans for the evening. I was eyeing Lake Morena campground, which sat behind a five mile uphill climb at my back.
They coach you on not starting out too fast.
"Why not", I think to myself as I look at the hill above me. It's not too steep – 1,000 feet of gain over four miles. I've done worse before. Mainly I wanted to see if I could do it, if my body was as conditioned as I thought it was. My feet were sore, yet the frigid water on my toes was giving them a reset for the final push to camp.
"Have a good night, y'all"
I say my goodbye as I throw my pack over my shoulders and prep myself for the few miles I had left late in the day. One final push. "I'll take it easier tomorrow" I say to myself as I trudge the uphill rocks to the cliff above the forested valley.
The sunset lights the chaparral on the side of the mountains, a golden glow of orange that accentuates the green bush of California's most common ecosystem. The Winnie-the-Pooh ecosystem, I often tell my Outdoor Education students, where all the plants are short, round, and proud about it. Marked by bushes hugging hillsides, I'd grown to love these hearty plants in my year in the Golden State.
Lake Morena from the hillside looks like a puddle stomped on by a giant.
The oblong edges of its shores fill the mountainsides that shape its boundaries. I imagine a Goliath in galoshes blissfully jumping his way through these desert hills as though they were tiny mounds of dirt, leaving puddles in his wake as he makes the journey northward. "He could probably hike the whole trail in a week", I think to myself.
I admire the tiny lake from my boulder as I munch on a fig bar. Sweet relief from the 19 miles behind me, a creature comfort for a hard day's work.
Rachel catches up to me. "Hey!" She says as she begins to set up on the rock. "You headed down to Morena still?"
I nod to her and ask how she's doing. We exchange some plans for the following day before I begin my final descent. The soles of my feet yell at me – asking me why I've subjected myself to such a push on day one.
Twenty miles on your feet is the equivalent of licking sandpaper over the course of 12 hours.
I stroll my way into the campground exhausted and proud. "20 down" I think to myself. That's almost one one-hundredth of the way to Canada.
I pitch my tent and cook up some rice and beans. A few others have joined me at the drive-in campground, fellow thru-hikers all resting for another day of walking in the morning.
"I'm here." I think to myself. "I've done it."
I crawl my way into my sleeping bag and prepare for a night of rest.
Now all I have to do is walk.
Affiliate Disclosure
This website contains affiliate links, which means The Trek may receive a percentage of any product or service you purchase using the links in the articles or advertisements. The buyer pays the same price as they would otherwise, and your purchase helps to support The Trek's ongoing goal to serve you quality backpacking advice and information. Thanks for your support!
To learn more, please visit the About This Site page.