On "The Slog": Hiking When the Last Thing You Want to Do Is Hike.
Pppfffisssssssst.
"You've got to be kidding me." I exclaim from the tiny sheet of mesh fabric that separates me from the haven of cool air characteristic of late evenings and early mornings in the desert.
In the past few days, I had gone to war with an elusive pinprick in my inflatable sleeping pad, arming myself with adhesive patches and glues in an escapade against the endless march of carbon dioxide to freedom from the yellow plastic balloon that elevated me from the rough and rocky ground.
The small whistle of air running from the inside of the pad had become a lullaby to my ears every night as I waited for my back to eventually fall to the rough, rocky ground.
"Add it to the list", I think to myself as I shake my head in frustration.
Since descending from the summit of Mount San Jacinto, a myriad of ailments, both gear related and personal, had infected my drive and overall morale.
The plastic buckle that anchored a corner of my tent to the ground had snapped in heavy wind. Meanwhile, a hole had finagled its way into existence at the side of my left trail runner, in turn birthing a monumental blister at the ball of my left foot. To top it all off, my Midwestern, cold-adapted disposition was responding rather negatively to the extreme midday heat of the Pinto Basin – the dry air bringing on a sore throat and on-trail sickness.
Regardless of the misfortunes that inevitably find you on trail, there exists the incessant need to keep moving forward.
Big Bear Lake sat close to 50 miles to my North and 5,000 feet higher in elevation, an oasis from the low-desert heat filled with warm food, cold beverages, much needed rest and epsom salt, and several gear suppliers that could help fix the growing number of broken items in my pack.
Like a pig chasing a carrot on a stick, the promise of the future relief that Big Bear would bring anchored my feet to the dirt that would eventually lead me there. All I had to do was encourage them to move.
While on trail, the Highs are high and the Lows are low. If you're not careful, one bad day can send you on one monumental free-fall of a downward spiral.
For me, hiking through the heat was doing just that. After spending days traversing snow fields and icy, Northward slopes, the Coachella Valley, sweltering in the sun, presented an obstacle that was diametrically opposed to my Gaelic heritage. Two miles took close to two hours – the solar radiation cooking my pale skin and sucking every bit of moisture from my freckled pores.
"This sucks", I had said to myself the day prior, finding shelter in the shade of a thriving creosote bush. Mentally, the heat had amplified the gravity of the afflictions that I was dealing with; where typically I held a disposition that solved problems as they came, my carefree attitude had become bogged-down and pessimistic. Fifty miles felt like forever.
As I sleep, I relish in the peace of the desert at night.
The Whitewater River cuts it's way through the foothills of the San Bernardino mountains, snaking between brown, desert hills with a force that pushes gallons upon gallons of snowmelt to aquifers and storage tanks that quench the thirst of thousands of Americans in the Southwest of California.
It's sound is calming, lulling my weary mind and toes off into dreamland. Tomorrow I would be climbing, but for now my ears were cradled by the music of rushing water and croaking bullfrogs in greenery that hugged the Whitewater's banks against a backdrop of arid dust.
"I just have to get there", I think to myself before I watch the rainbow of colors on display behind my tired eyelids.
Waking up after twenty miles underfoot equates to hobbling through the soreness that comes with your morning routine.
As I arose, my legs and back felt tight from a night against the hard ground, as though someone had wrung my spine out like a wet dishrag. I bounced my way through disassembling my tent, keeping weight off the blister monstrosity that inconveniently sat at the bottom of my foot.
"I don't know how on earth I'm going to do this," I think to myself as I sit against a sycamore tree, enjoying the comfort of a protein cookie before I begin the uphill climb that separates me from the safety of Big Bear.
"Two days," I say to myself. "Two days and I'm there."
By late-morning, my skin was barraged by a cloud of hot air that soaked my clothes in a warm sweat.
My body had grown accustomed to climbs; marching up and down over hills and into valleys had become a familiar occurrence. What was new was the environment I had found myself in, combined with my semi-limp. The semi-desert had disappeared and been replaced by the new terrain of its harsher, drier cousin.
I shout expletives from the hilltops as I trudge the five miles to the shade of another river basin. "The Slog" had arrived, this time in the form of ninety-plus degree temperatures and upward-facing slopes. I had dreaded the day when I would stand face-to-face with the true desert: it was as finally here.
Even if it's the size of a toothpick, you can guarantee to find a gaggle of hikers basking in the shade cast by a single, freestanding tree.
I had arrived on the scene of Mission Creek to that very picture: hikers sprawled across the minute surface area of dark ground next to a fast-moving stream.
"Pickles!" Iron Will shouts to me. "I was beginning to worry about you."
It's good to see him. The rest of my trail family was miles ahead, I was sure I wouldn't see them until at least tomorrow.
I rip off my sun hoody as though it's a straightjacket and dunk myself in the cool stream that flows to my left.
"This is brutal," I exclaim to Will.
"I know," he replies with a smile. He had been at the stream for four hours, escaping the salt-sucking heat that cooked our skin.
When it's hot and dry, and you do finally find escape in the form of flowing water, it's nearly impossible to imagine getting up and hiking again.
But I had to. The blister and my cough had slowed me down significantly, and I only had enough food for two days. If I didn't log another thirteen miles today, I would be tiptoeing a dangerous line with hunger.
"Screw it," I say to myself as I watch Iron Will saddle up and begin his ascent. I had a plan: wait out the heat and sleep under the tree. Then, I would hike in the dark and make the climb under the light of the full moon.
Night hiking through the desert presents a scene of unparalleled beauty and patient eyes.
The light from my headlamp illuminates the single track of dirt that straddles the ridge line up to pine. San Gorgonio looms above me, a snow-capped giant that darkens the blanket of stars that cradles me as I walk.
Two beams follow behind me, several hikers have the same idea as I do. Tomorrow we would be in alpine, with cooler temperatures and less of a climb.
The adrenaline that flooded my bloodstream masked the pain in my left foot, that and the six hundred milligrams of ibuprofen that swam in my system.
The glow of green eyes stops me in my tracks. Reflecting like the back of a license plate, I lock eyes with the dark outline of a large mammal.
I curse under my breath at the thought of a mountain lion, the picture of my neck being gauged by a set of claws bouncing it's way across my skull.
As I observe it's movement, it turns it's head away from me and begins to munch on a leaf. Where I imagined claws and teeth, the reality I was presented with was thin, spiny legs and hooves.
"Just a deer," I think to myself before progressing on.
The climb ends with me throwing down my sleeping bag on an empty patch of dirt.
Before I sleep, I think of how my mind has been geared towards the worst, how I expected misfortune on the onset of the deer. I had neglected the beauty of the moment, the sanctuary the mountains and deserts of California presented from the flat plains of home.
"Let's make a promise," I say to myself under the light of a full moon. "Let's be present tomorrow. Let's be here."
I ponder what that means as I slip off to sleep.
When I awake the next morning, 30 miles stands between me and my goal.
The heat of lower elevations had dissipated and been replaced by crisp alpine air. Big Bear felt close, but more importantly, I felt grateful to sleep where I did. Jeffery pines and cedar trees dotted the hillsides, simply dark silhouettes as I made my arrival the night prior.
I shake my ankle to wake up my blistered foot. The routine of taping and un-taping had become commonplace, forming a protective layer from the abrasion of my shoe.
As I snack on my cookie, I reread a message my Dad had sent me before the start of my hike. A former sailboat racer, he often compared my passion for thru-hiking with his own quarter-life escapades of white-chop and wind from Australia to Vancouver.
"It seems that the distance from Chicago to San Diego has inserted itself into our lives once again, only this time, it's your adventure that takes one of us out west. Like me and Ben, you've spent months (years?) preparing for your challenge. I know you're ready. Stay focused, but be safe. You can do it. And next fall, when you've logged the last mile…hang on to the boat. I think you still have many more regattas in front of you."
I scan over the paragraph another two times, etching the words into the back of my skull.
"Let's be here," I say to myself again.
As I walk, sweeping mountain views frame the Mojave Desert floor miles to the North.
I stay vigilant, swatting thoughts of pain and pity away from the core of my brain. If one takes root in my mind, it'll anchor my day to a narrative of negativity.
"Not today," I think to myself. "Today I'm here."
As I finish my stroll into Big Bear the next day, a single Joshua Tree greets me a mile from Highway 18.
"Look at you," I shout at it, admiring the oblong branches and sharp, cartoonish spheres that characterize its appearance.
"How'd you get up here?" I ask it as I look up at the towering yucca above me. Joshua Trees were common in the Mojave, on the desert floor. To see them in sub-alpine feels like witnessing a fish climb a tree.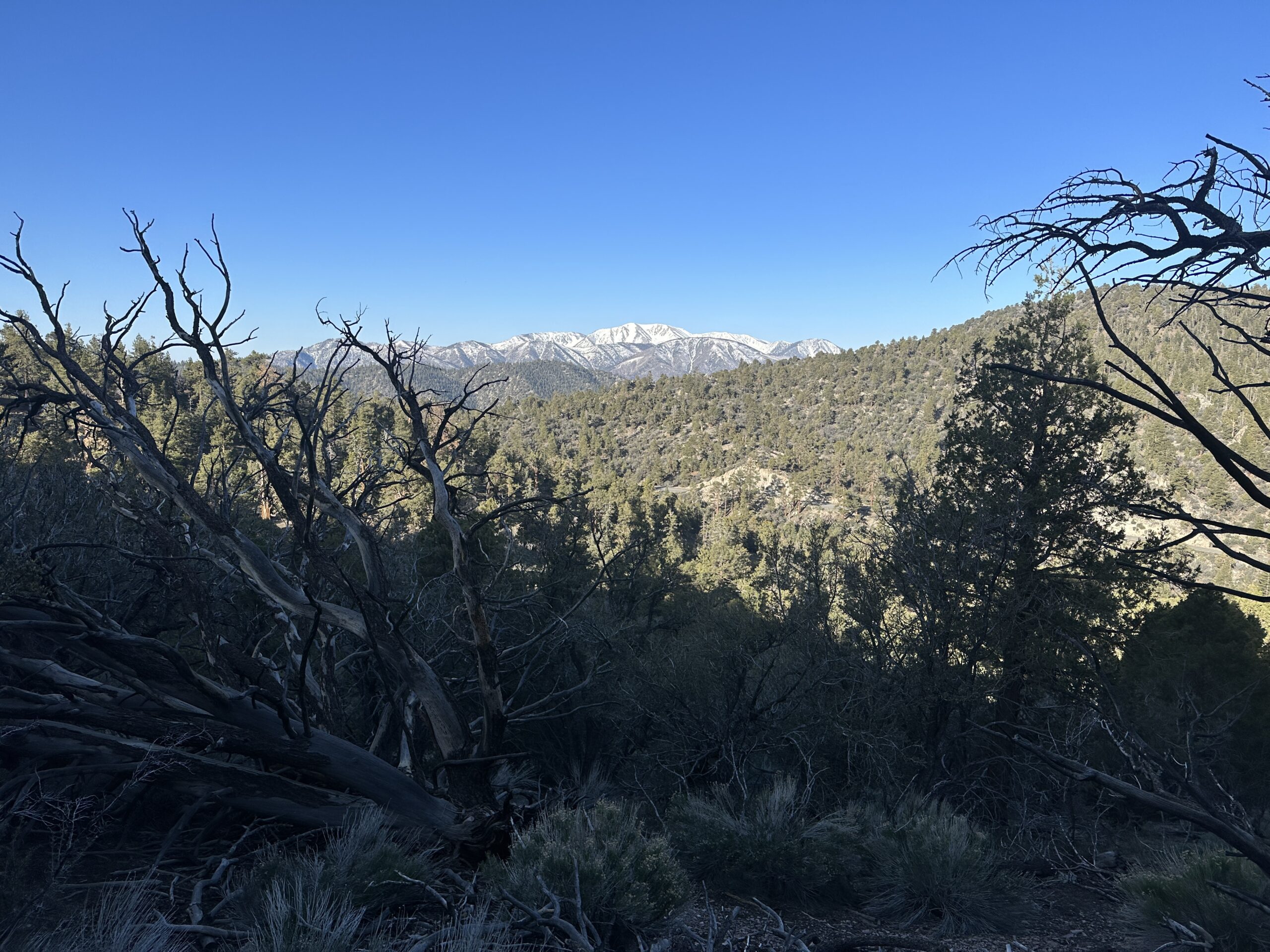 As I sit in silence parsing my eyes over the various points that cover its furry skin, I think about my own journey to this point.
A fish out of water, a Chicagoan in the desert. A Joshua Tree in the mountains. All of these things were someplace new. And while they might encounter obstacles that send them into "The Slog" and painfully slow them down, they exist nonetheless.
The Joshua Tree wasn't going to stop where it stood. And neither was I. I was going to keep pressing on, onward to Big Bear.
And eventually, onward to Canada.
Affiliate Disclosure
This website contains affiliate links, which means The Trek may receive a percentage of any product or service you purchase using the links in the articles or advertisements. The buyer pays the same price as they would otherwise, and your purchase helps to support The Trek's ongoing goal to serve you quality backpacking advice and information. Thanks for your support!
To learn more, please visit the About This Site page.