On Weather: Unexpected Detours and the Virtue of Pumpkin Pie
"I did it again today."
Jackson looks up at me with a broad faced grin as we hover over our food bags at the Mount Laguna General Store, moving rice and candy bars from mail boxes into our backpacks, dusty from three days of walking through the arid desert of Southern California. Jackson and I had started together; he was from Iowa but spent the last three years on O'ahu working as a seed technician on a local farm. A few weeks before trail, he left his job and moved into his backpack.
We had been traveling together for the past few days. The day prior had been spent swimming in a small stream, escaping the heat of midday before cramming into the few empty dirt patches next to trail on a ridge line several miles south of Mount Laguna. Jackson and I were stubborn; the lack of space seemed a perfect excuse to cowboy camp for the evening. When we woke up, both our sleeping bags were covered in a thin layer of ice that crinkled as we encouraged ourselves to exit the semi-warmth of our sleeping bags.
"Half a mile back, ended up taking a left and walking a mile before I realized I was going the wrong way." Jackson says to me as he snacks on a Snickers.
Finding out you're going the wrong way is the on-trail equivalent of leaving for work and wondering if you've left the stove on.
Somehow, Jackson had managed to find every side route possible in the two and a half days since the Southern Monument. Often the report would come as we hunkered around our stoves boiling water for a hot meal at the end of a long day's journey. Sauntering into camp without a care in the world, Jackson would recall how he spent a mile strolling through bush before coming to terms that he had detoured off the main trail.
"Well we have to call you Detour, then,"
Rachel and I say, almost entirely in unison. Like Jackson, Rachel and I had started three days prior out of the border. She was the first person I met on trail, just around mile five, after crossing a set off railroad tracks that welcomed my entrance to the Laguna Mountains.
"Alright", Jackson agrees with a slow nod. "I'll take it, I'll rock with Detour." In contemporary on-trail cultural expression, there are effectively two parts of receiving a trail name: the proposition and the acceptance. At first, a trail name must be given by a fellow hiker, usually from a singular exceptional moment or a trend in one's behavior on trail. After a name is propsed, then it can either be accepted or denied by the hiker in question. By his confirmation, Detour was the first of us to affirm his new on-trail identity.
Even if it's just a general store, the pull of the town vortex is exceptionally strong.
While Detour and Rachel had already finished packing their food bags, I was only halfway done, and still wanted to take some time lounging in the shade of the front porch before continuing onward.
"How far do you think y'all will go today?" I ask Rachel and Detour as they throw their packs over their shoulders, grunting from the weight of restocked food bags.
"At least to the campground, but we're going to try and push for further." Five miles on either side of the town of Mount Laguna is a wilderness camping boundary, meaning the next viable site was a drive-in campground four miles down trail. Knowing the two of them, a twenty mile push was likely in their future, however not in mine. While I knew that doing a big day was certainly possible, it didn't seem comfortable in the slightest.
I watch as Detour and Rachel head further and further down the half mile of pavement that leads back to trail. Little did I know it at the time, but the extra miles that the two of them would push today would save them heaps of headache in the future.
Wind on the top of a desert ridge feels like being sucked into your mom's vacuum cleaner.
As I left Mount Laguna, the semi-desert and montane chaparral that had characterized the forty miles behind prior gave way to sweeping views of the desert basins four thousand feet below me.
"This was how I imagined it would be", I think to myself as I snack on a fig bar on the side of a cliff overlooking the Anza Borrego Desert. Down there it must be blistering hot, scorching faces and searing the backs of hikers' necks. Up here in the clouds, gusts knocked me sideways, cooling my pale Gaelic skin and forcing me to use my trekking poles to keep my spine upright against the battering wind that threatened to knock me into the cliff face to my left.
"Site 20 will be the best for other hikers to see ya,"
The camp host tells me through a smile. The small "Shady Loop" would be my refuge from the wind on the cliffs. Shadowed by the mountains, the hills cast a shadow from the twenty knot gusts that I had spent the last few hours walking through.
As I pitch my tent and begin to settle in for the night, clouds loom above me in the distance. Rain was coming, that much was sure. I snack on rice and beans and enjoy the company of Sofi and Olivia, two Germans we had camped with the day prior before heading to bed, refusing to acknowledge the challenge the following day would present.
Pitter-Patter.
I awake to the sound of raindrops against the outside of my tent. The flaps of rain fly sing against the breeze that fills them in the early morning air. Reluctantly, I listen to the sound of compressed air exiting my inflatable chip bag that insulates me from the cold ground.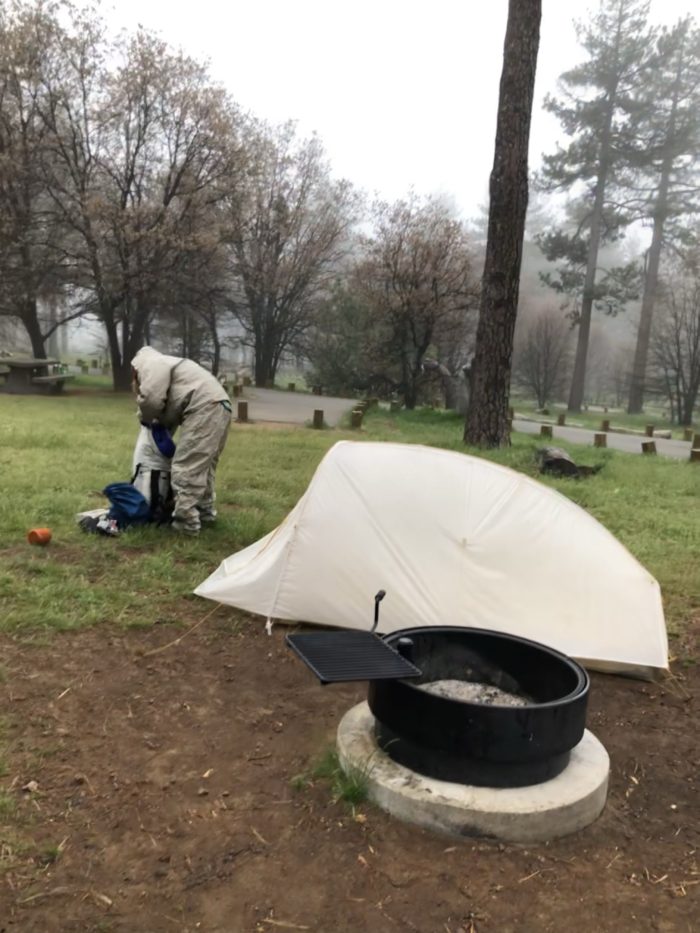 "Time to hike," I think to myself as I place every layer I own on, somehow still feeling somewhat cold in the wet air that awaits me outside my tent. After eating a quick breakfast and breaking camp, I muster the strength to head back out onto the wind-blown ridge line that awaits me for the next fifteen miles.
Southern California had disappeared overnight and been replaced with the Scottish Highlands.
As I trek alone across the spine of the range, fog coats the spacious desert views that had greeted me the day before. Heavy wind knocks sheets of hail and rain into my face, covering my glasses in a thin layer of film that makes it impossible to tell which way is North.
At moments, I descend into valleys, providing momentary comfort from the cold gale that feels straight out a Tolkien novel. I think of Detour and Rachel, who had pushed on ahead yesterday and likely were down in a basin now, safe from the elements that battered my shoulders and froze my palms.
"Thank god for rain pants", I think to myself as I arrive at Pioneer Mall Picnic Area, a small outcropping looking over the desert on CA-79. The area had pit toilets, in this case a hard shelter that would protect me from the rain.
"We've got a car!"
I hear Trent yell from the road. Trent was another that I had started with. He was from North Carolina and had long black hair down to his shoulders. Apparently, he had spent the last twenty minutes trying to get a hitch into Julian for himself, the Germans, Alex from the Netherlands, and Andrew, another hiker I had met a few days before. Apparently I was arriving just in time.
"Can you take six?" Trent says to Ted, a kind Wisconsin transplant that offered to take us into town to escape the weather.
"Of course!" Ted says. "One of you will just have to hold Tom-Tom in your lap." Ted's companion was a small curly-haired white dog that didn't seem to mind the stench of six stinky hikers. As we cram into Ted's car, he asks about our journeys' north and talks of his life in Milwaukee. I find the long vowel sounds of his speech comforting, a taste of home that I had spent heaps of energy working to shed once I moved to the West Coast.
Let me get a picture of y'all.
Ted says to us as he lets us off in downtown Julian. He makes us promise to send him pictures and keep him posted on how things go further down the trail. More than happily, I'll oblige him.
I had no plans of stopping in Julian. In fact, the thought of being here frustrated me. More than anything I wanted to be hiking, back out on trail. But the blistering cold and heavy wind seemed a viable excuse to get out of the rain. More than that, Julian presented an essential stop for one specific reason: free pie.
Pumpkin pie was just the cure for the rainy-day blues.
Pumpkin pie was always a staple of my mom's at Thanksgiving every year, and sitting in the bakery made me feel just a bit closer to her as the wind and rain battered the shutters outside. I thought of Detour, of the extra distance he would put in on the daily.
"Maybe this was the detour I needed." I think to myself.
It was. The trail would be there tomorrow, and the next day, and the day after that. And oh boy, how glorious those days would be.
But today, today was a day for rest. Rest and pie, that is.
Affiliate Disclosure
This website contains affiliate links, which means The Trek may receive a percentage of any product or service you purchase using the links in the articles or advertisements. The buyer pays the same price as they would otherwise, and your purchase helps to support The Trek's ongoing goal to serve you quality backpacking advice and information. Thanks for your support!
To learn more, please visit the About This Site page.