One Year Change – Maslow's Hierarchy of Needs
One year ago today March 17th, 2022, I started my hike on the Appalachian Trail which completely changed my life in the best way possible. Basically, one of my top reasons for hiking was to put off getting a job so I could explore the world. Before starting trail, I had only slept in my tent one night in my backyard. So, when starting trail, all of my physiological needs changed compared to what my life looked like previously in terms of living conditions. I wanted to demonstrate now that I'm not attempting a thru hike this year, what working on a trail is like in these aspects.
Physiological Needs:
Shelter comes from my car where I have it set up to live and sleep in the back. I stay at a campground where there are spigots for water and a pit toilet nearby. Fancy things people! Food comes from weekly or biweekly grocery store runs (I don't have a fridge or freezer so getting food that can last without those amenities is a must). All of my clothes are stored within the car with seasons ranging from winter to summer.
Safety Needs:
Personal security comes from knowing that I have access to a car and could get away if needed (and to go explore). Employment comes from a nonprofit organization where I greet hikers to educate them and collect data. Health comes from having access to a shower and running water and any other amenities needed for self care. In terms of property, I do have a spot at the campground that I share with the other Crest Runner, but regardless everything else I own fits into the car.
Love and Belonging:
When moving to a new place there comes a lot of uncertainty in this aspect.
For friendship, I have made so many wonderful lifelong friends. We may all live in different states or continents, but they are still close. Family, even distant family have reached out in terms of helping for a place to rest of a place to explore. The sense of connection does waiver greatly day to day as to what, where, and to whom. I value friendships and family so much knowing that they are just a phone call away.
Esteem:
For strength, I am working on my physical strength to do the jobs I want without using my whole-body momentum every time, and helps to get the brain juices flowing. For self-esteem, there will be good and bad days, and now that it is slowly getting warmer, it is amazing. I am proud of myself for knowing that I can go into unknown placed and explore comfortably. Freedom comes from me living on my own and having weekends to go out exploring wherever I want to.
Self-Actualization:
This is defined as the 'desire to become the most that one can be'. Also defined as a sense of awe, wonder, and gratitude about life. All of these points all lead to the desire to become the most that one can be. Driving across the country definitely helped to fuel the need for awe, wonder, and gratitude about the physical part of the land. Recognizing how much the landscapes represent the beauty.
I do think that people are amazing, and I hope people continue to spread the joy. I do hope that I can continue to grow in all positive aspects because I do not know where I will be in six months, one year, or even five to ten years in the future.
Relaxing, breathing, and being at peace are the goals.
Can you tell that one of my majors in college was psychology? I did this prompt as a recent journal entry and I really enjoyed it along with all the perspective it gives. Maybe this will inspire you to see how much your needs change throughout a year or from location to location. There are many more levels to Maslow's Hierarchy, but these are described as the main five levels.
Also, I had an epiphany of how odd it is to be able to type quickly on a computer again. When I completed the AT, it felt extremely odd to type because I had handwritten all of my journal entries. Just a fun fact for today!
There may be another part that I want to write for my one year trail anniversary but this is about it. I am so incredibly proud of myself for this past year!
March 17th, 2023
-Morgan
(p.s. here is me really excited for pi day this past week where I went to Julian- they are known for their pies- specifically for this day)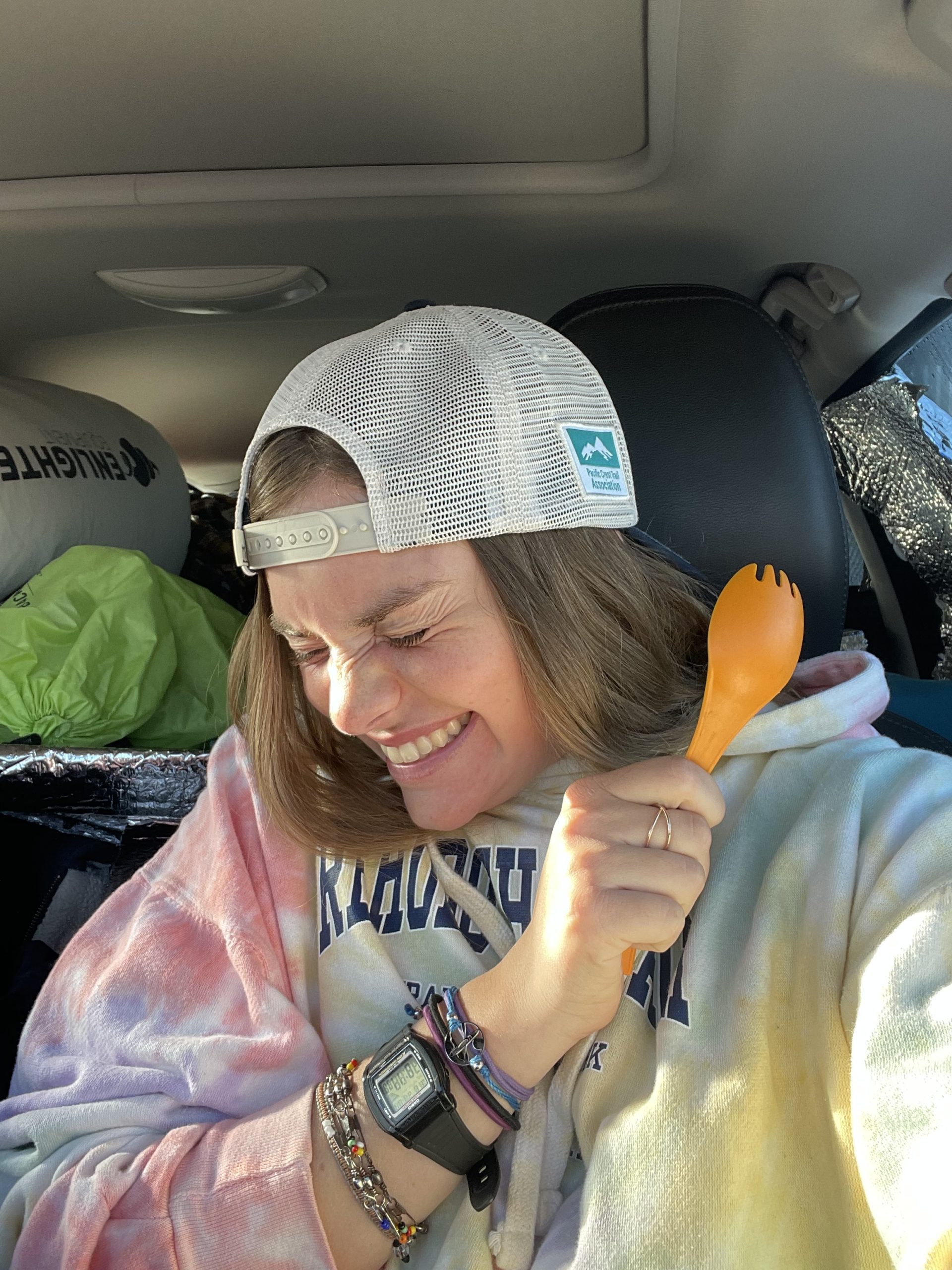 Affiliate Disclosure
This website contains affiliate links, which means The Trek may receive a percentage of any product or service you purchase using the links in the articles or advertisements. The buyer pays the same price as they would otherwise, and your purchase helps to support The Trek's ongoing goal to serve you quality backpacking advice and information. Thanks for your support!
To learn more, please visit the About This Site page.