Opening the magical doors to the High Sierra's
Walking out of Kennedy Meadows South after a few days of deserved rest felt amazing. The excitement for a new chapter was felt by all of us. We hiked out with 9 of us, I had never hiked in such a big group before. But we would need all the support from eachother to navigate this new and rough terrain of the High Sierra's. Over the next few days we saw the landscape changing slowly, but it did not feel like actually entering the Sierras before it's first iconic stop: Mount Whitney.
Mount Whitney
I have never climbed a fourteener before. So I have to admit I was a bit nervous along with my excitement. We hiked out to Crabtree Meadows campground which felt like a little festival ground, packed with hikers. Surrounded by mountains and rivers, I got my first taste of the Sierra beauty and left me eager for more. We hung out that afternoon and carved out a plan for our Mount Whitney ascend. It was certain we wanted to go for a sunrise summit. Hearing different stories about the time it took to ascend, we were unsure about our starting time. Giving ourselves some extra time, we decided to hike out at 1 AM.
I was too excited to get a long night of sleep. And upon hearing my alarm in the middle of the night I immediately jumped up in a rush of adrenaline: ready to go. Me, Freebie and Fatty left at the same time and the first miles until the switchbacks were fast and easy. The night sky twinkled with stars and we took some 'stargazing breaks'. There was a light breeze but luckily it was not that cold. After a couple of miles, we arrived to the bottom of the mountain where we already saw some lights of hikers going up the switchbacks. I had not been in such high elevation yet, and after having struggled on Jacinto, I did not know how my body would respond. I was pleasantly surprised. My legs tirelessly flew up the switchbacks and not once was I having trouble with the oxygen. I felt a bit lightheaded at times but that was it. The terrain was fun and not too difficult. At 4:45 AM we reached the top as the first ones, much earlier than we expected.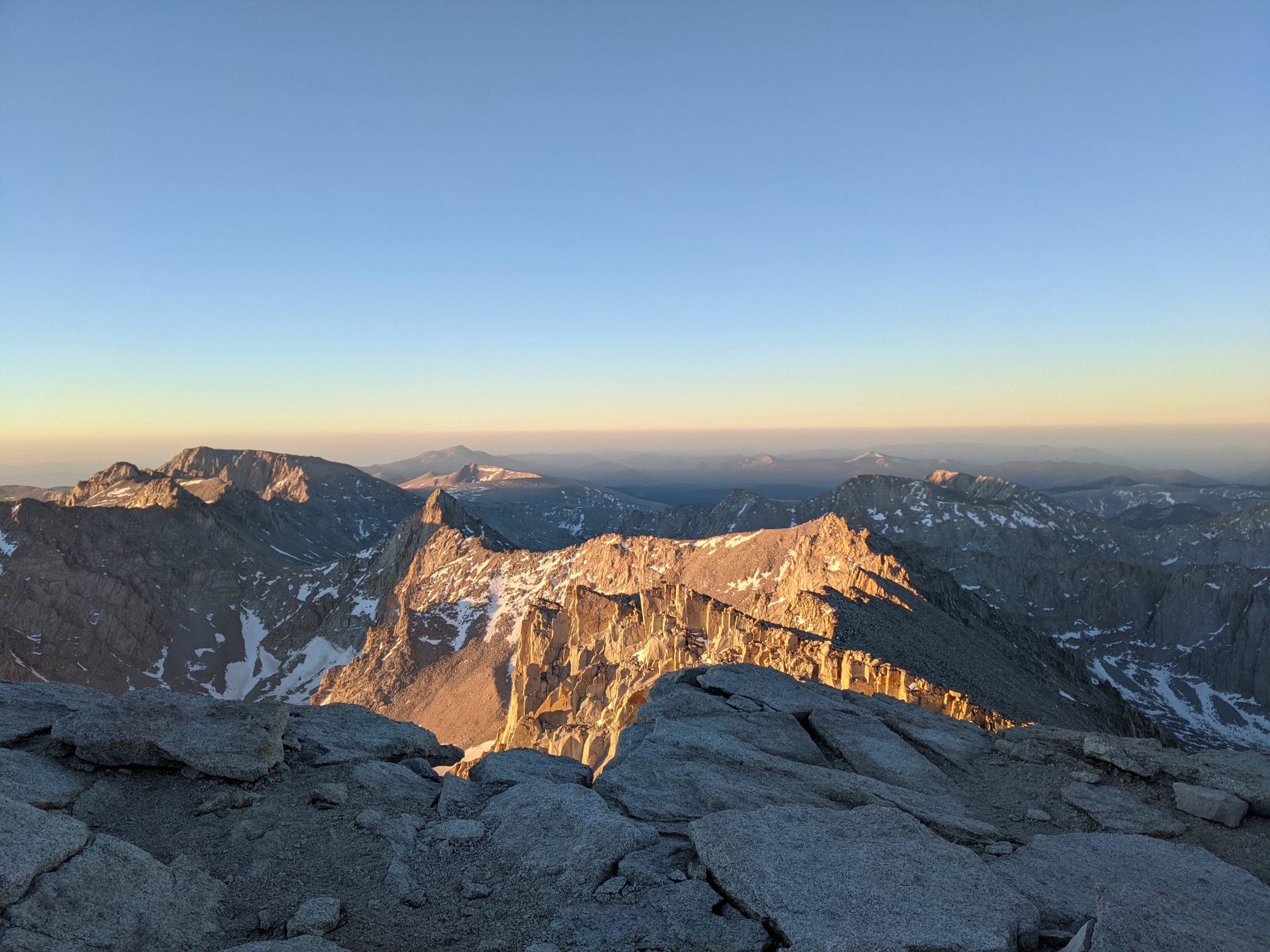 We saw the first glimmer of orange and red on the horizon, as we settled into our sleeping bags. It was windy and incredibly cold up on the mountain, so we huddled together as the rest of our tramily summited. It was by far the most impressive and grand sunrise I have ever seen. Having a 360 degree view over the snowcapped mountains and seeing the sun rise above the horizon like a fiery red ball, was something I will never forget. On top of that, being together with all the people I love, sharing coffee and hugs, made it even more special.
After 1,5 hours I felt like a frozen popsicle and craved my warm tent like nothing else. Me and Freebie literally ran down, to warm ourselves up. Seeing the landscape that had been hidden from us in the cloak of the night, was a great surprise. We were greeted by endless mountains and great lakes basking in the morning glow as we walked down. By 9 AM I rolled into my tent, destroyed but satisfied.
Moonlandscapes and fevers
After Whitney we slept for a few hours and decided to go another 8 miles to time the ascend to Forester Pass. My legs felt like lead and I have truly never felt more tired on the trail like that day. Needless to say it was a loooong 8 miles. However, we were rewarded with the most stunning campsite. It looked like we landed on an alien planet in this vast plane of red rocks, surrounded by mountains. I needed a good rest but unfortunately I was not given one. The Nora Virus was going around and I caught it. The whole night I was shaking and sweating with a high fever, leaving me feeling even weaker than before. And we still had to do Forester Pass in the morning. This was gonna be interesting.
Forester Pass
Entering through the doors of an untouched, wild, magical land. That is what Forester Pass felt like. The highest point on the PCT at … feet. However impressive and beautiful it was, the walk up was a gruelling nightmare for me. My body still reeling with the fever, every step felt so heavy. The beautiful snowfields just before the steep switchbacks lightened my mood and gave me something to focus on. The switchbacks looked daunting and I felt lucky with our low snowyear. The switchbacks were only a mile, but it took me a huge amount of time. Fatty talked me through it and at last, we reached the top. What was awaiting us at the other side was more beautiful than I could have imagined. Rough ragged peaks, snow fields and the bluest lakes of melted snow. We took our first glissade of the trail, which awakened the little kid within me. From there we walked into King's Canyon, by far the most impressive valley for me in the Sierra's. Water flowing everywhere in abundance and thick pine forests. No phone reception and totally shut off from the civilized world. We were truly in the Sierras now.
Affiliate Disclosure
This website contains affiliate links, which means The Trek may receive a percentage of any product or service you purchase using the links in the articles or advertisements. The buyer pays the same price as they would otherwise, and your purchase helps to support The Trek's ongoing goal to serve you quality backpacking advice and information. Thanks for your support!
To learn more, please visit the About This Site page.