Pacific Crest Trail: The First Week in the Sierra
Hello lovely people. This past week was so magnificent it's hard to put into words, but I'm giving it a shot. Kennedy Meadows until Kearsarge Pass, the first stretch in the mountain range of the Sierra Nevada. Snowy peaks and river crossings. The morning we left, I felt nervous anticipation. We're going into the high mountains, something that I didn't have that much experience with. It was so nice to hike next to a river again. I immediately felt more at peace, less rushed to get from water source to water source. The second day I woke up with a headache. What is this? Altitude sickness? Already? I know that the country I'm from is half below sea level, but it surely is not that right? A few hours later I got sick. Didn't even have time to dig a cat hole for my lunch that wanted out again. Later I found out that more hikers who stayed in KM got sick. But I was happy it wasn't because of the altitude. The next day I felt fine again. Onwards!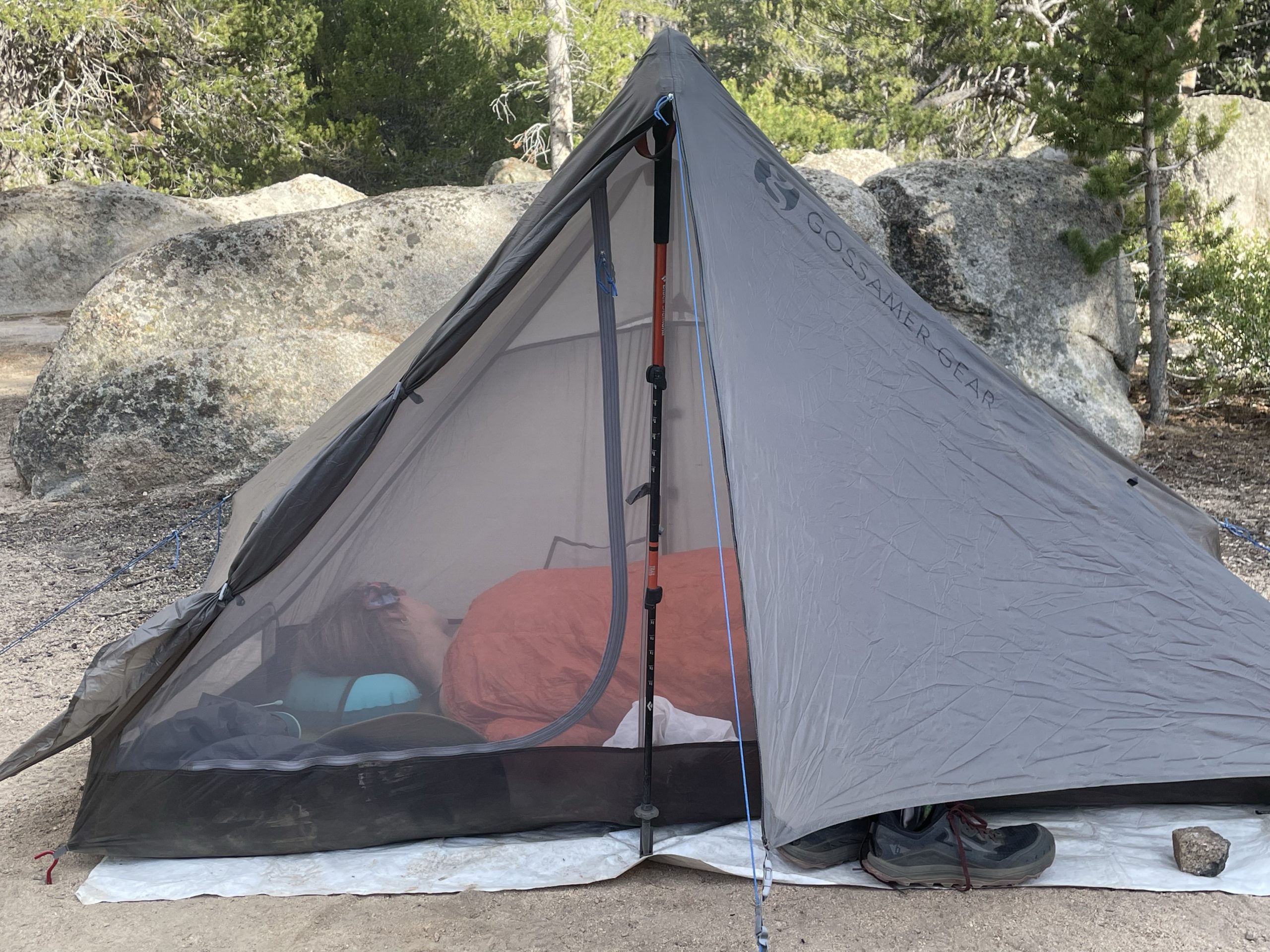 Dive into All the Lakes
The first sight of the mountains gave me goosebumps. I felt it through my whole body. I'm here! The Sierra! The first alpine lake was Chicken Lake. Like headless chickens, we jumped in. Freezing but so refreshing. It became a tradition to jump into every lake. Who needs a shower when you have fresh water to jump into?
On Top of the US
Mount Whitney. At 4421 meters (14,505 feet), the highest mountain of the US (except for Alaska)! Also the highest mountain I've ever climbed. We started in the middle of the night to summit for sunrise. I love night hiking. The shadowy shapes of the mountains, to walk underneath the stars. Moonshine lit our way. It was breathtakingly beautiful. Literally breathtaking when we reached higher altitude, my heart pounding like I was running instead of slowly walking upwards. Apart from being out of breath, I had no problems with the altitude. Oh, the views! The sunrise was amazing, even got me a little emotional. This whole experience is so special. We cuddled together and sat quietly admiring the beauty that surrounded us.
What Goes Up Must Come Down
It felt a bit like sleepwalking when I was walking down Whitney, I was getting so tired. The cure? A dive into Guitar Lake! In the Sierra, you basically hike one pass a day. Mount Whitney is not part of the PCT. The best time to hit a mountain pass is in the morning when the snow is still firm. This meant that after Whitney, we had to hike a bit more to be close to Forester Pass. It was not fun, but I was listening to Eye of the World on Audible, and it was like I was in that book. The scenery from the book might as well be the Sierra!
Forester Pass
I've heard a lot of horror stories about this pass so I mentally prepared myself for a rough day. Turned out, after Whitney, everything is easy 😉 and just like that, I was on the highest pass of the PCT! Just like that. I'm so in love with the Sierra. The views are out of this world. No cell phone service. It is like we are in a different dimension, just us & all the magical nature. I feel so free. And yes, sometimes it's hard, my legs like jelly after a climb, and I've cursed my bear canister multiple times, but I'm still on cloud nine.
Kearsarge Pass
This is the first time in my life I'm so far into the wilderness. To leave, you have to hike out over a mountain. It's Kearsarge Pass. The night before, it's cold for the first time and it made me realize how lucky I was with the weather on Mount Whitney. The climb was OK, but when I was going down Kearsarge Pass, I already dreaded the moment I had to hike back up with a heavy backpack full of resupply. 'Stay in the present moment,' I mumbled to myself, I am a yoga teacher after all 😉 We hitchhiked to Bishop for fresh food. This was the first time that I had no food left and it didn't feel nice. Climbing all the mountains makes you a hungry wolf. The hitch into Bishop was easy. Pro tip? Pink shorts! I already can't wait to go back into the fairy tale world which is the Sierra!
Affiliate Disclosure
This website contains affiliate links, which means The Trek may receive a percentage of any product or service you purchase using the links in the articles or advertisements. The buyer pays the same price as they would otherwise, and your purchase helps to support The Trek's ongoing goal to serve you quality backpacking advice and information. Thanks for your support!
To learn more, please visit the About This Site page.