Pacific Crest Trail week 3; All alone
Hello there beautiful people. The titel of this post is clickbeat because you are never really alone out here. Maybe for a day but you'll end up seeing other hikers one way or another. However I did sleep alone for the first time this week. But first things first.
Too much food
'What am I going to do? Be a trail angel or something? Give away my food?' I'm softly cursing to myself as I'm climbing up a mountain with a backpack full of food. We just did a resupply in Cabazon and I'm still figuring out how much food I need. I probably took wat to much. There is also a burrito in there the size of my head. Hiker hunger is slowly kicking in, especially in the mornings I feel ravenous.
Tripping
My new trail name should be tripping. Not in the funny mushroom way but tripping over sticks, rocks and roots. Usually it isn't bad but one nasty root gets me and I immediately feel a pull in my calf. Shit! Now what? A big fear is needing to get of trail because of an injury. When I wobble ahead for the next few miles I realize that I need to slow down. Give myself some time to heal.
Take out in Whitewater reserve
As I walk the last mile (which is always longer than the other miles, I swear) I think about my options. The nature in Whitewater reserve is beautiful! A slow creek and white sand and stones. A light bulb goes off. I can just stay and do a zero here! I have plenty of food anyway. There is a campground and toilets that flush. What else do you need in life? I start to feel better. Miso and I are soaking our feet in the clear pool. It feels like heaven for our beat up hiker feet.
'Darling' I say.
'I don't feel like cooking today. Let's order take out. Miso gets the joke and plays along.
'That is a great idea. I'm thinking pizza or a burrito' she replies.
'Let's do burrrito's!' We decide. Miso also packed out one from Chipotle. To finish the party Monkey hands & B walk in with a little bottle of JD. One swig and we feel the buzz. Best trail dinner so far.
First night alone, or?
The next morning I feel a little of when I see al my friends leave. But I need this time to heal. I lazy around, soak my legs and eat. In the afternoon I get antsy and decide to just go a few miles. I talk to a day hiker for a bit as I am walking out of the reserve. The views are breathtaking, the river and mountains as a backdrop. My leg is doing well, I got this. As I decent into a creek I see someone up the hill. Who is that? My brain that has seen to many American crime shows takes over and I start to worry. Is that day hiker following me? I haven't seen any other hiker the whole day and when I arrive at camp it's empty. Technically you can sleep anywhere on the PCT but you can't disturb nature. Therefore it's easier to camp at designated camping spots. These are no fancy camping areas. Just a flat spot with some rocks. Before I started this trail I knew I wanted to learn to sleep alone. But was this the right night? I start to feel anxious about that mystery person when I set up my tent. Not much later the person walks in and it turns out to be just a hiker, of course! So I'm not sleeping alone and kind of happy about it.
All alone part two
The sound of the creek gave such a relaxing background noise. I wake up feeling better, more trust. I know my friends are behind me and in front of me. This community is to welcoming. It doesn't matter if you are poor or rich, old or young. Out here we are equal, happy dirty hikers who look out for each other. The trail followed the creek and it was easy to get lost. people who put up the cairns! Thank you! It was like a maze. Also lovely to not carry so much water. At the end of the day I found a great camp spot. All alone, high up the mountain. The best view! With the bright almost full moon watching over me I sleep soundly. I love being so close to nature.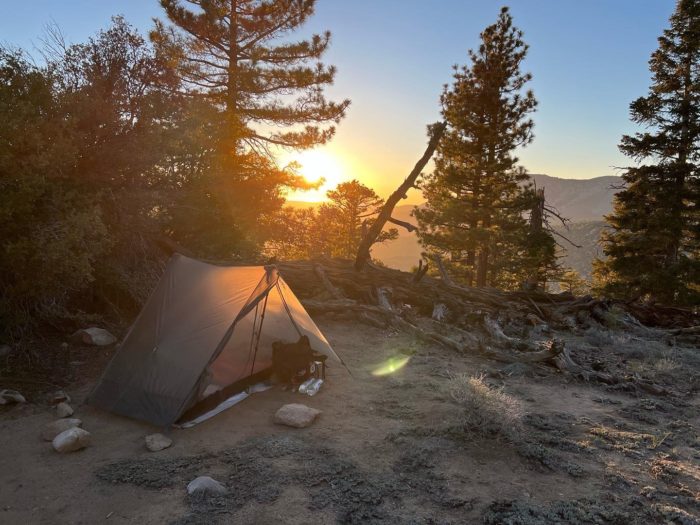 Big bear lake
Just a quick in & out. Resupply, shower & get back out on trail. It sounded like a good plan but it was kind of stressful. Hopefully I will get better at resupplying. I catch up with my friends again. A shower! The first one in a week. Bliss! Trust me, you will never appreciate showers more then here on trail. That night I have a sleepover in Miso's tent. So cozy and although I loved to be alone it's nice to laugh so much again.
Oh wonderful trail
Only not the next day. Miso and I are both not feeling it. Later we hear that birthday boy also didn't like the trail that day. Then the trail is more of a challenge for the mind instead of the body. There is nothing to distract you. No service, no screens. The trail changes in the afternoon. Deep creek! So gorgeous! I go for a swim and feel rejuvenated. There are also hot springs but it's too hot to go in. The next day there is again plenty of water to take a dip. Silverwood lake with its turquoise water. The trail meets picknick area that is close to the lake. Miso is already there and she comes up with a plan. Uber eats pizza. It works! We escape the heat & lounge there for 4 hours. Full belly's and swimming. It doesn't get better then this! Or does it? Tomorrow is MC Donald's. The only time the trail goes close to the fastfood restaurant. I guess hiker hunger is here! Onwards!
Affiliate Disclosure
This website contains affiliate links, which means The Trek may receive a percentage of any product or service you purchase using the links in the articles or advertisements. The buyer pays the same price as they would otherwise, and your purchase helps to support The Trek's ongoing goal to serve you quality backpacking advice and information. Thanks for your support!
To learn more, please visit the About This Site page.