Party Time: PCT Days 119-123
Day 119. Miles: 0 Total: 2183
It's Trail Days!
In the morning, Alisha drives us to the Walmart in Hood River for some supplies. We pose with the sign outside Bigfoot Coffee for proof that we really are in the Pacific Northwest.
Then, we head to the park in Cascade Locks to check in. On the island, we set up camp for the weekend. I text a picture of our matching tents to Smiley, Cloud Whisperer, and Undecided who are arriving today, as well as the Second Breakfast Club. My O.G. trail family is hitching back for the festival from Trout Lake and I'm looking forward to seeing them.
I also run into Shepherd and Viking, as well as Zero. Zero is the first hiker I met on the PCT, whom I haven't seen since I had COVID at Sonora Pass. Just like Trail Days on the AT, the PCT is fixing to be a huge reunion of familiar faces from locations scattered along the trail.
When my friends arrive, we head to a brewery for lunch while we wait for the festival to officially begin. Before we leave, Rolls and Royce also arrive with their friends, who are visiting from Michigan.
Cascade Locks seems overwhelmed by the crowds. The town only supports a few businesses, and the influx of hikers and vendors have created lines that stretch out the doors of each restaurant, coffee shop, and store. The park has a few food trucks at the festival, but once the event officially opens, they swiftly run out of most items. PCT Days is not a long-running event. The community doesn't seem as prepared as Damascus for the hiker swarm of Trail Days.
Alisha and I wander among the vendors.
My first stop is the gear repair tent, where I leave my pack to get its holes repaired from the mouse-chewing and tree-stabbing incidents. I mended the gashes once, but my Frankensteinian stitches are already pulling loose. Hopefully, a professional job will allow it to hold out until Canada. By then, it will have over 5,000 miles on it, and I plan to display it on my wall in well-earned retirement.
As an outdoor writer and gear reviewer, Alisha is familiar with most of the brands and has even corresponded with some of the representatives about testing their gear. We collect lots of outdoor gear swag. Alisha can take the larger items, but I mostly search for stickers– I'm not about to add pack weight so close to the end. We both enter as many raffles as we can.
Today, I also interview to return to my job with REI after the trail. I've been thinking about it a lot. Aspects of my job were difficult before I began the trail, but I do love guiding. More so, I'm afraid of the post-trail depression that struck following the AT when I didn't resume working right away. I admit, it's *possible* that simply distracting myself from unhappiness by staying incredibly busy is not the best or healthiest coping strategy. Nonetheless, I feel better knowing I have something lined up for the weeks after the trail.
We have a fun evening bouncing between my two groups of friends on the trail. The revelry is not quite as wild as in the forest surrounding Damascus during Trail Days, but hundreds of hikers are still drinking, celebrating, and having a good time. Luckily, we chose a relatively calm part of the island to pitch our tents, so I'm soundly asleep by ten p. m.
Day 120. Miles: 0 Total: 2183
On the second morning of the festival, Alisha convinces me to attend the group trail run. There are close to thirty runners, those of us crazy enough to volunteer for a run on a precious rest day. When the group takes off, I feel good for the first half mile or so, but the pace feels very fast. "They said this was going to be conversational!" I pant at Alisha. "This is like, 9-minute miles!" I glance down at my watch. The pace flashes at 11:30. Ah. We're not going fast– I'm just completely out of running shape. Luckily, Alisha is on the same page. We run another mile, falling more and more behind the group, and then we casually stop to pick blackberries… and turn around and walk back.
"Well," she says brightly, "we tried!" We laugh and plot to return to the vendor booths as if we're the first ones to finish the loop.
Later, Smiley, Cloud Whisperer, and Undecided pile into the rental car with us. Alisha drives us back to Walmart to resupply, since the grocery store in Cascade Locks has been picked clean. We stop at a café afterward and walk along the river, watching dozens of windsurfers out on the water.
That evening, the raffles are happening. Each time a ticket number is called out, we all scan our tickets. I look at the new Granite Gear undyed packs with longing, but today is not my day. None of us win anything, but it's still fun to spend time with friends as the sun sets around us.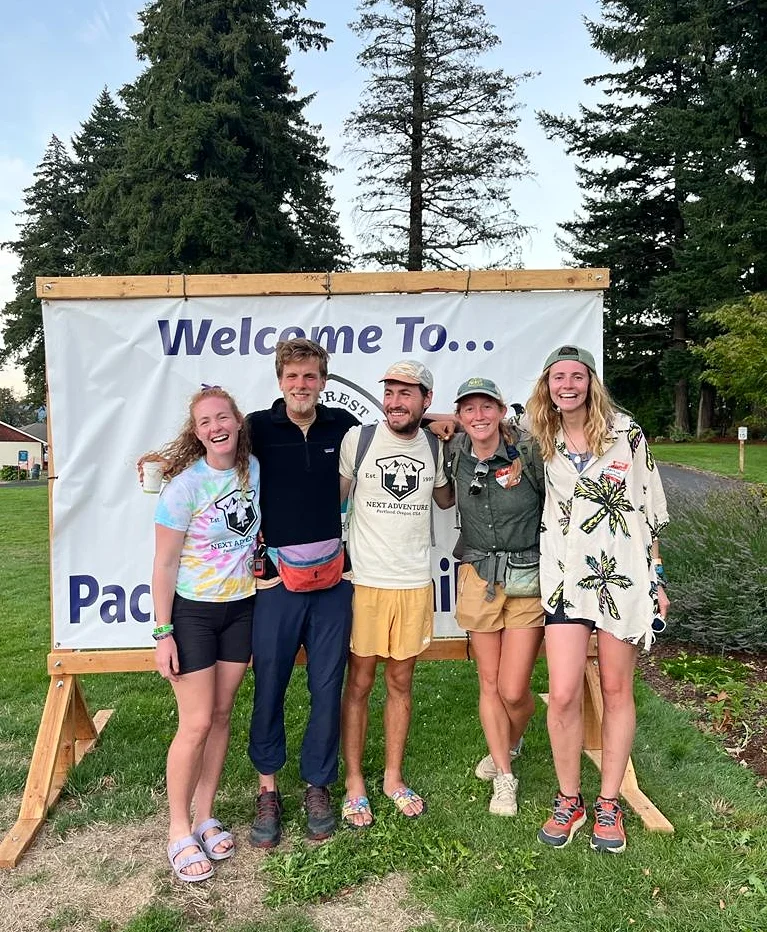 Once the raffle is over, we head back to the car. Smiley and the others hike north from Cascade Locks. Alisha and I find her rental car and head to Trout Lake.
Day 121. Miles: 13.1 Total: 12196.1
We leave the rental car behind the local church in Trout Lake. A trail angel offers to drive us back to Panther Creek, where Alisha is beginning her 46-mile section hike. In the truck, he tells us stories of life in rural Washington, including the eruption of nearby Mount St. Helen and the rapid increase of the PCT's popularity.
Back at the campground, Alisha and I strap on our packs and hit the trail. The PCT is not starting off gently for Alisha– the first thing we do is tackle a massive climb. Cascade Locks is the lowest point of the whole PCT, so early Washington trends uphill, by a lot. But it's not as hot or humid as it was a few days ago. I'm feeling fresh from my first and only double zero of the whole trail. We make it to camp around six and spend the evening chatting with a hiker named Stretch.
Day 122. Miles: 20.0 Total: 2216.1
I had planned 18 miles for today, which is already a big day for someone without trail legs. We make good progress throughout the morning. Viking and Shepherd catch us, and we have lunch and a siesta together at a lovely blue lake. Then, in the afternoon, southbound hikers notify us that there's trail magic at the next road. I don't want to make Alisha miserable, but I can't help myself. "Wouldn't it be cool for you to experience trail magic?" I say.
Never one to back down from a challenge, Alisha agrees to push onward, reaching a total of 2o miles for the day. It's one mile farther than our biggest day on the Trans Catalina Trail back in March, and the farthest she's ever hiked. She handles it like a champ, but it's clear that she's spent.
I was eager to have a friend visit on the PCT for the company, but it's also helpful to witness how much she has to push herself to complete mileage that now feels so easy to me. On the TCT, we seemed to have roughly equal speed and endurance. I know I've gotten stronger on the PCT, but because I'm still often the slowest of my group, it's easy to feel frustrated with myself and my body. Watching Alisha struggle when I know she's a strong hiker has reminded me of how far I've come. But even as I realize this, I feel like a jerk for unintentionally using my friend to contextualize my own progress. Please don't stop coming on hikes with me, Alisha! <3
Day 123. Miles: 13.8 Total: 2229.9
We have yet another big climb today, separating us from the road into Trout Lake. The trail is mostly surrounded by tall, moss-covered trees, but occasionally the views open up, revealing Mount Adams. When we reach the road, we take a shuttle into town. I eat an expensive but very delicious huckleberry milkshake at the cafe. Feels is having lunch there, too, and we invite her to camp with us.
The three of us talk late into the evening. Feels was trail-named for her inclination to skip small talk and discuss the deep stuff. Between her and Alisha, who I've known from "real life," it's nice to share conversation beyond the surface-level Q&A-style chats I've had with other hikers recently. Especially since Bend, when I split from my group and did my 24-hour challenge, I've been surrounded mostly by strangers or acquaintances. Don't get me wrong– I do enjoy answering day hikers' questions about the PCT and learning about other thru-hikers and their backgrounds. But those conversations get repetitive, and they don't satisfy my hunger for connection the same way talking to Alisha and Feels does.
We drink cider and laugh and almost cry and share a lovely evening. I'll be sad to see Alisha go.
Affiliate Disclosure
This website contains affiliate links, which means The Trek may receive a percentage of any product or service you purchase using the links in the articles or advertisements. The buyer pays the same price as they would otherwise, and your purchase helps to support The Trek's ongoing goal to serve you quality backpacking advice and information. Thanks for your support!
To learn more, please visit the About This Site page.