PCT Clothing System: 3 Thru-Hikers Share Apparel Lists, Tweaks, and Best Practices
This article serves as supplemental information to the advice outlined in her extensive and insightful gear chapter from Pacific Crest Trials.  If you get value from this information we encourage you to check out the book!
PCT thru-hikers need a real life power suit: clothes that can protect you in 110 F desert heat and warm you up in a spring Sierra snow storm. On top of that, PCT hikers' uniforms need to have other secret powers: durable at minimal weight, fit like a super hero costume, and not cause chaffing (ouch).
Luckily, we hikers have a special weapon: the Post Office, by which I mean, we can mail ourselves clothes and get rid of unwanted outfits before we switch into new ecosystems.
I interviewed successful PCT thru-hikers to discover what they wore and carried and how their clothing systems changed as they entered new environments. The clothing lists below reflect both the research they conducted ahead of time, on-trail unintended necessities, and the power of hindsight.
Meet Pi
Bill "Pi" Murphy (PCT Thru-Hiker, 2009): Pi is the type of hiker who loves experimenting with gear. He's a trend finder who discovers the wacky off-the-beaten-path garage grown gear companies before they go big. Pi wasn't afraid to wear a rain skirt before it was cool (now all the hiker men are rocking what is now called a "rain kilt"). In addition to being a gearhead, Pi is New Mexico short of being a Triple Crowner, and has also hiked the Hayduke Trail.
DESERT
About his system, Pi writes: "Many other hikers wore shorts and short sleeved shirts. I prefer the sun protection and bug protection provided by pants and a long sleeved shirt."
He also strongly recommends making sure you have the gear for wet and cold weather, even when you start in the desert. "Some hikers had no rain jacket. I was glad to have one for the downpour that happened near Julian, California on my hike."
Worn
BPL shirt
Teva Sun Hat
Underwear
"At night, while doing laundry, when cold, or raining" Pi added these layers:
SIERRA
Pi didn't intend to change his gear system in the Sierra, but some unintended gear failure caused a change. "My Dri Ducks zipper got stuck, so I got a Marmot Precip. It was heavier, but a comforting safety margin during my occasional misdirected off map moments in the Sierra."
He says that if he were to do it again, he'd add:
NORTHERN CALIFORNIA
Added:
Replaced his silkweight sleeping shirt with another one (the first one got holes)
WASHINGTON
Pi didn't change out his gear for Washington, but highly recommends it for other thru-hikers and would definitely make changes if he were to hike the PCT again. He warns: "Some thru hikers say Washington isn't rainy or snowy. Those are the first hikers to finish before the weather changes in the fall. If you're hiking in the middle of the pack or later, plan on one, two, or three weeks of rain and snow mix."
If he were to do it again, he'd add these items for Washington:
Meet The Punisher
Naomi "The Punisher" Hudetz (PCT Thru-Hiker, 2009): She's the type of smart, responsible thru-hiker who does her research, always has the best tried-and-true stuff, and never compromises. Naomi is a Triple Crowner and a Board Member of the American Long Distance Hiking Association.
DESERT
About her system, Naomi writes: "I decided to wear long pants and a long sleeve shirt in the desert to avoid using massive quantities of sunscreen. My skin burns very easily." Indeed, Naomi hails from the Pacific Northwest.
Worn during the day:
Raingear: DriDucks rain pants and jacket
Sleep clothes: Icebreaker 200 weight long underwear (tops and bottoms)
When it's a little cooler:
SIERRA
Removed:
Solumbra pants
Railrides shirt
Added:
NORTHERN CALIFORNIA
Removed:
Icebreaker long underwear bottoms
Added:
OREGON
No changes
WASHINGTON
Removed:
Patagonia Capilene Silkweight long underwear
Icebreaker 150 weight hiking top
Added:
Rain Mitts (similar to Z-packs)
Fleece top (similar to Melanzana micro grid crew)
Naomi had a few surprises that resulted in gear changes on her trip. After hiking the first 800 miles of the PCT, she had lost enough weight that the Halle pants "hung onto me like a Scarecrow" She switched them out. Her system reflects that over a thru-hike, it's normal for clothes to develop holes—it's the rare shirt or pair of shorts that will last a whole thru-hike. Naomi upgraded to the 200 weight Icebreaker shirt in Washington because it was getting colder, and also because that shirt she carried in California and Oregon had developed holes.

And me!
I thru-hiked the PCT in 2009 and am finishing up on another section-hike of the PCT this year. I'm using this article as an opportunity to put together the best of both trips. I'm also a Triple Crowner, and have 16 thru-hikes (170 miles and over) under my shoes. Here's what I've used my second time around on the PCT (aka, a smarter gear system than I carried the first time around ).
DESERT
Worn during the day:
For when it's colder:
Note: On my first thru of the PCT, the only cold weather gear I carried through the desert was a windshirt, a baselayer, and the Six Moons Designs Gatewood Cape (a poncho-tarp). This system worked really well at the time, but I would carry more clothes in the future.
SIERRA
Added:
Montbell UL Trekking tights
NORTHERN CALIFORNIA
Remove:
Altra Lone Peak Neoshell and/or Seal Skinz waterproof socks
Smartwool NTS 150
Mountain Laurel Designs Rain Mitt
Mountain Laurel Designs Snow Gaiters
OREGON and WASHINGTON
Added:
If it got very cold in the Sierra or Washington, I'd add:
Now that you've seen three PCT thru-hiker clothing systems, here's the bad news: Despite the best planning, getting gear 100% right on the PCT is next to impossible. Even the most skilled thru-hikers can't predict the weather or the best time to receive a certain piece of clothing.
Pi, Naomi, and I at times all had to make do with what was available at the local gear store—either because the temperatures changed faster than we anticipated, we lost a ton of weight, or because our clothes developed holes. However frustrating, it turns out that the unpredictable gear changes are what make hiking so much exciting.
In fact, cobbling together your clothing from local outfitters is the fun part of a hike. A good male friend of mine ended up with size XL women's neon tights because of a cold snap. The chuckles these kind of gear stories evoke is what makes trail life memorable.
Use this list to plan a system that works for you, but embrace the PCT for the fashion disasters it throws at you. After all, it's not often in life does wearing a puffy jacket put you at the height of style.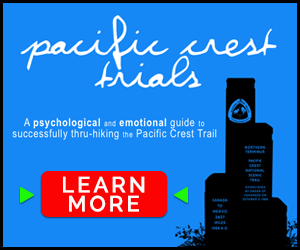 Affiliate Disclosure
This website contains affiliate links, which means The Trek may receive a percentage of any product or service you purchase using the links in the articles or advertisements. The buyer pays the same price as they would otherwise, and your purchase helps to support The Trek's ongoing goal to serve you quality backpacking advice and information. Thanks for your support!
To learn more, please visit the About This Site page.