The Initial PCT Decision: I Was On A Boat Once
Narrating about my life and what caused me to miss the dirt, sweat, and tears of trekking. I present the roundabout way I committed to thru-hiking the PCT
Part I: The view that may have drove me a little crazy
So There I Was: dangling my feet over the churning ocean water, thirty-feet below. My butt was perched on the wrap-around ramp, a portion of the ship's bridge. Below me there was only free air.  I was sitting on a plastic grate with my arms braced up against the metal railings.  Sitting here, during my daily dose of staring off into the endless horizon, was where I dwelled over how much I disliked boats.
Gazing down, I watched the swirl of the white water as the ship cut through the waves. I remember thinking, "I could fall, straight down into the water, and no one could really do anything to save me". I was definitely having some morbid thoughts. There was no fear or anxiety about falling. I was simply baffled that I was out so far away from anything. If the worst were to happen to me, there wouldn't be much help. It was rather exciting.
Reasoning at its finest
Isn't that the idea that sparks the desire for adventure? What's the worst that could happen?
I could fall into the Atlantic Ocean and never be seen again. Okay. I will just have to avoid doing that. I remember thinking about a perspective I made up when I was dehydrated once: Rationalizing the possibilities in irrational thoughts. It keeps me believing that I can make the best judgements in staying alive. Keyword is 'can'.  Perhaps, this perspective is a naïve to many, but one that has been developed over experiencing 'what could have been the worst'.
So it was out in the middle of the ocean, cut off from communication, that I made the decision to thru-hike the PCT. Crazy, I know (sarcasm for trying to be original, but no matter, this is just another thru-hiker birth story).
Part II: The journey begins, not with a step, but with a stubbed toe.
In other words, the first pitfall in many pitfalls.
So at sea there isn't much availability for data output and input. Satellite connection is very slow and requires commitment. In acquiring my permit, many calculations had to be done. "What is the time difference of where I am…" On signup day, I was ten minutes late opening up my browser. I was somewhere behind 4,000 other people, waiting for a permit. No problem, I had nowhere else to be.
Finally, it was my turn to pick a start day. As it turns out, the permitting website was not compatible with the amount of data I could use. I could only blankly stare at the white screen and watch as my signup time counted down. "Nuts on a stick". I tried three more times, putting myself back in the signup queue to no avail. So when you get desperate, really desperate, there is only one thing left to do. Using the satellite telephone with a limited ten minutes, I called my mom. This conversation would be the first time I would be telling her about my PCT plans. Well, this should go well.
Moms are equipped with a fifth sense of knowing when something is urgent.
That moment was the only time in my life that my mom cut to the chase, no lectures, and no questions. She only asked what she needed to do. Wow, support like that brought tears to my eyes.
By the time I navigated her to the correct page, there was no more queue, therefore…. that could only mean that most of the best hiking dates were taken. At this point, most people would be at least frustrated and probably upset. But, based on the circumstances, I would be overjoyed to get any permit, at any time.
I believe I was lucky. My start date is for March 2nd, 2019.  Heck yeah. My plan was a go. And I would be one of the first down the trail. (Hey, I was on a boat at sea with a handful of others, so crowds were never my thing).
For the next five weeks, I laid awake. I rocked back and forth in my bunk, not in a crazy way, but because the ship never ceased it's roll from side to side.  All I could think about was the trail.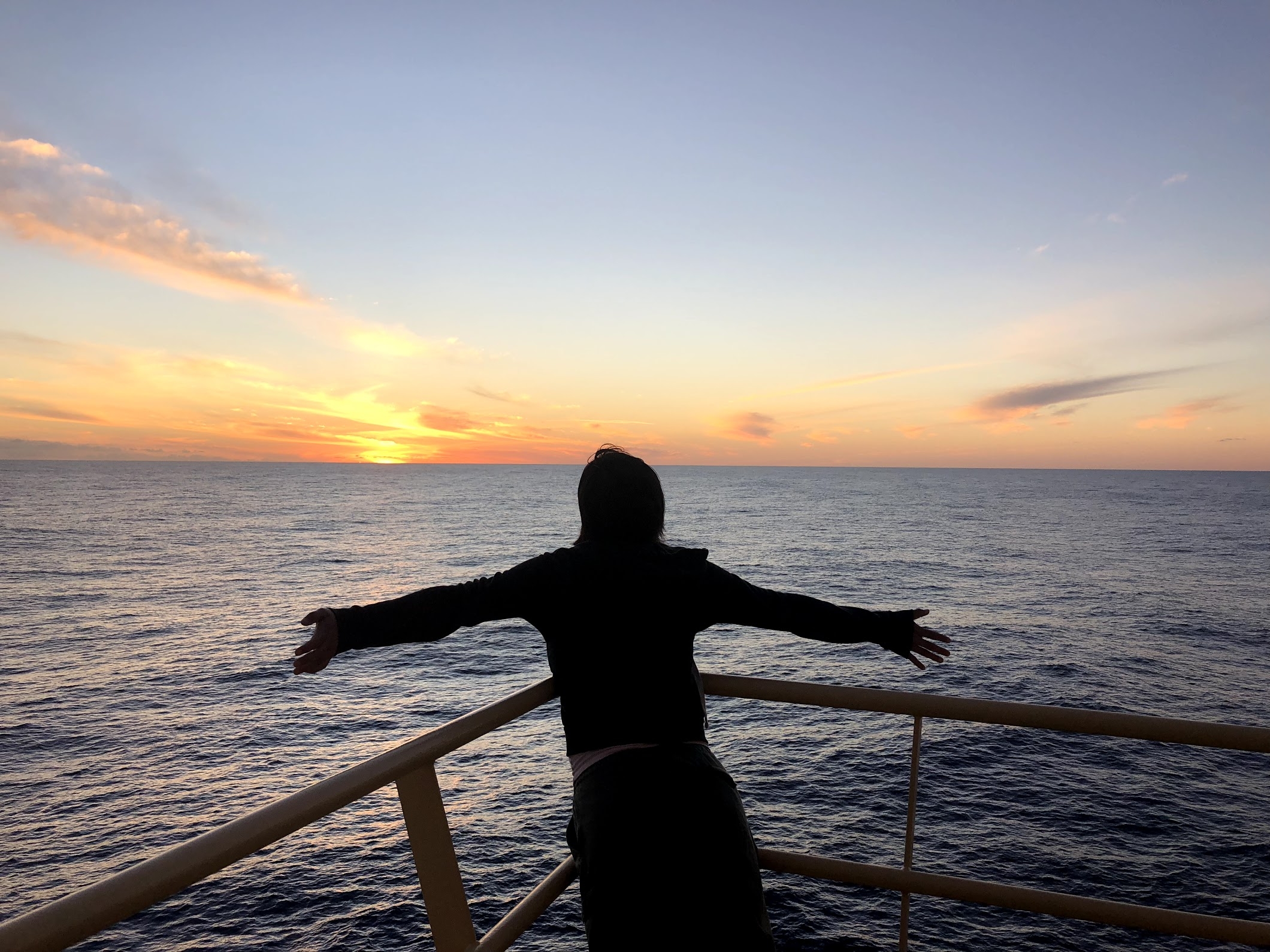 Affiliate Disclosure
This website contains affiliate links, which means The Trek may receive a percentage of any product or service you purchase using the links in the articles or advertisements. The buyer pays the same price as they would otherwise, and your purchase helps to support The Trek's ongoing goal to serve you quality backpacking advice and information. Thanks for your support!
To learn more, please visit the About This Site page.