PCT Journal Entry #1: From Katahdin to the Pacific Crest Trail
A thruhike ends like a car crash. It doesn't wind down. One day you are surrounded by friends with whom you share a deep emotional and psychological connection. The next day they are ripped from your life and scattered all over the world. The connection is deep. Together, you have walked up and down mountains in pouring rain, cold snow storms, in extreme heat and humidity, and through hair raising lightening storms. The shared pain bonds you together. Misery does loves company. Of course you will make promises to get together and you will text and talk often. I found life makes a fools joke out of the promises we make. We all have our individual journeys off the trail.
I walked away from Mt. Katahdin not knowing what was next. I missed my family and knew I wanted to be around them again. I also knew I had no career desires and wanted to hike and travel more. This spurred me to hike a section of the Pacific Crest Trail, the Continental Divide Trail, finish the Long Trail and the New England Trail. I went overseas and hiked 1,200 miles across Western Europe. Despite all these wonderful adventures, I still haven't satiated my appetite for adventure.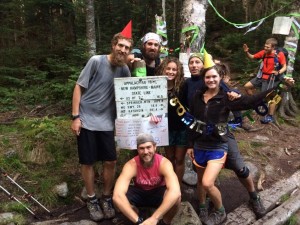 Returning from the Appalachian Trail, I sure celebrated the comforts of home. I loved having a place to sit down and not waiting for the perfect rock or log. Having a real pillow instead of a bag of clothes at night was phenomenal. Salads were a welcome sight, for sure. Comforts of home give me pleasure, but it's not completely fulfilling.
I also learned what was no longer acceptable. My wife isn't too excited that I urinate in the yard. People look at you funny when u make a M&M, ramen and tuna burrito. It's not as amusing when you crap your pants, (is that just me? Anyway, apologies to the people of Erwin, Tn). Not showering is frowned upon. Restraint at an all-you-can-eat buffet is commended. Farts were certainly not applauded at my job, particularly in front of women. My wife says that leaving the previous nights dinner along the sides of the cooking pot, does NOT enhance the flavor.
Moving Forward
I always knew I wanted to thruhike the Pacific Crest Trail. In my opinion, it's the finest long distance trail in the world. The path is challenging, yet not trying to hurt you. The variety of ecosystems is unmatched. Thruhikers begin in the blazing desert on the Mexico border, rise up to the High Sierra in Central California, travel through volcanic areas of Northern California and Oregon before finishing in the rainforest and high peaks of the North Cascades in Washington. The weather is more dangerous, but overall a lot better than the Appalachian Trail.
I'm confident that I'm a decent enough hiker to finish this hike, (if the pathetic Cheryl Strayed and her "Monster" backpack can make it (supposedly), 1,000 miles why can't I go all the way?) I do have some concerns. Can my knees take the pounding? Being from New England, I am unaccustomed to sun exposure. On my section hikes on the PCT, I wilted in the sun, and hiked far less efficiently than I did on the AT. The lightening freaks me out. I'm snake blind, so I'm concerned about the number of rattlesnakes. Mountain Lions scare me, but then again, a porcupine intimidated me so bad on the AT that I wouldn't get out of my tent for 4 hours one night in Pennsylvania.
I leave for California in three weeks. I'm planning my ressupply packages on the PCT, stretching, walking and loading my iPhone with podcasts and music. I know the mental part will be the toughest challenge. Can I keep my mind occupied and stimulated for twelve hours a day for a five month stretch? I totally killed my music on the Appalachian Trail. Sick of everything. Based on my early prep hikes, I'm kinda glad David Bowie died, (too soon?!).
I'm not in the best shape, but I feel like the trail takes care of that. My feet are ready and I'm accustomed to trail life. I withstand suffering reasonably well. "Make friends with pain, and you are never alone," I often say. Now, I'm faced with a five month courtship with physical and emotional ailments. Somehow, I'm compelled to do this again. Not sure why. Perhaps it keeps me from falling into the abyss of self destruction. Thruhiking offers a narrow path. Choice and bad decisions are limited. It disciplines you. Succumb to the will of the trail or fail. In three weeks I have the opportunity to test myself again.
Affiliate Disclosure
This website contains affiliate links, which means The Trek may receive a percentage of any product or service you purchase using the links in the articles or advertisements. The buyer pays the same price as they would otherwise, and your purchase helps to support The Trek's ongoing goal to serve you quality backpacking advice and information. Thanks for your support!
To learn more, please visit the About This Site page.