PCT CA SECTION B
WARNER SPRINGS TO HWY 10
MILE 109.5-209.5
Day 9 – (continued 6.6 miles)
We listened to music today while hiking and it really got us in the groove (headphones obviously, we don't listen out loud). I was listening to ODESZA because they're great, seriously, look them up.
We were feeling really good today so we decided to push past the first projected camp at mile 13 or so, and I'm glad that we did cause we found Syd and Cat at the creek. It was fun to catch up with them. They pushed in a bit further, and we stopped just beyond where we saw them, I couldn't pass up a spot with the soothing sound of a creek and a nice frog song. I love that!
We're feeling stronger and so we're going to start trying to push more miles. Honestly, one thing that is hard out here is to not compare yourself to others. We had some people be a bit rude about how "slow" we are, and I'm taking those encounters as reminders to not make comments or really pay attention to how anyone else is hiking. HYOH and don't worry about everyone else.
I'm excited about tomorrow. We have a longer water carry and a fresh resupply so our packs will be heavy, but that's ok. It won't last forever.
Day 10 – 15.9 miles
Today started out with a long water carry and ended with an even longer one. Definitely feeling like the desert today. We woke up next to a creek, oddly enough, but that was the last water for 12 miles – no biggie. What sucked was the water carry preceding the last.
The stretch from Mike's Place to Mary's Place is 18.2 miles. We loaded up on just over 4L a piece and headed out. The climb back up and then down was brutal to say the least.

Today was really hard, but I'm proud of us for still pushing for more miles. We've really been taking it easy because I'm just so scared of getting injured, but I'm feeling a lot stronger and excited to start doing some bigger mile days…..maybe once the water carries aren't 20 miles though haha.
Day 11 – 16.2 miles
Best day on trail yet! I'm really starting to hit my stride and become less paranoid about injuries. I'm meeting some really incredible people out here who have already inspired me probably more than they know.
We woke up at 4:30am which is basically unheard of for me. We still had 13.2 miles until water at Mary's Place so I was eager to get that water carry over with. The sunrise was unreal, I decided that we should wake up early like that probably everyday.
We leapfrogged with Michael (who we met at Montezuma) and another hiker named Craig. Most of the water sources that sounded iffy on FarOut were way over exaggerated and I found the comments to be really misleading in a fear mongering way, looking back I wouldn't have carried 4L from Mike's Place.
Mary's Place was an absolute Oasis. The water couldn't have been better. We did a small ziplock full of hiker laundry (working on better foot care since getting that bad blister) and made a late lunch. I lent Craig my small sewing kit for his torn food bag and felt a small sense of satisfaction that now everything that I'm carrying has been used at least once (with the exception of my emergency beacon). We had already covered the 13 out of 16ish miles we had planned for the day and it was only 1pm.

We hung out at Mary's until around 4. We met a few other hikers – Porkchops who had done the AT and told us a sickening applesauce story and Scratch who is probably one of the most amazing people I've ever met, she left me inspired.
We carried on another 3 miles to camp. 16 miles today and we're still feeling great! Gonna work on upping the mileage after Idyllwild (still wanting to ease into things, already seeing a lot of people with injuries). We're camped in a dry riverbed and the wind has picked up, but that's ok, we staked down the tent real good and sometimes that's all ya can do.
Day 12 – 14.5 miles
So it was actually 17.5 miles today because we walked to PVC and back (nobody wanted to pick us up but we sure tried!) and then 1 mile down to Cedar Spring. Today was definitely the most physically challenging day of hiking for us yet, we climbed for most of the day but we were surrounded by the most beautiful granite boulders that I didn't even care.
We started the morning hauling ass to HWY 74, we had breakfast on the mind. We got there at 7am, and waited around to try to hitch, no such luck. We walked to the diner and had the most amazing breakfast! And everyone there was so friendly. We saw Porkchops again and ate our breakfast with Jennifer. We couldn't remember when Grumpy said he'd be back to shuttle, so we just walked back to the trailhead.

Back on trail we met a man named Smiley who was cracking jokes about a really crappy water source he had found. Later on while taking a break underneath a boulder, Smiley reappeared. He had a lot to say and I could tell this man wasn't of the typical thru hiker variety. He told us he was homeless, but to make the most out of whatever situation you're in, so he decided he would give this a try.
He said "if you ever find yourself homeless, don't freak out, it's ok". What he said really resonated with me because I was in that exact situation when I lost my home in the fire and he's absolutely right, it was ok, it actually didn't even ruin my life, it made it a million times better. After Smiley's motivational sermon, we were off and running, we crushed the climb, it felt good to be walking on mixed terrain again because I think the flat sand has really been fucking with my joints, my gait becomes too regular and it wears me down.
We're camped at Cedar Spring tonight and it's a really special place. It's a beautiful little grove of some old growth trees and the freshest coldest water we've had yet.
Tomorrow is going to be tough, there is a wind advisory and a lot of elevation gain…. Not to mention the 72 fallen trees described in the San Jacinto report that I've been monitoring. I know we got this though, just one more day and then Idyllwild on Sunday for a much deserved zero.
Day 13 – 14.6 miles
Ok, so again we actually did about 16ish miles between all the off trail water sources.
Today was my favorite day on trail, we entered the San Jacintos and WOW, I am blown away with this place. The sunrise was probably one of the best I've ever seen. Also, Apache Peak is absolute perfection.

The day started with a steep climb out of Cedar Spring, but the lights of Palm Springs below and the sunrise more than made up for it. I had an unfortunate accident where I fell and my shorts flew off my body, so that was neat, the wind kicks my ass.
The climbs today were punchy and demoralizing. Like stop every mile to eat a starburst and convince yourself to keep moving. The wind was also bothersome at times, but welcomed at others. There were quite a few downed trees but not actually as bad as I expected. I couldn't imagine trying to do this in the snow, parts were dangerous even just with 40mph gusts! But these mountains are beautiful, I was just blown away all day and just felt super thankful to be here.
The off trail water sources made the water that much better. At Apache Spring, we met back up with Chris who had packed out chicken thighs and pudding cups that his mom sent him with on his last resupply, he gave us chicken and it was literally the best chicken I've ever had! Thanks Chris's mom!
To our surprise, we found Fry Guy at the spring also, he got a new trail name that fits him better, so now he's Faith. We leapfrogged with Michael who ended up camping on a ridge alone, I'm sure he's gonna have a great view in the morning. We met a new hiker named CB near Tahquitz Creek who happened to ask us about camping spots. I told him I think I found some really decent ones in a non-burned forest with wind protection, so we all filled up our water and looked for camp.
We spent the rest of the evening hanging out and talking. I like the people here, I kinda get what people mean about the social aspect to the trail, and I have to say one of the best things about this has been the people. Hiking the rest of the way with Faith, Chris and CB really made the last few miles fly by, it was fun.
I've been having some hypochondria issues with my shins and mostly just general well-being of my body. I was actually kinda struggling this morning and felt a lot of pain, I happened to mention to Chris at the spring that I was being paranoid and he kinda instilled some confidence in me. It was funny cause after that point I actually felt really strong and had very minimal pain (just the normal feet ache stuff etc, not like shin splints and tendon pain)….. maybe I'm holding myself back more than I realize.
Day 14 – 2.1 miles
Today started off horrible. I woke up crazy dizzy and nauseous out of nowhere. It was 5am and I was throwing up right outside my tent cause that's the furthest I could go. My mind was racing with all the potential illnesses this could be…. Is it Giardia from that terrible water source on day one?! Altitude sickness?! Diabetes??? Low blood pressure? I'm surely dying. I crawled back into the tent feeling totally defeated. This was supposed to be the day we get a break and I'm fucking it up. I listened to my body though and went back to sleep. I felt really thirsty so I periodically sipped on water and finally the dizziness subsided.
We packed up camp around 10am and made our way to Idyllwild. I wasn't feeling 100% but good enough. We were lucky enough to catch a hitch right out of the trailhead, a nice couple and their dog. We ate a late breakfast at the Res Kettle Cafe and the fresh fruit was exactly what my body needed.
We checked into our hotel, the Idyllwild Inn and went to the outfitter for a few items that we needed to restock. They thankfully had some good healthy vegan and gluten free freeze dried meals that I bought, trying to eat gluten free and dairy free out here is still kinda intimidating to me.

I was feeling pretty beat down when we got back to the hotel, I really get in my own head sometimes and I just sorta spiral into a pit of negativity.
When we got back, we had a message from Kat and Syd asking if we wanted to get dinner. Of course! We went to La Casita and got a margarita pitcher and some food. It was great! Not just the food, it was the exact pick me up that I needed, and I ended the day feeling a lot more confident than how I started it.
Day 15 – 0 miles
Great zero day, we spent the day resupplying and running errands. Angler found a really awesome place called "Amelia's Donuts and More" where he even found gluten free donuts! I had my first donut in over a decade!

We mailed the postcards that we picked up at Mary's place, Angler mailed one to his dad and I mailed mine to my grandparents. We hung out under the bridge that goes over Strawberry Creek and Angler immediately saw a fish, so while I organized my stuff, he went back out to actually end up catching a fish.

Feeling much better today! Both physically and emotionally! Feeling pretty confident that we actually might be able to pull this next section off.
We're getting dinner with Guillame, Jennifer and their crew. The social aspect of the trail is surprisingly one of my favorite parts!
We ended up having dinner not just with them but also with Lewis and Scratch, and two sisters who we hadn't met yet named Emily and Trooper. They showed us some videos they took of walking through some pretty heavy mist on the climb that looked just miserable. We all swapped stories and hung out for quite a while. I used to say that I'm not a people person, but I don't think I can say that anymore.
We go back out on trail tomorrow. I'm a little nervous honestly with that weird dizziness episode I had, but I am going to try to not worry unless it happens again. Just like in non-trail life, sometimes your body just does weird shit and that's that.
Day 16 – 14.2 miles
Around 19 miles between the 4 mile side trail and wandering around Idyllwild…. Oops.
Today started out kinda rough. My phone fell out of the wall in the middle of the night so when I woke up this morning it was pretty much dead. Then I somehow got the roads for the trailhead mixed up and took us on like a 2 mile tour around town for no good reason. I was pissed at myself to say the least (and being hard on myself per usual). But, we did end up getting our first trail magic – Mountain Dew at 8am, yeah!
We finally got to the trailhead, we knew he had a substantial climb back up to the PCT. I let the Mountain Dew fuel me up the climb and we were at The North Fork of the San Jacinto River. The cold water was refreshing, especially cause we knew it would be our last for 20 miles.

With 4 1/2L a piece, Angler and I continued on, the weight slowly crushing me. Our goal was to just go as far as we felt comfortable going and to listen to our bodies, we had a rough goal of mile 190 but nothing set in stone.
We trudged on, the wind picked up and the mist flew around us – it was miserable but honestly really spectacular.

We got to mile 190, I was feeling a bit defeated because of all the weight, but I reminded myself of how poorly I thought I did on the last long water carry and how I wanted to improve. I drank some Liquid IV and told Angler I think we should keep going.
And keep going we did! We made it to mile 193.6 before finding a semi sheltered site with the best view of San Jacinto. When we got to camp, I realized that my hat was gone… I must have forgotten to clip it back on when we stopped at mile 190… and yknow what? I wasn't even hard on myself about it. Maybe I am getting better at this.

Day 17 – 15.9 miles (to be continued on section C blog)
The day started windy and cold! Like really cold! All morning was a battle with the stinging cold wind. We had a big descent today, over 9k in about 19 miles. We had thankfully already descended 4K though yesterday so today we just had to wrap things up. The weight of the water in my pack was hardly crushing me like it has been, and that was encouraging. What wasn't encouraging though is that I was really missing my hat, it actually makes a big difference.
The views were really cool. It was super interesting to go from the high mountains to the desert floor, it always trips me out. We hit the 200 mile mark and I just can't believe I've actually made it this far.
We finally got to our water source and hopeful camp…. However, the area was a bit too developed for us and we didn't feel comfortable camping near a paved road. We continued on to the I-10 underpass, a shady oasis and water cache. I was feeling desperate for a hat, so I went to check the hiker boxes for a new one…. And to my absolute astonishment my hat was there! Someone must have found it!!!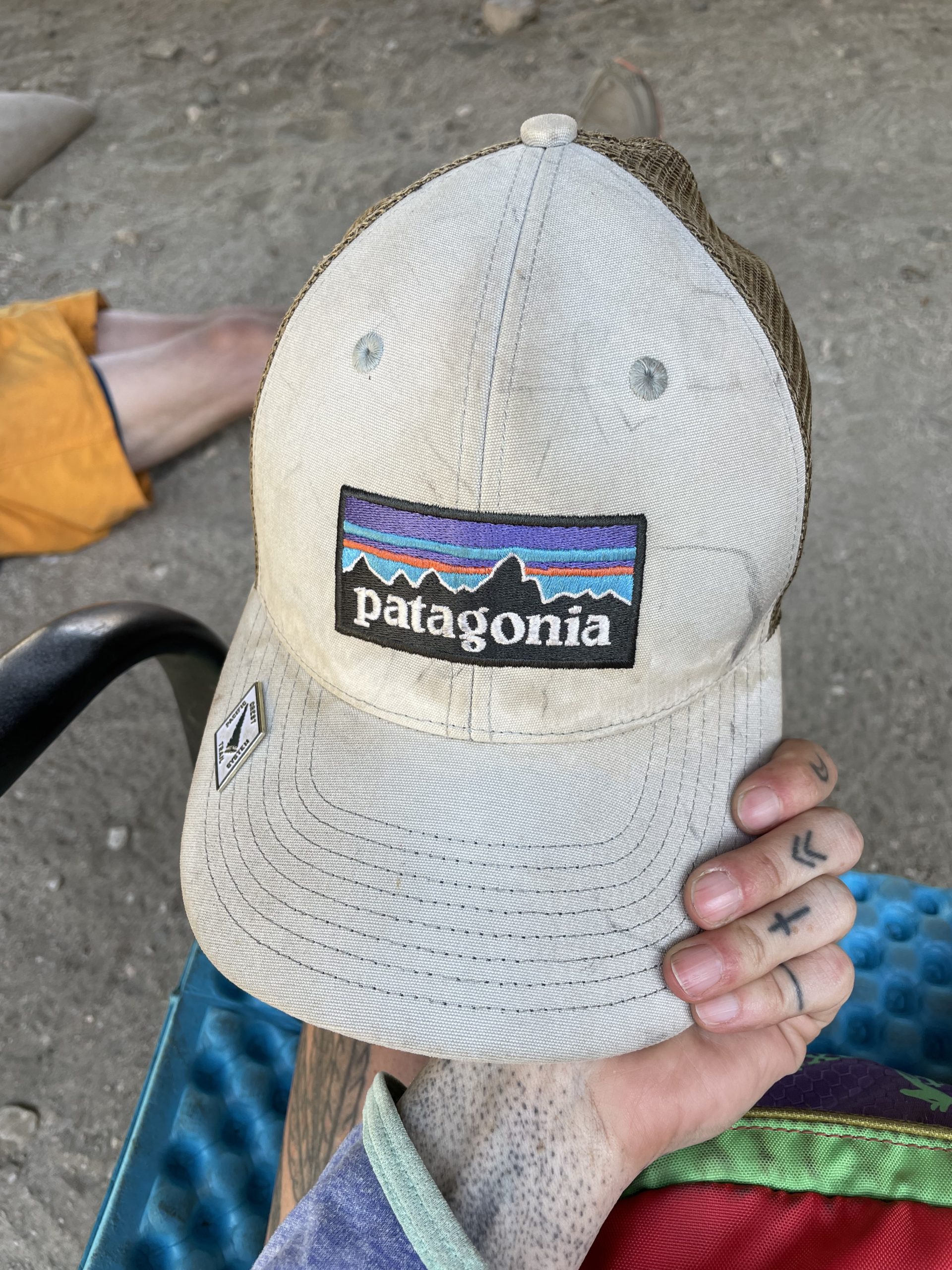 I was so thankful to see it again, I try not to be sentimental about material goods, losing everything in the Camp Fire taught me that it's memories that matter most, but it was honestly kind of sentimental. I remember when I first bought it I hadn't even moved back to Paradise yet, but I had that, an Osprey daypack that someone bought me, and some Altras. I would just sit and stare at those items and remind myself that one day I'd be back on my feet (literally) and hiking again. And here I am, three years later…. Wow. And with that, we have finished section B! Time flies.
Affiliate Disclosure
This website contains affiliate links, which means The Trek may receive a percentage of any product or service you purchase using the links in the articles or advertisements. The buyer pays the same price as they would otherwise, and your purchase helps to support The Trek's ongoing goal to serve you quality backpacking advice and information. Thanks for your support!
To learn more, please visit the About This Site page.