PCT CA SECTION D
I-15 CAJON PASS TO AGUA DULCE
MILE 341.9-454.4
Day 26 (continued) – 9.9 miles
We got going again, trying to push as far as we could so it'd be an easier day to Wrightwood. We decided to say fuck it and drink the beers pretty much right after the underpass, I don't regret it.

We got to the water cache, the last water for about 19 miles counting our side trail into Wrightwood. We ate dinner there to conserve water for later, and started the ascent. It wasn't necessarily a slog but it was definitely a decent hill. The fog slowly crept in until we were totally immersed in the cloud, I've heard this section is really hot so I'm glad for the opposite.
After a decently hard 20-mile day, we called it quits for the day along some forest road, it's well used so we (along with Train and a few others we had just met today) all camped in a nice large stealth spot just above the road.
It's pretty moist outside and the inside of the tent is already wet, it be like that sometimes.
Day 27 – 11.6 miles
Plus the super steep Acorn Trail to Wrightwood, which added 2.7 miles (making it 14.1 miles total).
We had already completed the first third of the climb of the day, this is the day that everyone had fear mongered us about in Big Bear Lake.
We woke up to our tent raining on us, from the inside. It was misting heavily throughout the night, and thus in turn, the condensation in our single-wall tent was definitely noticeable. We slept in, I was not thrilled about waking up to everything so wet, but the second I looked outside at the beautiful view, I had forgotten about all that. I ate my peanut butter breakfast and then we were off.
The rest of the day was a slog, we had pizza on the mind and we were focused on just getting the climb over with. Thankfully we were finished around noon before it started getting too hot.
The Acorn Trail felt much longer than 2.7 miles as hunger gnawed at my stomach. Finally, we saw it – Mile High Pizza. While we were waiting for our pizzas, I got a confirmation text that our room was ready, so we just brought it back to eat. There was a wine and art fair going on, which was cool, but I need my alone time for sure.
We spent the rest of the evening doing laundry and relaxing, glad we decided to take a zero here.
Day 28 – 0 miles
Had a really relaxing zero day. We went to Mountain Hardware because Angler was in desperate need of some new shoes, and I needed a new sleeping pad. We also wanted to get a nifty PCT pin.
After almost four years, my Therm-a-Rest had developed a slow leak, for the past year it's been nothing too severe, but the nights preceding Wrightwood I was waking up four-five times a night to re-inflate it. I couldn't locate the hole and I didn't have time to wait for a new one, so I pulled the trigger on the only one the hardware store had – a Sea to Summit something-or-other. I was nervous about switching because I've only ever used the Thermarest but I have faith that things will be ok.
We finished our chores and got some Mexican food, Big Bear Lake felt way too busy for both of us so we decided that just lazin around and watching The Office was a-ok for this zero day. The one extra thing we did go do is we went to the cat adoption arcade. I didn't go for the pinball, I honestly just wanted to go give all the cats some love because I miss my cat, Plumas. The cat arcade was awesome, I think more towns need something like that.
We head back out tomorrow, the climb to Mount Baden Powell looks rather disgusting but that's ok! Slow and steady wins the race.
Day 29 – 9.9 miles
So, we skipped a few miles out of Wrightwood. We aren't purists, and I wanted to bag some peaks today.
We got a later than wanted start due to a kitchen staff shortage at the only diner in town that was open. We called a trail angel named Brian for a ride, and he arrived in 15 minutes, this guy was awesome, really kind man.
He dropped us off at Vincent Gap and we were off. I was so stoked to finally summit a peak, Mount Baden-Powell was just right there, I wasn't quite feeling ready for San Jacinto which was hard for me to admit. It was actually an easy summit, I didn't find it nearly as soul-crushing as everyone had made it out to be.
At the top, we took the obligatory photo with the sign and stopped for some victory bacon that I had packed out from the diner. Mount Bacon-Powell. Whist scrolling though the FarOut comments, Angler found one that read: "The 7 Peaks Challenge" and went on to describe which peaks were part of it.
We had decided that since we cut some PCT miles, why not do this peak-bagging challenge?? It was right up my alley anyway. It started with Mount Burnham, then we went on to do Throop Peak, Mount Hawkins, and South Mount Hawkins. After five peaks in a single day, Angler was content and decided stop.

I, however, was in too deep. I can't just stop at five, I'm way too neurotic for that! I must complete this challenge! We were planning to camp at Little Jimmy Camp anyway, and I saw that Mount Islip was just riiiiight there, so when we broke camp I was off. Peak number six was bagged within 25 minutes. Beats my record of a measly three peaks in a day, which probably makes me an elitist asshole now for bragging, but whatever.
The last peak, Mount Williamson will have to wait until tomorrow, but I'm gonna do it. I'm going to complete this 7 Peak Challenge. I had a really fun day doing side trails.
Day 30 – 20.7 miles
We woke up at 4:30 a.m. and committed to it (we've usually been hitting snooze a few times). I had one thing on my mind and it was Mount Williamson, the final peak of the 7 Peaks Challenge. We ran into Bliss and Roast at the HWY 2 crossing, we've been leapfrogging with them since the big descent down San Jacinto, so it's always fun to see them.
We started the slog towards Mount Williamson, and boy was it! I didn't mind though, sometimes I like the slog. Angler waited at the saddle and I ditched my pack and summited. 7 Peaks Challenge completed! I won bragging rights.
But I had a realization the other day that we've just about been out here for a month now, and it really went by quick. I'm coming to the conclusion that attitude really is everything, I've been making a conscious effort to complain less – and when I do feel like complaining, I remind myself how fast that month went, and how fast they will continue to go. I'm gonna miss this when it's gone, and I already miss the parts that have come and gone. This really is ultimate freedom, I love it out here.
We went just over 20 miles today (I went about 22 with the side trip to the peak) and my body is still holding up well. I read a lot about proper walking techniques for going downhill because my knee(s) have been bothering me basically the entirety of this hike so far…. And it's kinda amazing because I actually put the techniques I learned to practice and genuinely tried all day and I had no pain!
Sometimes, I think I might not try very hard to solve my problems and choose to complain instead – I hope that in the future I can continue to just try a little harder and complain a little less.
Day 31 – 20.3 miles
Didn't hardly sleep three hours last night, no idea why, just how it goes sometimes. We woke up later than usual, and discovered that the mosquitos that got quite bad in the evening prior had carried on to this morning as well…. Good.
We got going quick as to avoid the mosquitos, and barreled up the big climb of the day. At the top, we realized that there was a PCT alternative that went along a dirt road for a ways, and decided to take it! Glad we did because it was easy and had gorgeous views.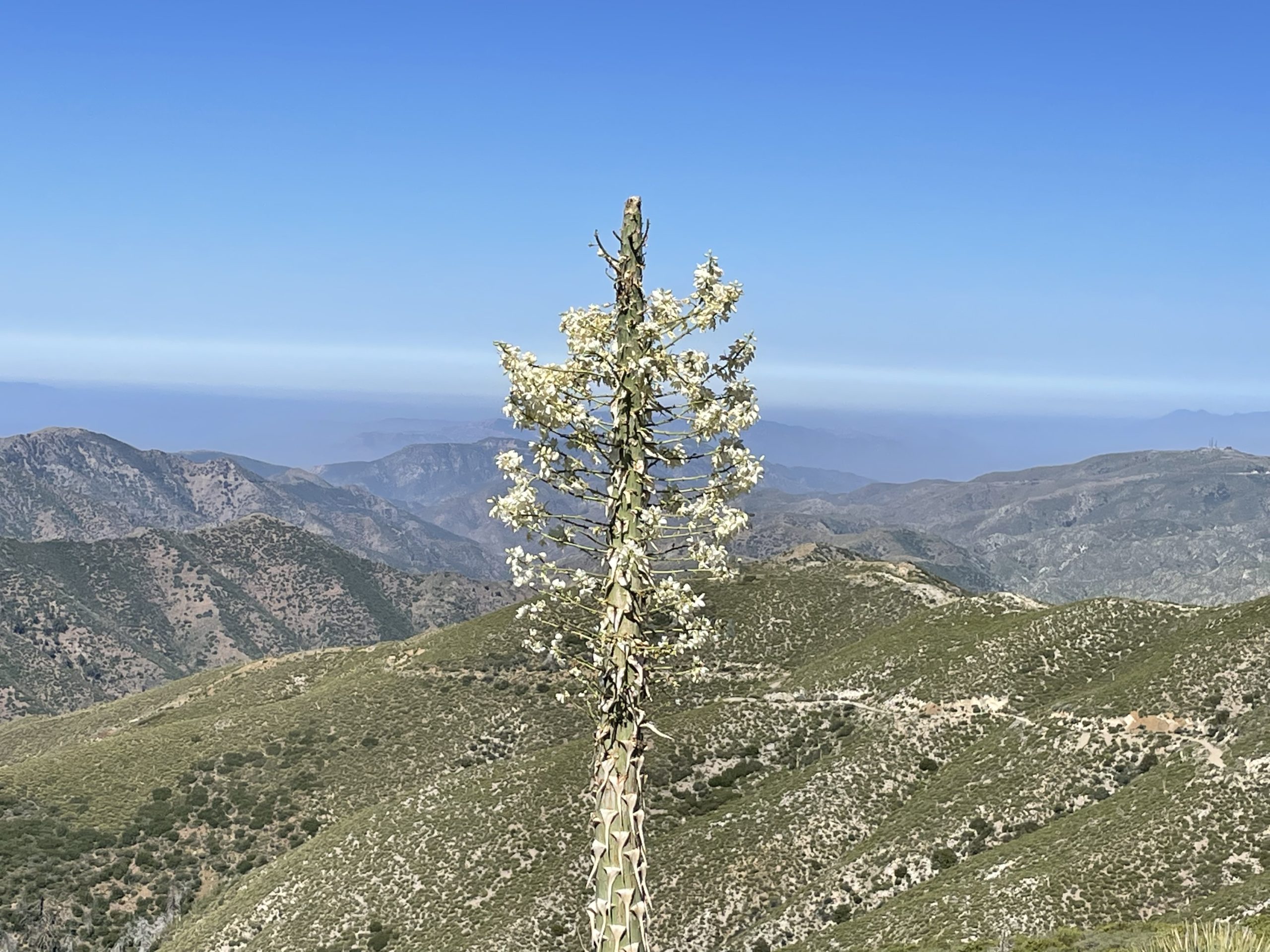 We arrived at the Mill Creek Fire Station around 1pm – the last water for 17.6 miles. There was a whole crowd gathered around one small picnic table – out of the group, we recognized Train, Honeymoon, Bliss and Roast. They had ordered a pizza and were all waiting, I couldn't eat any but I stuck around to eat my dinner and hang out with everyone.
We left around 4pm, we wanted to push 6 more miles to camp to make the rest of the water carry tomorrow easier. Tomorrow should be a shorter day because we want to roll into the KOA Friday morning to hopefully beat the Memorial Day crowds.
My body felt good today and I had another excellent day. I'm thankful to be here, I can tell my body is getting stronger.
Day 32 – 19.4 miles
It was a rough day. I slept terrible again, and my knee started hurting pretty much within the first mile of the day.
It was hot, there was hardly any water and I was just exhausted. It felt like it took an eternity to get to the KOA and once we did I felt so overwhelmed with the amount of stuff I had to do.
I still feel overwhelmed. Everyone's outside having fun and I'm just crying in the tent alone because sometimes life just feels like too much.
I'm sure tomorrow will be better.
Day 33 – 10.2 miles (to be continued in section E blog)
Today was better. I had a lot of things going on yesterday that just made it rough and sometimes you just have rough days.
We woke up at the KOA, which did have everything we needed, but also full of trash, clogged toilets and loud trains going by every 2 hours or so. We also woke up to the worst condensation we've ever experienced, I was actually awoken specifically by the tent raining on my face from the inside. So we were up and at it, hanging everything off of a bird shit spattered gazebo at 7am just trying to get our quilts to dry out.
Morale was still low, I'm still tired. I feel like I haven't got a good rest in a while, and I'm just in a meh kinda mood to be honest. Vasquez Rocks was very cool though, and the promised Mexican food in Agua Dulce didn't disappoint, we even got a hitch to avoid the 2 mile road walk, score! And with that, section D is done!
Affiliate Disclosure
This website contains affiliate links, which means The Trek may receive a percentage of any product or service you purchase using the links in the articles or advertisements. The buyer pays the same price as they would otherwise, and your purchase helps to support The Trek's ongoing goal to serve you quality backpacking advice and information. Thanks for your support!
To learn more, please visit the About This Site page.