PCT CA SECTION H PART 2
CRABTREE MEADOWS TO TUOLUMNE MEADOWS
MILE 766 – 942.5
CONTINUED…
Day 60 – 0 miles
9 miles to town.
Throughout the night, we were battered by thunderstorms. Bouts of intense rain (maybe hail), wind and lightning ravaged the landscape around us. Thankfully we were safe and warm inside the tent. As the storm passed us, we could see see the lightning striking the basin nearby.
The morning was clear but windy. We enjoyed being able to have breakfast outside of the tent and were thankful that the mosquitos were at bay…. For now.
We got going. Food was on my mind. I had dreamt about taquitos and I was ready for some Mexican food in Bishop. We didn't take any breaks over Bishop Pass – which was just gorgeous by the way. I think it was definitely one of the prettiest passes we've gone over, not too challenging either.
The Dusy Basin sprawled behind us, and the Chocolate Lakes unfolded before us. I saw Cloudripper, a peak I've had my eye on since last year (but will wait until another time).
We took a short break at Long Lake, but the mosquitos quickly became a nuisance again so I didn't wanna hang around for long. Angler was still fishing so I told him I'd just meet him at South Lake.
At some point, I took a wrong turn and ended up at the Chocolate Lakes. I had to backtrack and then Angler actually ended up in front of me… so I had to tell in myself and admit that I went the wrong way (for a while haha).
We got to South Lake and immediately began looking for the perfect hitching spot. Found it! Right at the exit, I held my Tyvek hitching sign high and within 30 minutes we scored a ride from a nice woman named Sue, and her dog Bella.
We got to Bishop, and I ate enchiladas. We did laundry and I did some logistical planning due to the fact that we'll be trying to take a zero in Mammoth during 4th of July weekend (which I'm glad I booked ahead cause damn, that shit is expensive).
Day 61 – 0 miles
Zero day!
We got all our chores done and did some resupply shopping. We actually got some good deals at their discount supermarket and it was a really affordable resupply.

I'm trying new foods this time like salami and I also packed out another avocado. I was really craving… well… not bars. I'm sick of bars for the most part and just feel like tortillas all the time. So I bought 12.
We decided to up our milage a bit cause we were honestly surprised at how much all the resupplies have been slowing us down. Plus, we have been getting to camp really early anyway, we definitely have time to do more miles.
We set a challenge to get to Mammoth by 6/30 in order to avoid the hella expensive Fourth of July shitshow that is bound to happen.
I got new shoes. My old Altras were worn out and actually starting to cause some foot pain (it seemed to get bad after they got all sopping wet in the rain). The new ones seem better, I heard the 6's have a stronger sole too which would be nice with all the rocky trails here.
We head back out tomorrow. There are thunderstorms forecasted for basically right when we'll be going over Bishop Pass, so that's neat. But, I'm not worried, because (no pun intended), it will pass. It always does.
Day 62 – 3.1 miles
+11.7 from Bishop Pass
What an excellent day! We decided to save some money and have a hotel room breakfast, and then we were off to catch the shuttle to South Lake.
We arrived about 45 minutes later at South Lake. We had already gone done Bishop Pass so we knew what to expect, I was still sore from our last go around (just waking up the stairs to the hotel was rough, so 3600' of gain wasn't sounding the most appealing).
We started the climb. It actually went by pretty quick. The Chocolate Lakes area is just gorgeous, but I don't like how populated it was. Although, we did run into the coolest family that we had actually talked to on our way down a few days prior. We stopped and talked to them for a while, we thought it was really cool all the places that they were taking their son and how wholesome it all was.
We also leapfrogged with a South Lake to North Lake looper (who's name escapes me) who was a pretty cool dude. We got over Bishop Pass – wasn't actually all that bad. My feet hurt from all the rocky terrain but whatever, if it's not that it'll just be something else. I made a salami wrap and we joked about how I've stopped to the level of bringing perishables out here, I have, don't care. It was something I was was sketched out by pre-trail.
Come to think of it, pre-trail me was actually a lot different than me now. Spiritually maybe even. I see myself becoming a bit more carefree, and also see myself as brave. Someone told me that it was brave to get back on trail after that incident. I guess I get scared to see myself as brave. But I am. I went down Mather pass and didn't give a fuck, and I also climbed Whitney, and I gave up everything "important" to do this. I quit my job to hang out in the woods and drag myself over mountain passes, and get rained and snowed on all day, and battle mosquitos, and get mad about how long it takes to filter water. I'm so happy to be here.
On the way down Bishop Pass back towards the PCT, we ran into two unoccupied backpacks just lying in the trail. It was weird considering it had started to rain, and also the owners weren't anywhere to be seen. We moved along cause what else can you do?
We ran into a man on the way, he told us his friend is lost. Described him as wearing blue jeans. Further along, we ran into the ranger who was part of the search. We told them we'd keep an eye out. It was starting to thunderstorm pretty good and it sounded like this man and his blue jeans weren't in a good situation considering the weather.
Thankfully, after rejoining the PCT, we ran into a women and a man in blue jeans. He had been found! We were happy, it was scary thinking about this guy way out here in a bad situation. It's really remote and there aren't any easy ways "out" either (for reference, we just had to take an 11.7 mile side trail out, there are others, but over half are unmaintained trails and they're all long).
We decided to break camp near the river. The mosquitos were bad so I just hopped in the tent and ate some avocado and tuna wraps. Also gummy bears, trail mix and Fritos… oops.
I'm sore, and we have even more miles to do tomorrow. But I'm so excited! Muir Pass is tomorrow and it sounds like a snowy challenge. Also, I hear Evolution Basin is amazing.
A lot of life can be made better with a different attitude.
Day 63 – 16.3 miles
63 days. It hit me today that I've been out here for 63 days. This has been the most eventful 2 months of my life, funny how moving at human speed yields the most experiences. We go too fast.
Today was great again, we woke up to hardly any mosquitos so that was nice. Had a good breakfast and started off towards Muir Pass. The climb wasn't too bad until about 11,500' where a wall of fatigue hit me. But mind over matter! I forced myself up Muir Pass, slogging through the deep boot imprints in the snow. The last 1/2 mile was the hardest because I was just so fatigued and foggy feeling, and the snow makes everything harder too.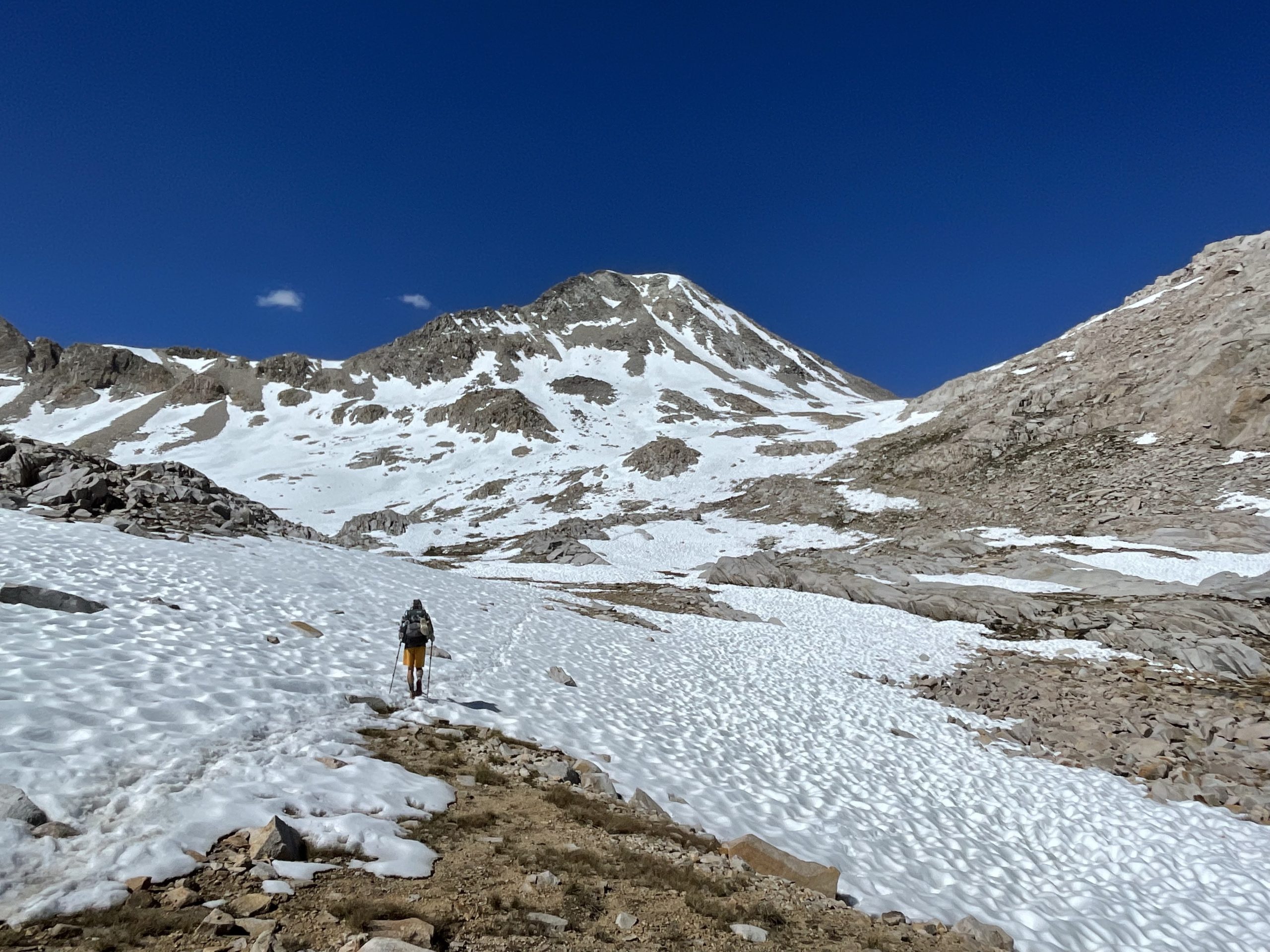 I saw Angler waiting for me, the hut is right there! We got to the top, and plopped down. I immediately ate a salami burrito (and gummy worms) and felt a bit better. We started the descent.
It was beautiful. Evolution Valley sprawled below us. Blue hues crystal clear lakes dotted the boulder scattered landscape. The jagged granite peaks jutting abruptly from the valley floor. I say this every day, but today was the best day scenery wise.
There were lots of creek crossings, and I didn't even get my feet wet. I did fall in the snow though and lost my chapstick and feel bad about technically littering.
We pushed bigger miles again today and I'm proud of us for pushing ourselves more. The Sierra is flipping hard, so I feel pretty good about a 16 mile day. I think once we hit NorCal we're just gonna cruise, plus, if we go a little faster too we won't have to skip sections to make it in time. I wanna skip some of the Dixie Fire burn scar but I'd like to not skip anything else is possible.
I love it out here. And usually when day 6 rolls around and I'm ready to go into town… once I get to town and get a proper meal I mostly feel ready to go again and start missing this.
Tonight we camped at Evolution Creek, and it's mosquito hell. I'm scared to go pee.
Day 64 – 17.8 miles
We awoke pleasantly surprised that there were neither mosquitos or condensation. It was a good morning. We made the usual breakfast and we're off and running since we knew today we were gonna push ourselves again!
Within the first mile out of camp, we had to ford Evolution Creek. Easy peasy, I was thankful to have done all the fords in Upper Bidwell Park to get better used to it. But wait…. I realized I forgot my sun gloves in the other side…. Dammit.
Thankfully two dudes were on the other side and I was able to yell over to them to ask if they were actually there. They were, and they brought the gloves over as they forded the river.

The rest of the morning was nice! The rough granite trail was soon replaced by dirt. Beautiful soft forgiving, did I mention soft, dirt. Wow. What a difference. My poor feet are trashed from these rocks and my knees hate me for all the granite staircases with some stairs mid thigh to me.
We climbed Selden Pass on the beautiful soft dirt trail, it's my favorite pass I think so far. It was gorgeous and really unique. Plus, the trail was mostly dirt and even though I feel trashed again tonight, I know it's mostly just a residual trashing from the days before today.
Today was really cool. I like how the landscape is changing and how we're more in the forest. I'm also really liking the passes that aren't 12k, I actually don't feel like fatigued dogshit and I like that. I hate the mosquitos. People say this is God's Country up here, but I know that's not true. God would never create a place with this volume of mosquitos. This is hell.
Thankful for our tent tonight to sheild us from the hordes of mosquitos. VVR tomorrow, I think cause we pushed extra miles today that we will make it to the 2:30 shuttle and that would be ideal. I want some junk food and we're doing a silly mini resupply til Mammoth.
It's sad to look on the map and realize the Sierra is actually ending. Everything changes and it's cool to actually see it for what it is.
Day 65 – 6.3 miles
+7.2 to VVR
Today was rough, I slept about an hour and holy crap I was sore. Usually I can just ignore being sore but when you're tired everything seems worse.
The mosquitos were bad. I wanted to stop and take breaks because I'm sore and tired and I couldn't even do that because every time I stopped I would get just swarmed by mosquitos.
I just tried to get through today, thankfully VVR was just the little reset I needed after being so exhausted all day. We got our resupply boxes and relaxed.
The Sierra is kicking my ass, I'll be excited but also sad for it to be over. I realized after Mammoth, we'll only be here for another 7 days or so and that's crazy to me.
VVR is absolutely great. I splurged and got a motel room in hopes of finally sleeping better, and also go a burger. But I also got to take a shower and the vibe here is cool, I like it here. I'm glad we stopped here, hope I get some sleep tonight.
Day 66 – 12.7 miles
+2.5 for the ferry side trail and trail to VVR.
I woke up refreshed, holy shit I slept good. Angler said I was snoring and talking in my sleep, which I never do. We got breakfast, VVR had some really good food. During breakfast I talked with a dude from the kitchen, Manuel, who really liked my tattoos. He showed me all his prison (legit he got in prison in Fresno) tats and they were dope. We caught the shuttle to the ferry at 9:15.
We shared the bed of the truck with two men, perchance brothers, who are hiking the JMT sobo, one of them had done the AT. We shared the boat ride with two young men who are doing the JMT NOBO and we leap frogged with them all day – ironically enough it was the pair that Angler had pawned our extra food off on in VVR.
Today was a lot of uphill. Silver Pass was a bit of a slog, and then the climb up to Virginia Lake felt like a pass all in itself. My feet and knees are still pretty sore and I can just tell they aren't 100%, I think it's ok though cause after even a short break they feel mostly better. I think I just need to give them a day to chill, thankfully we go into Mammoth tomorrow and then prepare for our last stretch in the Sierra.
Today was really pretty. Tully Hole was particularly nice, it was just very picturesque, but a picture doesn't even do it justice. The terrain was a bit better too, there was a big granite staircase that did me in almost immediately, but the parts that were softer earth I was very thankful for. The mosquitos were a lot better too! It was nice to eat dinner without getting molested by them.
Today was really hard, we did over 5k of vertical gain. But for getting a late start (we didn't start actually hiking until 10am), I think ending here around 6:30pm is really good.
Day 67 – 15.2 miles
Today was really hard.
I woke up just not feeling it, one of those days, no biggie. I drank my coffee, and we got to it. We went about 1/2 mile and there was a river crossing, we were talking about how someone on FarOut had a rant about how crappy this crossing was and I was just about to say "sounds like they ate shit in it"…..
And I ate shit in it. Hard. I landed right on my left shin and knee, dipping my foot into the lake. Fuck my fucking life. Fuck this trail, fuck this day. Just fuck.
Less than pleased, I hobbled myself through the day. Each granite step making my sore and battered feet throb, my shin bone becoming increasingly inflamed. And why are there so many steps?! God, there's so many.
As each mile passed, I grew more and more resentful of my life at the moment. Why am I doing this even? How much will that ambulance bill be? Why am I getting my ass kicked so hard by this trail? When won't this suck so much?
I vented to Angler, and admittedly at. I was just over it.
After descending what felt like a lifetimes worth of granite stairs, we got to trudge through deep horse shit riddled sand, lovely. We finally made it to the trolley stop, and only had to wait 5 minutes which was nice. The ride was free and great.
Once in Mammoth, we drowned our sorrows in over priced Mexican food that was very good but still very expensive.
I thought about Paradise a lot today. All the day hikers and overnighters (and there were a lot!) asked where we're from. Once we say Paradise the fire always comes up, everyone knows about it. And everyone is always so sad for us.
I'm not sad for us though. I think that the fire actually really enriched my life in a lot of ways, even when it super sucked and everything felt hopeless. Long term, it's been one of the most positive influences on my life. I wouldn't be half of the person I am today if it weren't for that. And going through SoCal and now the Sierra, it makes me appreciate our little burn scarred town, and I've decided I actually do want to stay there long term. It's not depressing, it's home.
This is home too, I have a few different homes.
Sometimes, especially days like today, I remember how bad things once were and the impact they had on me, and I remind myself that the PCT is doing that to me again real time, it will just take time to process fully. That's why today still just sucks, about 4 months from now I'm sure I'll have learned something from all this – if nothing more than learning how to take an absolute beating.
Day 68 – 0 miles
Today was good. We slept in, got breakfast and then did a few chores. My Cnoc bag unfortunately has developed a hole and now I can't hide from mosquitos and filter inside the tent, so it's been kinda a downer. Nowhere in town had a replacement so I just got extra bug repellent instead and retreated my clothes.
My shin is feeling mostly fine as long as I don't walk up stairs or hills…. Good. I'm a little nervous about going 7 days without a break especially with how sore I still am but I guess I'll make it happen!
Only one week left of the Sierra – by far the longest feeling section. It's been some type two fun for sure, curious to see what's in store for this next section.
Day 69 – 12 miles
Today was great!
This morning we went and got breakfast before taking the bus out to Agnew Meadows. I snagged myself a gluten free cookie to pack out and Angler took a few bagels. We decided that since we're still feeling pretty sore, we opted for an easier day out of Agnew as opposed to leaving through Red's Meadow. I'm not much for crowds and from the amount of people on the bus, it seemed like Devil's Postpile was CROWDED, so I didn't mind skipping it.
At Agnew, we then opted to take the River Trail back to the PCT near Thousand Island Lake. The River Trail was great, nice dirt level path, just what my feet have been begging for. The miles went by quick, the climb was nowhere near going over a whole ass pass and the day went by quickly.
Before we knew it, we were back on the PCT and cruising by Thousand Island Lake. We flew over Island Pass and really enjoyed the nice gentle grade.
Tonight we're camped near Rush Creek. We're going to sleep in tomorrow because due to some rules, we can't camp closer than 4 miles to Tuolomne Meadows in either direction, so tomorrow we are sorta forced to do a 12 mile day, which is alright, my body would sure appreciate a break and we're still right on time.
Smiles, not miles.
Day 70 – 11.1 miles
Today was the last "slower" day we're going to have. We basically had a choice between doing 19 miles and doing 11 with the camping restrictions around Tuoloumne, and I wanted to give my body just one more easy day to recover.
We slept in, I knew we had super low mileage planed so why get up early for nothing? We made breakfast and got going. Donahue Pass was easy, literally felt like a 1/3 of every other pass we've done. The terrain was nicer today! Which the exception of the descent down the north side of Donahue Pass, that sucked, those granite walkways they built I'm sure are necessary but wow, do they kill my feet.
After that, we meandered on, stopping every mile or so to eat or for Angler to fish. It was a relaxing day. It's really feeling like the end of the Sierra and I actually almost kinda miss it already. I mean, not the suffering for sure but maybe even that a little.
Funny how that works.
I've just been enjoying today because I know after this we really gotta put the jets on if we wanna make it to the terminus before winter weather comes. I have faith that we can do it though! And I'm really excited to see NorCal.
Day 71 – 4.5 miles (to be continued)
We woke up to the condensation in our tent being frozen, I knew it had gotten cold, but not that cold. We decided to eat outside this morning to avoid getting even wetter from the tent, and to our surprise, the entire meadow was frozen. Now I remember why we stopped getting up early while in the Sierra.
We high tailed it up to Tuolumne Meadows, where we picked up our resupply boxes. It took around two hours to get everything together, and I had a canned margarita at 9:30am.
Affiliate Disclosure
This website contains affiliate links, which means The Trek may receive a percentage of any product or service you purchase using the links in the articles or advertisements. The buyer pays the same price as they would otherwise, and your purchase helps to support The Trek's ongoing goal to serve you quality backpacking advice and information. Thanks for your support!
To learn more, please visit the About This Site page.