PCT SOBO WEEK 2
Day 8 – 19.5 miles
I caught the 8:45 bus back to High Bridge. We saw Pez at the bus stop and were so happy to see him! I hiked with Ally for a while. We found some berries that we thought were maybe huckleberries, I ate one cause I like to push my luck. We a break and she fell asleep, so I snuck away as not to wake her. We met back up while I was taking another break, but I didn't see her again for the rest of the day.
Today was super humid and hot. I was sticky all day. I didn't mind it though, I'd rather be wet from sweat than the rain. The trail was patience testing today and I know that it's about to get even worse. The trail was utter dogshit at times, the blowdowns were annoying, I climbed all day, and I got completely molested by biting flies. I couldn't really take many proper breaks because of the flies but for some reason, my body felt fantastic today so I kinda didn't even need too many breaks anyway – sometimes things just work out.
The last few miles of the day were by far the most interesting. I crossed a large talus field and I feel like I'm back in those craggy peaks that were so predominant near the terminus. I met a man named Bernard, he was an absolute beast.
I made it to camp early by my standards and I feel surprisingly well considering I climbed over a vertical mile (with 6 days worth of food I might add).
I said I wanted to slow it down, but I think maybe I should just listen to my body more and today it just wanted that 20 I guess.
Day 9 – 20.9 miles
I woke up to the wettest a camp has ever been. The condensation was unreal.
I blew through the first 8 1/2 miles somehow, rawdogging some water along the way.
I stopped to take a lunch and to dry out my shit, the scenery was a bit uninteresting again, mostly just dense woods, I do enjoy how green the woods here are though.
Ally ended up at the same break spot to dry her shit out too. We were aiming for the same camp tonight.
I ran into my friend from the pct last year, Cool Rocks. It was so great to see her again, she's almost done with her hike and I'm so happy for her.
The day was a lot of climbing, it felt like it went on for ages. It got super humid again also. A mile away from camp, the views opened up and we caught our first look at Glacier Peak. What a beaut!
I'm cowboy camping again and I hope I don't get rained on this time haha…. For real though.
Day 10 – 20.2 miles
Holy shit our camp was lovely! I was woken up by the sun, and the first few miles of the day were just gorgeous!
Until we got to the overgrown switchbacks…. I felt like I needed a machete. Many of the plants were eye level and they were all covered in morning dew. Ally and I both got totally soaked. We took a break on the bridge and attempted to dry everything out.
Thankfully, the way out of the ravine was much less brushy and also less wet. We decided to take a long break at the lake which was simply amazing. I couldn't believe this lake. A lot of the scenery today reminded me a lot of the high Sierra. On the way to the lake, Ally saw her first marmot, he was super cute and sunbathing on a nearby rock.
I didn't swim in a single alpine lake last year on the pct and it was honestly a huge regret of mine, so I made sure to not make that mistake again. The water was cold but I plunged in without a second thought.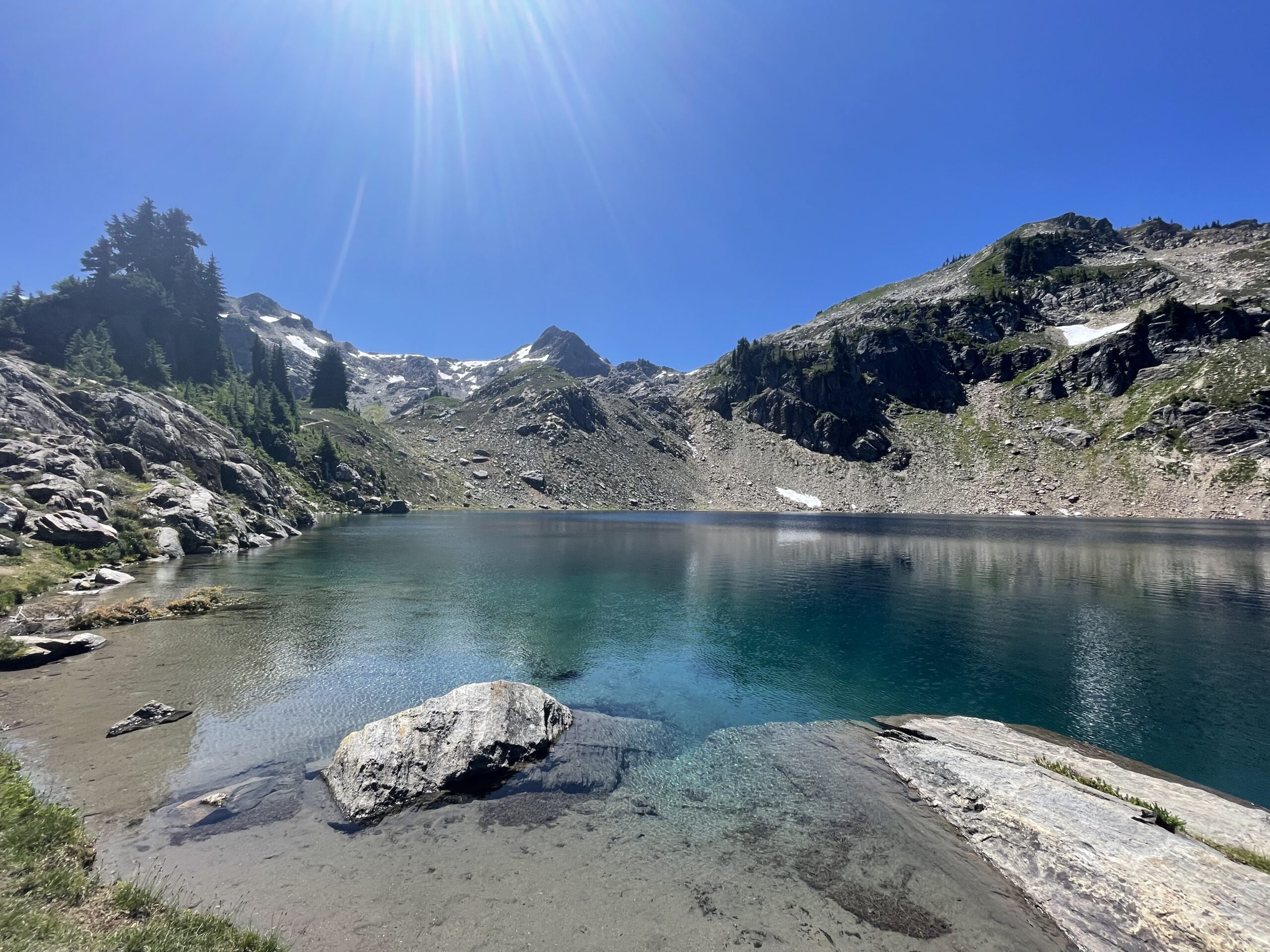 It's been super fun hiking with Ally and I really enjoy her company. We reluctantly left the lake and continued on. The climbs got steeper and the downhills were downright painful. But I was still having a great day, life in itself is painful at times and you can't let a bit of discomfort ruin your day.
A group of people tell us that there's bears in the meadow, sadly, we miss them and don't see a single bear today.
We split up once I needed to take a break to eat dinner (since I get heartburn if I eat too close to bed). I met a few NOBO guys who warned me about a spicy river crossing. I start to worry because I'm not sure if Ally has crossed a river by herself before, and I remember how scary my first river crossing was and how I wished I had had a friend there to help me through it.
I am relieved to see her sitting on the shore, she had decided to wait for me to cross. The river is raging and pretty intimidating, but I feel confident that I can find a safe place for us to cross. I walk up stream a bit and find a spot that looks good, and go for it. I cross without incident, and I can tell that Ally is nervous. I offer her a trekking pole since she only has one, and go partially back across the river to help her. She does great even though it was scary and we both feel really proud of ourselves for handling the situation well.
We break camp and are met shortly after by some friends that we ran into while leaving Stehekin. They offer us a motel room to split with them but they're a bit faster than us, and if we go any faster we won't have time to swim in the lakes, so we have to decline.
They tell us that there's bad weather coming and that Monday and Tuesday might be quite stormy. I'm not sure what to think about it because when I checked before leaving Stehekin, it showed a great forecast for the week. I guess only time will tell, but for now I'm just happy to be out here another day and to have a fun new friend to hike with.
Day 11 – 22.1 miles
Welcome to my hardest day on trail. The morning started at 2am, throughout the night I swore I could feel something touching my face, just to wake up to find nothing. It kept me awake most of the night… until I felt a nibble on the small band of Leuko tape on my pinky toe…. A mouse had found it's way into my quilt and was nibbling on my feet. Fucking awesome. I eradicated the mouse and tried to set my tent up as quietly as I could in the dark. I crawled inside feeling exhausted and plain defeated.
My alarm went off at 6am, it was gonna be a big day today cause we're tryin to set ourselves up good to get to town. Ally is a lot faster than I am in the morning so she was up and at it before I was even done with my coffee.
I started the climb alone, figuring I'd see her later. I pass by Dog Treat and Eric breaking down their camp, they don't see me though. I already feel like today is gonna be rough, I'm so tired from only sleeping a few hours. I meet an older lady who's name is also Lightning Rod. She's 67 and I'm so amazed by her, she tells me she's amazed by me. We amaze each other.
I cross a creek, and unfortunately my footing wasn't nearly as good as I thought it was. I completely eat shit into the creek, bashing my knee into a rock and also nearly my face. I'm pissed.
I get myself out of the creek just in time for Dog Treat and Eric to come around the corner. Somehow, they've missed my entire belly flop. They inquire about our town plans, but they're a bit too fast for us and we won't make it in time.
My sleep deprivation is getting the best of me and I'm feeling emotional. I decide maybe I'll hike behind the guys for a bit to cheer myself up but they're so fast I lose them almost instantly which makes things worse.
I climb for another mile before my emotions get the best of me and I sit on the side of the trail and just cry. I feel like I suck at this and wonder why I'm even here. Two men sneak up on me and see me crying, I'm horribly embarrassed and try to cover the tears with my sunglasses but it's too late, they already saw. They ask if I'm alright and I tell them I fell in the creek and it's mostly just hurt my feelings. They tell me I'm badass and say sorry that I'm having a bad morning, I think they're very sweet.
After what feels like an eternity of climbing, I finally reach the pass. It's so beautiful, at least I'm having a shit day in a gorgeous place. Some NOBO hikers tell me that the trail conditions to Stevens are great and there aren't any blowdowns! I'm relieved!
I see Ally along with Dog Treat and Eric far down the trail, they look like ants and I'm feeling even more sad that I can't keep up with my friends.
My feet are sore and wet, so after 10 miles I finally take a break. I meet a group of mountaineers who have just summited Glacier Peak and they are happy to have my company in their break spot. I vent about my day and they give me candy to cheer me up. It works actually and I leave in much better spirits.
The day continues to have amazing scenery. I see a few marmots and wonder if Ally has seen any more now that she knows what they are. I also wonder where my friends have all ended up because at this point I fear I'm so far behind that I won't see them again.
I limp along. I managed to jam my toe pretty good in the creek and my knee was a bit achey, so I took my time.
I reach the lake and find Ally! She's waiting for me there and I'm so happy to see her. I tell her about my ridiculous day and she tells me about how she listened to murder mystery podcasts through the creepy woods. We hike into camp together and the day has really turned itself around.
Not every day is great, but that's just life sometimes. I'm still really happy to be here, it's crazy to think we'll be halfway through Washington soon and I told Ally that I'm super proud of us for still pushing big days despite the challenging conditions.
Day 12 – 21 miles
I woke up feeling like a million bucks! I slept the best I probably ever have on trail, I was just exhausted. Ally left before me as usual. She's definitely more of a morning person than I am, but she's been helping me wake up earlier, when I'm alone I sleep in ridiculously late and it always leads to me hiking into the night (sometimes morning).
My body feels pretty tired today. I definitely can tell that I ate shit in a creek yesterday and I feel generally fatigued and I'm having a "bad feet day", I think they ache because the weather is changing. I'm definitely taking a zero.
It sprinkles throughout the morning, never getting too intense. I stop at the lake after climbing through steep woods for what feels like a century. Ally's pack is there but she is not, I figure she's probably pooping so I head down to the shore. The campsite is busy with weekend warriors, but it's 10am so I don't feel rude stopping. The sun is out briefly so I take an opportunity to dry out my gear – figure better do it now than when it rains all day (which I had heard through the Garmin grapevine that it was forecasted to do).
Ally never shows up, and on my way back up to trail, I notice her pack is gone. Weird, whatever.
I climb through woods again! Steep, kinda boring. This section is hard. I see a man in a full Frogg Toggs suit, all tan. I learn that his name is Sassy, he's wearing vibrams and is quite the fashionista at the moment. He tells me he works out here and there's service around the next bend, he tells me he's working from here from his tablet. He also is a NOBO-er who quit in Belden! The guy is cool.
I climb even more, the rain picks up and my feet feel worse. I'm kinda grouchy, I hate this weather. It's cold too! This state is weird.
I summit Grizzley Peak and take a break. A hiker coming down the peak tells me that Ally is only 15 minutes ahead of me. Cool, except I need to take a break.
The descent was oddly unpainful and went pretty fast. I listen to Regge and thought about a beautiful tropical climate instead of this bullshit.
I take a short break at water. A pair of section hikers tells me Ally thinks I may be ahead of her and she's close by. Another lady tells me that Ally is 5 miles ahead of me so I give up and just start tooting around a lot. I talk to everyone for ages and just go super slow.
I meet a man named LanceAlot…. Yes, lance like the medical procedure. I'm not sure why but I took note to remember him, he seemed hella cool.
I climb some more. Weekend warriors come in swaths with their unleashed dogs and large packs. Some day hikers also. I'm getting close to Lake Valhalla, and I know so because I see the sign "No Campfires at Lake Valhalla" and I find that funny cause Valhalla is hell…. I also think about Mad Max Fury Road and how I would rewatch that movie.
I see the lake. It's very beautiful. A lot of things here look like the High Sierra but somehow I think this is better. I also see Ally, she's at a campsite with LanceAlot and a few others, she's waiting for me.
We laugh about how ridiculous the lake situation was and catch up about the day. We talk about our training and town plans. I share personal details about my life with Ally. She's a really wonderful person and I'm glad we're friends.
Tomorrow we hit Stevens Pass and that concludes the hardest stretch of not only Washington, but the entire PCT. They were wrong, we didn't need an extra day of food, and we're actually ahead. I'm super proud of us for getting through this. It's pouring rain now and we're in our tents.
This is way hard but I'm having the time of my life.
Day 13 – 4 miles
It's town day! It rained hard throughout the night and everything was wet and dirty.
We packed up quickly and got going. The morning flew by and by the time we knew it we were at Stevens Pass. Unfortunately, the cafe was horribly underwhelming and had literally nothing I could eat. Ally and I made the split decision to just go stay in Leavanworth since we both wanted to go there to at least visit anyway.
We picked our boxes up at the outfitter and we're offered a ride from some hikers who were staying there. We gladly accepted and were in our way.
I got a pork chop for lunch, life is good. Leavanworth is super cute, I love all the themed buildings. Their Mickey D's is even cute, who knew that was possible!
We're looking forward to a nice zero day tomorrow.
Day 14 – 0 miles
Zero day!
We mostly lazed around the hotel and ate food. It was so relaxing.
Ally found us a ride from a trail angel at 5:30am so we went to bed early.
Affiliate Disclosure
This website contains affiliate links, which means The Trek may receive a percentage of any product or service you purchase using the links in the articles or advertisements. The buyer pays the same price as they would otherwise, and your purchase helps to support The Trek's ongoing goal to serve you quality backpacking advice and information. Thanks for your support!
To learn more, please visit the About This Site page.