PCT SOBO WEEK 6
Day 36 – 0 miles
Checkout time was entirely too early, and I had stayed up entirely too late. I reluctantly turned in my key and laid in front of the laundry room on the asphalt with a few other friends who were waiting on their laundry.
I decided that Hood River actually sounded kinda nice, so I told Puff I was in. We had time to kill before the bus showed up, so we hung out at the coffee shop. Trashi showed up unexpectedly, it's always great to see her. Barbie and Alex showed up shortly after. Alex wasn't leaving today either, so I definitely don't feel bad now.
We took the bus to Hood River; I should have eaten before we left because I felt grouchy. Thankfully, we found a pretty good bar to eat at and my mood improved almost instantly.
The rest of the evening was spent watching a few shows and going to bed early. I'm too old to be staying up as late as I had the night prior.
It was super great to meet a friend from online and have a meaningful connection in person as well. Sometimes, social media pisses me off, but the good things that result from it are so good it makes me glad to have it.
Day 37 – 20 miles
Puff and I caught the bus back from Hood River. Just driving by trail days made me anxious, so when the bus arrived, I made my quick escape back to the PCT.
I walked on a bike path for a while, and it really reminded me of home. I ate shit almost immediately and skinned both my knees.
The trail was pretty chill all the way to the falls. I cruised through the first 8 miles without hardly even breaking a sweat and enjoyed a cold dunk in the river a few miles before the falls.
I walked by large basalt walls, and it reminded me of Upper Park so much. It's kinda crazy how planes so far away from each other can be so similar.
The falls were all spectacular and I made sure to get some good videos so I can look back on them later. I didn't listen to any music today because I didn't fucking have any. My phone deleted all of it.
I ate cold Skurka beans, and my sweat stung my bloodied knees. I felt really happy to be back on trail. I had anxiety this morning about getting back on, but I think it may have been misdirected anxiety instead. Changes are happening in my life and letting it be sometimes makes me nervous, so I think it was maybe that. All good things though.
The spur trail was advertised as being just heinous. I feel bad for whenever thought it was that bad, they're gonna want to die in Washington if they thought this tiny two-mile trail was hard. I was pleasantly surprised to reach the top without much struggle and found a nice camp.
Day 38 – 21.5 miles
It was cold and smokey when I woke up. Felt oddly reminiscent of a certain worst in California history fire that happened in the fall… but was also oddly comforting. I have mixed emotions about the smoke today.
I figure it's probably just blowing in from the nearby Lookout Fire, I saw the forecast had called for wind. I blasted through the first 8 miles, enjoying some music since I had a fair bit of cell service.
I listened to Lunatic Fringe by Red Rider and thought about how I always loved riding in my dad's 4-wheeling truck. I thought about how I felt like I could conquer the world when I rode in it. How it stood out and I felt confident in it. It was such a staple of my childhood. My dad had the cool truck, and when I rode in it, I was cool too, even just for a minute. I've never felt particularly cool growing up except for those moments. I think if 8-year-old me saw the current day 30-year-old me, I would think I was cool.
The service dropped suddenly so I was left alone in my own thoughts again since my phone deleted everything I could listen to. It wasn't a bad thing, though, and it was nice to decompress the eventful past few days. It's nice to be in Oregon.
I meet some day hikers who have a lot of questions, which I honestly love answering. One of them was "do you ever get bored?" which was a perfect question to ask me today since I was bored out of my fucking mind between not having anything to listen to, and not having anything to look at either because it's all covered in haze.
I pressed on. I was feelin like a bit of a weapon and decided I could push it a little. My feet are feeling good still, so I decided to give it the old college try.
I took a detour to Ramona Falls, and boy! Am I glad I did! The basalt formations were just lovely, and the falls were spectacular as well. Sometimes, I think wildfire smoke actually makes things prettier. The slight orange-pink hue that the sun casts in shadows has a special vibe to it. I really dig it.
I got to the river crossing that made me bitch out on the Timberline Trail a few years ago, and I crossed easily over a log. Another hiker told me I made it look easy and they weren't able to cross there because it frightened them too much. Sometimes, I feel like I'm actually kinda good at stuff, or at least pretty brave. Maybe stupid. It's all relative.
I got to camp, thankfully a secluded spot in the sea of Timberline Trail-ers. This is the best my body has felt on a bigger day, and I have hope that maybe I can try to go fast again in the near future and maybe it'll even be fun too.
I thought a lot about how I see myself becoming someone better. And I see myself genuinely trying. Maybe it's gonna be alright after all.
Day 39 – 17.8 miles
The climb to Timberline Lodge was relentless. I felt like I was in Washington again. The smoke stung my throat and clouded my thoughts. I couldn't see anything at all, although, I know it was spectacular.
I met a lot of Timberliners and it's fun to talk to them. A lot of them undersell their achievements I felt like, especially after comparing to the PCT. But I tell them all they're kickin ass, and that kicking your own ass is the best way to get your ass kicked.
Timberline comes into view. Underwhelming. I head right past to get my box, and then straight to the dining area. I want some lunch. A section hiker, Scout, who I'd been leapfrogging with is already seated and lets me take the other seat at his table, saving me a 45-minute wait.
I devour two plates filled with food, a few beers and too many blueberry mousse deserts. Comatose. I retreat back to the lobby to consulate my box. I look out of place, but there's loads of other hikers looking out of place too, so it's not awkward.
My music collection is now restored thanks to the Wi-Fi at Timberline Lodge, and I no longer need to be alone in my own thoughts. A Christmas miracle.
I leave, and just see how far I go. I feel kinda squirrely at the water source and make a rash commitment to only carry enough to go to an off-trail lake. So now I have to.
I listen to loads of 80s music. And a fair amount of Davie Bowie. I recollect a moment in the Mar Val grocery store when I lived in Willows. I had moved there briefly after the fire and had begun getting really into running. I had just run two miles for the first time, and was there getting a celebratory beer, and Davie Bowie came on over the intercom and I sang out loud in the store because I felt so relieved that all my shit was gone. I felt so free and alive.
I listen to Blue Jean about five times and roll into camp. I read in Far Out that there is allegedly a haunted area that I will most likely have to camp in. Cool.
Day 40 – 24.7 miles
The night was weird. When I had earplugs in, I would hear voices across a CB radio, only to find them to disappear when I took the earplugs out. My body buzzed and something bumped underneath my sleeping pad from beneath the earth. I felt a light tug on one foot and heard strange echoing across the lake.
The day dragged on, thankful for my music to help me drone out the green tunnel. It was still quite smokey, and also cloudy. Just a day to get through really.
I leapfrogged with another sobo, and we met up at the trail magic. Carbs was there with his trailer. He had pancakes, hard boiled eggs and condoms…. What more could you want? I inquired about the other soboers camping intentions for the night, and he said he was camping at the haunted river. I decided at that moment that I was too, and I immediately dumped my extra water out to force myself into it.
The next 8 miles drug on even worse and my feet fell apart under the heavy weight of all my food. I pressed on until my phone died and I spent the last mile in silence in the haunted woods at dusk. I thought it actually had pretty good vibes, ironically enough.
I arrived at the river and was surprised to see many other tents scattered amongst the trees, I am happy to have company tonight in case the ghosts come out.
Day 41 – 19 miles
I slept in, I didn't really have a plan for the day, and I woke up with a pretty swollen tonsil. I felt like dogshit, and wasn't sure if it was the smoke, or if I was getting sick.
The day was quite boring, and I just had to put my head down and get through it. Oregon is a lot easier, but also a green tunnel. At one point, I cough up a slightly bloody loogie and can only assume that I probably have thyroid cancer or something terrible and incurable. I spend most of the day stressing over it and I panic search my symptoms on Web MD, I lose connection, and with it, any hope of survival.
I ended up deciding to go to Olallie Lake, loads of people spoke highly of it and maybe a beer would put me in a better mood, or at least help me forget that I feel like crap.
I didn't take many breaks and made it there by 5pm. I gorged on hard cider and nacho cheese sauce, and had to lie down under the picnic table cause I felt like death. I still felt like shit, but didn't cough anything else up that looked bad.
There was a group of marines who were on a backpacking trip invited me over. Usually, I would pass on such a group, but I figured worth a try. And I'm glad I did. They were actually really fun to hang out with, and a bike packer ended up joining us also.
We stayed up kinda late, but I didn't mind. I had to wait til 7:30 the next morning to get a hot coffee anyway.
Day 42 – 22.5 miles
It got cold, the cashier at the general store said it was 38, which is lower than the rating in my quilt and I could tell. The hot coffee was every bit as satisfying as I had hoped. And my tonsil felt almost 100%, maybe I'm not getting sick after all.
The burn scar was vast and barren. For miles, I watched my feet kick up small plumes in the ash, and things felt very familiar. It's funny how all it takes is to walk away for a bit to realize you actually have a really good home life. It's not that I thought it sucked before, but I also didn't feel quite happy with it (a large portion of that I think was just my job, which obviously isn't an issue anymore).
Life is generally good. I felt out of place my whole childhood and then it followed me into my twenties also. I watched my peers start getting married then having children. And while neither of these things are particularly things that I wanted, you still feel a bit alienated when your ideas aren't lining up with what feels like literally the whole world.
But I'm glad I've set my life up this way, because the more I talk to people, the more obligations they seem to accrue, and the less time they have to pursue things like this. So, while I still feel this disconnect, I am at least thankful that I made the right choices for me, and I would do it a million times over.
I run into someone I've met before, Snapper. Billy and I met her on the AZT while she was doing the Grand Enchantment Trail. Small world.
The smoke clears and Mount Jefferson comes into view. Everyone hates on Oregon for being a green tunnel, which it mostly is. But it's also easy, which I like. And when you do get views, holy hell, are they good.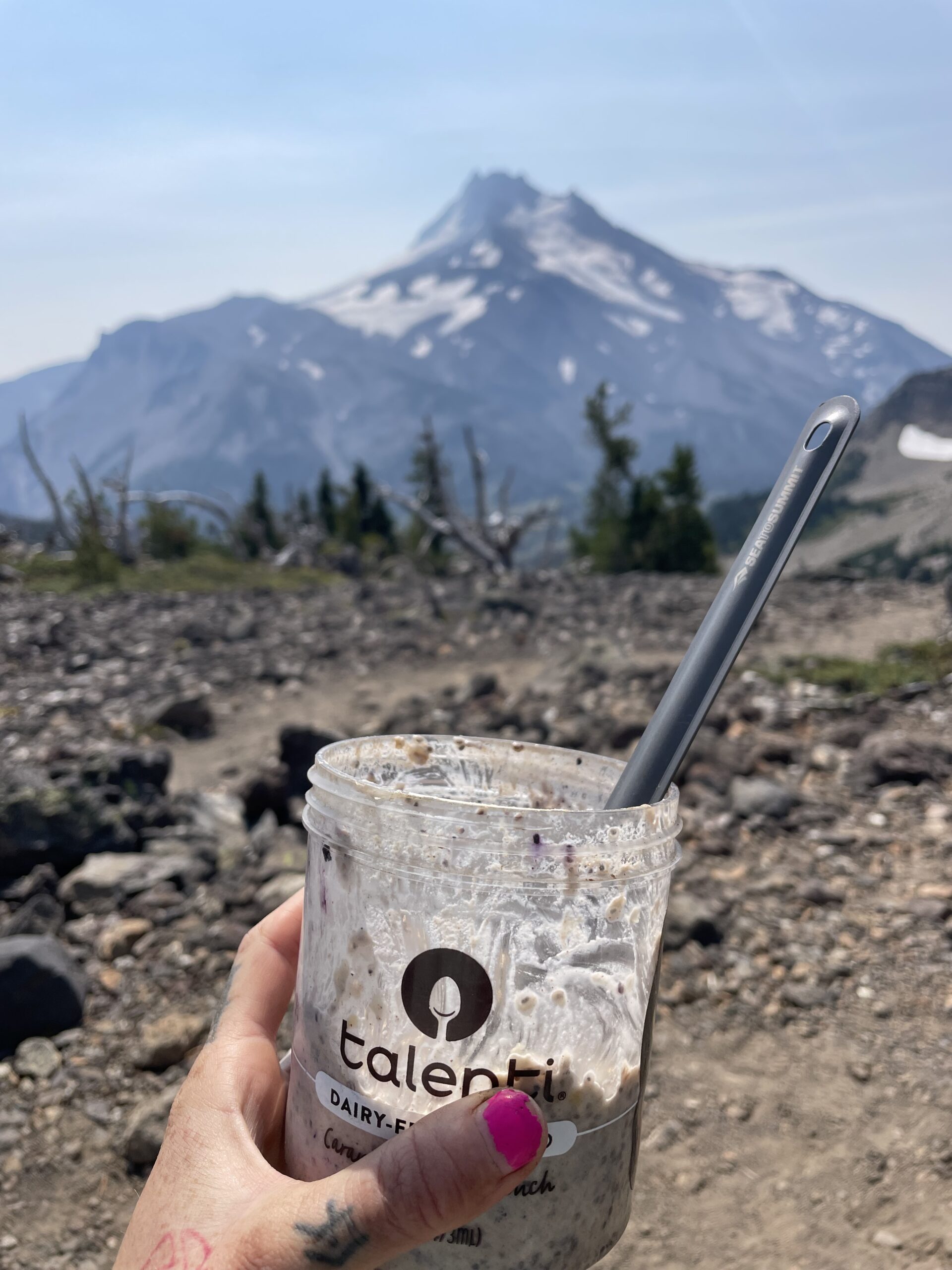 I find a nice stealth spot for the evening and enjoy some cell service before bed.
Affiliate Disclosure
This website contains affiliate links, which means The Trek may receive a percentage of any product or service you purchase using the links in the articles or advertisements. The buyer pays the same price as they would otherwise, and your purchase helps to support The Trek's ongoing goal to serve you quality backpacking advice and information. Thanks for your support!
To learn more, please visit the About This Site page.