PCT Week 10: Recovery, Return, Optimism
Recovery
I am truly blessed by the kindness of strangers and friends who helped me recover much faster than expected. In Bishop, I was taken in by a trail angel, Michelle, who opened her home to me. The peace and quiet of a real home truly made my experience more comfortable. Slowly I was able to start walking again.
Basecamp, Yeti Legs, and Duces would all make a second trip down to Bishop where I would be reunited once again with my friends. While I was still in pain, seeing them made me more excited than ever to get back as soon as possible. Every day felt better and better.
Finally, a week off in Bishop would give me enough strength to make my way to Mammoth for my second round of rehabilitation with mutual friends. I was back in one of my favorite trail towns and the spirits were high. I could finally walk around fully, and seeing Stretch, Puffy P, and Azul made all the pain I'd felt go away. I'm finally back to my old self.
Even though I did feel better, I still had to give myself another week off to fully recover. The last thing I needed was to prematurely get back on trail and hurt myself again. I knew the dream was still alive, I just had to be patient. Mammoth is a beautiful place to rest and recover. It's one of my favorite places in the Sierra, so some extra days here were just what I needed.
Basecamp, Yeti Legs, Prism, Shroomboot, Romeo, and Build-a-Bear all arrive in Mammoth! I'm fully recovered, or at least enough to get me back on the trail. And now back with friends I can finally prep myself for what's ahead. I'm both excited and nervous. We all have one last tramily meal together in town. It's finally time to return.
The Return
19 days. That's how long I was off trail due to my injury. I was surprised at how fast I was able to get back out. But I'm ready to push on. The trail awaits, and the second I step foot back on, my face lights up. I have a smile end to end, and I'm greeted immediately by my first bear on trail. It's a low-mile day as I get myself back to walking north.
Camp is made with Basecamp and Yeti Legs, and it feels like I was never gone. The trail feels like home, and I know it'll take some time for my body to get back to the way it was before my accident. I'm excited for this next stretch of trail. I know in a couple days I'll be in Yosemite, and there will be some incredible views all around me.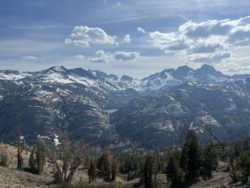 It's another exciting day on the trail. It'll be my first climb and surprisingly I feel great. My legs though do feel it, and as I make my way up the trail, I can tell this is going to be a long day. It's all worth it though, as at the top of the ridge is one of the best views of the Minarets you'll ever see. The gorgeous mountains and lake views, this is by far one of the most beautiful scenes I've seen on trail so far.

It is still a long day though so I make my way to Thousand Island Lake. The Ansel Adams Wilderness is nothing short of breathtaking. The lake itself is pretty much frozen over, and I get to camp late. As the sun sets over the mountains, I know what's to come tomorrow, my first Pass since my accident. I'm nervous about how my legs will do with the climb. But I know I'll need to overcome this Pass in order to keep going.

It's an early morning start, the Milky Way is still in the sky, and I'm ready to push forward up the mountain. The snow beneath is still hard as ice, and with my ice spikes, I'm able to cross the terrain quickly. I make it over to the bottom of Donohue Pass. It begins. It's a straight climb up. I don't stop pushing. I reach the top. I'm surprised how strong my body is. My hiker legs are back!
Yosemite Wilderness

Over the pass, we enter the Yosemite Wilderness! Ahead of us is one of the most beautiful pieces of wilderness. It's incredible to enter Yosemite through this pass. There is plenty of snow on the descent and I know to be careful. Even though I had the strength, I needed to make sure every step was taken and there was no need to rush.
The trail becomes flat as we make our way towards Tuolomne Meadows. Today is a special day, Tioga road is officially opened for the season. If I wanted I could enter the park through this road, but I have been lucky enough to visit Yosemite before and I could return any time. So instead I set my sights on continuing the trail and camping at Glen Aulin. Finally, my day, which started at 3:30 AM, ends at 9 PM.
I reunite with Cuppa and Jedi who I haven't seen since Mt. Whitney. Off we go to our next climb, Benson Pass. My confidence is back! I wasn't too sure how well I was going to be able to do on this first stretch back. The best way I can describe it is that it's both exhausting and intoxicating. Reaching the tops of these mountains can be a lot of physical and mental work, but once you reach the top you feel incredible.
At the bottom of this pass is one of the most beautiful lakes in the Sierra, Benson Lake. It was highly recommended by Retro back at mile 500. And now I'm finally here! It's just as he described it. The lake is a perfect place to take my lunch break. I wish I could stay longer, even spend the night, but there are still miles to complete and Seavey Pass to go up today. It's not as intense but still a climb.
With this section also comes cold rivers we must ford. During the snow melt, this can be extremely dangerous, as we cross high fast-flowing water. Most of these rivers do have safer dryer options, but going in is sometimes the only way to go. Everything is wet, our shoes, our socks, and that's just the new normal.
Mile 1000
Finally, we exit the Yosemite Wilderness through Dorothy Lake Pass. It's a long, wet, cold section. We're so close to Sonora Pass and Kennedy Meadows North. In between us and the road, of course, more climbs, more passes.
While I'm exhausted every night I get to camp, the next morning I feel ready to keep pushing. I definitely have my rhythm back. With one more pass left I make my way through the snowy trail. This morning though it's extra special. I finally reach mile 1000 on the PCT.
Seeing the quadruple digits on the trail makes all worth the blood, sweat, and tears worth it. 3 weeks ago I wasn't sure I would be able to make it back to the trail, and now here I stand at mile 1000. The trail offers so much, it's my home, I belong here, and I know I can complete this journey.
I have one more climb, Sonora Pass. I put my spikes on and start the long ascent. The snow isn't deep, but it's slushy. I make my way step by step, taking all the time I need. Reaching the top, I again feel the adrenaline, the excitement, the strength I have.
It's not over just yet, a long rocky and snowy ridge walk all the way to the road. The trail feels never-ending. All I can do though is push forward. I need to get to the trailhead as soon as possible, a hitch to Kennedy Meadows North will become harder the later it gets. Luckily though I make it right on time, as I am able to catch someone as I reach the end. Running across the trail waving my hands, I am able to stop them from driving away. I'm finally done for the day.
Kennedy Meadows North

I make it to Kennedy Meadows North for dinner. Boomerang, Cuppa, Jedi, Build-a-Bear, and more new hikers are all here. We feast, the biggest stretch of the Sierra is over, and there's one more left. For now, it's time to relax.
The best part of reaching Kennedy Meadows North is that we no longer need our bear cans. The extra 2lbs are finally able to get out of my pack. I decide to keep my ice axe and spikes just in case I need them. There is still a lot of snow and sections of trail that it might be needed.
A full zero is taken and a whole day of doing nothing but relaxing and eating is spent. Azul, Mach 5, and more new hikers arrive. It's good to see our friends. We're slowly all getting back together, but our tramily is very split up. Some are a couple days ahead, others a couple days behind.
Kennedy Meadows North is a perfect place to get ready to push the last section of the Sierra. The ranch has everything a hiker might need. The community is welcoming and excited to see us. While there isn't too much to do, a dip in the river is a nice pass time.
We are all ready to go, our packs are full once more, and our bodies are well-rested. We're lucky to get a hitch back first thing in the morning. It'll be a long stretch, but off to Tahoe we go.
Affiliate Disclosure
This website contains affiliate links, which means The Trek may receive a percentage of any product or service you purchase using the links in the articles or advertisements. The buyer pays the same price as they would otherwise, and your purchase helps to support The Trek's ongoing goal to serve you quality backpacking advice and information. Thanks for your support!
To learn more, please visit the About This Site page.