PCT Week 18: Southbound through Oregon
Our PCT thruhike becomes a real flip flop now as we are heading back to Oregon to do it southbound. We are taking the Eagle Creek alternate from Cascade Locks along some stunning waterfalls. The next highlight is Mount Hood with the historic Timberline Lodge.
PCT Day 104: We are Southbounders now
Cascade Locks (mile 2147.8) to Indian Springs Campground
25.4km (15.8mi) / 6:15h / elevation gain of 1,363m (4,471ft)
Because of the fire and the alarming smoke development in Northern Washington, we decided to go back to Oregon to do it southbound. Hopefully, we can get back later to finish Washington. Maybe the border will be open again until then. It's unsatisfactory as we didn't get to finish even one state yet. But even if we wanted to go back to Stevens Pass it would not be possible as the road from Seattle to Leavenworth is closed due to another fire. So, it's the best decision for us at the moment to get as many miles in as we can.
We are taking the bus to Portland and another one from there to Cascade Locks. Cascade Locks is pretty empty now as not many hikers come through anymore. We have dinner at the Thunder Island Brewery where we meet some really nice people who pay for our dinner. What a great start to the Oregon section with some unexpected trail magic. The kindness of strangers is still overwhelming. We sleep at the campground but don't get that much sleep as the trains go by very loudly the entire night. Earplugs are highly recommended. 
It also starts raining in the night and continues in the morning. We sleep in and wait for a rain break to take down the tent. Then we go inside a Café to have breakfast and wait out the last rain. It's the heaviest rain we have had on trail so far. But when we start in the late morning it starts to clear up and the sun comes out. 
We are taking the alternate trail over Eagle Creek, which is one of the most popular alternates on the PCT as it leads you along some beautiful waterfalls. We start walking on an asphalted trail next to the highway until we reach the Eagle Creek Trailhead. The trail winds its way up along the river gorge. It's a gentle climb but it's very warm and humid now. It feels like walking through a steamy sauna. We are sweating a lot. The only PCT hikers we meet are northbounders. It's gonna be lonely out there.
There are a lot of day hikers on this trail. I can only imagine how busy it must get on weekends. We pass some nice waterfalls but the highlight is Tunnel Falls where the trail leads through a tunnel behind the falls. It looks like right out of a fairytale. The lush green walls and the big waterfall plummeting down, creating a rainbow on its way. We take a lunch break here and stare at the beauty this place has to offer.
There are a lot of fluffy caterpillars on the way, but no berries. We are passing two more waterfalls until the trail says goodbye to the river and leads us up the mountain. The last 2 miles are very steep with a lot of blowdowns, but it's still very doable. I guess it's scarier going down that sandy and rocky trail than it is going up. Some take the longer trail around for that reason but we think to ourselves that this can't be steeper than Mount Shasta. And it wasn't, there were just some really steep parts and just three or four blowdowns that were a little bit harder to get over.
We reach the junction to the PCT and camp there. There are picnic tables and even a pit toilet, which reminds me of the one at Crabtree as it's quite open. The temperatures get a lot colder up here in the evening which is much nicer than the humid heat of the day. I didn't sweat as much as I did today in a long time. But the trail was beautiful. Oregon gave us a great start, can't wait to see more of it.
PCT Day 105: One of the most beautiful campsites
Indian Springs Campground (mile 2128.1) to Ramona Falls (on alternate)
33.9km (21.2mi) / 7.5h / elevation gain of 867m (2,844ft)
Today is quite easy as there is not much elevation to do. It's also not very spectacular but the end of the day is a true highlight of the PCT. In the morning the clouds are hanging deep and the forest we go through looks very spooky. I'm very sleepy in the morning as I didn't sleep that well. There are a lot of blowdowns on the way where we have to crawl under or climb over. Later the clouds lift and we can see a bit of a view around us. For one brief moment, we can also see the top of Mount Hood. But most of the day just goes through the forest. 
We do a lunch break at a nice creek. We can move quite fast today as the trail is so easy. After lunch, we only have 7.5 miles left to the waterfall where we want to camp. There is another climb ahead but it's very gentle. After a long downhill, we take the alternate route to Ramona Falls. We didn't meet a lot of people today. It's getting lonelier out here but I like it. The temperature today is great for hiking. A little bit chilly for taking breaks but ideal for moving. 
We are walking alongside a mossy green creek until we reach the beautiful cascading Ramona Falls. We camp right next to them and I can't believe that nobody is camping here apart from a guy in a hammock. Then we have dinner with the view of the falls and fall asleep to the white noise. This is definitely one of the top 3 camp spots on the PCT. 
PCT Day 106: Reaching Timberline Lodge
Ramona Falls (on alternate) to Timberline Lodge (mile 2098)
17km (10.6mi) / 4.5h / elevation gain of 1,181m (3,874ft)
Today it's just a short hike to Timberline Lodge which we were excited about for quite a while now. There are two climbs, but they are not too steep.
We are getting out of the green mossy forest by the falls and entering a barren landscape. We have to do a river crossing and I look around for a few minutes to find a good spot to cross and keep my feet dry.
From here it's going up, passing a lot of great huckleberry bushes. At the top, we could have a nice view of Mount Hood, but it's in the clouds. We wait a while during lunch break but nothing happens, it only gets worse.
We start walking and slowly it clears up until we can finally see the mountain towering above us. It's so impressive. By the time we get to Timberline Lodge, we have the full view. Timberline Lodge was used to film the outside of the Overlook Hotel in "The Shining" and we are having a blast taking pictures with the axe of Jack Torrance.
We sit on the sun chairs in front of the hotel and enjoy the views. Another guest gets us a beer. It's perfect. I'm researching the climb up Mount Hood. There are a lot of crevasses in the glacier at the moment. But in general, it doesn't look like too tough of a climb. Mount Hood is the highest peak in Oregon. It goes on my list.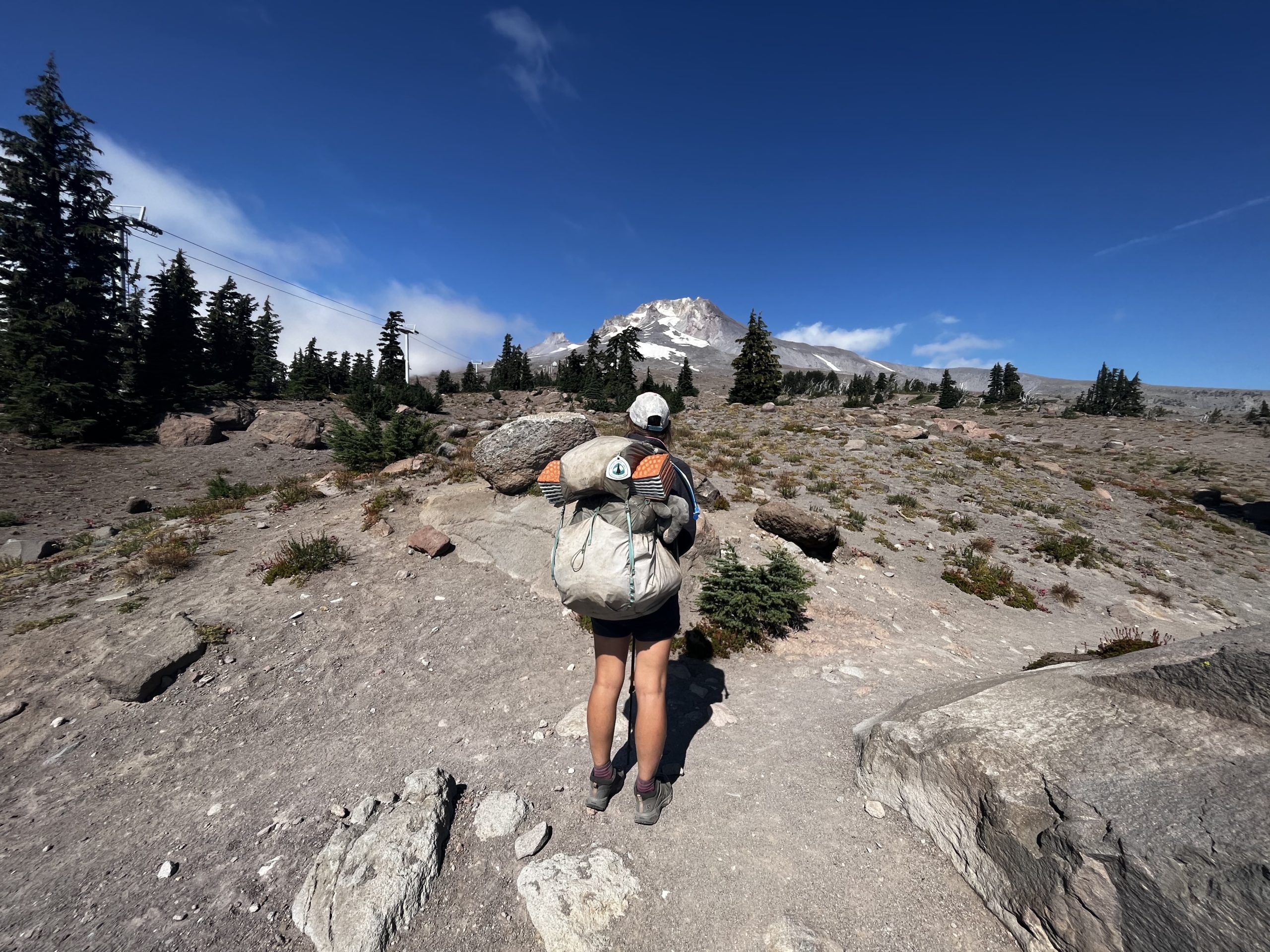 We are staying at Timberline Lodge for the night, we are spoiling ourselves tonight. We are happy that we don't have to be outside tonight as it got really cold.
Winter is coming. It is only 42° Fahrenheit at night. We are spending our evening in the outdoor hot pool, looking at the stars and talking to Bill, who works here and got the pool 2° hotter than normal.
PCT Day 107: Leisurely hike into town
Timberline Lodge (mile 2098) to Highway 26 (mile 2087.5)
17km (10.6mi) / 3.5h / elevation gain of 195m (639ft)
We are indulging in the famous breakfast buffet at the Lodge and eat a lot. My favorites are the waffles, smoothies, and fresh fruits. We then raid the really good hiker box of the Lodge. I already got enough food for the next stretch. Maybe I just need some snacks now in the next town.
We have a really easy day ahead of us, it's like a walk in the park. We are starting late as we just need to go to Government Camp for tonight as we will wait for Squiggles who arrives tomorrow to join us again.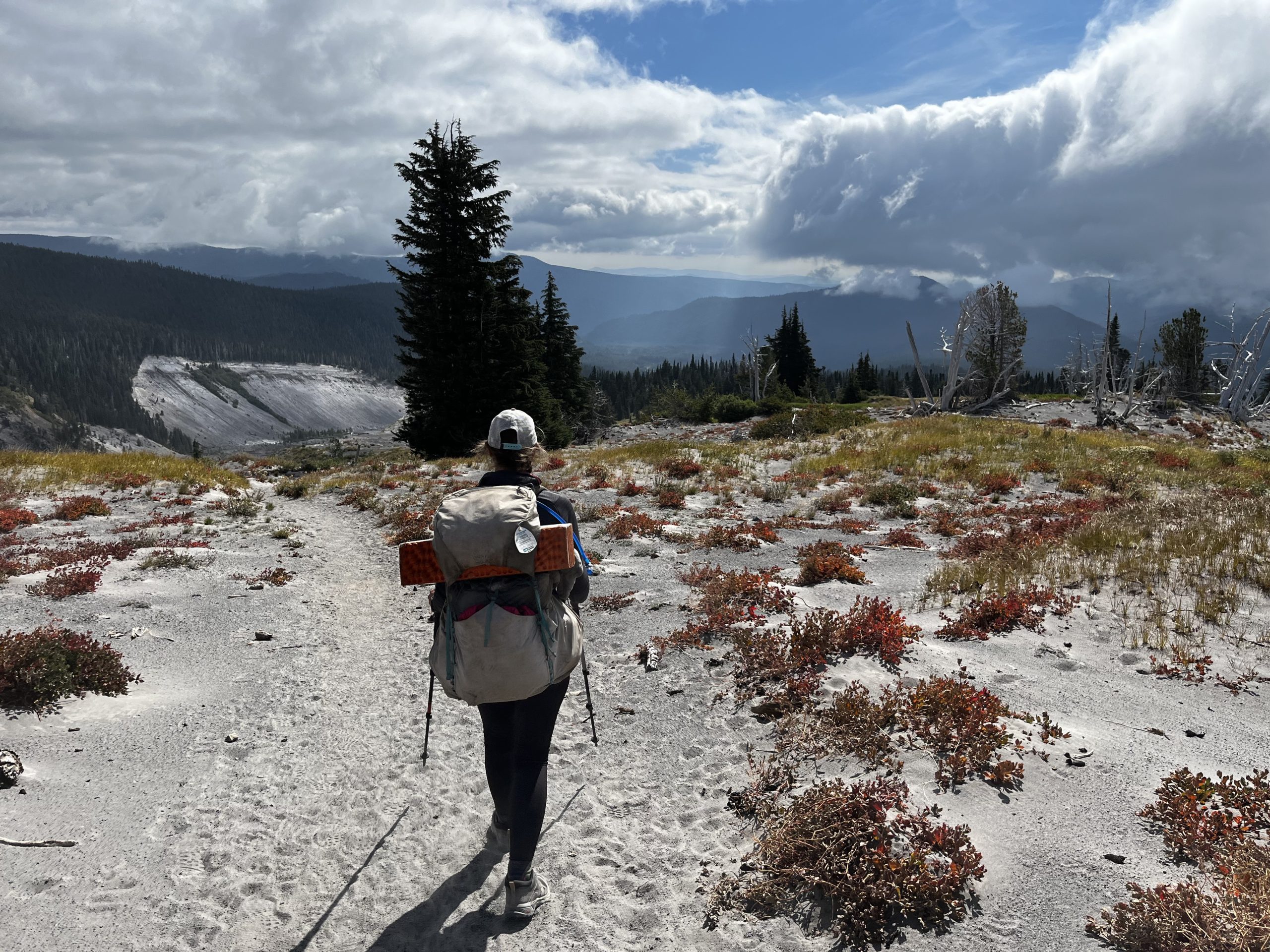 First, it's a sandy downhill from Timberline Lodge. The descent is so easy, but the ascent would suck in the sand. We have nice views although Mount Hood is in the clouds. But the clouds look amazing and there is a dramatic river valley below us.
Then we hit the forest and the first road but we want to go to the next one. It's 5 more miles through the forest to the next road. It takes a while to get a hitch but Collien finally takes us to Government Camp, a really small town. She lets us into the hot pool of a Lodge where we soak for a while. Since we've been in Oregon every time we get into town something great like that happens. We got free dinner in Cascade Locks, free beer at the Timberline Lodge, and now the hot pool.
We then go to the Cascade Ski Club where we camp for the night. It's gonna be a cold night. I don't know how much longer we can be out here before winter arrives. Luckily we can hang out inside and watch Netflix with caretaker Blaine in the evening. We are having dinner at the local ski bar, some good old American diner food.
Affiliate Disclosure
This website contains affiliate links, which means The Trek may receive a percentage of any product or service you purchase using the links in the articles or advertisements. The buyer pays the same price as they would otherwise, and your purchase helps to support The Trek's ongoing goal to serve you quality backpacking advice and information. Thanks for your support!
To learn more, please visit the About This Site page.