PCT Week 20: Beautiful Crater Lake
The section between Bend and Ashland consists of some resort hopping as there is no town to resupply. The big highlight is Crater Lake, an awe-inspiring deep blue lake that sits inside a sleeping volcano.
The bright colors of summer have been choked out and replaced with fall, wildflowers are all just a memory. We have had more rain in the last 2 weeks than in the last 6 months combined. Bright colors have been replaced with deep greens and rich browns. Morning "mist" has our days starting out slow and cold, but it's getting sunny and warm during the day. Also, there are a few water carries around 15 miles but the cold weather makes that nice. The trail life has gone with the flowers as well. There are very few hikers in Southern Oregon by the beginning of October. There are positives that come with "off-season" thru-hiking. Like having no mosquitoes. We keep reading in the comments on FarOut about the crazy amount of mosquitoes all over but for us there is nothing.
PCT Day 115: Back to trail
Willamette Pass (mile 1907.9) to Yoran Lake (mile 1900.2)
12.3km (7.6mi) / 3h / elevation gain of 548m (1,797ft)
Due to the fire closure, we had to skip 50 miles of the PCT. We take a bus a little bit out of Bend to the highway that will take us south. We throw out our thumbs and Anthony stops. He even takes us all the way to Willamette Pass, although it's a bit out of his way. He lives close to Yosemite and just got into climbing. Unfortunately, another thing on my backpack broke, it's the fifth time now. But I am able to sew it. I didn't think this backpack will last me that long after everything that broke. So, the day didn't start that well but it all worked out in the end, as always.
It's already 3pm when we start the trail. It leads us gently uphill through the forest, passing some ponds. We meet two other southbounders, so we are still not the last ones out here. We make it to pretty Yoran Lake where we will camp tonight. Today was a beautiful day, full of sunshine. The shorts are back, baby. But with the warmth also the mosquitoes made it back. I get bitten by one, but that's easy to tolerate. In the season this stretch is infamous for its mosquito hell.
PCT Day 116: Lakes in all sizes
Yoran Lake (mile 1900.2) to Windigo Pass (mile 1878.3)
35.7km (22.3mi) / 8h / elevation gain of 786m (2,578ft)
The night was nice and warm with a sky full of stars that reflected in the little lake. We continue the climb from yesterday to a river and a great view of the mountains around us and a lake in the distance. We then descend and pass a lot of ponds of all sizes until we reach beautiful Summit Lake where we stop for lunch. It's sunny today, with not a cloud in the sky. Cold soaking and taking breaks are finally enjoyable again. We spend way too much time at the lake as I'm falling asleep. I didn't sleep well last night, so I was tired. I felt quite slow this morning, too.
We continue along the shores of the lake until the next climb starts. It's a gentle climb over 6 miles and it takes us to some great views of some lakes nestled between the mountains. One of them has a really nice beach, it looks like a little ocean. I'm moving much better now than in the morning and I'm positive that we can make the planned 22 miles despite the late start. The sun goes down early now which gives us much less hiking time. The sunset gives the sky a nice cotton candy color. We make it to camp at a water cache right in time before it gets dark. I'm happy that we made it here, so we have water available tonight.
PCT Day 117: The highest point of Oregon
Windigo Pass (mile 1878.3) to Thielsen Creek (mile 1856.1)
37km (23.1mi) / 8.5h / elevation gain of 1,094m (3,589ft)
The day starts with a climb. It goes through the forest and doesn't offer much of a view. Sometimes we get a glimpse of green hills around us. We meet the biggest group of hikers out here that we've seen since we've hiked in Oregon, 4 people. We descend to a saddle where a side trail leads steeply down to a water source, the only one for today until camp if we even make it all the way there. So, we have to take it. It takes like 20 minutes to go down and up again, all for just a stagnant pool with some floating pine needles. Water is sparse in that section.
A little later we do a lunch break before we tackle the last climb for today, up to the highest point of Oregon at 2,308m (7,560ft). I didn't even know that Oregon is higher than Washington. On the way up we have a nice view of a blue shimmering lake in the middle of the forest and some mountains. The highest point itself has no view at all.
Then we go down through the forest, all the way to Thielsen Creek. We can see a glimpse of the sunset between the trees and the light is awesome. There are some deep red patches of light on the path. I bet the sunset was really beautiful, it was just vaguely perceptible. We make it to the water source just when it gets dark. We started late today but I'm happy that we made it before dark. We're getting used to cooking our dinner under the stars. A little bit up the hill from the creek are nice campspots with an awesome view of a mountain right in front of us and the creek below.
PCT Day 118: Plans are made to be changed
Thielsen Creek (mile 1856.1) to mile 1843.1
25.5km (15.9mi) / 5:45h / elevation gain of 348m (1,141ft)
The morning light lets the mountain in front of us glow. I didn't sleep much that night, I don't know why. But that's why I was awake to see this. The day starts with the only climb for today. From the top, we have a nice over some mountains in the distance and the large Diamond Lake. The rest of it is downhill through the forest until we hit the road. It doesn't take long until we get a hitch.
Dave from Scotland pulls over to ask where the next gas station is and I said that I know that Diamond Lake has one. Which accidentally is the place where we want to go to resupply. Perfect. Dave hates England and I have a hard time understanding his very Scottish accent. But he's a funny guy as far as I can understand. So, he drives us to the gas station and we walk the rest of the way to the lake where the store and restaurant are. I'm thinking of what food I gonna have here for today's lunch since yesterday. After we order Dave shows up too and we invite him to our table. So our lunch took longer than originally planned. He tells us that he follows the journey of some Scottish beaver pelt hunters.
Then we had to resupply. Our strategy was to resupply here and 70 miles later at Fish Lake Resort. Normally you would do just one resupply in between these places at Mazama Village but the store there is closed since this weekend because of the end of the season which made things a little bit more complicated when you don't wanna do a long food carry. We asked for the hikerbox and it takes a while until the lady from the little post office shows up who takes care of the hikerbox. Normally we first take a look at the hikerbox and buy the rest. We get some ramen out of there and buy some additional stuff the not-very well-stocked store. There is not much variety but it's enough to pull a basic resupply together, mainly consisting of ramen and sour patch kids. Everything takes a while but everybody here has been so lovely and very hiker-friendly, from the waitress to the receptionist. Only the guy at the store was very confused when I asked him for the hikerbox. He obviously never heard about such a thing before.
After we repackaged our resupply it's finally time to get back to trail. We walk back to the main road but it takes almost 2 hours until we finally get a hitch and that is not even the entire way, only to the junction where we have to walk 1.2 miles to the trailhead. So it's already late when we hit the trail and we don't have much daylight left. We don't get all the way to the planned campsite but camp in the forest 4 miles before. There are a lot of blowdowns all around but we find a clearing that looks safe enough. Tomorrow we finally reach Crater Lake which I'm dreaming about for a long time now.
PCT Day 119: Crater Lake
mile 1843.1 to mile 1820
32.5km (20.3mi) / 8h / elevation gain of 957m (3,139ft)
There is a nice colored sky at sunrise but soon after it gets cloudy and it even starts to rain right when we want to leave. I'm quite disappointed as I wanted to see Crater Lake so bad and the only bad day in the last time should be this one? Not fair. We finish the hike to the road where a water cache is. There is not much water on this stretch of Oregon, so we are thankful for the water caches. Some of them are maintained by the same guy like in the desert a 1,000 miles back. No idea how he does this, but it's great. The weather constantly changes from looking rainy to a little bit of blue sky. So, I still have hope that it's gonna be nice when we get there.
Now we are taking the popular alternate that follows the rim along Crater Lake. This giant lake is the remain of the volcano Mount Mazama which erupted 7,700 years ago. I love all things volcanic, so I'm excited about that. But first, we have to hike a bit uphill to the lake. And then we finally see it. Deep blue water that looks like the ocean and sheer cliffs surrounding it. Inside there is a little lava island that is another volcano, so a volcano inside the volcano. Crater Lake is by the way the deepest lake in the United States and the deepest volcanic lake in the world. And the volcano is considered dormant, not dead. So future eruptions can happen. The last eruption happened 4,800 years ago.
The next 10 km follow the rim, mostly on paths that occasionally get back to the road and viewpoints where there are always people. In between these, we are pretty much by ourselves. The weather changes between drizzle, cloudy and sunny. So it gives some drama to the scenery. We reach the Watchman, a mountain right next to the lake. It's an extra kilometer up there and there are endless switchbacks but the view is worth it. We can see the entire lake. You have to share it with quite some people but I bet it's nothing compared to summertime. There are some cheeky chipmunks up here. One of them climbs on me and tries to steal my snickers out of my hand, of course, I don't let him. They are not shy at all, which I didn't expect as in Germany squirrels would never do that.
The rest of the way it gets quite cold and another drizzle starts. Actually, the rain cloud seems to follow us and we feel like cartoon characters, wondering what we did that we deserve this. But that way we see a nice rainbow by the lake which is very special for sure. There are some very steep parts in between but at least they make me warm. We try to make it until the kitchen of the Café at the Rim Village closes at 3.30pm and we make it just in time to get some real food. Two days of restaurant lunch in a row, so nice. The Loaded Fries are awesome and plentiful.
We are saying goodbye to the lake and continue our hike back to the PCT which is mostly downhill. Back on the PCT it's flat again and we hit the road to Mazama, where everything is already closed. So, we continue a little bit further to find a campspot when it starts to get dark. It's easy to find a campsite as there is a lot of room everywhere due to the terrain being quite flat. We just eat a small dinner as I'm still full from our late lunch. Recently we started to make a tortilla with Nutella and cookie crumbles for dessert before going to sleep which is nice. It's a bit like a crepe. We set up camp right next to some deer tracks and later we hear a deer jumping through the woods. I think we are right in their living room.
PCT Day 120: A long water carry
Mile 1820 to mile 1799.6
33.4km (20.8mi) / 8h / elevation gain of 843m (2,765ft)
No more deer are visiting us at night, but there is rain. And it's cold from the ground. I wonder if my sleeping pad needs to be replaced. I have no idea of the lifespan of a foam pad but I know it's getting more compressed and doesn't keep you that warm anymore. Because there were colder nights in the Sierra where I wasn't cold.
The morning starts with rain. We wanted to get out early to make some more miles today, but it's just not inviting to get out of the tent. So, we have a late start again. There is no water on trail for 18 miles today, but there is a pond somewhere in the forest in 2 miles that we are hoping to find. It's wet and cold in the morning and when we get off trail to find the pond my feet get wet immediately from the wet grass. We finally find the pond but the water I get from there doesn't look very nice. It's brown and sandy. But it filters ok. We just get a little bit of water here.
Towards lunchtime the sun comes out and we have some blue skies. Lunch break in the sun is lovely. After lunch, we make 19km more to the campsite. We just stop at the first creek today to take a short break. Right when it gets dark we reach the campsite in the forest. There are two other tents here tonight but basically, there are not many more people. We only met one more guy with his dogs today.
PCT Day 121: A beautiful morning
Mile 1799.6 to mile 1779.3
32.6km (20.3mi) / 7.5h / elevation gain of 568m (1,863ft)
The night was not as cold as yesterday, but parts of the ground are frozen in the morning. We wake up in the dark at 5.30am to get an early start today. As we didn't make it that far yesterday we have 26 miles to Fish Lake Resort left, which we want to try to do today. Hot oatmeal helps with the cold in the morning and we make it out of camp at 7am.
Shortly after camp we find a water source where we get water to the next one 14 miles away. Then we climb up the mountain and I get very hot doing that, so I take off my puffy. Soon we have a beautiful view over the fast-moving clouds that reveal peaks in the distance, glowing in the morning light. It's stunning as it was well worth waking up in the dark. Further up it gets windy and very cold in the clouds, so I have to put my puffy back on. I even feel the need for gloves for the first time since the Sierra but they are somewhere on the bottom of my pack and I don't want to look for them. So, I just try to warm my hands in my sleeve cuffs.
The progress is slower than expected as the terrain is very rocky and there are a lot of blowdowns. But after 10km it gets easier and I can go faster. I meet the southbound couple again who we keep meeting since getting back on trail from Bend. They camped up the ridge last night and said that it was very windy. I'm happy that we had good cover. I'm on a good way to make 12 by 12 but then it turns out that Popeye got lost and I wait 3 hours for him. I know that we are not gonna make it to Fish Lake today. That's fine, I'm glad that we had enough reception that he could let me know what's happening and that he's not hurt or something. Plans don't work out for a few days but it could be worse. At least it's sunny and warm and I enjoy the sunshine while I wait for him.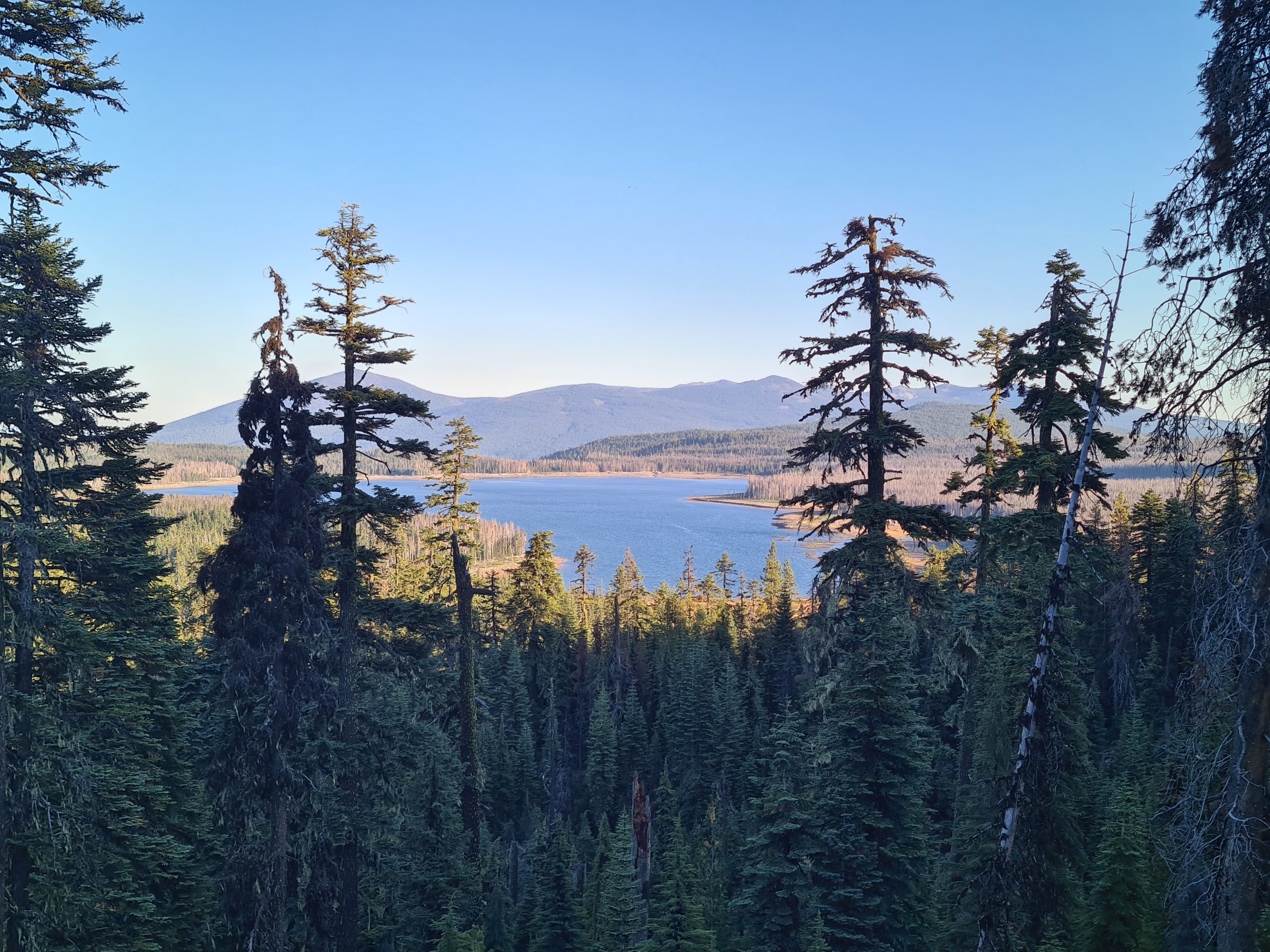 The rest of the way is quite easy, with almost no elevation and some nice forest ground with just a couple of blowdowns. It's 7 miles to the next water source where we take another break and get water. We make it another 5.6 miles until we set camp. So we will get to Fish Lake for breakfast and lunch tomorrow. Sounds good to me. The tentsite is covered in something mossy which is soft and warm. And we have a great view of the starry night sky.
PCT Day 122: Resupply at Fish Lake
mile 1779.3 to mile 1765.6
24.3km (15.2mi) / 6h / elevation gain of 488m  (1,600ft)
The night was pleasant and warm but I wake up pretty early and couldn't sleep anymore. I hear Popeye still snoring, so I wait. It's just 9.5km to the road today and we easily do it in the morning. We get to the road where I hit 2,000 miles of hiking. Just after a couple of minutes a car stops and takes us to the Fish Lake Resort. Is our luck back? We make it early enough to still get breakfast but also can eat lunch later. The food is good and very reasonably priced. And the people here are really nice like they already were at Diamond Lake. This resort hopping turns out really nice.
We are charging and taking showers. The couple made it here yesterday but we still meet them before they leave. We do our resupply. We discover a new brand of dehydrated food here that is inexpensive and has a lot of calories. 800 calories for 6 dollars? Hell yes. But later we will find out why it is so cheap.
We leave in the afternoon and take the trail back to the road where we also get a hitch back to the trail quite easily. We are hiking 7.7 miles through forest and big rocky fields in between. But the trail is mostly nice, the rocks on the trail are rather small and easy to walk on. Comments on FarOut out sounded likes it's absolutely awful for your feet, but actually, it's fine. Sometimes, there is quite some fearmongering going on on that app. It's dark when we arrive at the campsite tonight. We try these new dehydrated meals and discover that they taste awful. It was just too good to be true. Also, I got my first blister in ages. No idea where it came from.
PCT Day 123: A long day
mile 1765.6 to Hyatt Lake (mile 1742.7)
38.3 km (24mi) / 9.25h / elevation gain of 810m (2,657ft)
Today we want to push all the way to Hyatt Lake Resort where a restaurant is. We manage to get out early. Early these days means like 7 to 7.30am as daylight slowly comes at 6.30am. It's not far to a wooden cabin where there is a water pump. It's a long water carry again. I didn't know that Southern Oregon is so waterless.
There is just a lot of forest today, the usual blowdowns, and just a bit of elevation. There is just a little bit of a view of shades of mountains in the distance. We get to the road at 6.30pm but when I call the resort the person who does pickups from the road is unfortunately already gone for today. So we go to the campground and then decide to walk there which adds at least two miles there and back to today's distance. We get there 20 minutes after they officially closed but we are still able to get some snacks and an amazing cobbler.
My feet hurt a lot at the end of the day, they are just tired and stiff. And the blister from yesterday hurt today. It turned out the blister filled again.
PCT Day 124: A beautiful campsite
Hyatt Lake (mile 1742.7) to Pilot Rock (mile 1724.4)
30km (18.7mi) / 7h / elevation gain of 782m (2,565ft)
In the morning we try again to get picked up by the restaurant but no one is available. So we eat oatmeal after 2 miles down the trail. We found out that oatmeal with chocolate breakfast essentials tastes pretty good. We are taking it slower today, have frequent brakes, and don't feel any rush as we just want to do 19 miles. Also, I have no foot pain today.
The landscape begins to look like California again with lots of burned grass, pine trees, and its dryness. It's also the hottest day in a long time today. It feels like a circle is closing. I even see the first lizard again at lunch break. Also, a small snake crosses the trail. Another great sighting today is a woodpecker. For a short moment, I also think I see a bear as I see something black moving through the woods but it turns out to be a dog and soon after I can see his humans too.
The water situation today is better, there are four water sources available and we are using a pond and a piped spring. The trail traces a ridgeline with occasional views of Mount Shasta in the distance along with some desert hills. We can also see Pilot Rock, a landmark butte, where we are going to camp tonight. It turns out to be a beautiful campsite with a view of Mount Shasta. We are cowboy camping under a sky full of stars. It got so much warmer the last few days, we also got significantly lower in elevation.
PCT Day 125: The last miles into Ashland
Pilot Rock (mile 1724.4) to Old Highway 99 (mile 1718.6)
9km (5.6mi) / 2h / elevation gain of 145m (475ft)
We wake up to a great sunrise. The sun comes up behind the mountains just when we are ready to go. It's just a short way through the forest to the road, mostly downhill. We reach the road, but there is not much traffic besides some trucks. But the first car that comes by stops for us and that lovely trail angel Peg takes us all the way to Ashland. She lives off the grid 1.5 hours away in the middle of nowhere and loves to pick up PCT hikers when she comes to town. In Ashland, we discover that today it is free to ride on public buses. Our luck is back. We spent the day with the usual chores and some cooking in the evening as our room has a kitchenette.
Affiliate Disclosure
This website contains affiliate links, which means The Trek may receive a percentage of any product or service you purchase using the links in the articles or advertisements. The buyer pays the same price as they would otherwise, and your purchase helps to support The Trek's ongoing goal to serve you quality backpacking advice and information. Thanks for your support!
To learn more, please visit the About This Site page.