PCT Week 5: From Mountains Back to the Desert
The next section from Wrightwood to Hikertown takes me from snow-covered Mount Baden-Powell on beautiful ridgelines and through shady pine forest back to warmer elevations. After a stop at the lovely campground in Acton, I cross the famous sandstone formations of Vasquez Rocks at Agua Dulce and finally drop down to the hot and windy valley of the Mojave Desert.
PCT Day 23: Climbing Mount Baden-Powell
Highway 2 (mile 369.3) to Little Jimmy Campground (mile 383.9)
23.6km (14.6mi) / 6h / elevation gain of 1,200m (3,937ft)
Maria brings me back to the trail after my zero day in Wrightwood. The first part of the day is nice and gentle with a little bit of up and down until the trail went down to the highway again and to a parking lot. Here begins the long ascent to Mount Baden-Powell (2,860m/9,407ft). It's an elevation gain of 850m (2,788ft) in 6km (3.7mi), so it's not that steep but continuous. On the half of the ascent, there is a water source, but I still have enough water with me. My Achilles tendon is doing fine, I don't have any pain whatsoever and I'm very happy about that. I'm walking slowly and doing small strides and listening closely to my body.
At around 2,500m (8,202ft) some snowfields appear and I get lost several times because the snow sometimes hides switchbacks and the footsteps lead me the wrong way. Finally, I reach the junction to the final push to the summit. There are some more snowfields and after conquering them I'm at the peak of Mount Baden-Powell. The panorama is breathtaking. The desert floor on one side, mountains on the other, including Mount Baldy with its towering 3.068m (4,193ft). I do a lunch break and meet familiar people again.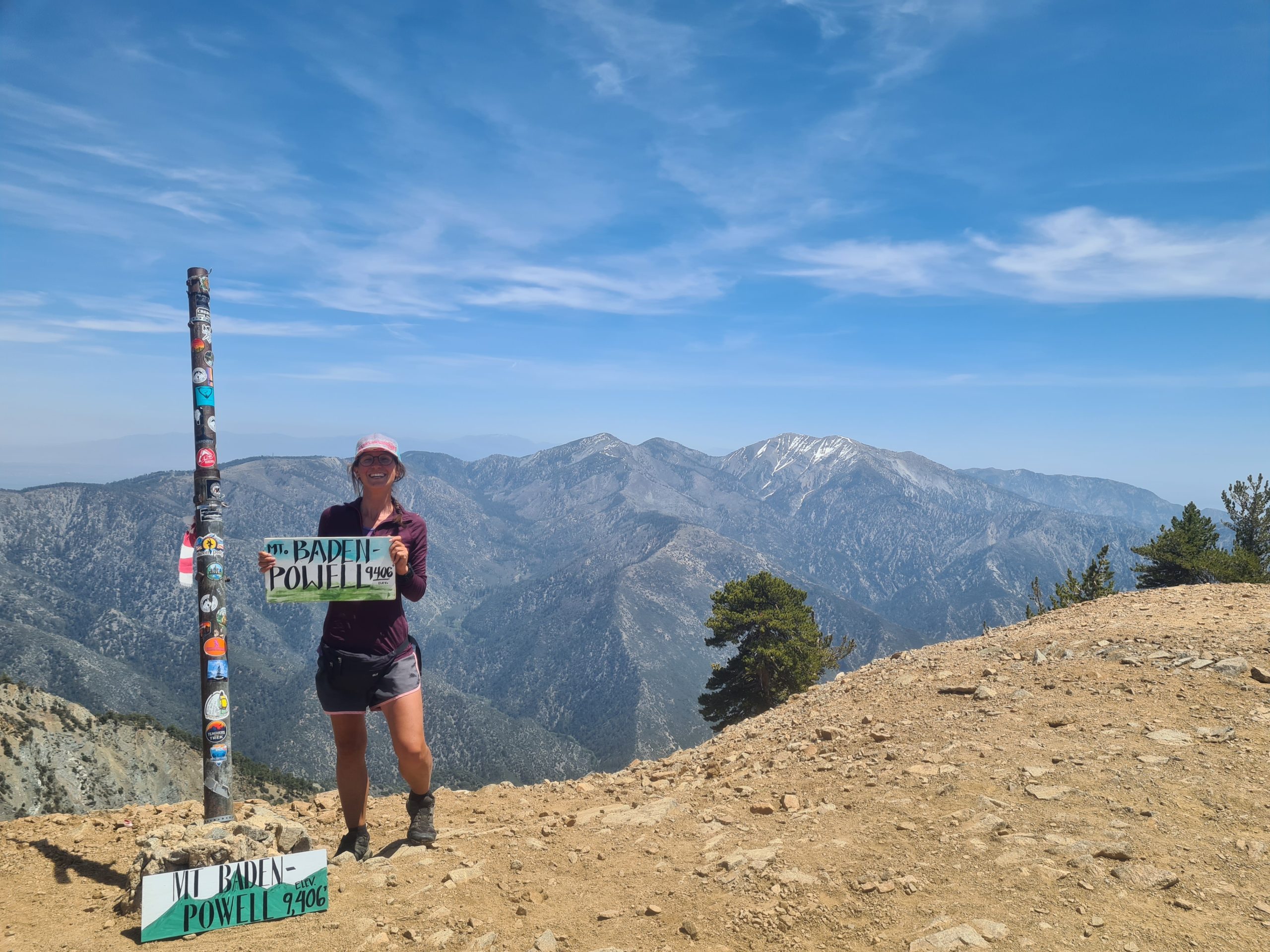 From here the trail leads mostly downhill. One of the snowfields on the way from the summit back to the junction is a bit tricky going down, so I set one foot after another very carefully. The trail then follows the ridgeline and I get lost two or three times again. It climbs a bit uphill to finally go downhill to a water source and a campsite. Today was a rather short day, which was good for my Achilles tendon. I still don't have any pain at the end of the day, and I'm so relieved about that. There are some small patches of snow at the campsite but the night is warm. There even are bear boxes at the camp, so you know that you are in bear country now. But there are lots of people, so I'm feeling safe for tonight.
PCT Day 24: A Day Full of Trail Magic and Reaching the 400 Mile Marker
Little Jimmy Campground (mile 383.9) to Sulphur Springs Trail Camp (mile 406.6)
38.9km (24.7mi) / 8.5h / elevation gain of 1,035m (3,395ft)
First, the trail goes downhill to Highway 2 again, around which the trail sneaks and crosses it several times today. On the way down a man comes my way and gives me an orange, that I'm munching at the rest area on my first break. There are a lot of picnic spots, toilets, and bearproof trash cans on the side of the road today. After that, the trail goes uphill in switchbacks gaining an elevation of 350m (1,148ft) high up above the road just to go all the way down again to it after. At least there are great views as a reward for all the efforts.
I cross the road and on the other side it goes up to go back to the highway again. There is another rest area and after that, the trail is closed because of an endangered species in the area – the Mountain Yellow Frog. So, I need to do a 4km (2.4mi) road walk. The first one on the PCT. Fortunately, there is not much traffic on this road but still not the nicest part. At least it's fast. Then I leave the road for a street closed to traffic down to the big Buckhorn Campground, where the Buckhart Trail leads downhill back to the PCT. At the junction, there is a nice river and I take the opportunity for a lunch break and to fill up my water here.
Then a tough climb follows that leads me in a big curve back to the highway. As soon as I reach the top, a car stops and a man offers me an apple. While I'm chatting with him another car stops and the driver gives me a beer. The trail crosses the road two times again and I reach the 400-mile marker. Just 300 miles to go to the Sierras! At Camp Glenwood, we are offered some snacks again. And that won't be the last trail magic for today.
Shortly after there is a water source and the trail leaves the road for a longer time now. There are 6km (3.7mi) left to the planned campsite for today, which would be almost 39km (24mi) in total. Oops, I did it again. I wanted to take it slow because of the Achilles, but everything goes so well that I'm back at my normal pace and distance. No pain and the terrain is pleasant as the trail goes downhill most of the time now. In the middle of nowhere a cooling bin appears and there are hard-boiled eggs inside. I eat one of them now and take one more for breakfast tomorrow.
I reach the junction to Sulphur Springs Trail Camp, which also has a water source. Here I end the day, highly satisfied with my performance, and I did not have any issues with my Achilles today. Looks like I'm gonna make in just four days to Acton instead of the planned 5 to 6 because it's just 60km (37mi) from here.
PCT Day 25: Pizza in the Middle of Nowhere
Sulphur Springs Trail Camp (mile 406.6) to Messenger Flats Campground (mile 430.4)
39km (24.2mi) / 8h / elevation gain of 1,100m (3,608ft)
I'm one of the last again to leave the tentsite in the morning, but interestingly I'm never one of the last to reach a campsite. So I guess, I use my hiking time very efficiently during the day. Mostly I do a long lunch break of one or two hours and smaller breaks every 7 to 12km (4 to 7 mi), depending on the terrain.
First, the trail goes uphill through a hilly landscape with scratchy bushes. The bushes come a bit closer than wanted and you have to whack through them. After 7km (4.3mi) I reach a water source and fill up. After that, I reached the highest point of over 2,000m (6,561ft), which will be the last time this high for a long time as I'm dropping down now towards the Mojave desert. The way leads around Mount Pacifico with stunning views and at a traverse, I get to meet some trail maintenance volunteers that take care of the bushes that have overgrown the trail. I chat with them for a while, really nice people and I appreciate what they are doing a lot.
Now it only goes downhill to the Fire Station, which I can see soon down by the road. I discovered that it's possible to order pizza to that place, which I'm doing from the ridge as there might be no service down by the station. I'm flying down the mountain to my pizza that arrived shortly after me. I tried to get other people to order pizza with me, but everybody I asked didn't want one. I enjoy my pizza in the shade of a rest area and stay there for like two hours, just relaxing. One piece of pizza was left and funnily enough one of the hikers I asked if she wants to order pizza was eager to get that piece. I guess when you see it in front of you it sounds like a great idea. Okay, pizza always sounds like a great idea to me.
After that lunch break, the trail goes uphill again. It got really hot in the afternoon and it becomes sweaty to climb that mountain. The only place for water in the next 28km (17mi) between the Fire Station and a Ranger Station is a little dirty puddle, so it's better to take enough water to the water cache at the Ranger Station. I arrive at the highest point of 1,952m (6,404ft) with great views and then it just goes downhill to the campsite. There are not that many campsites in the area and the first ones were too close for me.
So I again had 39km (24mi) on my feet at the end of my day. But I feel great, still no pain at all. So, I will reach Acton tomorrow after just four days from Wrightwood. I don't need to cook dinner tonight as I had pizza for lunch, so I just snack on something and enjoy the last sunrays of the day.
PCT Day 26: Short Day to Acton
Messenger Flats Campground (mile 430.4) to Acton LA RV Resort (mile 444.3)
22km (13.6mi) / 4.5h / elevation gain of 330m (1,082ft)
Today the trail mostly goes downhill and it's just 22km (13.6mi) to the Acton campground. It's very cold this morning and it takes a long time until my fingers get warm. I hate to pack my stuff with cold clumsy fingers. Soon I can see the valley where I'm about to descend to. The pines gradually give way to sagebrush and yucca again and the trail wanders up and down in seemingly aimless rambling ridgelines all the way into the valley.
After 9km (5.5mi) I arrive at the Ranger Station with a water cache. I do a breakfast break before I'm tackling the last miles to the road. The trail sometimes goes straight uphill for a short time and leads me over a lot of hills and in switchbacks into the valley. Then I need to go a little bit off-trail close to the road to the Acton campground and I roll in at lunchtime. I go for a shower, do laundry and buy a few things in the little shop. They just have some snacks, ramen, gas canisters, and some microwave food (including a microwave), but that's enough for me. Together with some tortillas out of the hiker box I still have enough food to go for the next 3.5 days to Hikertown, so I don't need to hitch into the town of Acton.
I socialize for the rest of the afternoon with the other hikers and I order some dinner from a nearby restaurant in the evening. Unfortunately, my ordered Cnoc, a collapsible water container as a replacement for my broken Platypus bottle, didn't arrive yet as I was planning that it would take me longer to do this section due to my injury. So I need to wait until the package arrives tomorrow afternoon. So it's a little bit like a zero day with two half-days off.
Also, I'm now one month on the trail and making good progress. Time to celebrate! With that pace, I'm gonna make it to Canada in five months if everything works out in my favor.
PCT Day 27: Famous Rock Formations
Acton LA RV Resort (mile 444.3) to Agua Dulce (mile 454.4)
17.4km (10.8mi) / 3.5h / elevation gain of 568m (1,863ft)
I hit the trail at 2 p.m. after my package arrives with a lot of other packages for all the hikers that stop here. Crazy how many packages they receive a day. Most people send a resupply box here, so they don't have to go to Acton. The postal employee walks back and forth like 10 times to get all the parcels out of her van.
The trail goes uphill and meanders through the desert hills with a lot of chaparral to Highway 10. Here a long and dark tunnel leads me under the highway into the Vasquez Rocks area, where you can find tilted layers of sandstone rock formations. This area was used as a backdrop for many famous Hollywood productions like Star Trek and Big Bang Theory.
It's a beautiful area and I regret that I don't have the time to discover it more as it got late already. I get lost quite a few times as there are so many little paths and it's not clear which one of them is the PCT. Until I get to the famous rock formations I meet no one on the trail, it was just me and the lizards. A bit creepy as a somewhat infamous dangerous guy was sighted in this area just a couple of days ago.
Finally, I arrive at the small town of Agua Dulce. I did the 17km (10.5mi) without a break. Now there is a road walk into town. I just said that there are no road walks on the PCT, but actually, there are. But not much anyways. I arrive at the Mexican restaurant in town, where I meet Zipfy and take dinner with him. My eyes were bigger than my stomach as I order way too much food. But I pack it out for tomorrow. I put my tent up in the empty space behind the parking lot with lots of other hikers, some of them quite drunk. I feel like real hikertrash sleeping next to a random parking lot.
PCT Day 28: Long Day through Green Hills
Agua Dulce (mile 454.4) to San Francisquito Valley Road (mile 478.2)
39.5km (10.8mi) / 8h / elevation gain of 1,289m (4,229ft)
After I had two big pancakes with strawberries and whipped cream for breakfast in Agua Dulce I'm on my way. The first part is a road walk out of town. Then the trail winds up 700m (2,296ft), not steep, but still exhausting. In the beginning, I'm really tired and almost fall asleep while walking. After a short break, I'm better and can do the rest of the ascent to the highest point of 1,405m. I'm getting lost again at the top. Sometimes I wish for better signage of the trail.
The trail goes down again on the other side, through a little hardwood forest and then through lush bushes. There are green hills as far as the eye can see. Suddenly, a blue shimmering lake appears in the distance – Bouquet Reservoir. I arrive at the road and a water cache, where I'm doing a lunch break after 18km (11mi). I eat the rest of my burrito from yesterday, which is a feast.
The further way leads me uphill through the green hills again and gives great views of the lake. There is a lot of poison oak at the side of the trail though, so better watch out. After several ups and downs, the trail goes to the next road, where I end the day. I pitch my tent just before the road and walk to the Green Valley Fire Station to get water from a faucet. It's not the prettiest tentsite as it's close to a busy road, but it does the job. The later it gets the fewer cars are speeding by, so I have a good sleep.
PCT Day 29: Windy and Cold
San Francisquito Valley Road (mile 478.2) to mile 503
40km (24.8mi) / 8.5h / elevation gain of 1,500m (4,921ft)
It's very cold in the morning. The day starts with an ascent, but even this can't get me warm. Especially in the shade, it's freezing. Also, there is a cold wind. Once I am at the top, the trail drops down again to the next road with a water cache. Here you can hitch two miles to Lake Hughes for a resupply and a restaurant. I would like to go to that restaurant, but almost no cars are going in that direction while I was resting there. Almost impossible to get a hitch, so I'm walking on.
Again it goes up and the hills have a lot of bushes until I reach a burn area. It's sparsely vegetated, just a few remains of burned trees stretching their gnarled branches into the blue sky. There is no wind protection here, so the cold wind hits me hard. It's very hard to find a sheltered spot for lunch. Either the wind is too strong or there is no space beside the trail.
Finally, I find a somewhat sheltered lunch spot after 20km (12.4mi). It is so cold today, that I'm even changing to leggings and a fleece for the rest of the day. It's the desert, they say. It's hot, they say. My ass. I go on and reach a water source. A faucet in the middle of nowhere, where I get enough water for dry camping tonight. I pass a junction to a big campground, but I don't wanna end the day just yet, so I keep going. I hike on through the burned hills and pass the 500-mile marker. Getting closer to the Sierras every day.
I reach another water source where I play it safe and take some more water. Under a corrugated sheet, there is a cistern and I hit my head hard on the sheet. I'm constantly looking for a good spot for my tent, but everywhere where it's flat enough there is too much wind. I'm hoping for a spot, that is described as protected in FarOut.
I reach it 1km (0.6mi) after the cistern and it actually is sheltered from the wind. From time to time the wind is shaking my tent, but it's way better than expected in this windy condition. Meanwhile, it got so cold that I even need to put on my down jacket. I'm alone at this tentsite as most people stayed at the big campground a few miles back.
Tomorrow I just have a short day to Hikertown ahead of me. I got some blisters again today and now I think I know why I get blisters. It seems to be the socks. This particular pair of socks get really stiff when dirty and rub spots on my feet. I'm going to wear another pair tomorrow. I will take care of the blisters tomorrow, after a shower as it's way too dirty here and I don't want to risk an infection.
PCT Day 30: Short Day into Hikertown
Mile 503 to Hikertown (mile 517.6)
23.2km (14.4mi) / 5h / elevation gain of 453m (1,486ft)
It still is bitterly cold in the morning, but I manage to crawl out of my sleeping bag early and hit the trail at 6 a.m. But I need to put every piece of cloth on, except for the long underpants, but including gloves. It takes a while until my fingers defrost again, so I just enjoy the upcoming sunlight of the morning just with my eyes and don't take any photos. I get out of the burned area soon and back into the hardwood forest and bushes again. The trail goes downhill to the road, with nice views into the valley and the mountains around me. After 11km (6.8mi) I reach the parking lot and Mad Dog welcomes me with a bit of trail magic. Tangerines and cookies, which are always appreciated.
After the break, I go up and down through sparse hills and I soon realize that I'm going back to the desert. The trail goes down to the highway and a long straight path leads directly to Hikertown, a hostel for hikers, that looks like a western movie set. There are several little cabins, where you can spend the night for little money, depending on group size. As always it's cheaper the bigger the group. For a single room, it's 25$ a night, plus 5$ for the (outdoor) shower (including a towel and soap). It's also possible to camp for free, but with the strong winds here it's better to get a cabin.
I take a shower, do bucket laundry and everything dries fast in the sun and the wind, take care of my blisters and drive with the shuttle to the Neenach Café, where I do my resupply and eat a burger. It's a bit expensive, but you get a free ride and free ice cream and they have everything a hiker could need. Never go shopping hungry as I think I bought way too much for the two days to Tehachapi. I don't have a lot of gas anymore and I didn't see any at the store, so I hope it lasts for the next two days.
In the evening I eat the famous Tamales by Martha, the amazing housekeeper in Hikertown, and also meet Richard, the owner of all of this. He feeds us with cake and ice cream. Great place, I can just recommend a stay here. I also get to meet Popeye and Italian, two fellow hikers, who will play a bigger role in my hiking life soon. I am glad that I took a cabin as the wind picks up at night and howls around the cabin. Next morning I hear from the campers that it was an awful night.
Affiliate Disclosure
This website contains affiliate links, which means The Trek may receive a percentage of any product or service you purchase using the links in the articles or advertisements. The buyer pays the same price as they would otherwise, and your purchase helps to support The Trek's ongoing goal to serve you quality backpacking advice and information. Thanks for your support!
To learn more, please visit the About This Site page.