Prof on the PCT: The Cold Wet Desert
Hey everybody! It is the morning of day 25 out here on the trail, and I've finally found a little time to write something. I'll run through a quick overview of daily mileages and then a bit more detail of what the trip has looked like so far. Here we go.
Daily Mileage
Day 1 – 15.3
Day 2 – 16.6
Day 3 – 10.5 (Stayed in local church/community center to sit out cold rain)
Day 4 – 17.2 (Squeezed six of us in a pit toilet to sleep to escape cold, blowing rain)
Day 5 – 18
Day 6 – 0 (Motel in Julian)
Day 7 – 14
Day 8 – 21.3
Day 9 – 14.7
Day 10 – 18.1
Day 11 – 16.6
Day 12 – 14.9 (+2.6 spur trail to town)
Day 13 – 0 (Airbnb in Idyllwild )
Day 14 – 11.1 (+2.6 spur trail to PCT)
Day 15 – 15.2
Day 16 – 3.8 (Stayed with a friend of a friend to sit out gnarly weather )
Day 17 – 21.8
Day 18 – 15.1
Day 19 – 19.7
Day 20 – 0 (Stayed with trail angels in Big Bear City and watched the snow pour from inside)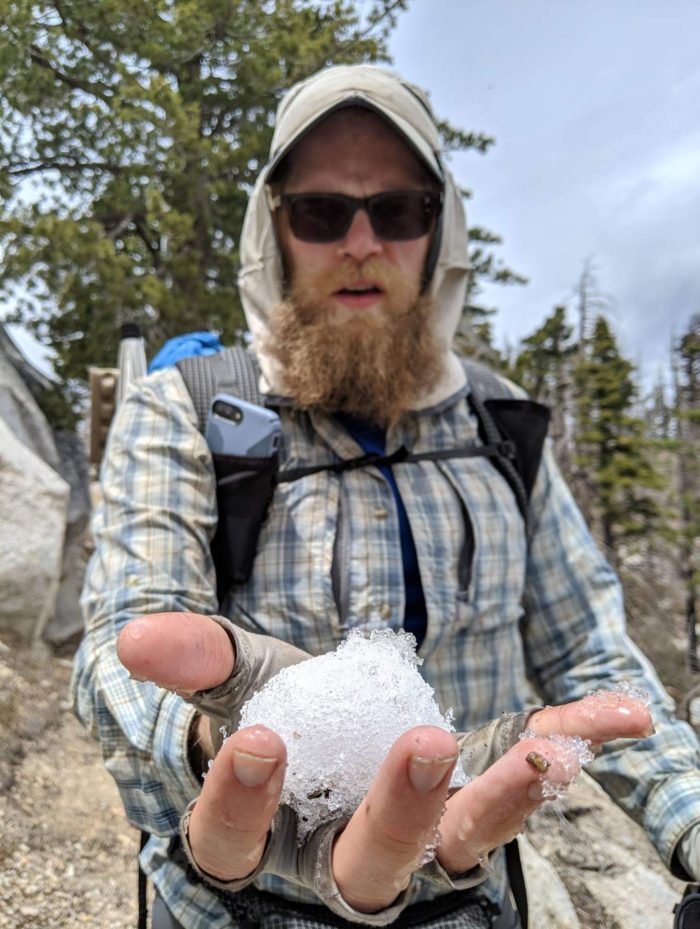 Day 21 – 19.5
Day 22 – 24.4
Day 23 – 31.9 (+.8 to hotel)
Day 24 – 0 (Hung out in hot tub and celebrated our friends' last day on trail)
Day 25 – Sitting at the Best Western at Cajon Pass, just off trail mile 341.9
The People on Trail
This trail experience began with a happy reunion when four of us that hiked the AT last year met up at the house of famous trail angels Scout and Frodo in San Diego. Big Money, Juke Box, Peaches, and I only spent about a day of hiking together before our group doubled in size. On day two, we picked up four first-time thru-hikers (Oliver, Liam, Matt, and Sophie) who would eventually catch the trail names Kool-Aid, Hot Take, King Pin, and Pita. We've ended up not really spending that much time with all eight of us, as sicknesses, doctor visits, and weddings spread us apart. With a group this size though, it's nice from time to time to have a smaller group to plan with, as finding eight tent spots every night can be tricky out here.
In addition to our core group, there are lots of familiar faces that we see almost daily as people around us hike similar daily mileages as us. Like my experience on the AT last year, the longer you spend on trail the bigger your community grows. Hikers tend to have a few primary companions and also get to know the people just ahead of and behind them. Every time we enter a town, the deck gets reshuffled as different hikers spend varying amounts of time in town. Without intending to, hikers become part of this greater trail community and get to know dozens of hikers around us.
Unique Desert Weather
"The desert is a desert, it's always dry."
"I hiked the PCT last year and only saw five days of rain."
"Technically, you don't even really need a tent in the desert because it just doesn't rain."
Until it does. This year has been a wild year for weather on the PCT. A late spring El Niño hit California, covering much of the southern half of the state with rain and even snow. My personal challenge of sleeping under a tarp for the first 700 miles has proven even more challenging than I was expecting. Fortunately, there are plenty of friendly towns along the trail and we've been able to sit out quite a bit of the bad weather so far. Even so, I've needed every bit of my 20 degree sleeping quilt at night, as the temperature has dropped well below freezing multiple times already. I set out expecting to see snow at some point, but definitely not in the first three weeks!
Reflections on Farewells
Even though I'm just now starting this new journey, a lot of my thoughts over the last month have been on farewells. In order for a new chapter to begin, the previous chapter must end. After working two enjoyable jobs in Huntsville and living with family I'd never spent more than a few weeks with, my time there had grown into a life I quite enjoyed. In just five months I had become a part of a community that I truly loved. I made new friends, I got to spend time with a lot of my favorite people I hadn't gotten to see much before, and I was learning new things every day in my jobs at Alabama Outdoors and Das Stahl Bierhaus. I went into that period of time counting down the start of what I was really passionate about, (thru-hiking the PCT) but while I was there I grew quite comfortable and happy in what I was doing. The thru-hiking lifestyle is something that is glorified a lot, but it's really tough to leave everything behind to do it.
So after my farewells to family, friends, and the community I had become a part of, I was hiking the PCT. I like to talk while I hike, but I end up spending a lot of time just in my own head and thinking. After processing the farewells of my previous life, I reverted to something else to fill my thoughts: Game of Thrones. Having not watched a single episode, I decided to read the books in the season between my thru-hikes. Two weeks before I started to hike, my parents got an HBO account and I got access to all the episodes, with the goal of catching up on the show in time to watch the last episode with the rest of the world. It took squeezing in 13 episodes on the day of the finale, but I managed to do it. In doing so, I inadvertently said goodbye to something else in my life.
After finishing the AT last year, Game of Thrones had become the thing that had filled the void of adventure lust in my life. I didn't realize it at the time, but that's totally what I did. I switched from being the adventurer of my own story (thru-hiking) to spectating the journeys of all these wonderful characters. And when the books and show ended, I realized how much of a comfort those had been to me. I rushed to the finish line of the show, and in doing so found that I had said goodbye to another group in my life, even though that group had been fictional.
So it's three weeks in, I've been thinking about goodbyes, and I'm ready to move on and really get into this adventure. Then yesterday happens.
It had been awhile since we'd hiked with Juke Box and Peaches and we were hopeful to see them at Cajon Pass. They surprised us all, arriving here much sooner (and cleaner) than we'd all expected, but with some serious news: they had both decided to get off trail. Now, that kind of decision comes with a lot of negative connotations, so let me explain a little more here. These are two of the most badass hikers I've met in my thousands of miles of hiking. Of all of the people I met and hiked with last year, these two are the ones that climbed Katahdin with me and are forever immortalized in my first thru-hike summit pictures; these are two of my very best friends.
Turns out, a second thru-hike is not a first thru-hike. On a first thru-hike, there is a clear goal and an unclear path: am I physically capable of doing this? On a second thru-hike, that prime motivation just isn't really the same. Yes, the trail and the terrain and distance are all different, but the mind-set isn't. We've done a thru-hike before, we know that we can do this. Knowing that, the motivation is different. These two best friends of mine decided that what their hearts want is a new, exciting adventure, and after testing the waters, at this time that isn't a thru-hike. Juke Box and Peaches are flying to Alaska tomorrow to set out on a very different and very new adventure with the savings they'd put together for this hike. I totally understand and support their decision, but it leaves me with a heavy heart as two of my favorite people will no longer be on this journey with me.
The Next Chapter of the Next Chapter
Farewells have been said, pictures have been snapped, and my friends are off on their own new adventure. Already, I've literally and metaphorically weathered some serious storms out here. My body has taken a beating, but I'm pleased with its resilience and ability to recover. I've made some wonderful memories, been taken care of by so many strangers, and made a new set of friends. This hike isn't what I've expected, but I'm still happy and loving it. After all, the part that I love most about thru-hiking is how adaptable it forces me to be. By those standards, this hike is everything I want it to be.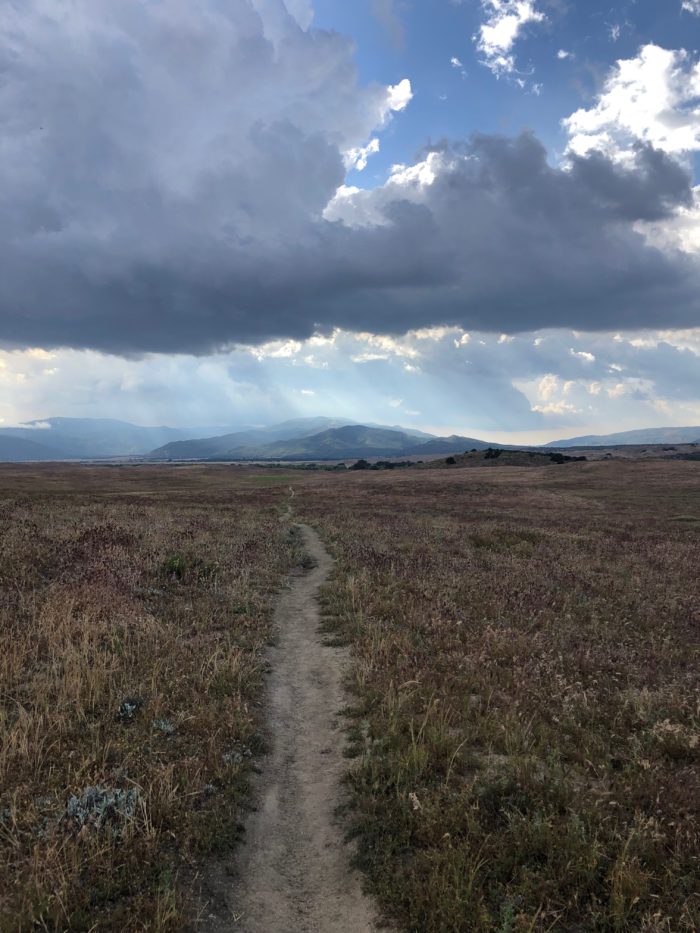 Affiliate Disclosure
This website contains affiliate links, which means The Trek may receive a percentage of any product or service you purchase using the links in the articles or advertisements. The buyer pays the same price as they would otherwise, and your purchase helps to support The Trek's ongoing goal to serve you quality backpacking advice and information. Thanks for your support!
To learn more, please visit the About This Site page.