Replacing Fear with Joy to Hike 2,650 Miles
The day is bright and clear. White snow reflects sunshine into our eyes as we readjust our packs.
Ice axe. Crampons. Snowshoes. Gaiters. Waterproof pants. Two sleeping pads for insulation. Microspikes. Trekking poles. Extra fuel bottles and stoves for melting water.
Across the road, the snow is so tall that it towers over a freeway entrance sign, only noticeable because of its fluorescent green hue. We start up a steep incline of snow, hamstrings straining to lift us and our overflowing backpacks up to the trailhead.
There are six of us, ranging from 24 years old to perhaps 55. Our professional guide is a former PCT thru-hiker and the rest of us will be on trail in a matter of days. We're all here for one reason: snow. 
Snow is our
future
. Snow is our
obstacle
. Snow is what awaits us on the Pacific Crest Trail. Record-breaking amounts of it. 
For many hikers, high snow means high fear. High snow means high water crossings. High snow means high risk and high uncertainty. It's a topic prevalent on every social media platform, hiking blog and facebook forum- what will we do about the unprecedented snow in the Sierras?
I pushed off these fears for months, when it was still too early in the season to tell how the snow year would pan out in the mountains. With each new week, my fears mounted. People started talking. Article after article popped up, warning of the records the snow was threatening to break. 
I was deep in panic mode and the world around me felt like it was going to collapse- and then I asked for help. 
Within a few days, I learned one of my first lessons from the trail: in the hiker world, if you ask for help, you receive it. In multitudes. 
I had several emails in my inbox from old family friends, friends of friends, former PCT hikers and people I've never even met. The advice and good wishes piled up. I found a PCT Snow Travel Skills course in Lake Tahoe. I corralled a group of fellow hikers together to join me with just a few weeks to spare.
It's April, and a large fraction of our PCT class is already on trail. It's time for me and my fellow hikers to review maps, run to REI for a few final pieces of gear, and pack up before heading to the Southern Terminus of the Pacific Crest Trail.
Instead, five of us are in Truckee, California to sleep in the snowy backcountry and practice falling down a mountain slope with an ice axe.
We're here to build a framework of skills and habits to help us make smart decisions. We'll need it as we hike through higher elevation and riskier terrain with our lives on our backs.
Now, our snowshoe trek begins up a winding path surrounded by trees, eventually turning into steep terrain. We slowly cut switchbacks into the slope of a mountain as we move upwards, no trail in sight. Out here, we make our own path in the snow. 
As we head further into the forest, our guide points out the bright green lichen on the trees. This lichen flourishes through harsh winters, only growing on the upper halves of tree trunks; in this much snow, the lichen begins at our feet. It's comical, walking through the world as if we are giants, especially considering my own 5'2" stature.
Up ahead, a "no motor vehicles" sign peeks out only a few inches above the snow; in the summer, it would be several feet taller than me. This snow is just a preview of the conditions we'll see on the PCT.
No matter how high the snow lifts us, the mountains reach ever higher. Their peaks shine above the treeline, their snow-capped spires brilliant and daunting. The mountains watch over us. The mountains
rule
over us. They make the calls out here.
We stash our packs, stopping to cram in a few caloric snacks before we spend the afternoon learning technical skills on the terrain. If it weren't for the ice axes we grip to our chests as we slide down each slope, we would look like children playing in the snow. 
There is something to be said about the fun we're having. For the past three months, I have followed a narrative of the mountain conditions that instilled fear and anxiety deep in my bones. I questioned my purpose on trail. I wondered if this was the wrong year for me. Above all, I forgot the one truth I needed to hold onto the most: being outside in the mountains brings me the deepest, truest joy. 
As we play in the snow now, as we snowshoe up these mountains, I am met with that joy once again. It fills my chest and warms my stomach. It is light and soft. It is powerful.
We set up camp in a forest clearing, stomping on the white powder to create a level platform for our tents. There is no solid ground for miles, so we bury our tent stakes horizontally under snow. The snow will harden as it gets colder tonight, securing the stakes further. 
We prepare dinner surrounded by the lichen-painted trees, their branches bowing under the weight of the snow piles they bear. Every few minutes, we hear a "thump!" as a pile of snow falls from a branch fifty feet above. 
Nightfall arrives quickly, and we retire to our tents, bellies full of hot food and minds overflowing with new knowledge. I drift in and out of sleep, awakening to the bright pitter-patter of snowflakes rapidly collecting on my tent. In the morning, I pull on frozen socks and several extra base layers, anticipating the cold. I'm thrilled by what awaits me outside.
Snow cascades through my tent vestibule, covering my hair, my eyelashes, and the folds in my clothing in a matter of seconds. It has been snowing an inch each hour, and our world has turned into a brilliant winter wonderland.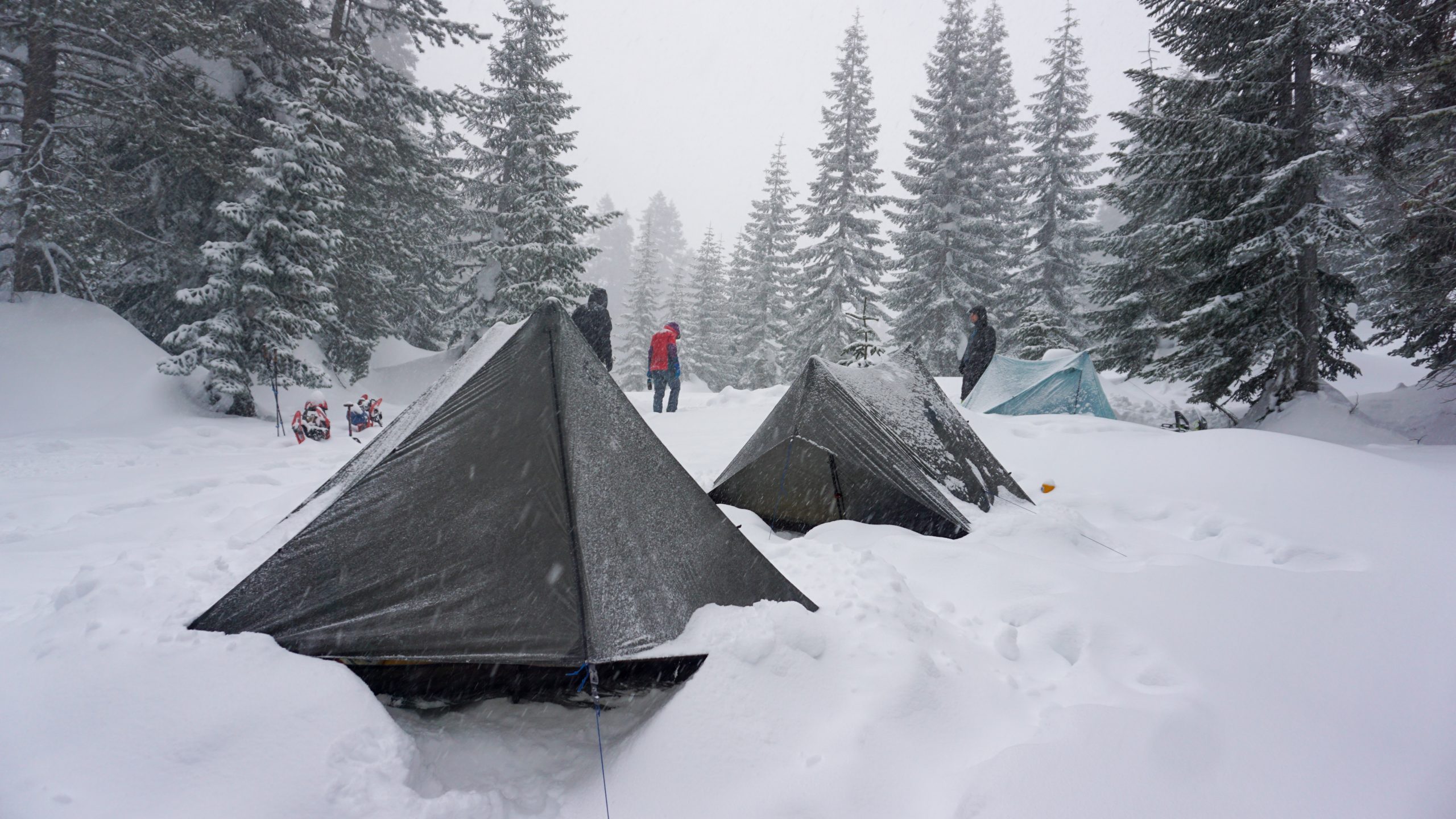 Prior to arriving here, I was scared. My fear of the unknown for the Pacific Crest Trail translated into a fear of the unknown for this course. I didn't know what to expect. I didn't know how to handle the snow conditions and I wasn't sure what challenges awaited me.
The fear of the unknown is a particularly nasty demon- it makes us forget what our purpose is. It turns what we love into something we fear. It makes us forget the
joy
that awaits us in every new adventure.
As I pause and gaze at the snow cascading through the trees in this little clearing, there is no fear of the unknown. I respect the mountains and their power over me. I respect the snow and the humility it requires of me. I'm reminded of all the people who helped me reach this beautiful place- a place of quiet strength. 
Instead of fear, all I feel is warmth. All I feel is joy. Light, soft, powerful joy.
There will always be nerves and there will always be unknowns in life- and they don't have to take the steering wheel. Not out here. Not with the snow cascading down as my partners and I snowshoe through the wilderness. We're here because of the joy these mountains give us, and that joy overpowers the fear.
I wasn't wrong when I said that snow is our future and our obstacle on the Pacific Crest Trail- but now is not the time to let fear be an obstacle as well.
Now is not the time to let fear rob us of the joy that awaits us in every new adventure.
I love the snow, and I always have- and in the end, the snow that I love and the mountains that I love will dictate my path on the PCT. 
That path might not be linear, but neither is our path in life. It is a winding path full of bumps and bruises, steep terrain and aching muscles-
and it is a path of deep, true happiness in the mountains; it is the simple delight of soft snow in eyelashes;
it is the wild thrill of reaching a summit and the beautiful peace of realizing that joy will always overcome fear.
Always.
Affiliate Disclosure
This website contains affiliate links, which means The Trek may receive a percentage of any product or service you purchase using the links in the articles or advertisements. The buyer pays the same price as they would otherwise, and your purchase helps to support The Trek's ongoing goal to serve you quality backpacking advice and information. Thanks for your support!
To learn more, please visit the About This Site page.