Shakedown – Shake It All Out
Howdy, the following post primarily details my shakedown hike in the Guadalupe Mountains. At the end, there is info about gear decisions and shakedown tips.
Planning the Hike
The time has arrived and the gear has arrived. It's thru-hike shakedown season. With more knowledge and confidence about which gear I would be carrying this year, the decision for this year's shakedown was to focus on putting myself in environmental situations that I would encounter on the PCT. Thankfully, I live far enough west to make it to desert terrain within a half-day of driving.
Gearing Up for the Hike
Picking a trail was no quick decision. Evenings were spent reading trail reviews and looking at weather reports. My eyes were set on a cold-weather hike, hopefully, snow. I ended up stitching together a loop at Guadalupe Mountains National Park and a week before the trip snow popped up in the forecast. It shaped up to be the perfect opportunity to test base layers and rain gear.
I now have a trusty list on my phone to reference when packing for backpacking ventures. This list has been assembled through the hard lesson of often forgetting items. (Like the time I forgot tent spikes at home.) Being confident that my bag is packed well has become a focus so that the hike is more enjoyable. I lent the list to Jonathan as well, he has AT experience and was joining me on this backcountry hike to test out a zero degree quilt and his knees. Side note – It's a hard sell to try to convince someone to join a multi-night hike that is planned specifically for less than ideal conditions, luckily Jonathan was excited to join.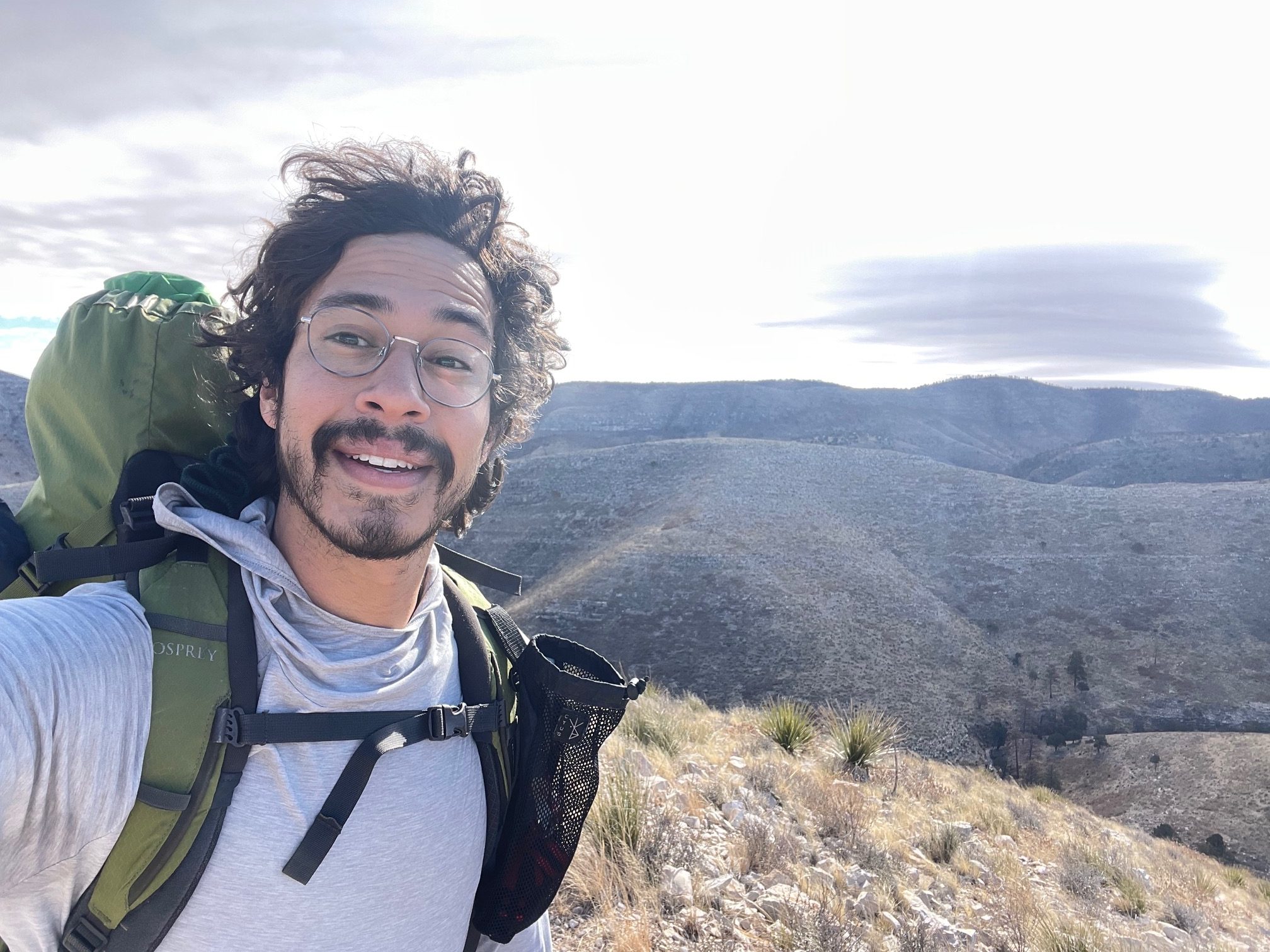 Hitting the Trail
After a smooth drive and a dip in Balmorhea Springs, we arrived at the park. The ranger issuing park permits strongly recommended we cut our trip short and come off the mountains before the winter storm arrived. Although the cold weather was the main reason we were hiking this time of the year we agreed and decided to stay true to our planned mileage in fewer days. The original itinerary was 32 miles in three days. Now it was changed to two days. This meant less water to carry and more mileage each day. The Guadalupe Mountains are rugged. Day one included a 3,000-foot gain in elevation over 2.5 miles in Bear Canyon. After summiting Hunter Peak and making camp, the moment arrived to find out if the sleep system would stand up to the 20-30 degree desert cold. I was more than toasty each night and was glad to cross off a working sleep system off my list.
On day two, I started to feel confident in my shoe choice. Noticed a few pain points and remedied the best I could as well and tested out multiple pairs of socks, including Sealskinz. I also tested out cold-soaking couscous in my pot for lunch, which turned out perfectly. I switched to cold soaking everything but dinner on the AT so I'm plenty familiar with the food texture. Day two proved to be very difficult with elevation gains and exposure, but very rewarding with views and formations. We decided to stealth camp near Blue Ridge mountain.
That night was the coldest and the sleep system held up without issue. We woke being pelted by ice pellets and by the time we made it up to Bush Mountain the snowstorm had arrived. We were dealing with freezing cold winds and snow flurries at 8,000 feet. At this point, I was feeling lucky with all my gear decisions and this was the opportunity to test out the active layers for the snow. While putting on extra layers we took time to watch a solitary vulture riding the wind gusts higher and higher into the grey skies. This was also the moment I learned that weatherproof gloves are not the same thing as insulated gloves! I had no glove liners and my fingertips went numb after a while, another item to add to the list. (A pair of Smartwool glove liners are now en route.) After hiking on ridges in freezing temperatures for five hours, we made it back to the car and were able to call the trip a success.
Looking Forward
After taking time to edit my phone list and reflect on the hike, I felt ready. The time spent researching gear, trail routes, and weather conditions all paid off. I felt lucky to experience a desert snowstorm, get a full view of the Guadalupe Mountain range, see desert plants covered in frost and fossilized coral along the hike. I still have some logistical planning to figure out for the beginning of the PCT as well as putting together food boxes. The fact remains true that high volume water carries suck but that's just part of the adventure.

Gear Check-In
Reusing gear from the AT allowed me to not have to spend as much to prepare for the PCT while I replaced other gear by necessity and desire.
Old Gear
New Gear
My clothing choices all worked to protect me from the elements. I will post about clothing when doing a final gear breakdown. Gear is still being delivered and decided on in the coming weeks.
Tips For a Successful Shakedown Hike
Check weather – a mixture of weather conditions will help assess gear functionality and durability

Pick a terrain similar to a portion of the trail you'll be hiking. If not able, get out there regardless!

Come up with a water plan. Are water sources available on your route? Good ol' water carry perhaps?

Pack well, test out all facets of your pack. I rearranged my pack throughout the day to test out where weight situates differently depending on the position of pack items. 

Test out many meals. If you're thinking power bars for breakfast, test it out and see how your body responds. Test the fun meal ideas you've been imagining.

Note pain points – Are your arches sore? Is your bag rubbing your skin raw? Sometimes these are just growing pains or a sign that a piece of gear isn't working for you.

Allow yourself to be uncomfortable. Allow yourself time to adapt.
Affiliate Disclosure
This website contains affiliate links, which means The Trek may receive a percentage of any product or service you purchase using the links in the articles or advertisements. The buyer pays the same price as they would otherwise, and your purchase helps to support The Trek's ongoing goal to serve you quality backpacking advice and information. Thanks for your support!
To learn more, please visit the About This Site page.